Looking for a great main course this holiday season? This bacon-wrapped apple stuffed pork tenderloin fills all the voids! And get ready for a great adventure (with some schooling) as we talk about all things apple today!
This is a sponsored post. I was fortunate enough to receive products and monetary compensation from Ontario Apple Growers. Though products were received, all opinions are my own and I would not recommend a product that I did not enjoy.
What is better than plain, ordinary pork tenderloin? Bacon-wrapped apple stuffed pork tenderloin! Bacon, apples, a buttery-sage flavour. It doesn't get any better during the holiday season.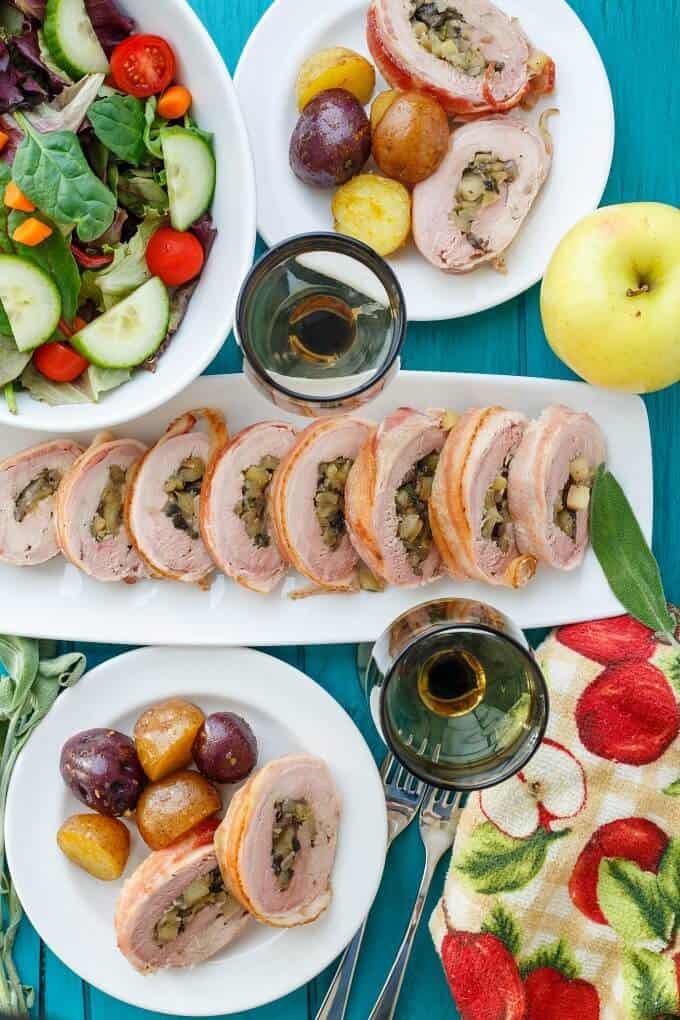 And if you are in a hurry, you can totally watch this video on how to make this delicious recipe!
If not, then let's take the time to talk about apples!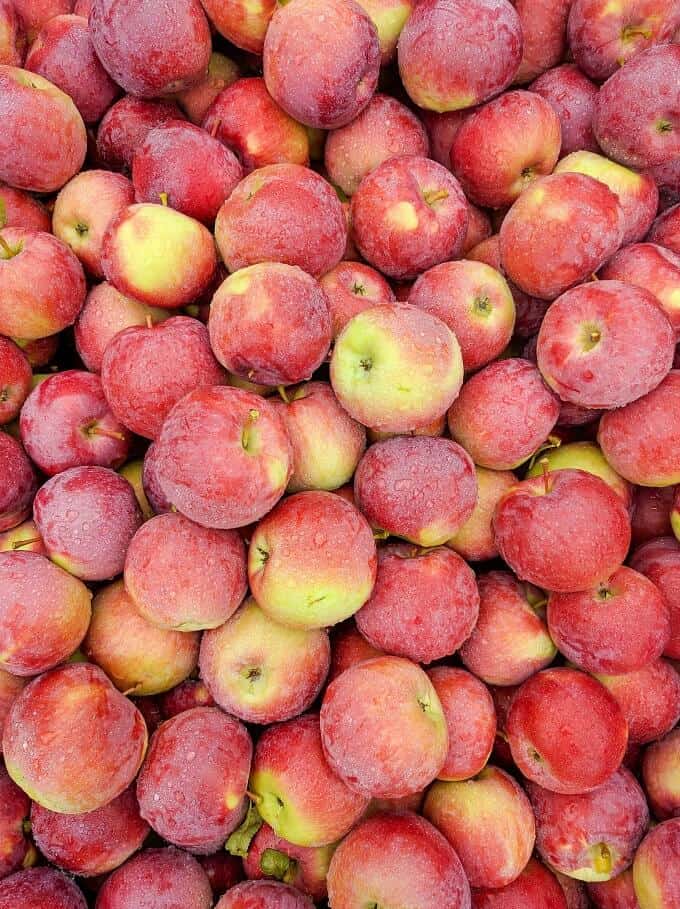 I had the opportunity to visit Nature's Bounty Farm the first weekend of October with some other Canadian food bloggers (courtesy of Ontario Apple Growers.) Chilly weather aside, the knowledge and passion that came from Cathy, Nature Bounty's owner, was amazing. This farm is her pride and joy, and we all definitely walked away with some new facts.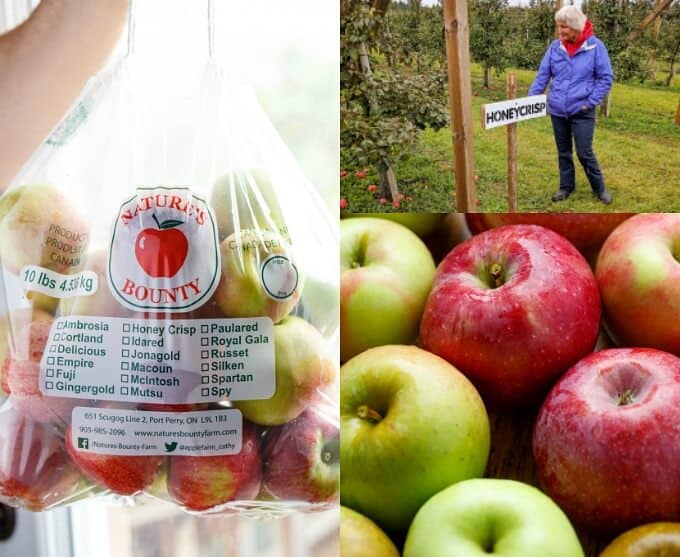 For one, there is a much more higher percentage of people who prefer sweet apples over tart apples. The only time I am enjoying a tart apple is in my baked goods! But my sister eats Granny Smith apples as a snack all the time. Then again, I love red delicious and have used them in pies when I was desperate (they are only good for eating fresh but I had no complaints!)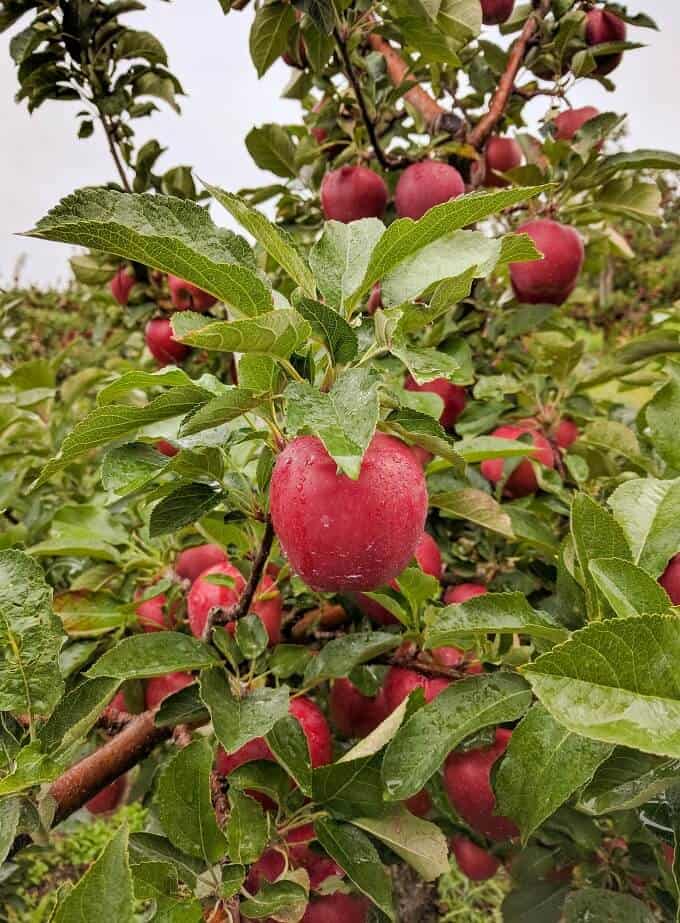 New apple varietals are constantly being created (and many discovered: some in which, like the Ambrosia, were a "chance seeding discovered in B.C. in the 1980's.") Our tastes are ever-changing, so some apples that were popular years ago have started to dwindle and new varietals are taking over (think of Honeycrisp apples!) Personally, I love this fact because our tastes really do change (I hated dill as a kid and now I love it!)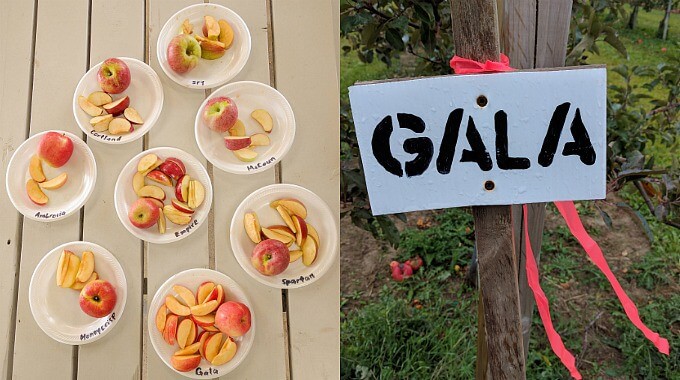 Apple farms are highly regulated. The use of pesticides are based on the season/weather, but farmers must stay in compliance and do have regular visits to have their fruit and vegetables tested (major consequences are faced if regulations are not followed.) Pesticide use is needed to control pests, otherwise apple crops can suffer damage and reduce overall production. Don't worry, farmers have their work cut out for them. They are trained and certified in safe pesticide use (see more information here.) Washing your fruits and veggies in water is always recommended before eating.
Besides pests, trees can suffer from diseases such as fire blight. I wish I grabbed a photo of this. A damaged tree from fire blight is instantly recognizable, almost appearing damaged by fire (brownish burnt-looking leaves.) Since apple orchards usually have their trees planted close together, this disease can easily spread, destroying many trees. The scary part is that there is no cure. Farmers work hard to prevent fire blight so their trees can remain productive for many years (more information can be found here.)
Okay, enough of that depressing stuff! I did get some gorgeous pictures from Nature's Bounty (along with the delicious food that the neighbouring farm, Willowtree Farm, served us.) Since I'll be discussing apples in two more future posts, I think I'll try and spread everything out and not overload you all at once 🙂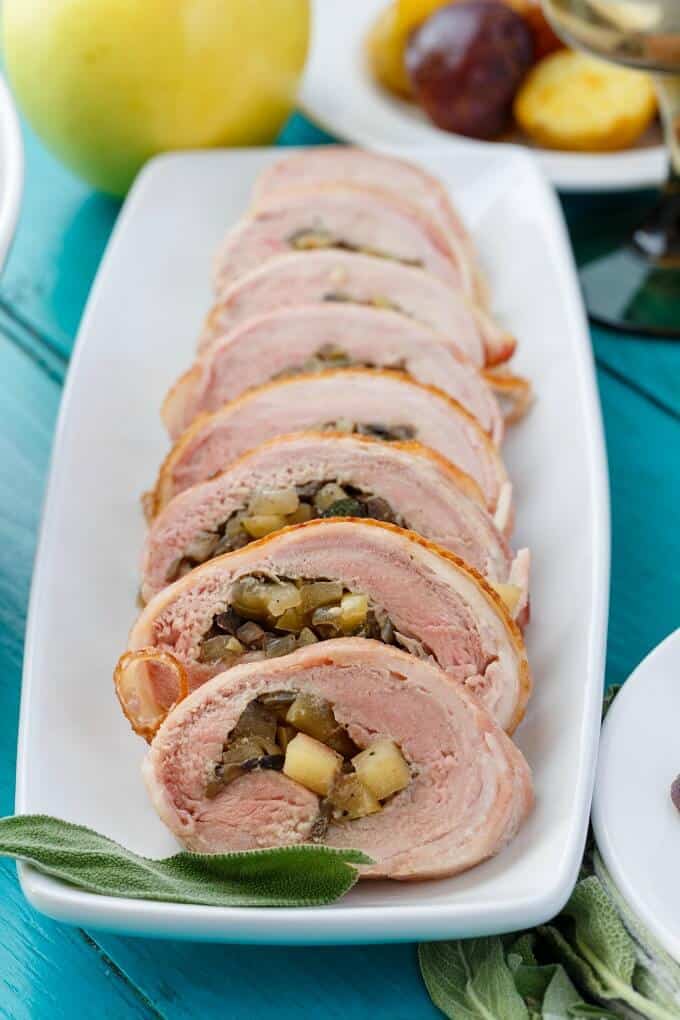 Today's bacon-wrapped apple stuffed pork tenderloin (whoa, that is a mouthful!) utilizes the apples I picked from the farm 🙂 Pork and sage pair so well with apples, so I thought this dish would be perfect for the holidays. Wrapping it all in bacon was just an added bonus!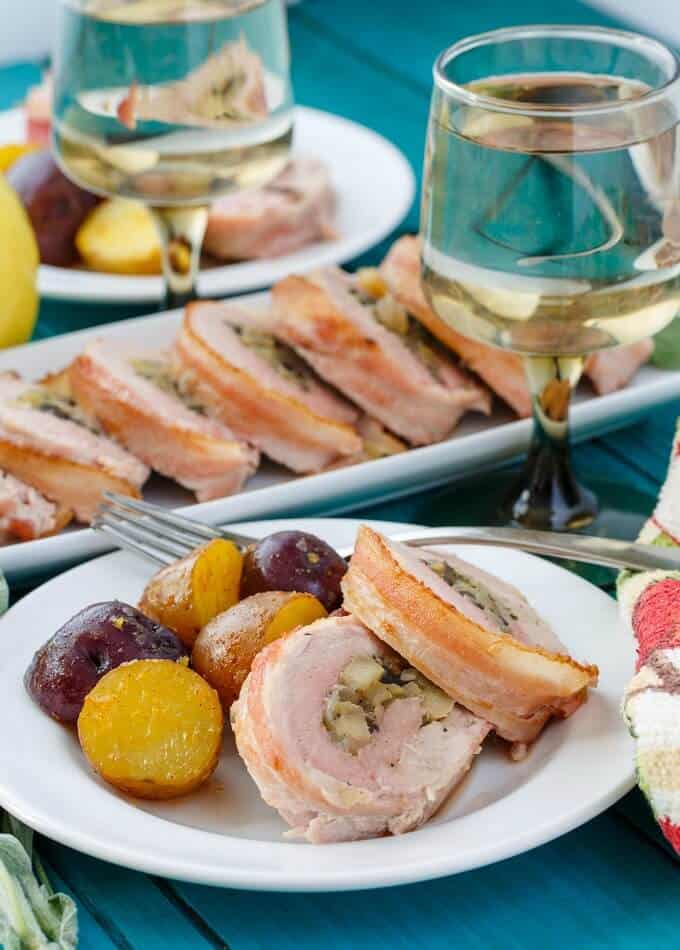 Ontario Apple Growers has provided a great apple guide to better help you decide when are where to use your apples. In this recipe, you want something crisp. Think Cortland (probably my favourite to cook with!) Jonagold, or McIntosh.  We are cooking the apples before we place them inside the meat so we don't want mushy, lose-their-shape apples.
Since I could not taste the final product, I was relying heavily on my two taste-testers for their opinions. I tried the filling before placing it into the meat and it was delicious! I would totally turn that into a vegetarian stuffing recipe somehow.

Bacon-Wrapped Apple Stuffed Pork Tenderloin
---
This recipe may look time-consuming, but it is super simple and rewards you with a gourmet meal! The stuffing makes enough for two pork tenderloins 🙂
10 minPrep Time
30 minCook Time
40 minTotal Time
Ingredients
1 1/2 lb pork tenderloin, silver skin removed
Salt and pepper
300 g bacon slices

Filling

1/2 lb apples, diced (Jonagold and Golden Delicious work great here.)
1 small onion, diced
1 garlic clove, minced
1 small portobello mushroom, stem removed and diced
1 tbsp. freshly chopped sage leaves
1 tbsp. butter
1/4 cup white wine
Instructions
Add butter to a large frying pan over medium-high heat. When bubbling, add in mushrooms and onion. Cook for 5 minutes, or until onions begin to colour. Stir in garlic, sage, and apples. Season with salt and pepper. Continue cooking for 3-5 more minutes. Pour in wine to deglaze. Cook for 2 more minutes, or until wine has dissipated. Remove from heat.

Assembly

Butterfly pork tenderloin and pound flat. Season with salt and pepper. Pour filling into centre of meat. Carefully roll the meat up. Secure by wrapping bacon slices around the meat one at a time, working from one end to the other.
Place into preheat 400F oven and cook for 15-18 minutes. Finish by broiling bacon until crispy (and internal temperature reaches 145F.)
Move meat to cutting board and cover with aluminum foil to rest for 10 minutes.
Slice and serve!
Notes
Cook time will vary on thickness of meat (but pork tenderloin is really easy to overcook so be careful!)
7.8.1.2
476
https://thecookiewriter.com/bacon-wrapped-apple-stuffed-pork-tenderloin/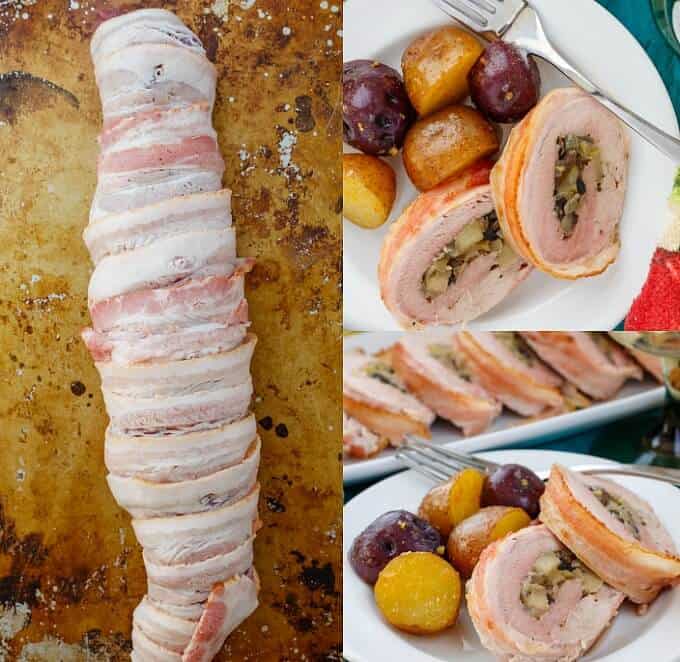 As always, I am going to mention that cook time can vary. Using a meat probe will help you cook your meat to the perfect temperature (pork can be cooked as low as 145F for the juiciest of meals!) My little pork took about 20 minutes, but size will vary the cook time, too.
Need a dessert to pair with this meal?! Try this apple crumble pie from Little Sweet Baker (it is awesome to meet fellow food bloggers who share the same passions as you!)
This is a sponsored post. I was fortunate enough to receive products and monetary compensation from Ontario Apple Growers. Though products were received, all opinions are my own and I would not recommend a product that I did not enjoy.
Love this bacon-wrapped apple stuffed pork tenderloin?! Try some of these recipes: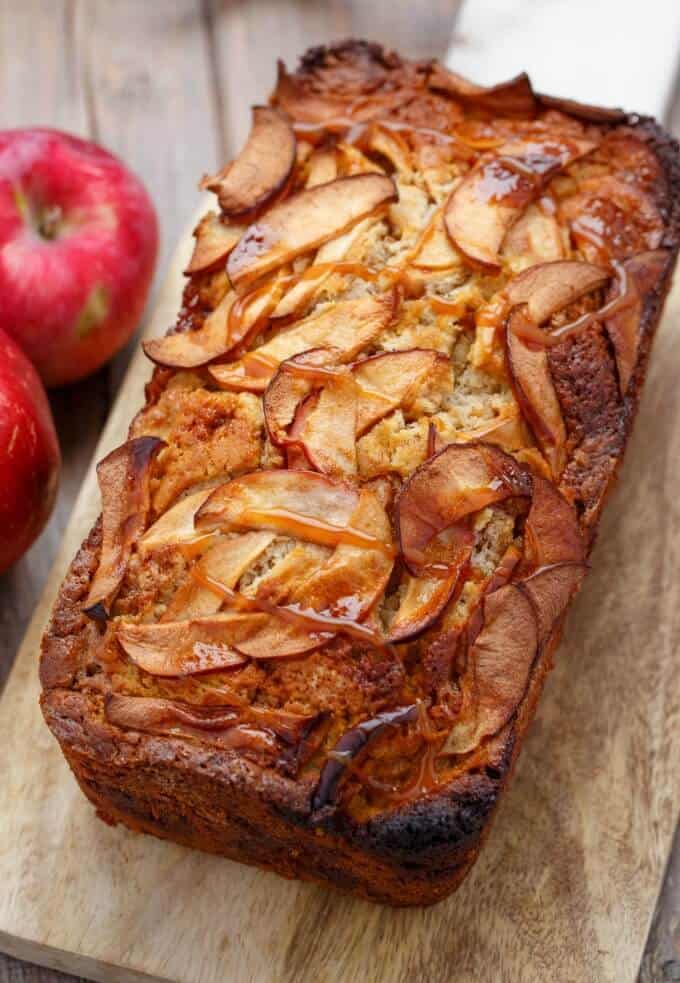 Apple Cinnamon Bread with Caramel