I am back with my last post in a series of amazing apple recipes! It has been a blast working with Ontario Apple Growers and I love finishing off with these versatile edible apple cups! #ONappleAday
This is a sponsored post. I was fortunate enough to receive products and monetary compensation from Ontario Apple Growers. Though products were received, all opinions are my own and I would not recommend a product that I did not enjoy.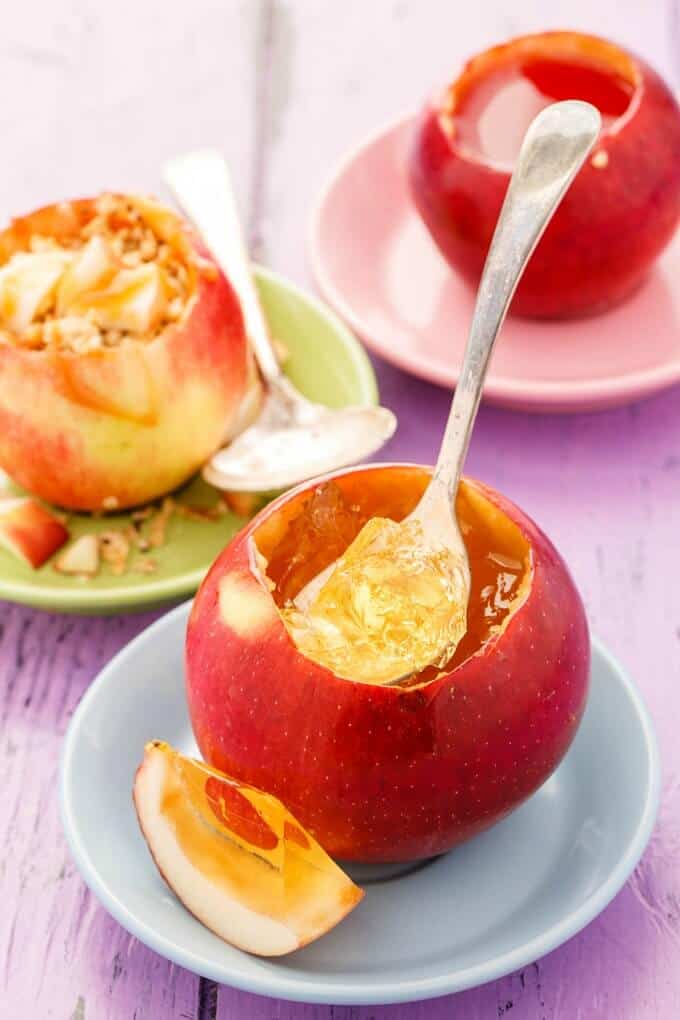 These edible apples are so fun and versatile!
Originally my goal was to make a bowl recipe packed full of nutritious apples, lentils, and my newfound love: roasted beets!
Then I realized we were left with the option of making a drink or healthy snack, so I figured, why not both?!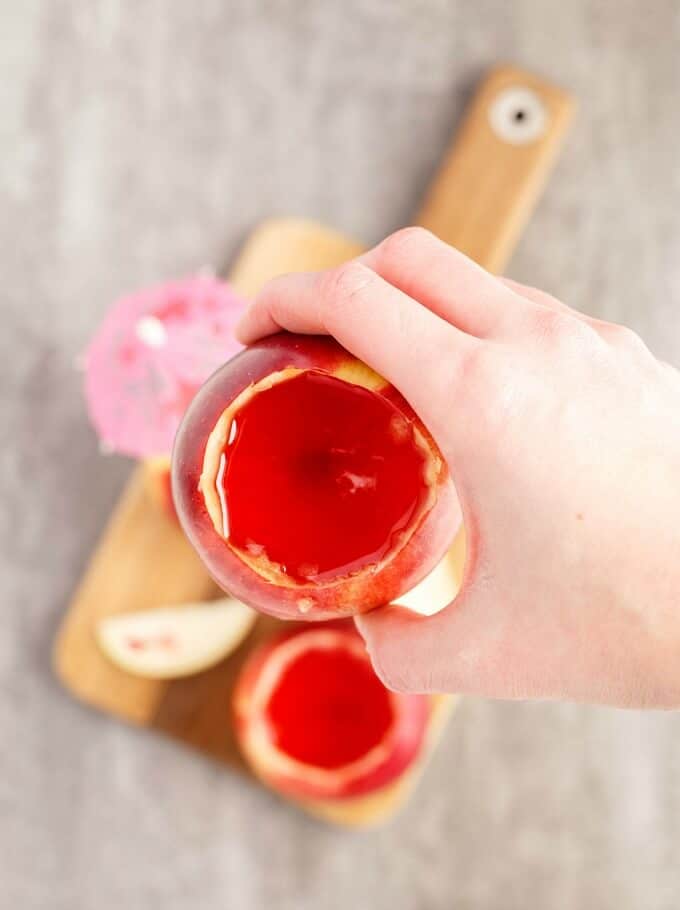 Keeping it family-friendly, these cups are great with a simple apple juice, cider, or even a homemade drink. For the adults, you can easily add in some shots! Much like my mojito recipes, I like to keep alcohol separate so the individuals who do want some booze can add it themselves 🙂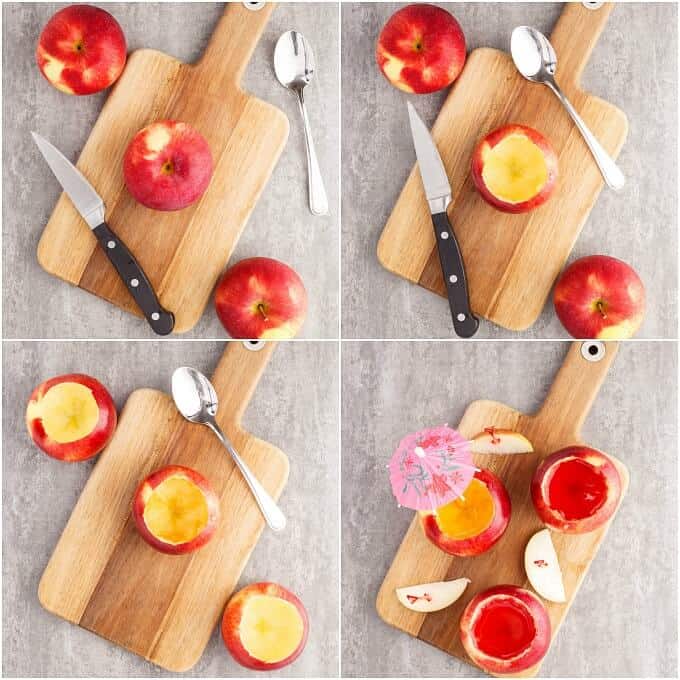 Assembly is very simple. Use a sharp paring knife and carefully remove the top of the apple. Use a spoon to shell out the flesh, making sure to keep a slight thickness to the apple or else you will end up with a leaking cup.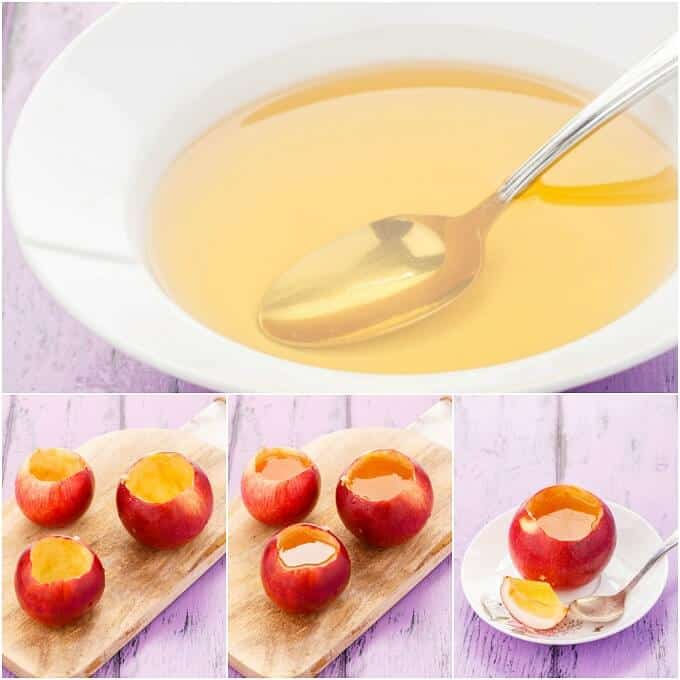 Since you will be eating the apples in their raw state, I highly recommend checking out Ontario Apple Grower's apple usage guide.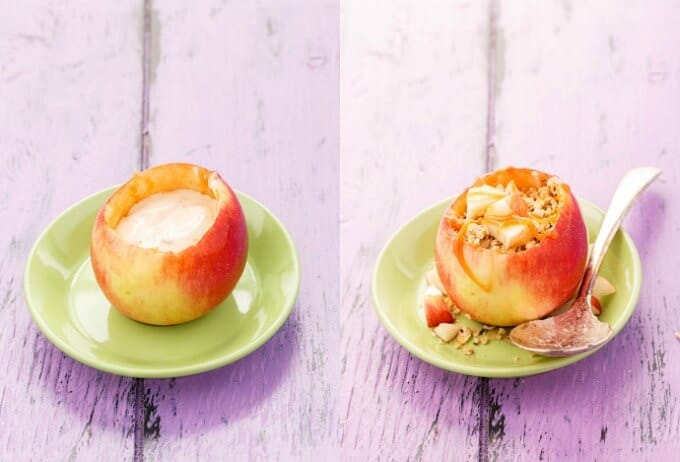 I mean, MOST apples are great eaten raw. It is more about whether you want a tart or sweet apple (I LOVE sweet apples!) Empire apples were used here, but you can use your favorite varietal. My husband and daughter are big into Gala apples, so I left those alone in the fridge 🙂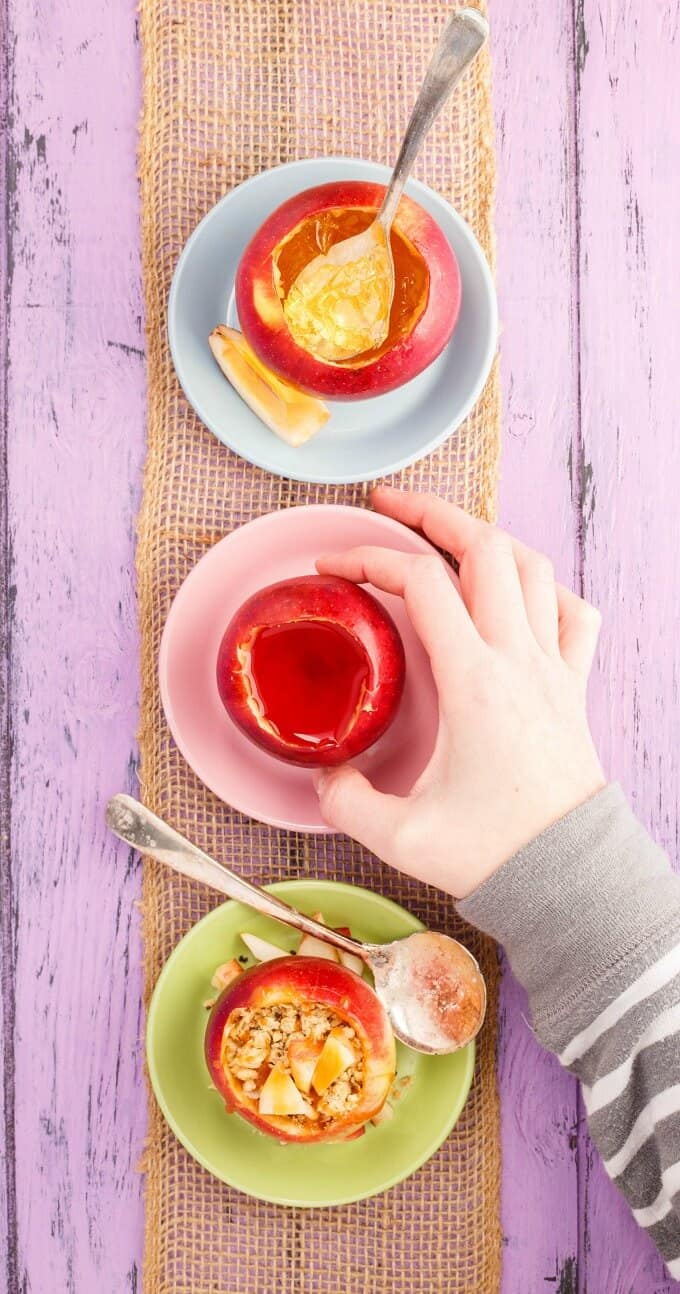 Now, winter SHOULD be coming to an end soon, and you may be thinking "apples are a fall fruit."
Yes, we associate apples with fall, but in reality, apples are readily available all-year-round.
Kirk, the president of Algoma Orchards, was SUPER informative. We definitely could have added many more hours onto the tour and he would still have things to say 🙂
The refrigeration system/storage of the apples ensures apples remain crisp and delicious, no matter when they were picked.
Apples are sorted into bins, labeled in detail from type of apple, to date, to location, and down to the grower. While Algoma grows their own apples, they cannot always keep up with demand, so apples are sometimes purchased from other local growers.
Algoma also spreads out their apple fields (instead of growing them altogether in the same area) for preventative measures. Let's say a bad storm comes and causes significant damage to the trees, prompting most of the crop to be lost. That's it: the crop is lost. HOWEVER, by spreading out your crop locations, you are taking precautions. A storm probably is not going to hit a field by the lake AND a field much further north. Not saying it cannot, but multiple locations provides security.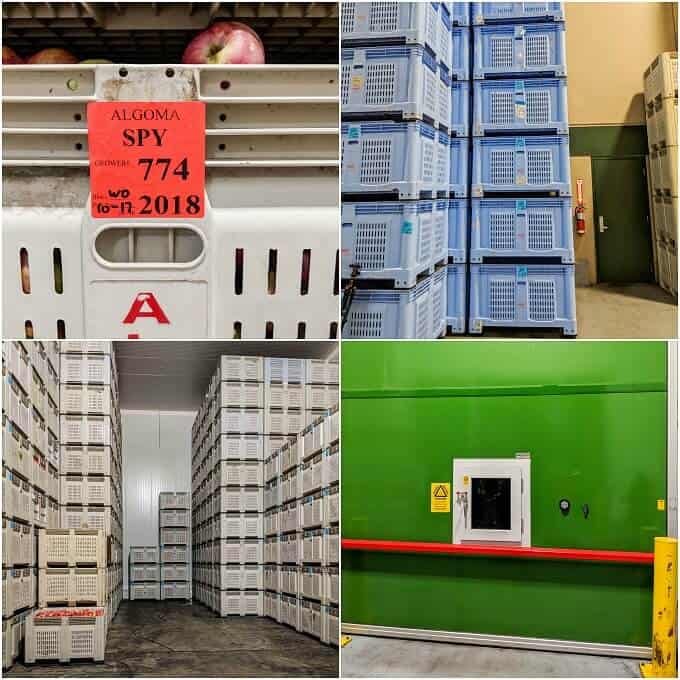 As you can see from the pictures, these storage units are huge and contain many, MANY apples! Once full, they are sealed shut and maintain perfect refrigeration temperatures.
When it comes to delivering apples to our local supermarkets, every store has their preference. Algoma Orchards takes this into consideration when packaging.
A store like Costco prefers their apples in stacked apple boxes (much like their other produce.)
Walmart's order goes right into the shipping area and straight onto the sales floor. They do not keep anything in the back! They also use reusable containers that are sent back to Algoma.
You can see Loblaw's PC brand in the pictures, too.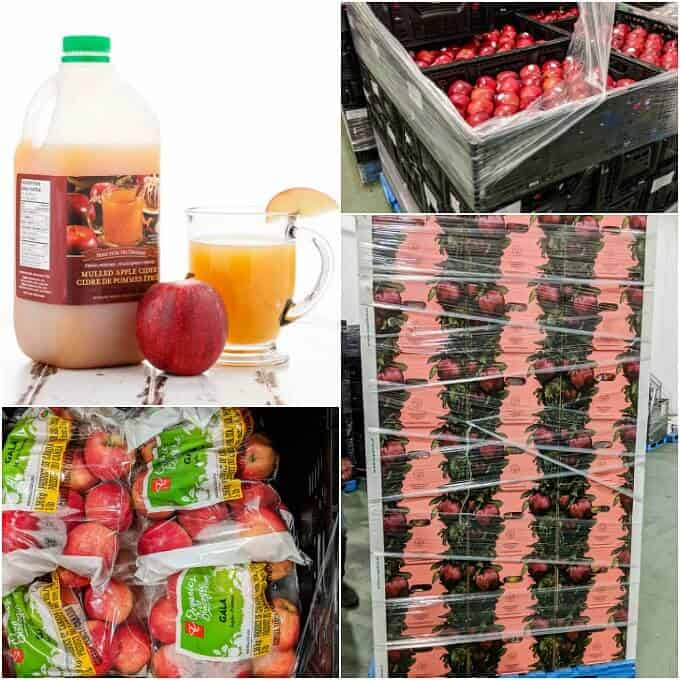 This is not only for fresh apples either. Algoma Orchards makes ciders for different brands. We did not get to see the cider bottling process as they have a specific day of the week for that. However, it was interesting to learn about what makes ciders different from one another, and what companies are looking for (because tastes do change!)
Whew, I sure do like to talk!!
Many thanks to Ontario Apple Growers, Algoma Orchards, and Wilmot Orchards (who I did not speak much about in this post but I LOVE their blueberry farm!) There is so much more I can say, but for now, I will leave you with these edible apples cups! Please tell me what you end up serving in your cups 🙂
📖 Recipe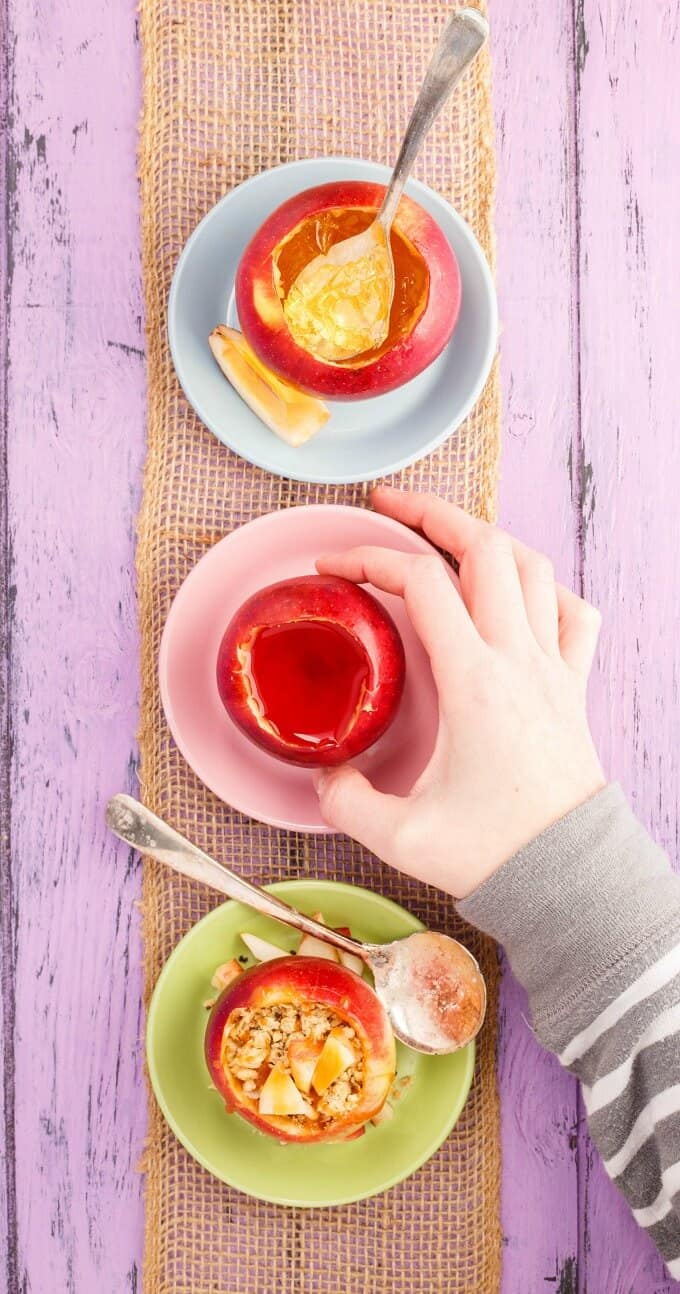 Edible Apple Cups (Apple Jello Shots)
These edible apple cups are so versatile! You can serve drinks, parfaits, and dessert in them! Best part is that you can eat the cup at the end!
Ingredients
4 large apples of your choosing (I used Empire)
Jell-O Filling
1 package (1 tbsp. / 15mL) unflavored gelatin
1 cup apple juice, divided
Drink Filling
½ cup apple juice
½ cup cranberry juice
Squeeze of fresh lemon or lime juice (optional)
Parfait Filling
Instructions
Using a paring knife, carefully cut off the top of each apple (much like you are carving a jack o'lantern.)
Use a spoon to carefully scoop out the insides of the apples, making sure not to poke through the apple skin and leaving some thickness. Don't waste that apple! You can use it to make applesauce, apple simple syrup, or some drinks! I just ate it as is.
Jell-O for 4 Apples
Add ½ cup apple juice to a small saucepan over medium heat. While it is heating, add remaining ½ cup cold apple juice to a mixing bowl. Sprinkle gelatin powder over top.
Once apple juice has come to a boil, pour into mixing bowl and stir until all gelatin has dissolved. If alcohol is desired, add in booze now (I would not add anymore than 1 cup of alcohol as gelatin will not firm up if there is too much liquid.)
Carefully add liquid to each apple (mine could hold 4 tbsp. each based on their size.)
Place into refrigerator and allow to firm up, minimum 1 hour.
When firm, remove from fridge and serve! If desired, cut apple into wedges for a fun treat!
Drink for 4 Apples
Combine juices and pour into apple cups (mine fit about 4 tbsp. each.) If alcohol is desired, add it first before juices. Serve immediately.
Parfait for 1 Apple
Add yogurt to one hollowed out apple. Top with your favorite granola, some diced apple, and a drizzle (or two!) of caramel sauce. Serve immediately.
Notes
You want to hollow out your apples before you move onto any of the fillings. To prevent apples from browning, you can rub the inside with freshly squeezed lemon juice. Filling ratios are approximate as apples differ in size. All recipes can easily be doubled.
Nutrition Information:
Yield:

4
Serving Size:

1
Amount Per Serving:
Calories:

299
Total Fat:

5g
Saturated Fat:

1g
Trans Fat:

0g
Unsaturated Fat:

3g
Cholesterol:

2mg
Sodium:

68mg
Carbohydrates:

63g
Fiber:

8g
Sugar:

46g
Protein:

6g
Want to see more recipes using Ontario Apples?! Check out some of my previous creations:
Turkey Bacon Apple Sandwiches with Cheese
This is a sponsored post. I was fortunate enough to receive products and monetary compensation from Ontario Apple Growers. Though products were received, all opinions are my own and I would not recommend a product that I did not enjoy.
Love these edible apple cups?! Try some of these recipes: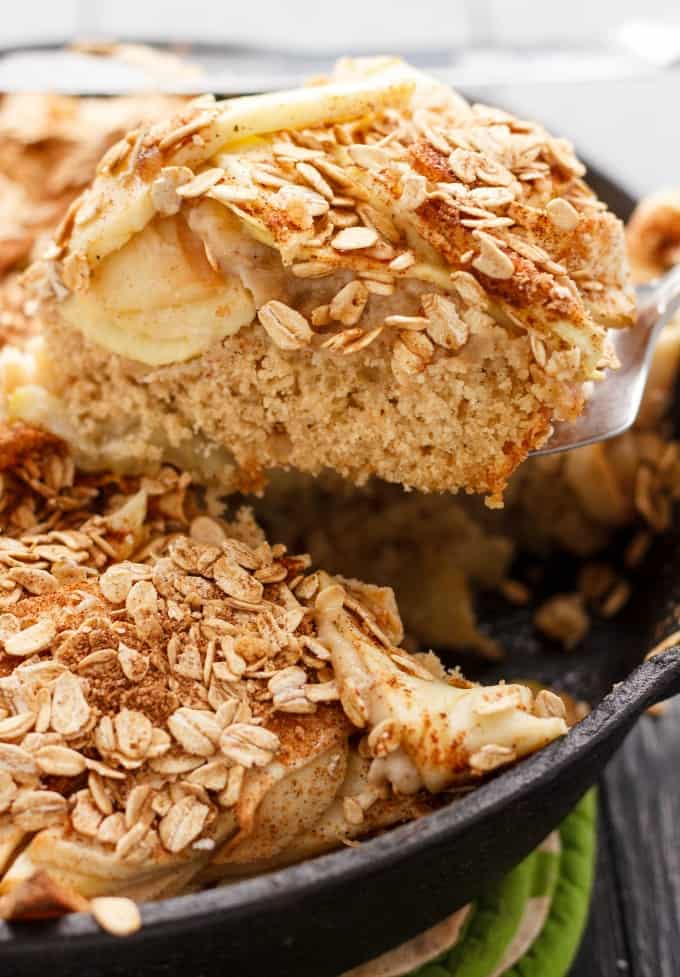 Skillet Apple Cake with Cinnamon Oat Topping