A new year means healthy recipes!! I am partnering up with Ontario Apple Growers to bring you these turkey bacon apple sandwiches! No bread, no filler, just healthy ingredients for one awesome snack (or lunch!) #ONappleAday
This is a sponsored post. I was fortunate enough to receive products and monetary compensation from Ontario Apple Growers. Though products were received, all opinions are my own and I would not recommend a product that I did not enjoy.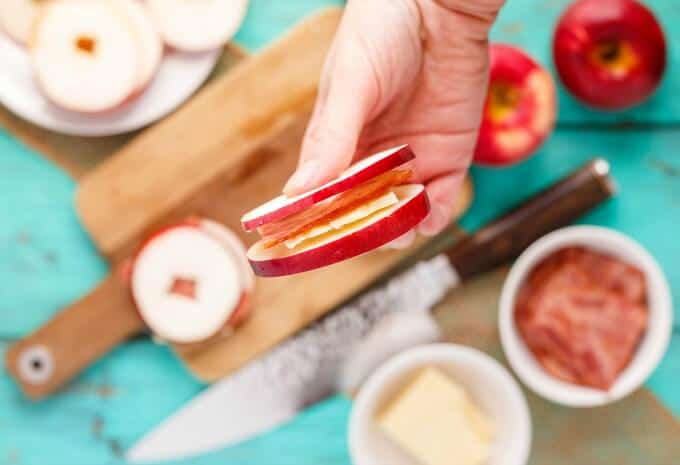 Happy New Year!
It is always hard getting back to work after the Christmas break, but here we all are! Mind you, the weather has been descent so I cannot complain, but I am sure a snow storm or very cold stretch will hit and then I will begin whining 🙂
January is all about healthy eating as people begin their resolutions. Apples are a great nutritional fruit that work perfectly well on their own, but also add depth to meals. Just ask Ontario Apple Growers! Apples and pork are a classic combination, but there are many more. Apples and cinnamon, apples and caramel, apples and squash, you name it, apples work! But my favorite classic is apples and cheese!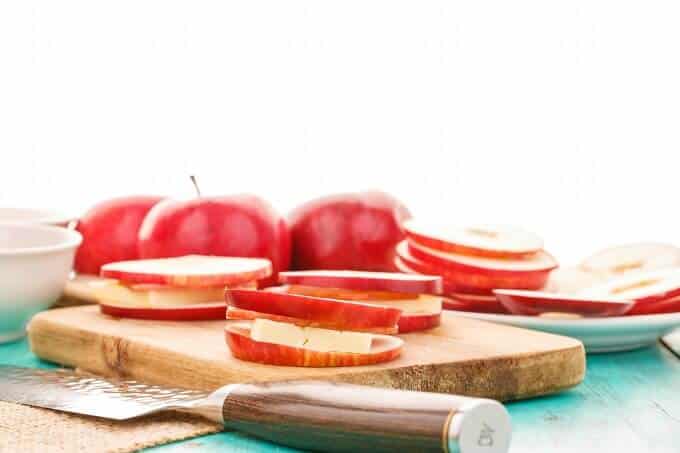 Say hello to these turkey bacon apple sandwiches!
Filled with a lean protein (turkey bacon,) topped with aged cheddar, and sandwiched between two slices of your favorite apple varietal! They make for a great snack, or even a delicious lunch. There is so much creativity left at your finger tips when it comes to this recipe. Some people prefer sweet apples, and some prefer tart. If you are like my brother and only like marble cheese, you can sub that in for the aged cheddar!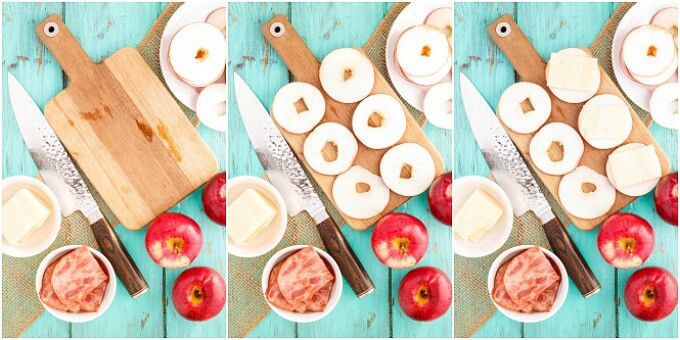 Not a fan of turkey bacon? Pork bacon works perfectly!
Originally my goal was to showcase wedges of apples topped with a piece of cheese and bacon. However, the more thought I put into it, the more I thought about how well apple slices show. You hear apple sandwiches and think grilled cheese or bread slices. But the apples are your "bread!" Not that I have anything against bread!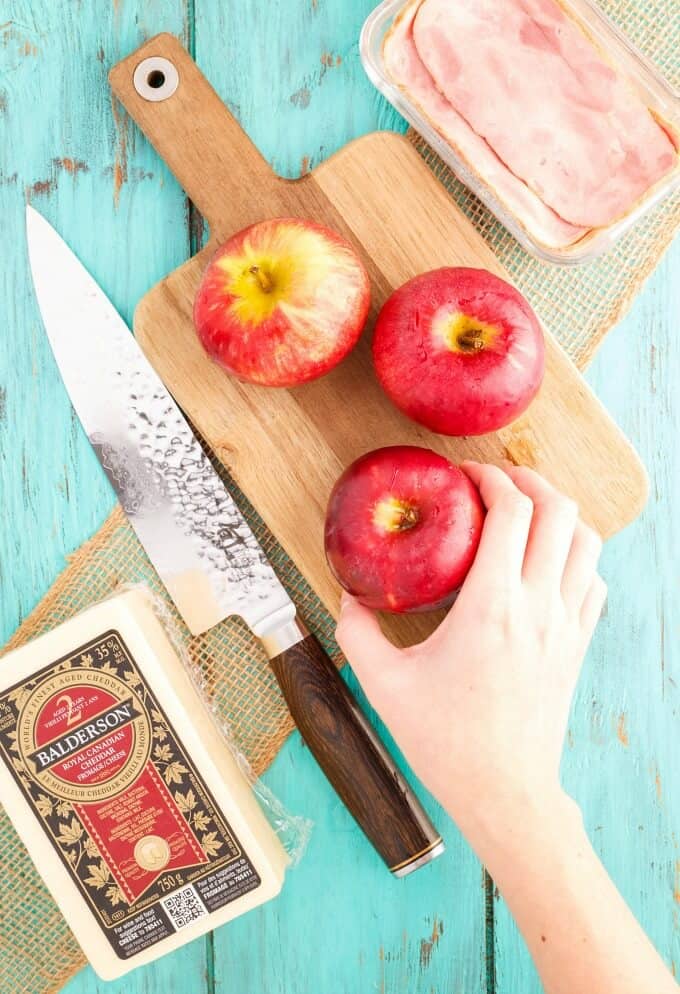 Even though I did not go the wedge route, these apple sandwiches still make for great appetizers. Mind you, apples tend to brown while sitting out so this is one recipe where you will want to have everything prepped and ready to go when the time comes. Even more fun is the idea of doing an apple bar, where you have a bunch of toppings and people make their own sandwiches. Hmmm, now I want to run with this idea!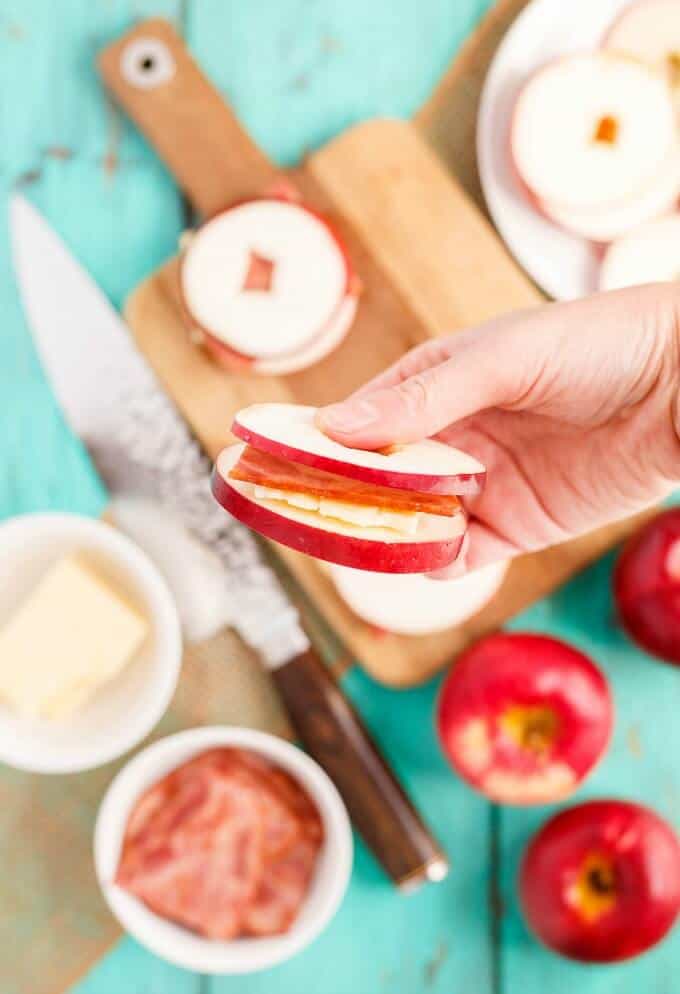 All this talk about apples and I have not spoke about our apple tour! If you remember from my last post (Apple-Pork Shepherd's Pie,) Ontario Apple Growers took us on a lovely tour to two local stops: Wilmot Orchards and Algoma Orchards. I spoke in depth about the love and passion that goes into apple farming, along with safety guidelines and hiring processes. While I won't get into much today, I would like to showcase something a bit different.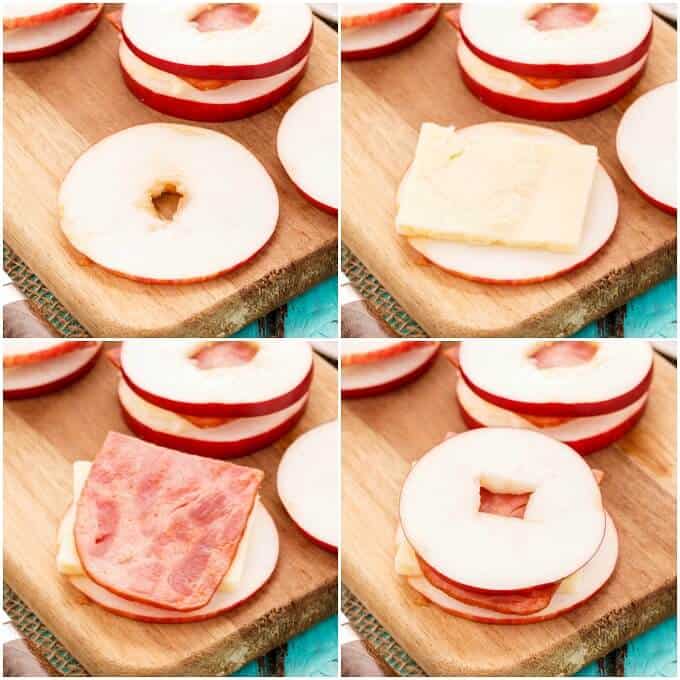 My grandmother passed away a few days before Christmas. While we knew once the chemo stopped that her health would gradually decline, we did not expect everything to happen so fast! When I began this project with Ontario Apple Growers, I was still taking my Nana to her chemo appointments. During our car rides and wait times at the hospital, we would chat about anything and everything! I gathered so many stories from her and loved every minute of our time together (she was, after all, my roommate throughout my grade 6 year! I knew exactly what time it was every night based on her TV show theme songs!)
She was excited that I was working with Ontario Apple Growers again and discussed how she used to bake all the time, notably with my dad (one of 7 kids!) She knew my pie crusts skills were lackluster and had no problem telling me that of her 4 sisters, her one sister could never produce a pie crust either to save her life 🙂 But that did not stop her from putting in her requests! At Thanksgiving she requested blueberry pie, and I actually used Lily's recipe from Little Sweet Baker. At the time, Nana's chemo treatment was still underway, and her appetite was non-existent. But you know what? She loved the pie so much she asked for a SECOND slice!
During this rough time I had a lot of support from my fellow bloggers, and Lily was always there. Even in the selfie we took during our apple tour, the hat I am wearing dates back to my grade 9 year and was my Christmas gift from my Nana. Never one into brands, my cousin helped her pick it out as it was popular at the time (no, I never did learn to skateboard!) My daughter teases me that I wear such an "old" hat, but if something is not broke, there is no need to fix it 🙂
Writing this post is bittersweet. My pies skills may lack, but I still rock awesome savory apple recipes!
📖 Recipe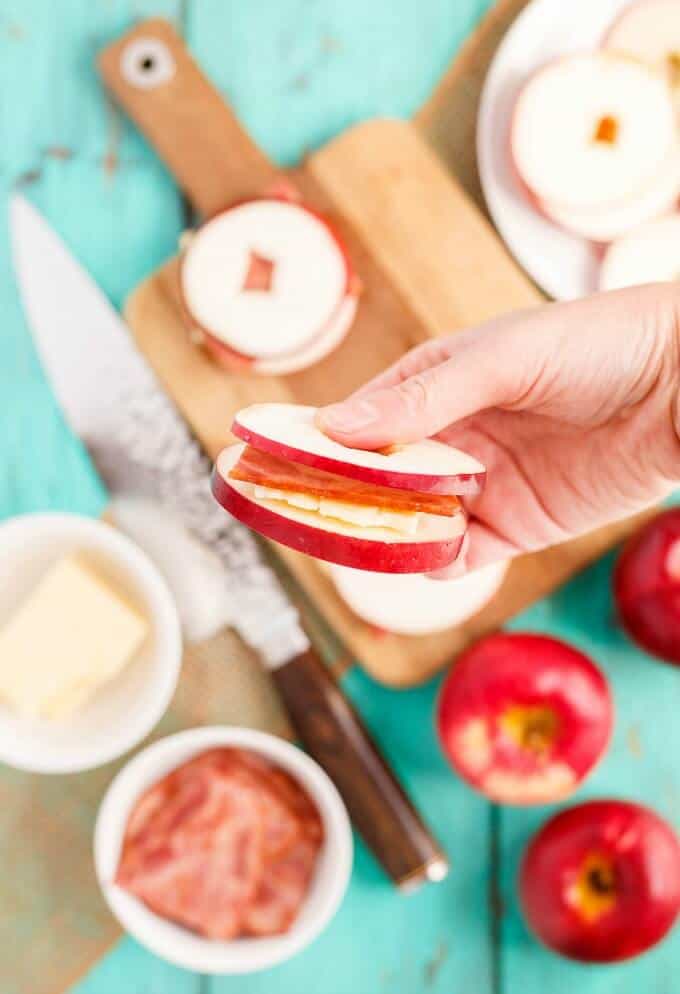 Turkey Bacon Apple Sandwiches with Cheese
A super simple appetizer recipe that is perfect for breakfast, lunch, or snack! Keep healthy with this Super Bowl recipe.
Instructions
Place apple rings in a single layer.
Top half the apples with bacon and cheese. Top with remaining apples.
Serve immediately!
Notes
Yield will depend on size of apples. My particular turkey bacon comes in wider strips, so you may have to double up on bacon if you can only find the skinny lengths.
Nutrition Information:
Yield:

6
Serving Size:

1
Amount Per Serving:
Calories:

77
Total Fat:

6g
Saturated Fat:

3g
Trans Fat:

0g
Unsaturated Fat:

2g
Cholesterol:

22mg
Sodium:

202mg
Carbohydrates:

1g
Fiber:

0g
Sugar:

0g
Protein:

5g
This is a sponsored post. I was fortunate enough to receive products and monetary compensation from Ontario Apple Growers. Though products were received, all opinions are my own and I would not recommend a product that I did not enjoy.
Love these turkey bacon apple sandwiches with cheese?! Try some of these recipes: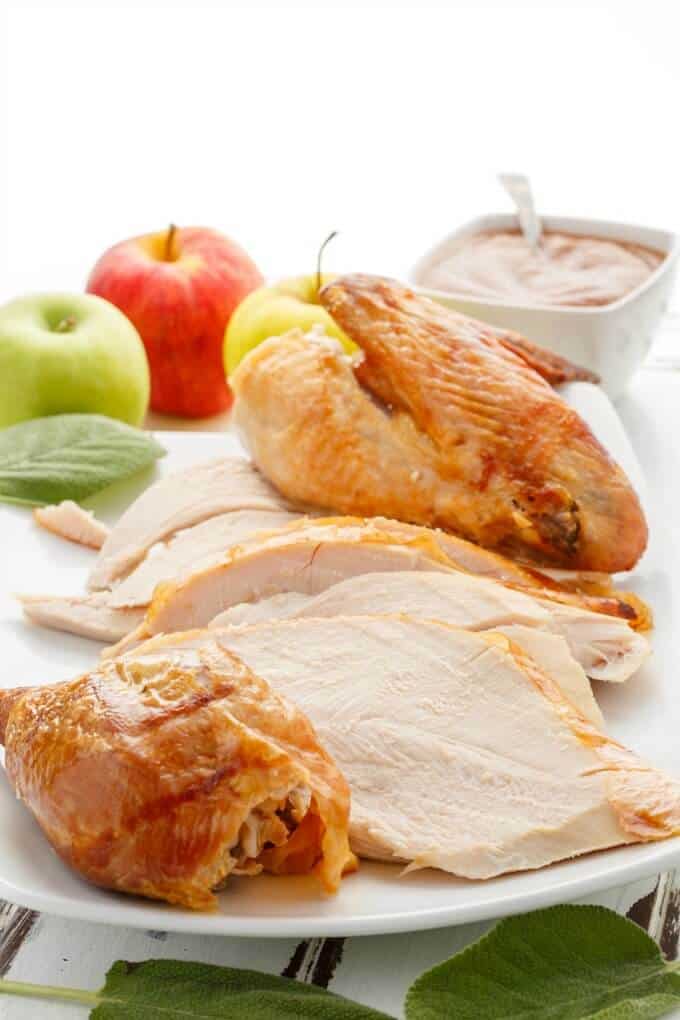 Roasted Apple Butter Turkey with Turkey Bacon Scalloped Potatoes