Only 20 days until Christmas! Dinner is probably the last thing on your mind, but rest assured, this oven spatchcock turkey is the ideal recipe this Christmas season! Fast, easy, and soooooo tasty! #EntertainWithTurkey
This is a sponsored post. I was fortunate enough to receive monetary compensation and/or products from Canadian Turkey. Though compensation was received, all opinions are my own and I would not recommend a product that I did not enjoy.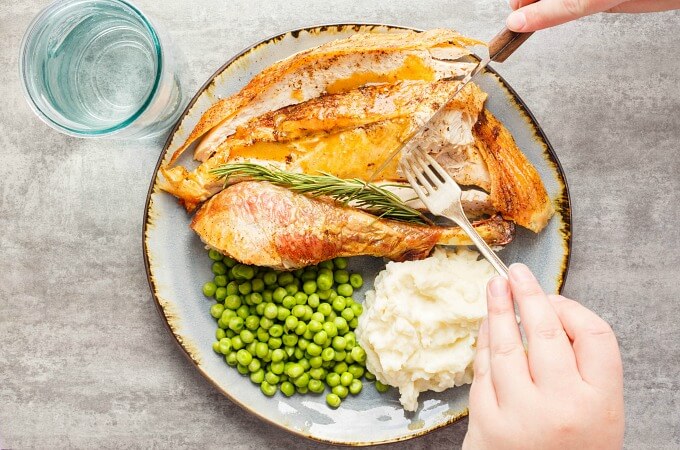 I am back with my final Canadian Turkey recipe for the year! My 2018 Canadian Ambassadorship has run smoothly and I think I really thought outside the box for many of my recipes 🙂 I hope you are enjoying them!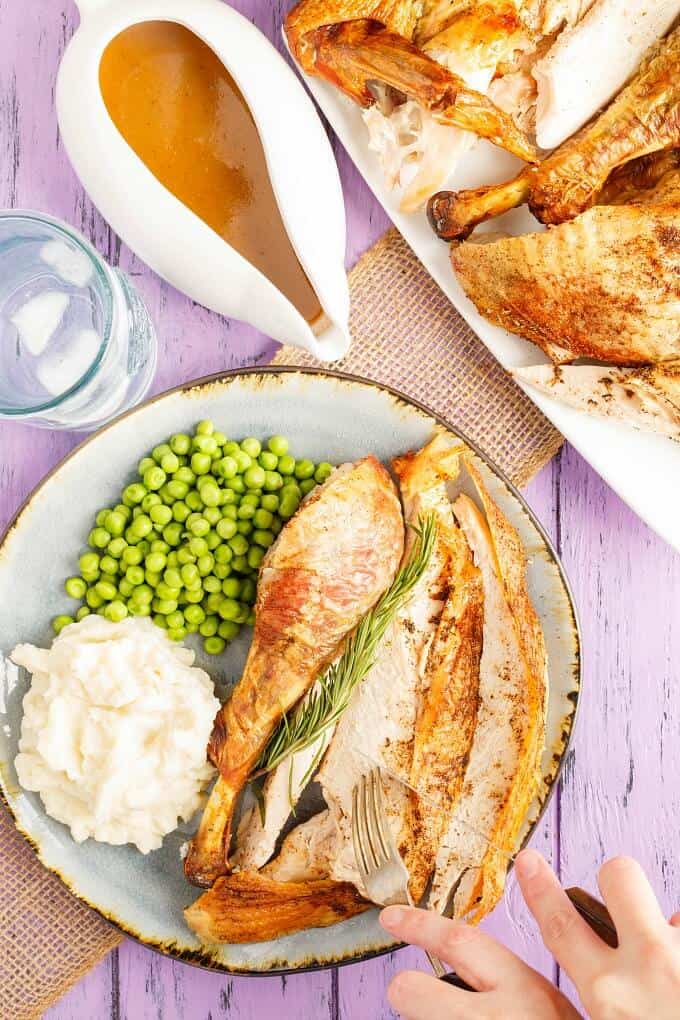 Today's oven spatchcock turkey may seem familiar as I did showcase a grilled spatchcock turkey this summer. But they are different! With the cold weather upon us, we are not thinking about grilling, especially during Christmas (though one year it was super mild and we totally could have BBQ'd outside!)
I really LOVE this method! I know I say this a lot when learning new techniques, but this one not only speeds up cook time GREATLY for a whole turkey, it also yields a super juicy turkey with a crispy skin. Everything people are looking for when making a turkey for their holiday dinner.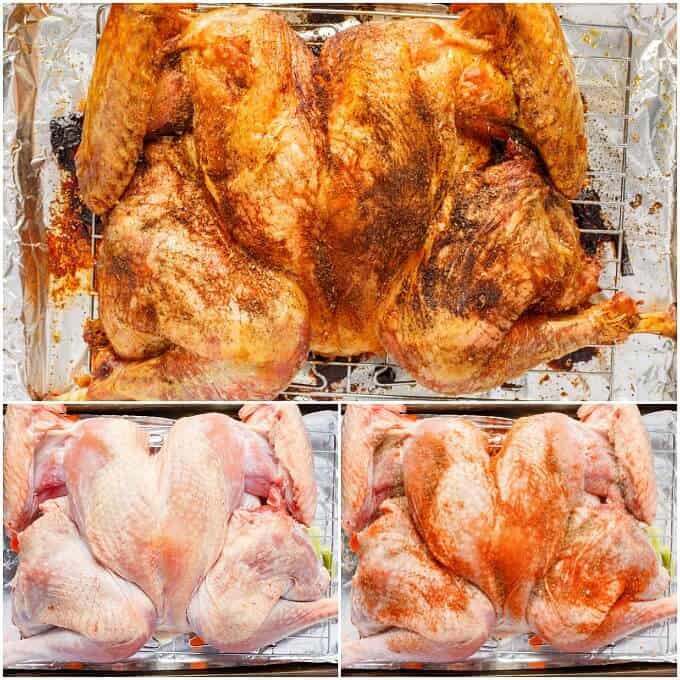 And with Christmas just around the corner, you can bet people want quick and simple!
I know personally that I like spending time with my family on Christmas and not spending every waking second in the kitchen. Over the years I have even begun prepping breakfast the night before so I do not have to stress about that (and the fact that I HATE cooking breakfast!)
Plus, with the turkey hogging up the oven, there is little accommodation for side dishes and desserts. This oven spatchcock turkey method is complete in about 1 hour 30 minutes, MUCH less time than roasting a whole turkey. Seriously, my sister could not believe it when she came over to go shopping and my whole turkey was done at 10AM. Yes, food blogging means I am cooking a turkey around 8AM just for fun, lol.
Now of course, this depends on the size of your turkey, but in the end spatchcocking really speeds up time. You also have your white meat and dark meat cooking more evenly, meaning no more dry white meat! I find carving is much simpler, too, as everything is flat and easier to access.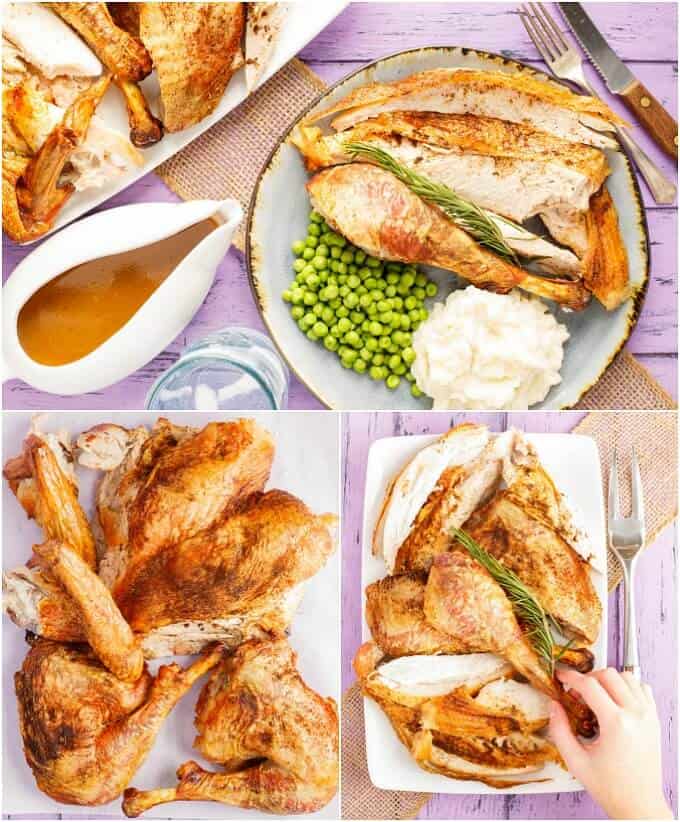 When it comes to serving, the new trend is serving your turkey sliced. No more placing the whole turkey on the table while someone carves it in front of everyone! This spatchcock turkey shows beautifully, and even more so in slices with emphasis on the crispy skin. I like the idea of buffet style when it comes to dinner, and it sure makes it easier on everyone else eating around the table!
And with New Year's celebrations around the corner, I highly recommend freezing some leftover turkey meat to turn into fun appetizers!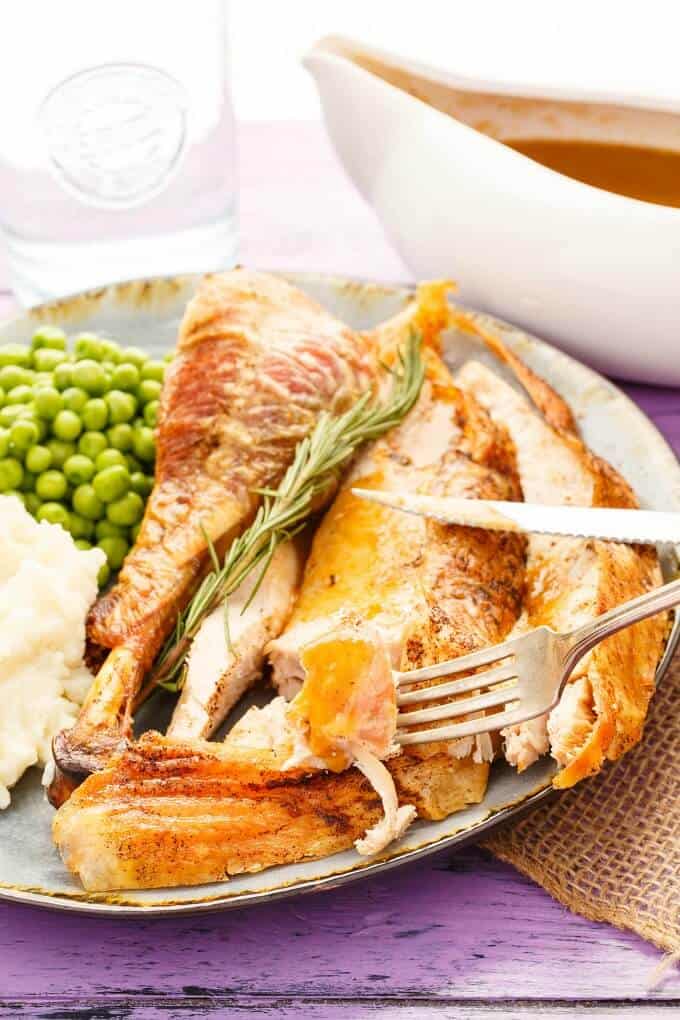 On some final notes, I did not have a chance to brine my turkey this go around. If you do brine your turkey, omit the salt in this recipe. It will have enough salt, trust me! Brining your turkey usually speeds up cook time, so please check your turkey around the 1 hour mark to ensure you are not overcooking it!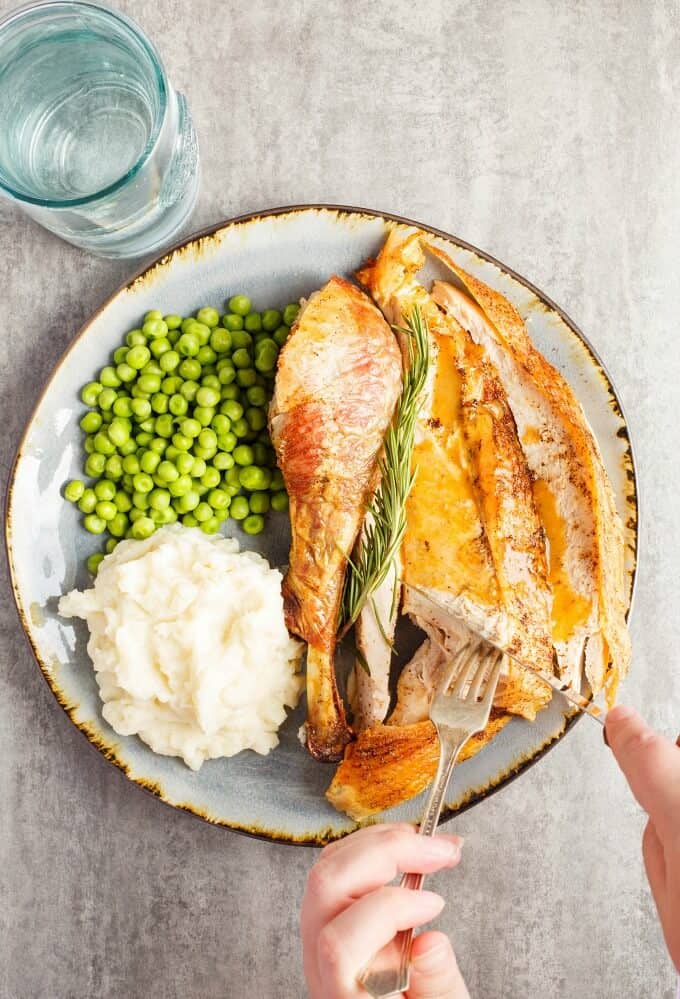 You can also make your gravy a day in advance and warm it up for dinner! I find with this method you do not get a lot of drippings, so I actually like to use the turkey neck and backbone to make my gravy. This can be seen in yesterday's homemade turkey gravy post. Since you are removing these parts before cooking, you can easily get your gravy made! No waste in this house!
And that leftover turkey carcass and meat? Well, I suggest some homemade turkey noodle soup, turkey bacon wraps, or some open-faced turkey sandwiches! Not only are whole turkeys cost effective, they extend into many other meals, making them great for meal prep, budgeting, and eating right!
📖 Recipe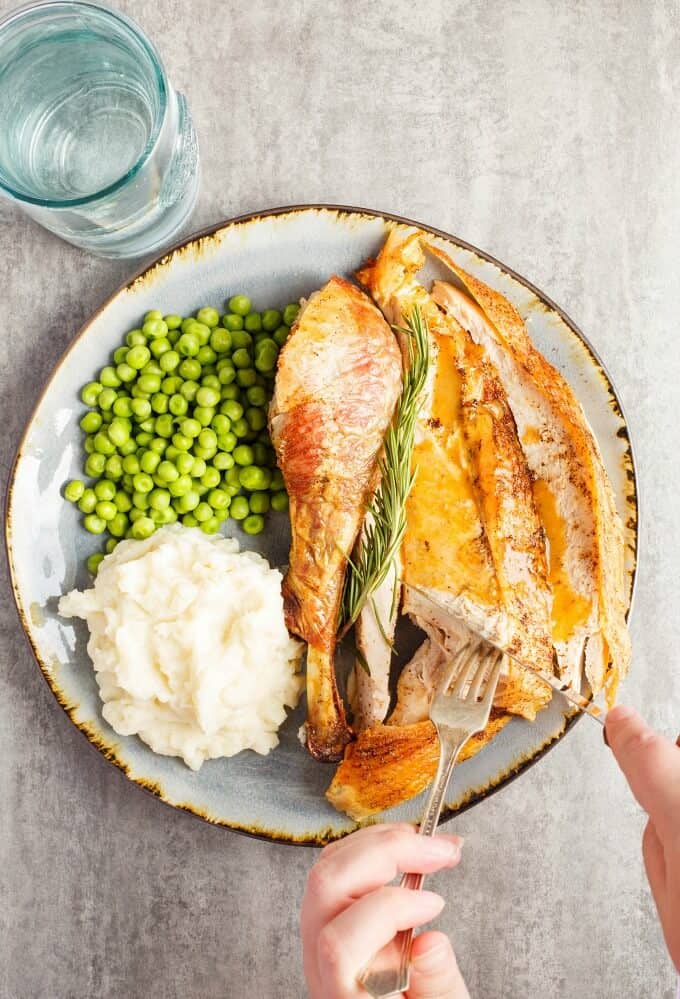 Oven Spatchcock Turkey
Cook Time:
1 hour
30 minutes
Total Time:
1 hour
45 minutes
No more 7 hour turkeys! This oven spatchcock turkey is complete in under 2 hours of cook time, all the while yielding evenly cooked white and dark meat, and finished with a crispy skin!
Ingredients
11 lbs whole turkey
1 tsp. kosher salt
1 tsp. black pepper
1 tsp. paprika
½ tsp. garlic powder
½ tsp. dried thyme
Instructions
Place turkey, breast side down, on a cutting board. Remove back bone with poultry shears and cut through ribs (you can also have a butcher do this.) Turkey should be able to spread open (we have now butterflied it.) Turn turkey, breast side up, and using good force, push hard down on the turkey breast. You should have the legs and wings pushing out sideways (like the bird has been flattened.) You will hear cracks and notice that the turkey is flatter. (For step-by-step photos, refer to my grilled spatchcock turkey post!)
If brining, do this now and follow directions accordingly (I skipped brining this time.)
Remove turkey from brine, move to a baking sheet or pan (with a rack on top) with wings tucked underneath, and pat dry. Allow turkey to sit, uncovered, in refrigerator overnight.
On the day of cooking, remove turkey from refrigerator. Season with pepper, garlic, thyme, and paprika. If you did NOT brine, rub salt on as well. If you DID brine, skip the salt!
Preheat oven to 450F. Once hot, move turkey into oven.
Cook for 30 minutes. Rotate pan. Cook for another 30 minutes. Check internal temperatures. Turkey is complete when legs reach an internal temperature of 180F, and breast reach 165F. Mine needed about an extra 15-20 minutes to cook through.
Immediately cover turkey with aluminum foil and allow to rest for a minimum of 20 minutes. Perfect time to make some gravy!
Slice and serve!
Notes
If you are brining your turkey, omit the salt in my recipe! Cook time varies (consistent oven temperature, size of turkey, etc.) Save the turkey neck and backbone to make gravy! For larger turkeys, add roughly 6 minutes per pounds onto cook time. For VERY large turkeys, oven temperature will have to be lowered to 375F after initial 30 minutes of cook time at 450F as turkey will burn before it cooks through.
Nutrition Information:
Yield:

8
Serving Size:

1
Amount Per Serving:
Calories:

1181
Total Fat:

46g
Saturated Fat:

13g
Trans Fat:

1g
Unsaturated Fat:

30g
Cholesterol:

680mg
Sodium:

800mg
Carbohydrates:

1g
Fiber:

0g
Sugar:

0g
Protein:

178g
Want an even easier turkey recipe for Christmas?! My
slow cooker whole turkey
is perfect for a potluck dinner!
This is a sponsored post. I was fortunate enough to receive monetary compensation and/or products from Canadian Turkey. Though compensation was received, all opinions are my own and I would not recommend a product that I did not enjoy.
Love this oven spatchcock turkey?! Try some of these recipes: