Move over chicken noodle soup! This turkey noodle soup is made using leftover homemade turkey stock and turkey meat. Easily made gluten-free, too!
I'm back!
And as I said in my homemade turkey stock post, I would be sharing with you a delightful recipe that utilizes leftovers once again. This turkey noodle soup is a twist on the classic chicken noodle soup recipe. Who doesn't love a good soup recipe?!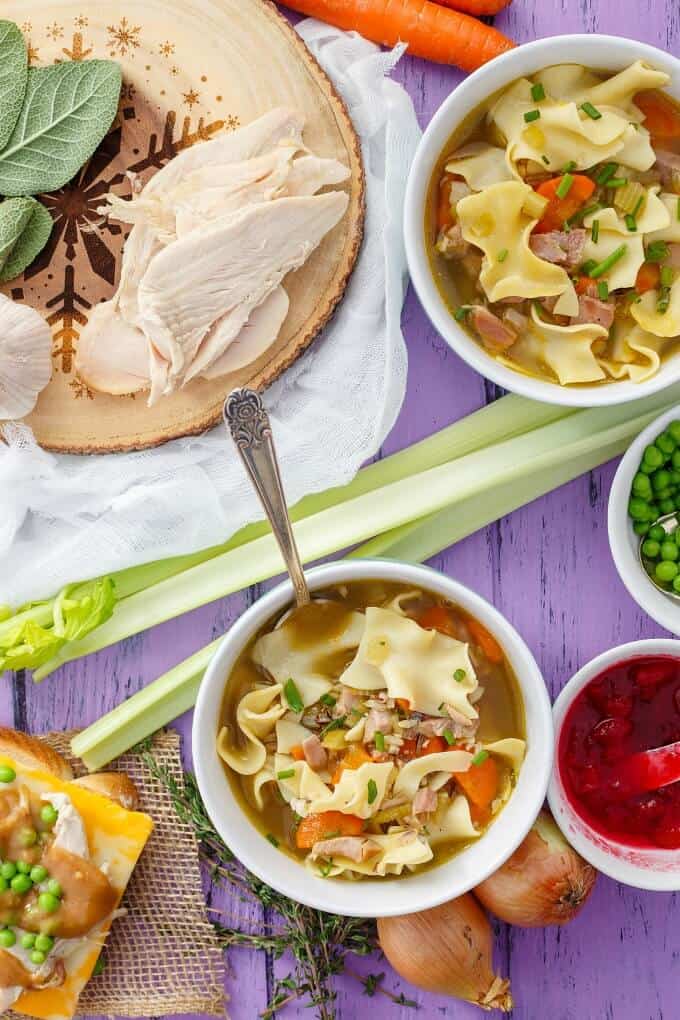 Usually with soup recipes I throw everything in but the kitchen sink. Now that I think about, it is a pretty similar method to how I make stocks... Must be a reason why I do it! 🙂 That being said, I stayed traditional this time around, using carrots, celery, and onion, and finishing with some rice and egg noodles. As I mentioned above, this recipe is easily made gluten-free by omitting the noodles and rice, or just finding the appropriate gluten-free variety.
What makes homemade soup so awesome? I would definitely say the broth. That is why I take the extra time to simmer down my stock; resulting in bold flavors with no added effort on my part. The flavors only get more pronounced as I simmer my soup and its ingredients!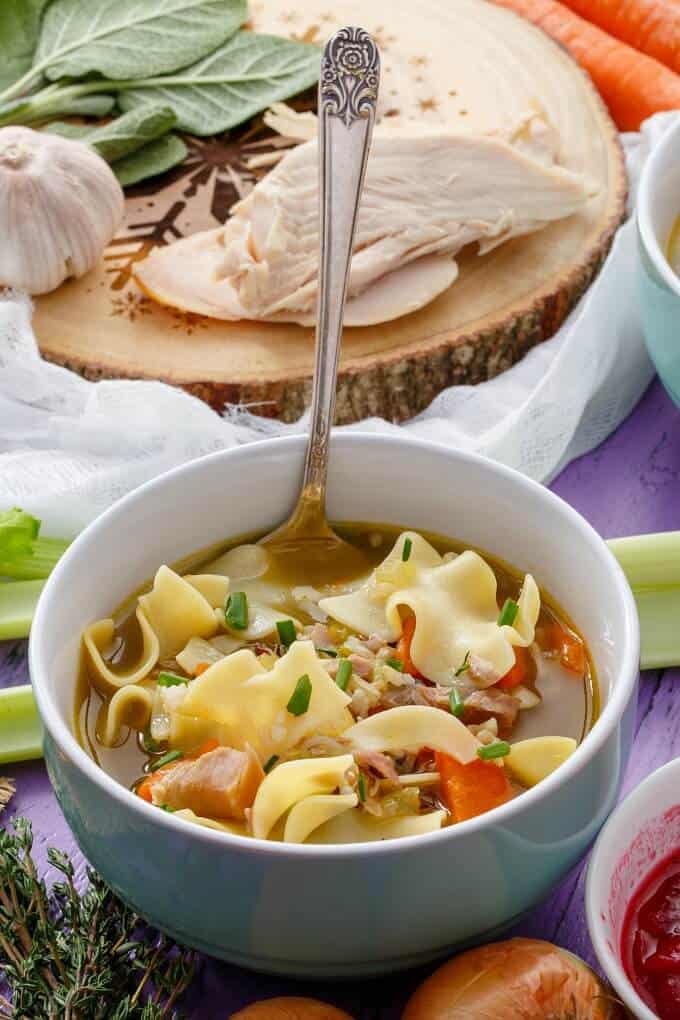 Of course, you can add anything you like to the soup. I save adding the turkey until closer to the end as it has already been cooked (does anyone else think of soup when turkey holidays draw close?!) However much of each ingredient you add is all up to you. Just be warned, those noodles and rice will soak up A LOT of your broth!
📖 Recipe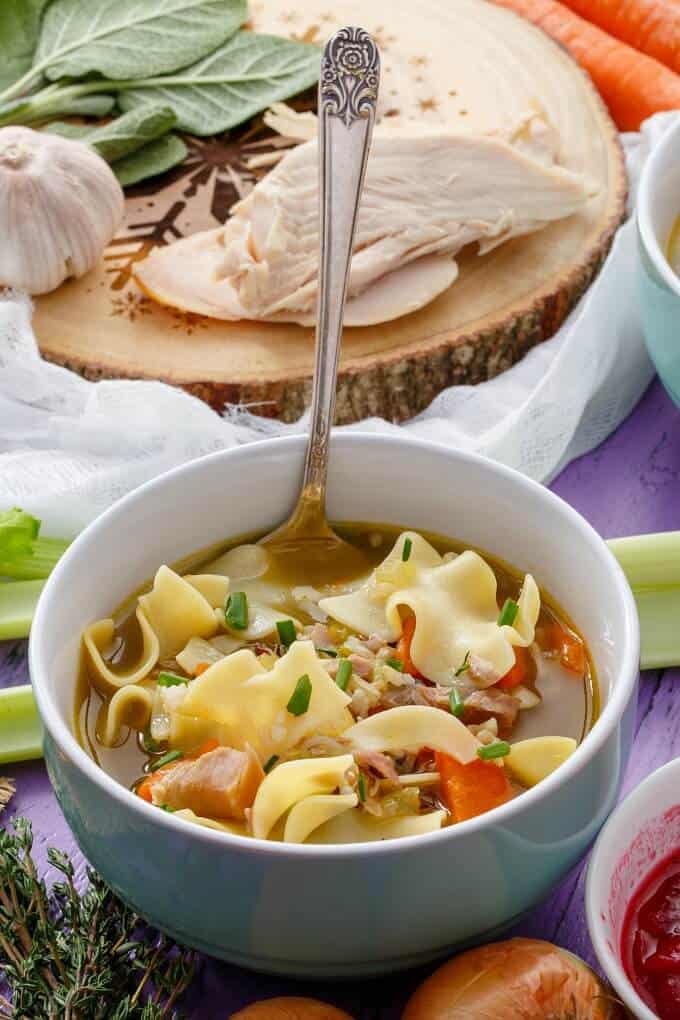 Turkey Noodle Soup (Using Leftover Turkey)
Cook Time:
1 hour
15 minutes
Total Time:
1 hour
30 minutes
This homemade turkey noodle soup is a spin on chicken noodle soup. It takes a while to simmer, but is so worth it!
Ingredients
2 cups leftover turkey meat, roughly chopped
2 tbsp. butter
1 large onion, diced
1 lb carrots, sliced
½ lb celery, sliced
2 garlic cloves, minced
10 cups homemade turkey broth + 2 cups water
¼ cup uncooked wild rice
1 tbsp. freshly squeezed lemon juice
2 cups uncooked egg noodles
Instructions
In a large pot over medium heat, add the butter. When melted, stir in onion. Cook for a few minutes. Stir in carrots and celery. Cook until onions are translucent and other veggies have softened slightly.
Stir in garlic, salt, and pepper. Cook for 1 minute.
Pour in broth and water. Bring to just a boil, reduce heat, and simmer for 20 minutes.
Stir in rice. Simmer for another 40 minutes (making sure to stir up the rice in the beginning so it does not stick to the bottom of the pan.)
Add turkey, lemon juice, and noodles. Simmer 6-10 minutes, or until noodles are soft.
Serve immediately (because those noodles will soak up all the liquid!)
Notes
The egg noodles soak up all the liquid, so be warned if you store this in the fridge, it may not be a soup any longer 🙂
Nutrition Information:
Yield:

6
Serving Size:

1
Amount Per Serving:
Calories:

255
Total Fat:

8g
Saturated Fat:

3g
Trans Fat:

0g
Unsaturated Fat:

3g
Cholesterol:

79mg
Sodium:

1697mg
Carbohydrates:

27g
Fiber:

4g
Sugar:

6g
Protein:

20g
All these turkey recipes utilizing leftovers and you want to know something? There are more to come!! And to think my whole turkey was just under 8 pounds... It is just amazing what you can do with leftovers! Stay tuned!