During the holidays there are A LOT of leftovers! Utilize them, and more specifically, use that leftover turkey carcass to make this homemade turkey stock! And then, come back tomorrow to see how I used up that stock 🙂
Last week I introduced my brand ambassadorship with Canadian Turkey. The smoked turkey recipe has gone over well with all my test-tasters, and even before this turkey was fully cooled, I was already thinking about ways to use up the leftovers!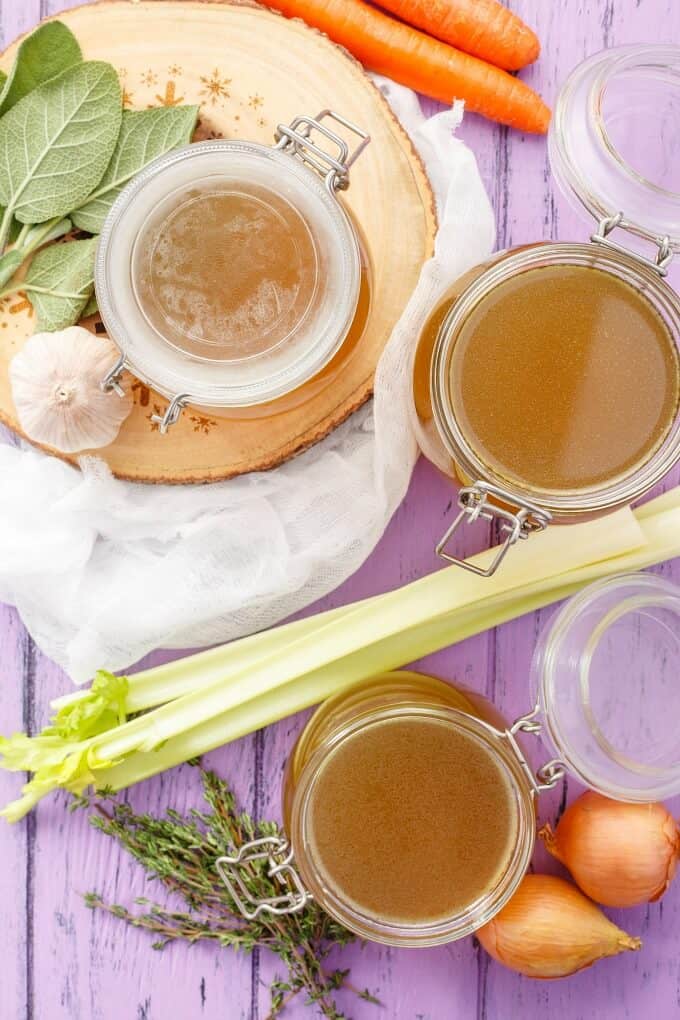 However, no matter what I made, I knew I had to make a stock with the carcass. And this homemade turkey stock only created more leftovers, causing my brain to turn some more 🙂
While today's post is not directly affiliated with Canadian Turkey, I did want to continue showcasing turkey and just how amazing it is.
Like many other meats and veggies, you can utilize the leftovers to create a rich and flavorful stock. Great on their own, but so very powerful in soup, stock lends a big hand in the kitchen. A favorite of mine is using stock in place of water to boil pasta in. It soaks up the rich broth, allowing you to create a light sauce to pair with your pasta. It is also handy when people want to deglaze their pan and don't have any wine handy.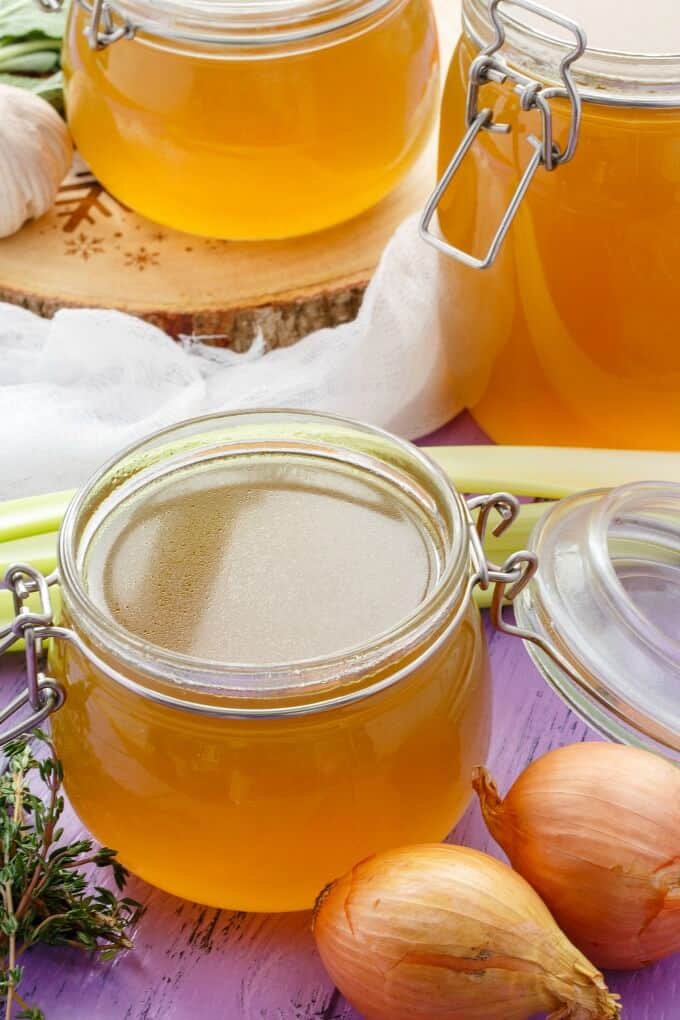 Now how do you go about making an awesome homemade turkey stock?! *For step-by-step instructions, take a look at the video above!*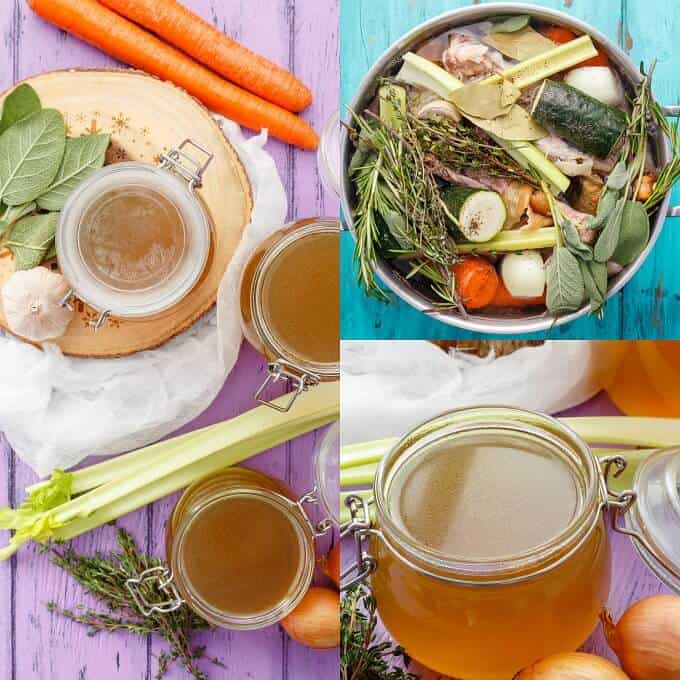 Throw in everything but the kitchen sink!
Seriously, any stock I make uses a bunch of veggies, paired with fresh herbs. Fresh herbs make all the difference here, and if you are like me, you will probably have some wilted ones hanging around because your fridge hates you 🙂
Another tip: don't boil the mixture. I learned this from Julia Child's cookbook and I totally see the difference with my previous stocks. Boiling will result in a cloudy appearance. Now I just gently simmer my mixture for many, many hours and come out with this awesome, rich liquid. I was a little worried when I saw how gelatinous my stock was the next day after sitting in the refrigerator, however, all online searches say this is really good and you have done something right.
So the key to a perfect homemade turkey stock? Fresh herbs and veggies, gentle simmer, and many hours to reduce! Taste as you go to see if you need more salt 🙂
📖 Recipe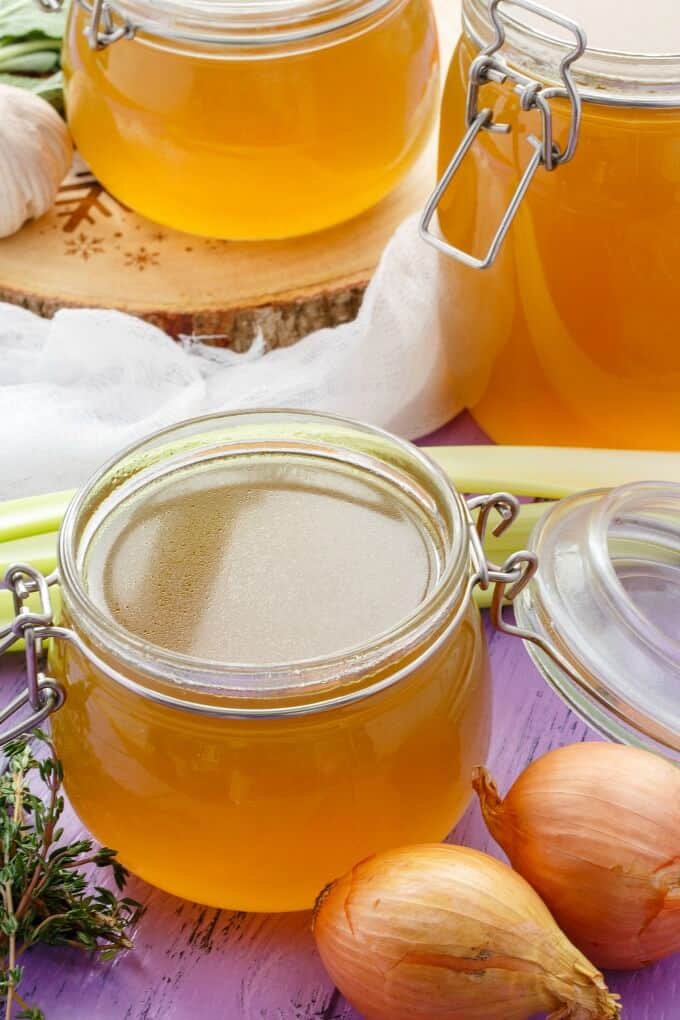 Tutorial: Homemade Turkey Stock
Total Time:
6 hours
15 minutes
This homemade turkey stock is made using a leftover turkey carcass. It can easily be customized to your liking.
Ingredients
12 cups water + more if needed
1 turkey carcass (I also saved the neck to throw in.)
3 dry bay leaves
1 large onion, halved
2 carrots, halved
Instructions
Place all ingredients except water into a large pot (a stock pot is probably best here.)
Pour in water until carcass is fully covered.
Bring to a boil (without actually letting the mixture boil,) reduce heat, partially cover, and gently simmer for 6 hours. The longer you simmer, the more concentrated the flavors will be.
Pour everything through a colander to remove big chunks. Allow stock to cool to room temperature. Place into fridge, covered, overnight.
The mixture should be quite gelatinous the following day. If any noticeable fat has surfaced, remove it.
Reheat until liquid form is achieved, and pour through a cheesecloth to remove any particles.
Store in the refrigerator for a few days or freeze.
Notes
Do not boil the mixture as it will result in a cloudy finish. You can add in as many ingredients as you see fit to customize your broth (fresh herbs are best here!)
Nutrition Information:
Yield:

8
Serving Size:

1
Amount Per Serving:
Calories:

28
Total Fat:

1g
Saturated Fat:

0g
Trans Fat:

0g
Unsaturated Fat:

0g
Cholesterol:

4mg
Sodium:

71mg
Carbohydrates:

5g
Fiber:

1g
Sugar:

2g
Protein:

2g
Pop back tomorrow to see what I have made with the homemade turkey stock! Hint hint, it is a spin on a classic!
Love this homemade turkey stock?! Try some of these recipes: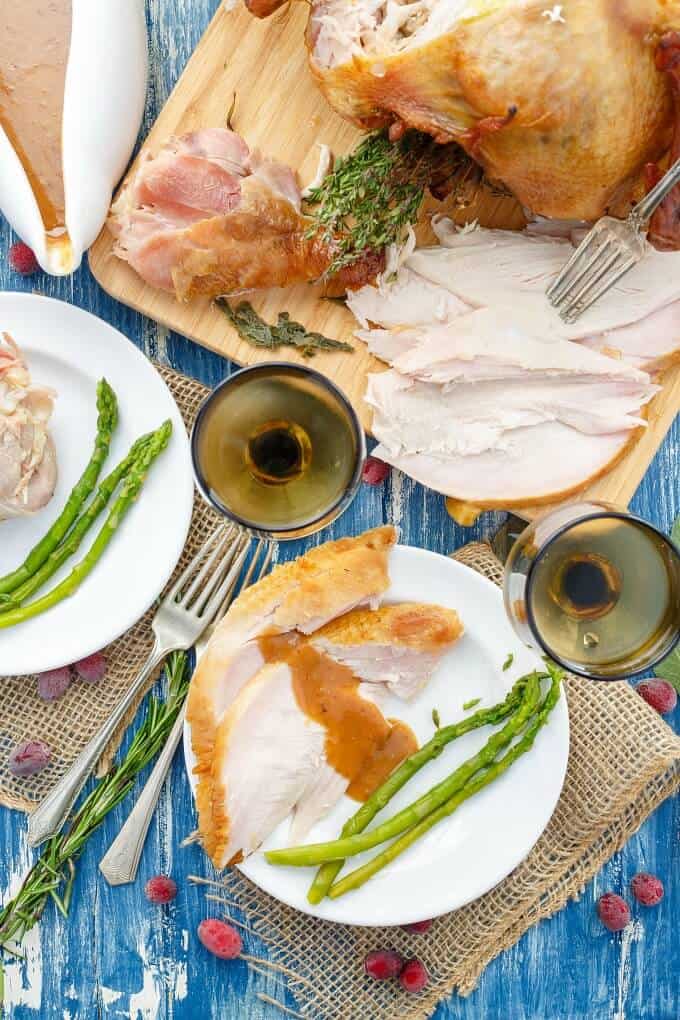 Smoked Turkey Recipe (How to Smoke a Turkey)