Move over oven, grill, and any other appliance this holiday season! This smoked turkey recipe is super easy, and yields the most tender turkey imaginable! Venture in as I begin my brand ambassadorship with Canadian Turkey!
This is a sponsored post. I was fortunate enough to receive monetary compensation and/or products from Canadian Turkey. Though compensation was received, all opinions are my own and I would not recommend a product that I did not enjoy.
Seems like I have been away from the blog for ages! However, with today's smoked turkey recipe (how to smoke a turkey,) I feel the wait was worth it for my regular readers 🙂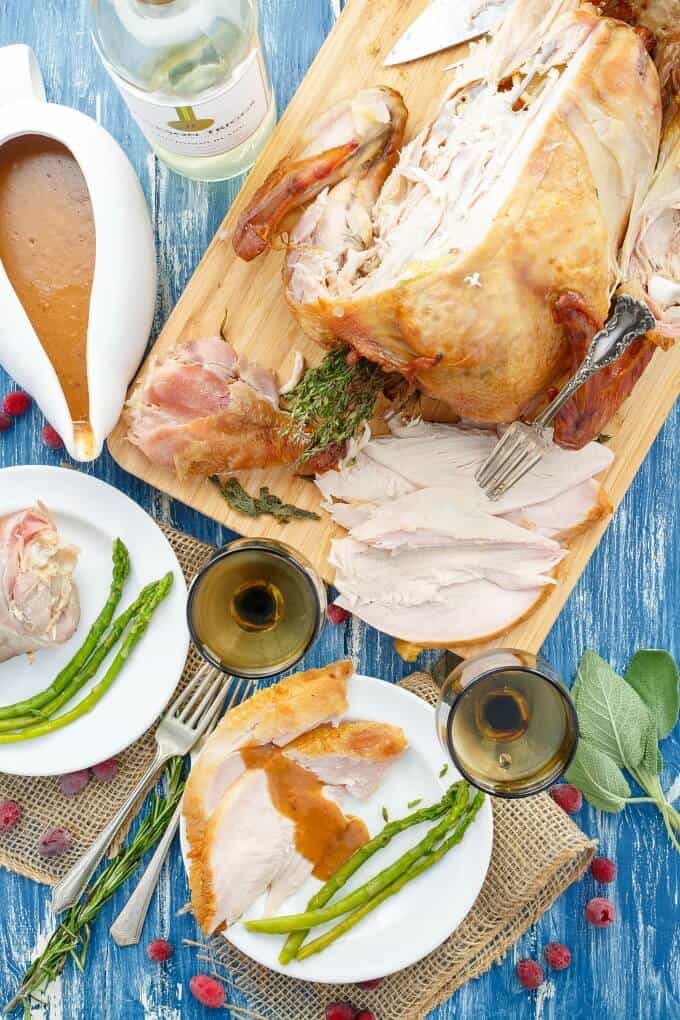 I am working with Canadian Turkey, and I could not be happier! Turkey has forever been a staple in our home (dating back to my childhood,) and with the holidays just around the corner, you can bet turkey recipes are more important than ever!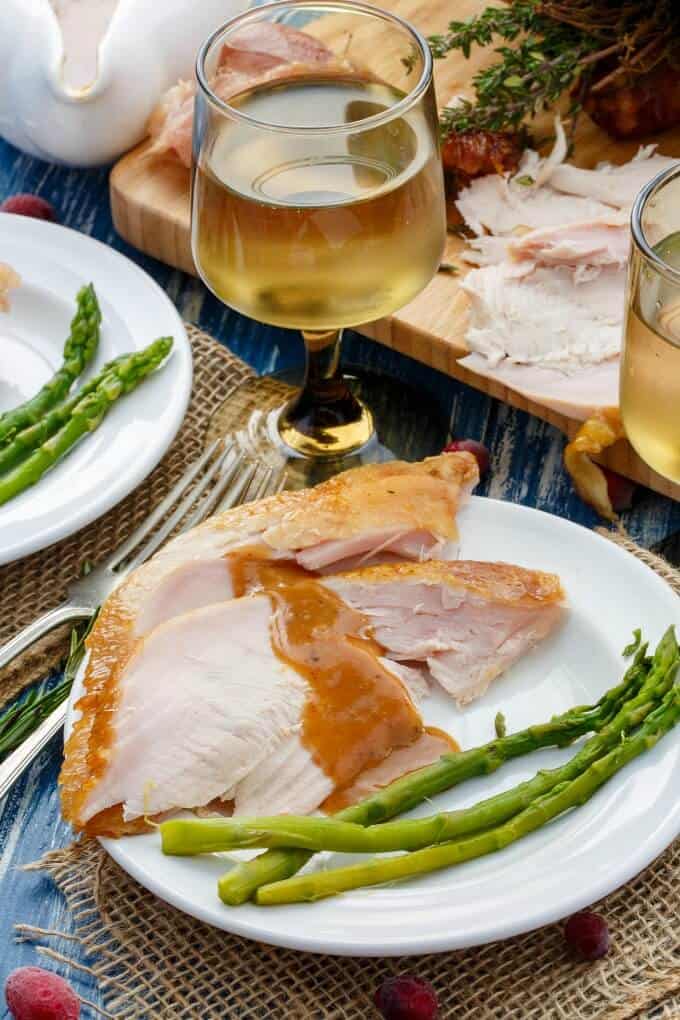 Whenever a large holiday event comes to mind, I immediately think about whole turkeys. And I followed through with that tradition, creating this smoked turkey recipe to show you just how easy smoked recipes are, AND how delicious they taste.
What is better than a family event, surrounded by loved ones as someone cuts into that moist, tender smoked turkey? How about the fact that smoking your turkey not only yields great flavors and the most tender meat ever, but it frees up your oven and/or grill, leaving you to make all the side dishes you want!
Still not convinced? Turkey is light and lean, making it a great healthy-choice protein. And they are so versatile, too. My sister actually introduced me to ground turkey, but you can buy whole birds, turkey legs, breasts, you name it, they have it.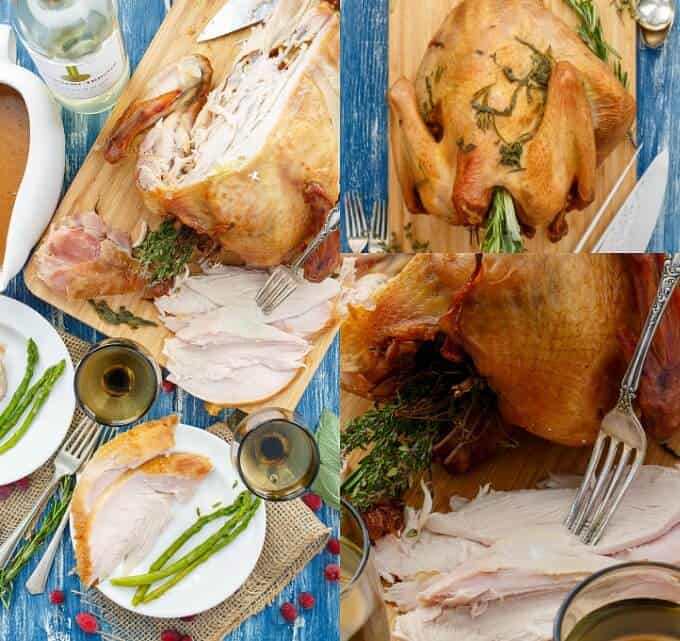 For my smoked turkey recipe today, I wanted to ensure the most tender meat possible and I achieved that by creating a brine for my turkey first. I followed Canadian Turkey's brining method, adding a few bells and whistles here. Don't let this frighten you. It is the easiest task ever, and you can get really creative with your ingredients here. Putting in fresh herbs and fruits really helped bring flavor to this dish.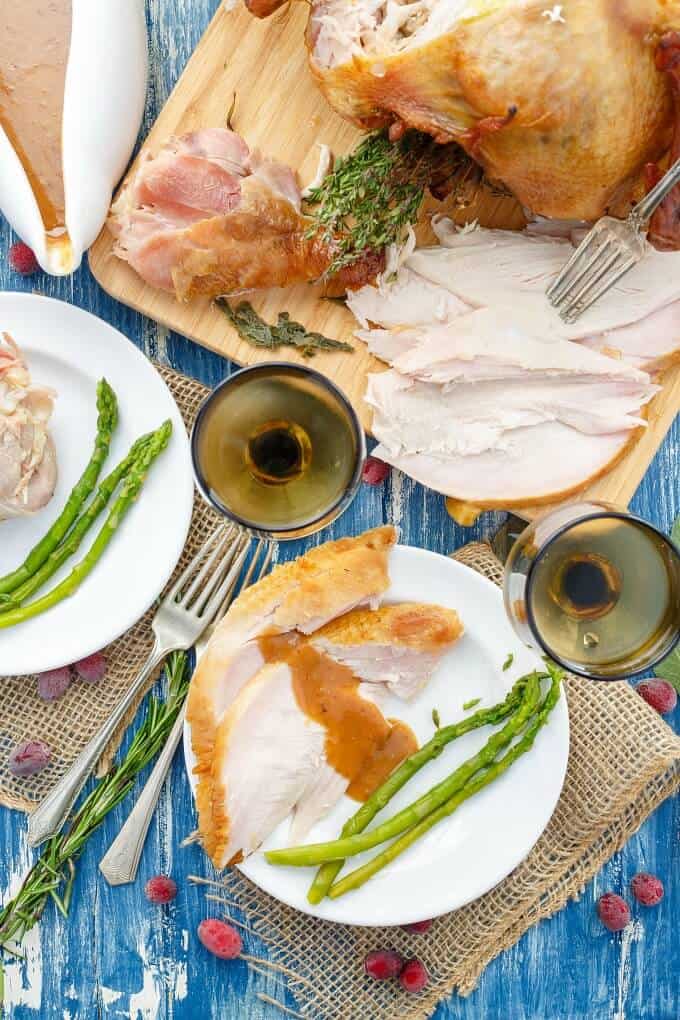 Another tip I want to share is about turkey skin and achieving that crispiness. You want the turkey completely dry before cooking. I actually pat my turkey dry, and let it sit uncovered in my refrigerator for 24 hours after the initial brine. Trust me, it works! I find myself doing this to all meat products with skin on them, and never have soggy, chewy skin.
So how do you eat your turkey? And what do you do with the leftovers? Well, I am starting a new series on the blog and utilizing turkey leftovers is part of the game plan! I am so happy to bring you this smoked turkey recipe, but I am also excited to share with you many other recipes that use turkey! Stay-tuned!
📖 Recipe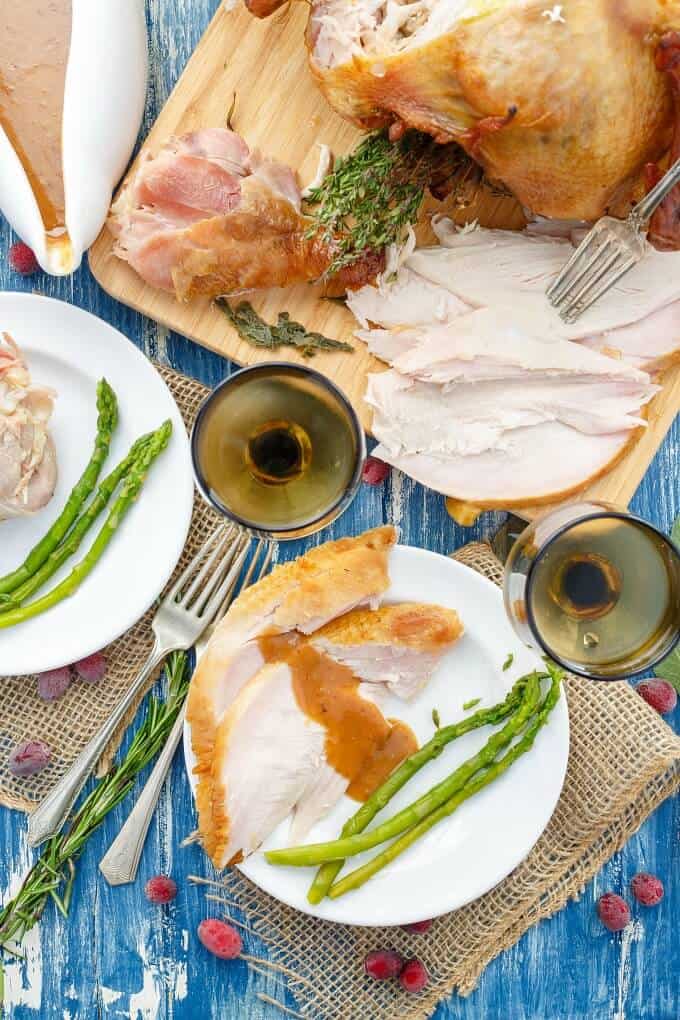 Smoked Turkey Recipe (How to Smoke a Turkey)
Total Time:
4 hours
45 minutes
It may seem intimidating, but smoking a turkey is super easy!
Ingredients
1 (3.5 kg, 7.7 lb) whole turkey, insides removed
Fresh rosemary, thyme, and sage leaves
1 small apple, cored
1 small onion, quartered
1 small carrot, cut into chunks
1 small lemon, halved
1 tbsp. olive oil
Brine
2 cups table salt
2 cups brown sugar
16 cups cold water
1 lemon, sliced
1 apple, cored
4 garlic cloves
2 small onions
3 celery stalks
Sprigs of fresh thyme, rosemary, and thyme
Butter rub
¼ cup butter, melted
Some fresh thyme, sage, and rosemary leaves chopped
Instructions
Find a pot large enough to have your turkey full emerged in the brine (I used a stock pot, but you can also buy special brining bags.)
In a large pot, combine 4-6 cups water with salt and sugar. Heat over medium, stirring occasionally until sugar and salt dissolve. Remove from heat and pour into pot with remaining water and brine ingredients. Allow to cool before adding turkey.
Submerge turkey and cover. Refrigerate for 12-24 hours.
Once brined, remove turkey and allow to drain. Discard brine and pat turkey dry. OPTIONAL: Refrigerate turkey, uncovered, to dry it out more (to ensure crispy skin!)
Smoking
If you brined your turkey, DO NOT salt it! It will be salty enough! Fill cavity with apple, onion, carrot, lemon, and herbs (don't pack it in there: only use what is needed for aromatics.) Coat turkey with olive oil and wrap in cheesecloth.
Prepare your smoker. We used a charcoal model and preheated with organic apple wood chunks to 230F (using the minion method.)
Once heated, place turkey breast side down. Cover and cook for 4-5 hours, or until internal temperature reaches 160F. You may need more or less time depending on how consistent your temperature stays. We removed the cheesecloth after 2 hours and basted with the butter rub. We proceeded to do it once more near the end of cook time.
Serving
Remove turkey from smoker. Allow to rest for 15 minutes before slicing.
Serve with your favorite gravy and homemade cranberry sauce!
Notes
Make sure to use a non-corrosive pan for brining! If your turkey floats, use a weight (we just put a lid over ours.) DO NOT salt turkey if you brine it because it will be over-salted.
Nutrition Information:
Yield:

6
Serving Size:

1
Amount Per Serving:
Calories:

419
Total Fat:

12g
Saturated Fat:

6g
Trans Fat:

0g
Unsaturated Fat:

5g
Cholesterol:

41mg
Sodium:

37870mg
Carbohydrates:

76g
Fiber:

4g
Sugar:

68g
Protein:

7g
Here are all the details to products and techniques used:
Weber 721001 Smokey Mountainer Cooker 18 ½-Inch Charcoal Smoker
How to Brine a Turkey: details on corrosive pots, how much brine you need per pound, etc.
Minion Method: How to prepare your smoker.
3 chunks of Organic Apple Wood Chucks by Montana Grilling Gear
Kingsford Original Charcoal Briquetes
Brining a turkey ensures moist, tender meat. If you do brine your turkey, DO NOT season it with salt!! It will be way too salty. NO SALT. You have been warned.
Drying your turkey in the refrigerator, uncovered, for 24 hours is optional, but nothing helps gain a crispier skin than a dry turkey!
If you are using a larger turkey, cook time will vary. You may need more brine, but otherwise, adjusting the aromatics and butter rub is simple.
Many thanks to my sister and her awesome boyfriend, Tyler, for helping me out (and letting me use his smoker!)
If you have any questions, please leave me a comment! I am here to help!
This is a sponsored post. I was fortunate enough to receive monetary compensation and/or products from Canadian Turkey. Though compensation was received, all opinions are my own and I would not recommend a product that I did not enjoy.