Comforting, hearty, and a twist on a classic, this mashed potato chicken pie uses a creative gluten-free pie crust to ensure a nutritious and tasty meal! Read along and enter the giveaway below as I continue my brand ambassadorship with The Little Potato Company!
This is a sponsored post. I was fortunate enough to receive products and monetary compensation from The Little Potato Company. Though products were received, all opinions are my own and I would not recommend a product that I did not enjoy.
A couple of weeks ago I would have said for sure that spring was going to be here by now! Our temperatures were warm, there were rainy days, and winter seemed long gone!
How wrong I was.
If anything, the weather has become worse! Arg. All I can say is that I am happy March Break has fallen where it has this year!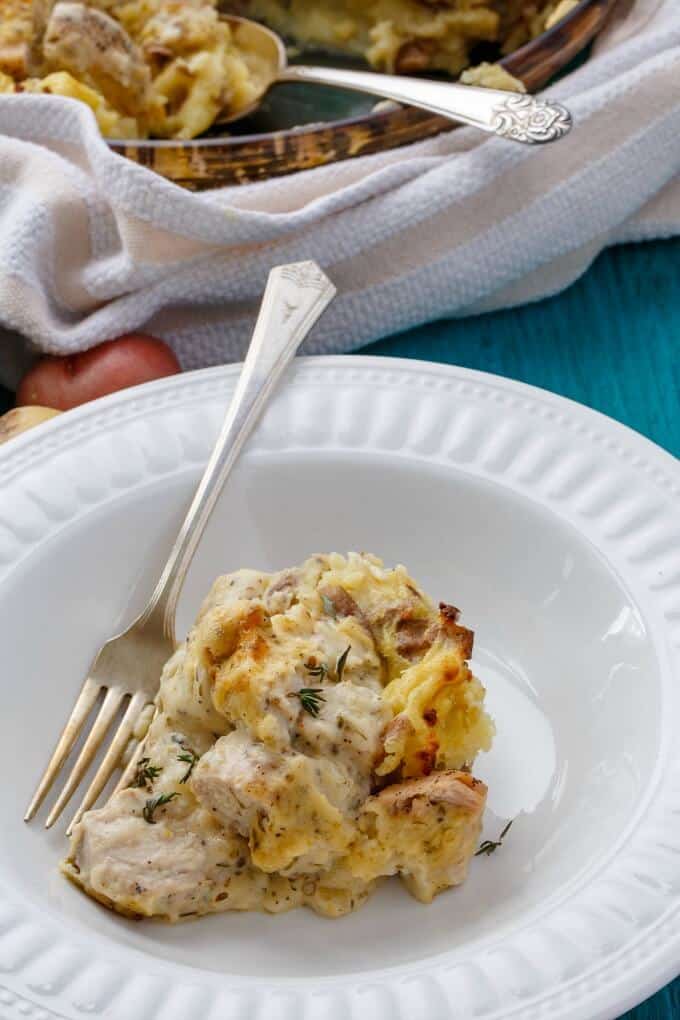 This mashed potato chicken pie uses a completely gluten-free crust, making it perfect for any diner! Then again, the filling in the middle is not gluten-free… However, using your favourite gluten-free flour should yield a completely GF-friendly meal!
I feel this mashed potato chicken pie recipe is a great comfort food, especially during the colder months. Since I am one of those people who sucks at making homemade pie crusts, I was really happy to come up with this alternative!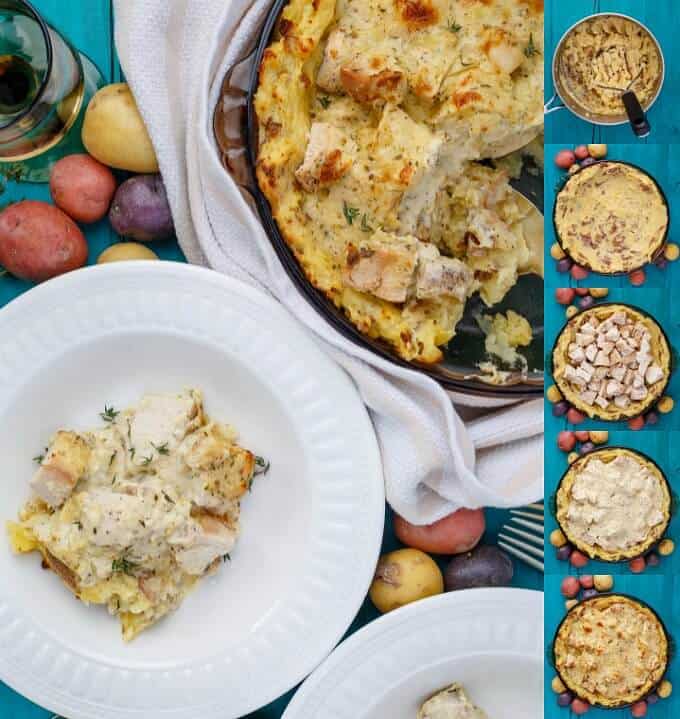 Plus, you know how I feel about utilizing leftovers!! This mashed potato chicken pie is a great way to use up mashed potatoes. Actually, it is probably preferred as you want a drier batch to bake nicely in the oven. Gives that crust its crispy nature 🙂
Having made this recipe many times now, I can say for certain that any of The Little Potato Company's Creamer potatoes will work, but in my case I used Blushing Belle in the photos, and Something Blue in the video. Yes, I have finally had the chance to work with Something Blue potatoes and they are AMAZING! I seriously love the colour, the size, and the taste!
Personally, I would rather use these potatoes in a dish where you can truly see their colour, but they worked perfectly for the crust 🙂 Along with their other varietals, the Something Blue potatoes provide a great source of potassium and iron. And of course, they are gluten-free! I almost feel as though I will need to use this mashed potato pie crust all the time for my savoury pies because it is that good.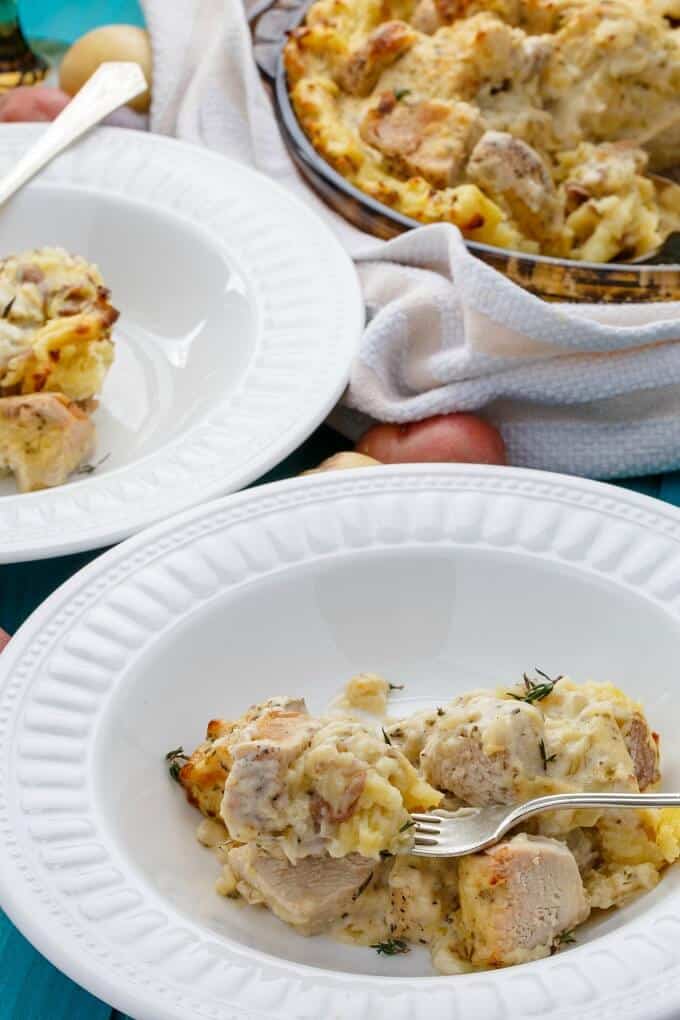 Okay, sorry for all the rambling! With my surgery last week I have been kind of deprived of cooking and blog related stuff 🙂 I'll wrap this up quickly!
The sauce in the middle is made using a basic roux. I like a blend of milk and cream, but honestly, you can use whatever you like. Coarse whole grain mustard is also a specialty of mine, but just be warned that you can add too much! My poor husband had to suffer through one over-powering dish 😉
Lastly, the paprika changes the colour completely of the dish. You can see in the pictures that the dish is more neutral. However, in the video, where I used paprika, it turns more into an orange-sauce, making it appear almost cheese-like (and there is no cheese in this dish!)
Phew, there we go! Seriously, every time I have made this mashed potato chicken pie for my husband I have been jealous because it smells sooooo good! I am so making a mushroom or lentil creation of this recipe. But for now, if you have leftover chicken, I highly suggest visiting this recipe 🙂

Mashed Potato Chicken Pie
---
A simple and decadent meal that utilizes leftovers to their best!
15 minPrep Time
45 minCook Time
1 hrTotal Time
Ingredients
2 lbs cooked chicken breasts, cubed
3 tbsp. butter
2 tbsp. all-purpose flour (or your favourite gluten-free blend!)
1 onion, diced
1 garlic clove, minced
1/4 cup chicken broth
1/4 cup heavy whipping cream
1 cup milk
1 tsp. dried oregano
1/2 tsp. dried thyme
1/2 tsp. paprika
1/2 tbsp. coarse whole grain mustard

Potatoes

1.5 lbs Little Potato Company Creamer potatoes (Blushing Belle or Something Blue delivers a nice colour for the crust.)
1/4 cup butter
1/2 cup milk
Salt and pepper
Instructions
Place potatoes into a large pot of salted water. Bring to a boil and cook until tender, about 10-15 minutes. Drain and set aside.
Return saucepan to the stove over medium heat. Melt butter and stir in milk. When bubbling, add potatoes and mash until desired consistency is reached.

Filling

Add butter to a medium-sized saucepan over medium heat. When bubbling, stir in onion. Cook for a few minutes. Whisk in flour and cook for about 5 minutes, or until roux is noticeably darker in colour. Stir in seasonings and garlic. Whisk until combined. Add in milk, broth, cream, and mustard. Continue to whisk over medium-heat until thickened, about 5 minutes. Remove from heat.

Assembly

Grease a 9-inch round pie dish. Add mashed potatoes; pushing down and up the sides until you have a nice, even layer.
Place into 400F preheated oven and bake for 10 minutes. Remove, add chicken, followed by sauce. Spread evenly and return to oven. Bake for 20 minutes, or until heated through.
Allow to cool (a lot) before serving!
Notes
Leftover mashed potatoes work great here! Use approximately 2 cups mashed potatoes for the recipe.
7.8.1.2
515
https://thecookiewriter.com/mashed-potato-chicken-pie/
Are we ready for GIVEAWAY TIME?!
This giveaway begins Tuesday, March 14th, 2017 at 12:00 AM EST. It will run until Friday, March 24th, 2017 11:59 PM EST. The prize is one month's worth of free Little Potatoes from The Little Potato Company! The giveaway is open to residents of Canada and the US. Dig into this giveaway because you know you really want these potatoes! The winner will be notified by email and will have 48 hours to respond. If they do not come forward, I will redraw a name. The winner will be announced the week of March 27th, 2016!
This is a sponsored post. I was fortunate enough to receive products and monetary compensation from The Little Potato Company. Though products were received, all opinions are my own and I would not recommend a product that I did not enjoy.
Love this mashed potato chicken pie?! Try some of these recipes: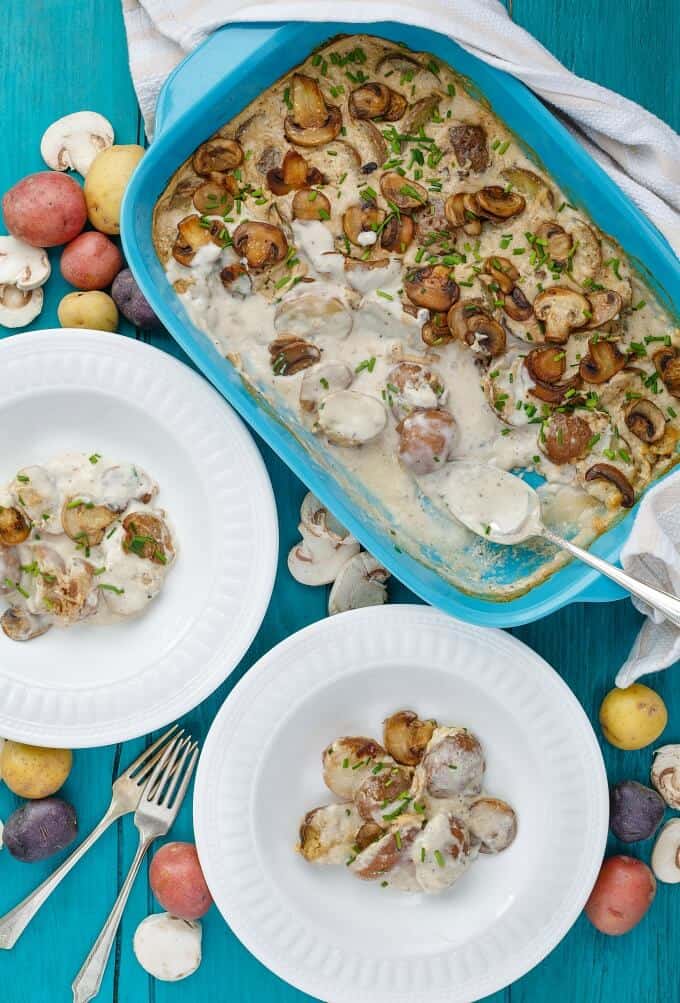 Cream of Mushroom Soup Potatoes