Splits peas and lentils are not just for soup! This split pea lentil casserole brings together some awesome pulses and shows you how to include them more in your diet.
Having worked with Canadian Lentils in the past, I am no noob to lentils, split peas, and other pulses. My vegetarian diet has consumed many pulses, but don't think they are just for non-meat-eaters. My husband and daughter love split peas and lentils, so this split pea lentil casserole made sense!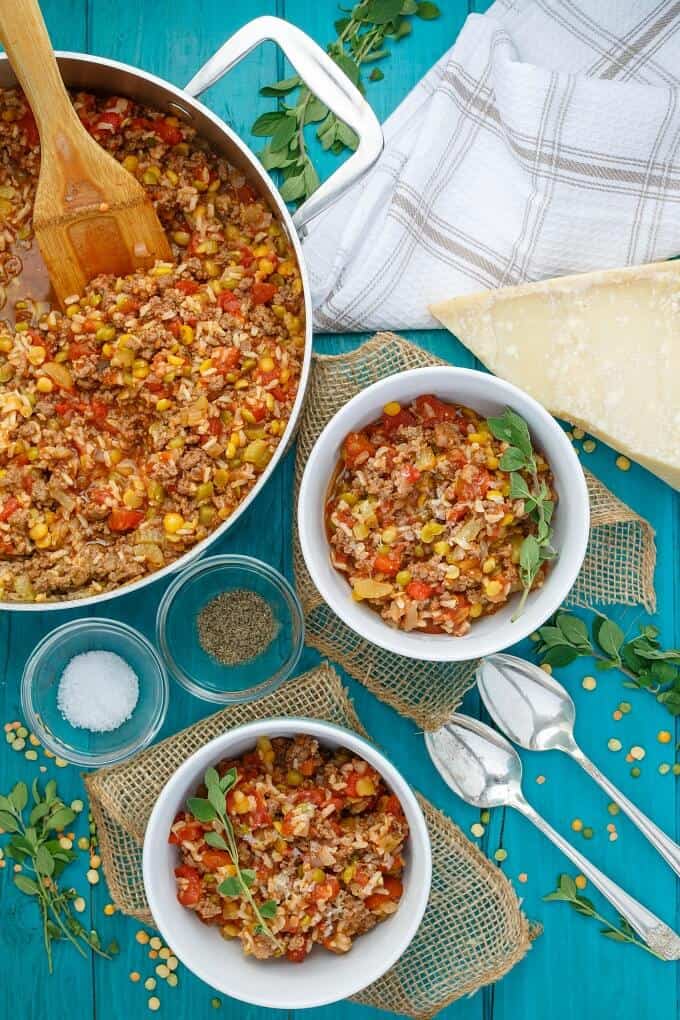 I love how everything comes together in this recipe. it is so hearty, and such a comforting dish during the colder months. I always tell everyone that my iron levels deplete big time during the winter because I cannot eat a salad over a comforting dish.
Then again, I should just include more greens in my meals 😉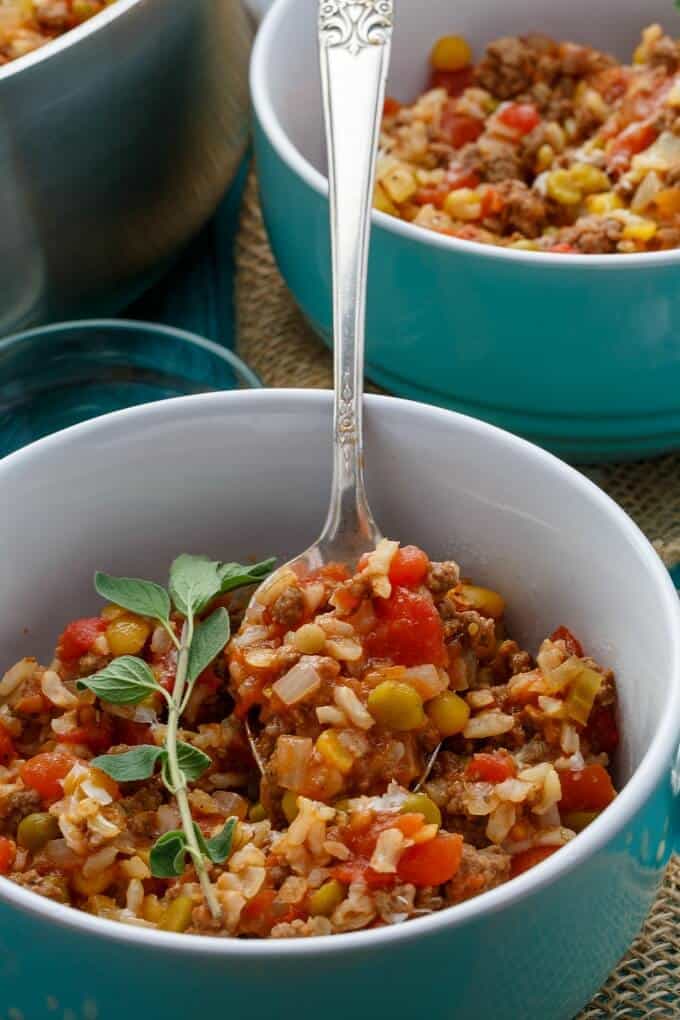 As I begin to think more about where I want to take my blog, I've been learning along the way. I feel families don't have those big "serve yourself" type meals anymore. I love seeing photos where spaghetti is served in one big bowl, and is passed around the table for others to serve themselves.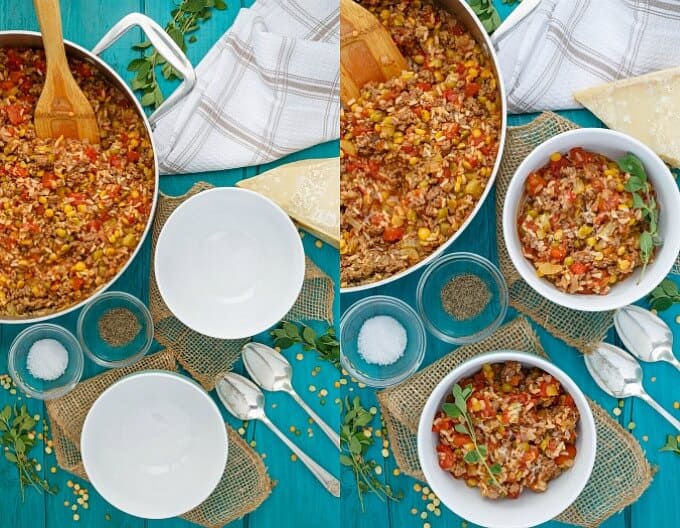 With today's split pea lentil casserole, it totally brings back those days of sharing and eating together as a family. My parents never had that spaghetti bowl type meal, but us siblings did eat together all the time. Since my daughter is an only child, I want her to grow up with us eating family dinners around a table (as she has no siblings to keep her company!)
My husband said he loved the added texture from the split peas and lentils. Not crunchy, but no where close to mushy. Most of the time when lentils or split peas are brought into the equation, they are cooked until they are super soft (aka, soup recipes!)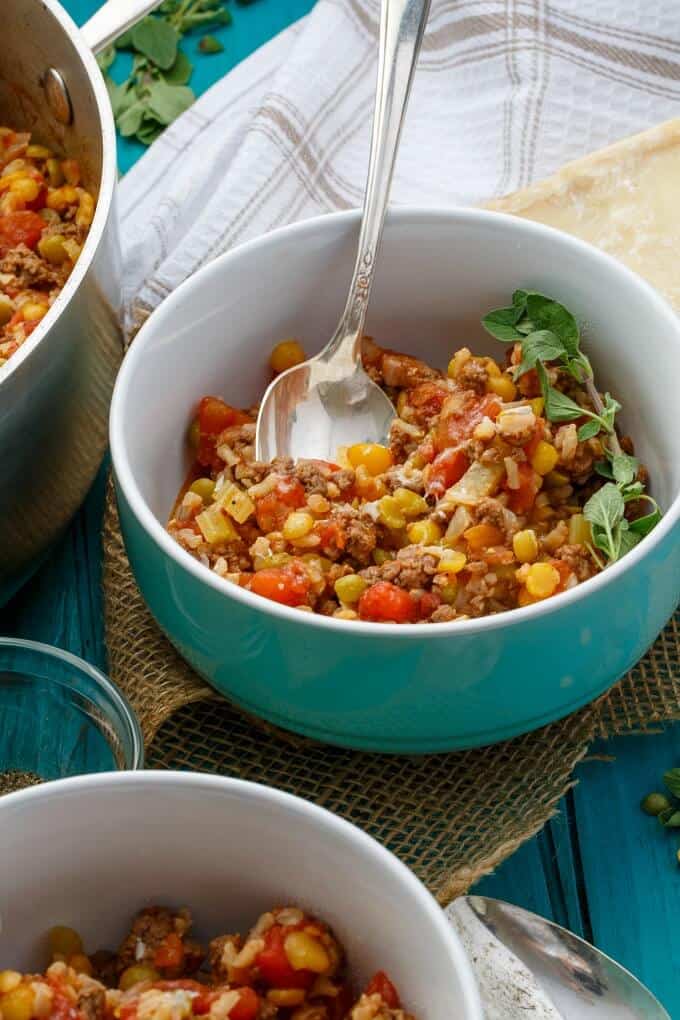 Now, this recipe does include rice so it is not gluten-free, however, that can easily be changed by omitting the rice and adding more pulses, or using a gluten-free varietal like basmati. I do love me some basmati rice!
Just like yesterday's loaded vegetable pasta casserole recipe, I totally wish I made a vegetarian version for myself! Don't be surprised if a tofu or mushroom variety appears in the future 🙂
📖 Recipe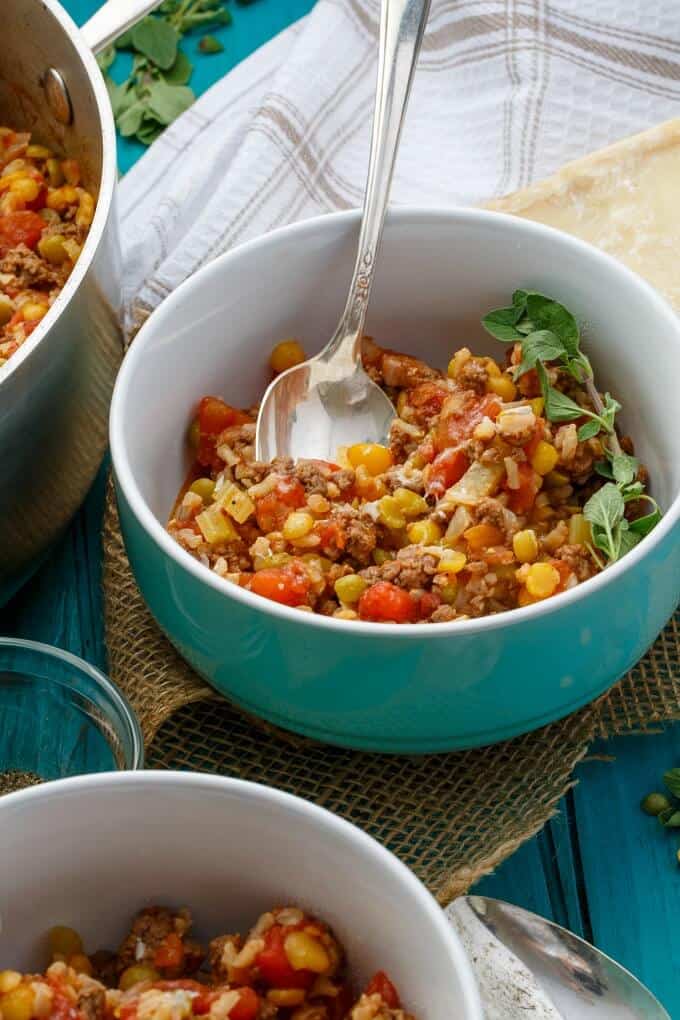 Split Pea Lentil Casserole
Total Time:
1 hour
10 minutes
Simple, hearty, and a great family meal! Easily made gluten-free by using basmati rice!
Ingredients
1 lb ground beef
½ lb sausages, casing removed and crumbled
1 (28 oz) can diced tomatoes
1 onion, diced
1 celery stalk, diced
3 garlic, minced
½ cup uncooked brown rice
½ cup dry mix of red lentils, yellow and green split peas (I used a trio soup mix that had all three together already!)
1 ½ cups beef, chicken, or vegetable broth
1 tsp. granulated sugar
2 tsp. Worcestershire
Salt and pepper
1 tsp. dried oregano
½ tsp. dried parsley
½ tsp. paprika
½ tsp. dried thyme
Instructions
Place saute pan over medium-high heat. Add beef and sausage, cooking for a couple of minutes. Stir in onion and celery. Continue cooking until meat is browned. Drain excess grease.
Return to stove and add garlic. Cook for 1 minute.
Season with salt, pepper, oregano, parsley, paprika, and thyme. Pour in tomatoes, sugar, broth, and Worcestershire. Bring to a boil, add rice and split pea/lentil mixture.
Reduce heat, cover, and simmer for 40 minutes, or until rice and split peas are tender ( I stirred the meal a couple of times throughout cooking.) If a lot of liquid remains, remove lid and simmer for 10 minutes.
Serve with freshly grated Parmesan cheese and oregano if desired!
Notes
If you end up with too much liquid for your liking, you can always up the heat and leave the pot uncovered to boil off.
Nutrition Information:
Yield:

6
Serving Size:

1
Amount Per Serving:
Calories:

618
Total Fat:

36g
Saturated Fat:

13g
Trans Fat:

1g
Unsaturated Fat:

18g
Cholesterol:

153mg
Sodium:

721mg
Carbohydrates:

23g
Fiber:

7g
Sugar:

5g
Protein:

50g
Not only do meals such as this split pea lentil casserole remind me of family gatherings, they make me think of cheap and hearty dinners that you would have found back in the day. My grandmother raised 7 kids and while my dad is somewhat picky nowadays, I know for a fact his parents made one meal for dinner and you ate that or starved 🙂
Plus, 7 kids means you need a filling meal that doesn't break that bank (and still tastes delicious!)