Whenever I don't feel like cooking, I turn to pasta! Pasta recipes are quick, simple, and hit the spot when you are craving carbs! This loaded vegetable pasta casserole was a huge hit with the family (leaving me to wonder why I did not make myself a vegetarian version!)
Wowsers, what a week it has been. As I type this post, my daughter is napping beside me with a fever. It came on out of no where (I mean we were having fun all day, and then she just became drained.) As she is never really sick, I am of course right beside her keeping an eye on her as we are never in these situations!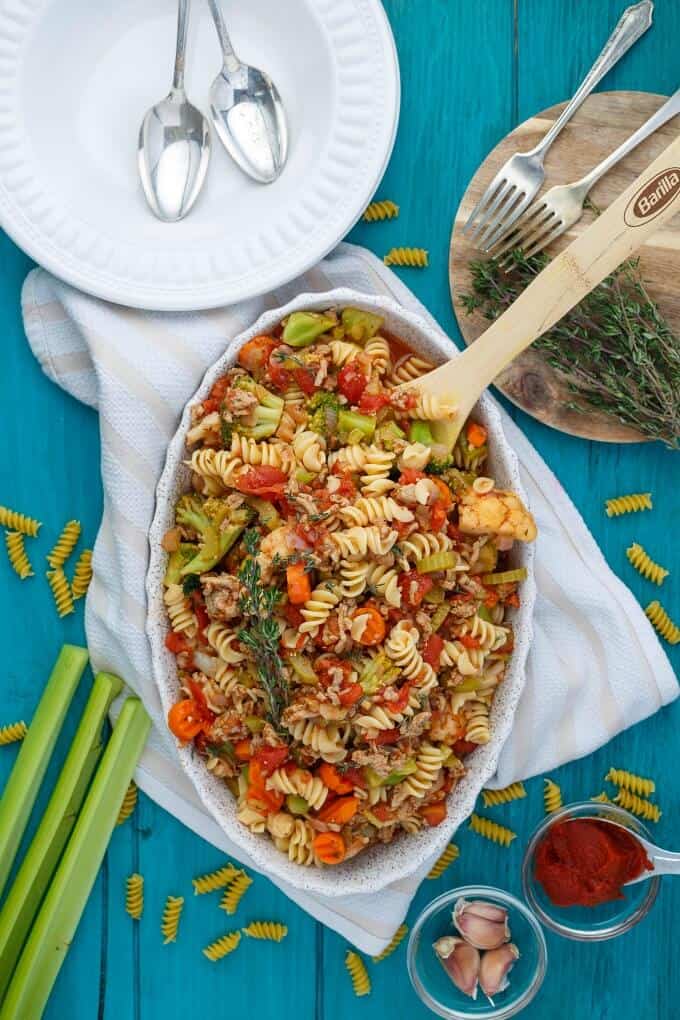 Today's loaded vegetable pasta casserole was a fun and simple recipe to make! I find pasta recipes are generally simple, and they reward you with great flavor. Plus, who doesn't love pasta?!
I have talked a lot on the blog about how food prices keep increasing in Canada, leading people to look for cheaper cuts of meat (and meals!)
Growing up my dad taught us to shop. We always (and still do!) look at the flyers each week to see what is on sale. It seriously makes a HUGE difference. Generally speaking, if the new flyers come out Thursday, you can take them time to plan out your meal plan for the week, grabbing all the groceries needed that weekend.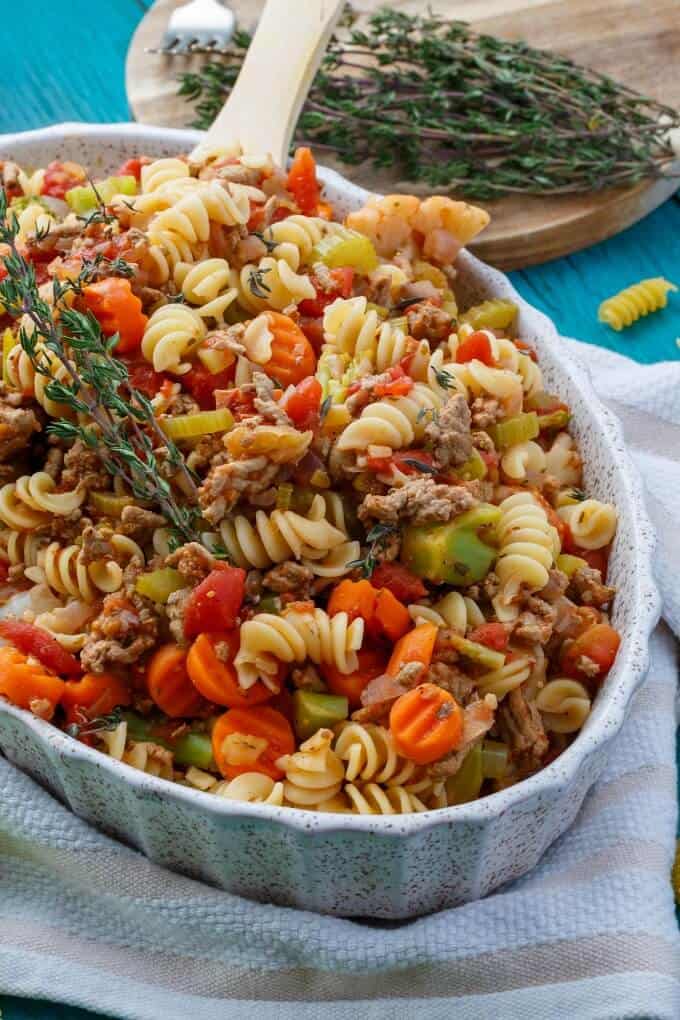 So not only are you saving money, but you are saving time and effort as everything is being planned out. Trust me, making a meal plan is the most rewarding experience!! I see less waste in my fridge, and more positive comments from my family. Win win 🙂
Now, not only is this loaded vegetable pasta casserole easy to make, it is cheap, season-friendly, and uses frozen veggies!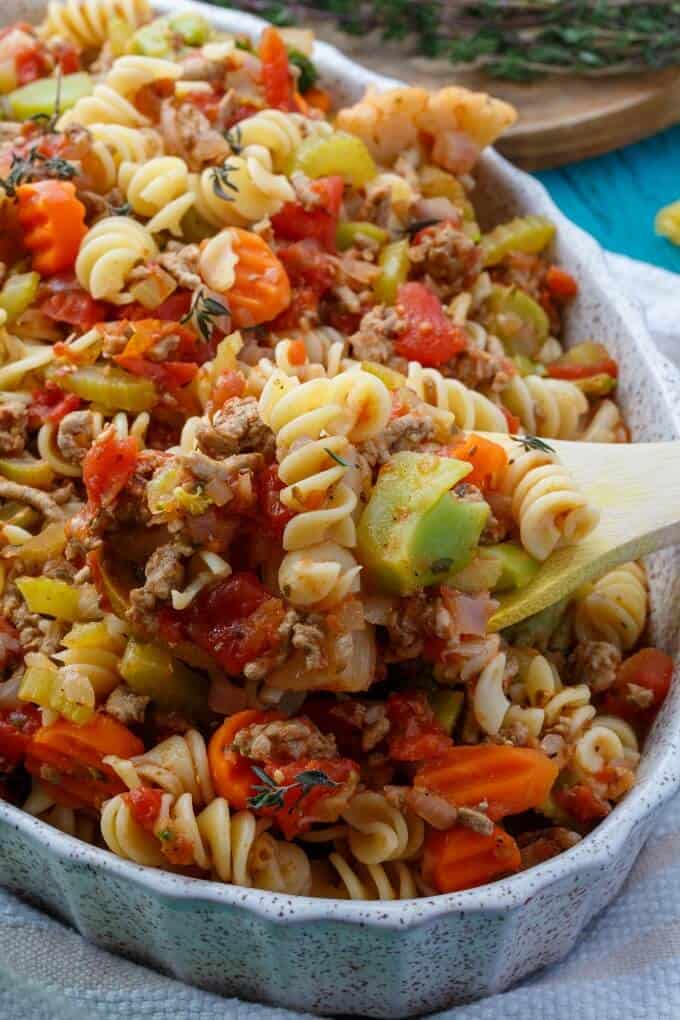 I was one of those people who always swore everything had to be fresh. However, as time goes on and the price of food does not go down, we have to look at alternative ways to eat for less (without losing the quality of food.) Frozen veggies are one of my favorite ingredients as of late because you get to enjoy your favorite foods and meals all year round without breaking the bank 🙂
And honestly, my husband's favorite part of this loaded vegetable pasta casserole was the frozen veggies, haha!
📖 Recipe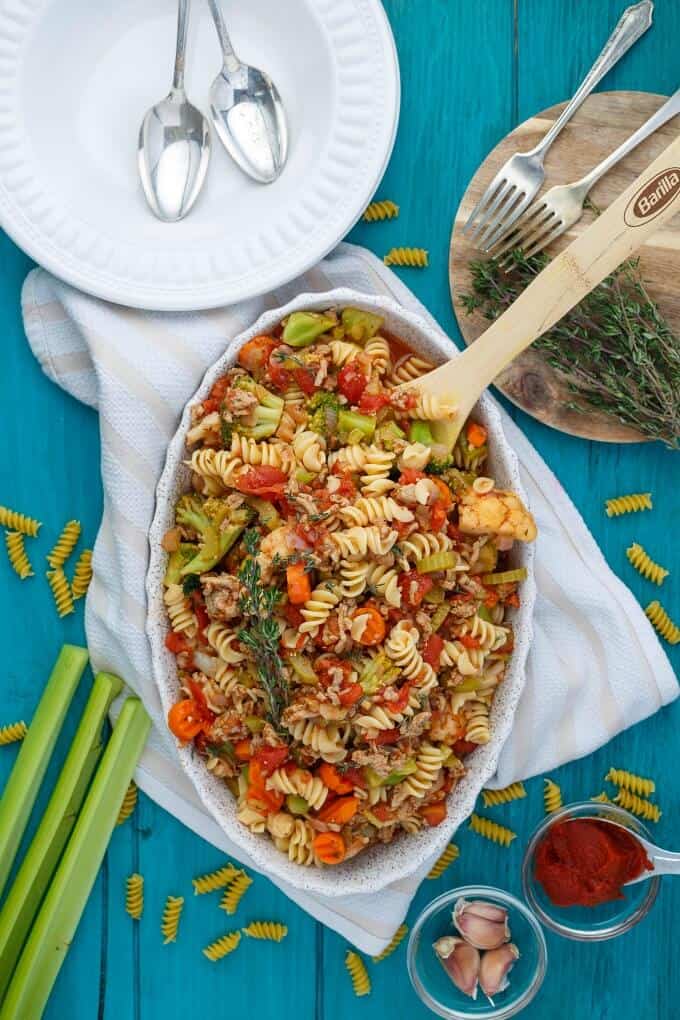 Loaded Vegetable Pasta Casserole
Quick, simple, and best served with your favorite style of pasta!
Ingredients
8 oz dry pasta of your choosing (I used rotini)
½ cup reserved pasta water
Pasta
1 lb (450 g) ground turkey or beef
1 onion, diced
3 celery stalks, diced
3 garlic, minced
1 tbsp. tomato paste
1 tsp. dried parsley
1 tsp. dried oregano
½ tsp. dried thyme
¼ tsp. crushed red pepper flakes
Salt and pepper
2 tsp. Worcestershire sauce
1 tsp. coarse whole grain mustard
1 (28 oz) can diced tomatoes
12 oz frozen vegetables
Instructions
Bring a large pot of salted water to a boil. Add pasta and cook until al dente. Drain, reserving ½ cup of pasta water.
Sauce
Place a large frying pan or saute pan over medium-high heat. Add meat and cook for a few minutes. Add in onion and celery, cooking until meat is no longer pink. Stir in garlic and cook until aromatic.
Drain excess grease. Add in tomato paste, salt, pepper, parsley, oregano, thyme, and crushed red pepper flakes. Cook 3-5 minutes, stirring frequently.
Stir in tomatoes, pasta water, Worcestershire, and mustard. Bring to a boil, reduce heat, and simmer for 10 minutes.
Add frozen veggies and cook until tender-crisp.
Combine pasta and sauce, place into giant serving dish and enjoy with freshly grated Parmesan cheese if desired.
Notes
I love cooking my sauces longer for a more concentrated flavor! Feel free to cook yours longer (but save the veggies until the end as you don't want them to be mushy!
Nutrition Information:
Yield:

4
Serving Size:

1
Amount Per Serving:
Calories:

394
Total Fat:

6g
Saturated Fat:

2g
Trans Fat:

0g
Unsaturated Fat:

3g
Cholesterol:

26mg
Sodium:

252mg
Carbohydrates:

66g
Fiber:

8g
Sugar:

8g
Protein:

20g
I definitely feel this is something I want to touch more on the blog. We shouldn't have to sacrifice our favorite foods and meals just because ingredients are getting more expensive. Meal planning is a great start, and if you haven't already, start looking into your flyers for the best deals!
Love this loaded vegetable pasta casserole?! Try some of these recipes: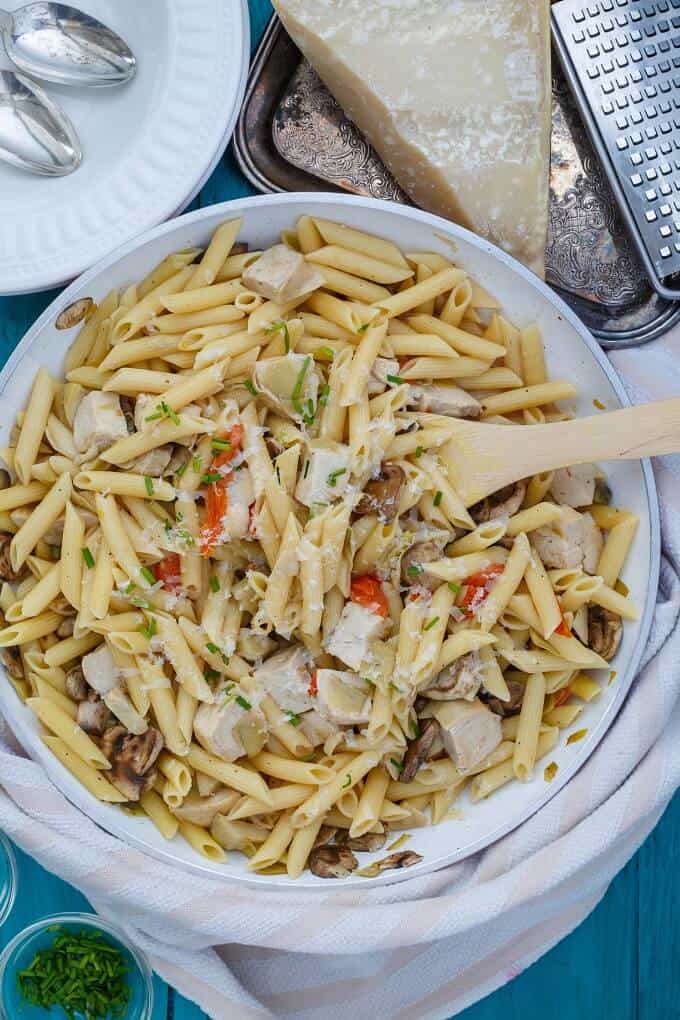 One Pan Creamy Chicken Pasta (Barilla Pronto)