If your family is anything like mine, you know October is super hectic! However, Canadian Turkey and myself are here to make things a bit more manageable! Celebrate Canadian Thanksgiving and Canadian Turkey Month with this slow cooker whole turkey! Super simple and it frees up much needed oven space.

This is a sponsored post. I was fortunate enough to receive monetary compensation and/or products from Canadian Turkey. Though compensation was received, all opinions are my own and I would not recommend a product that I did not enjoy.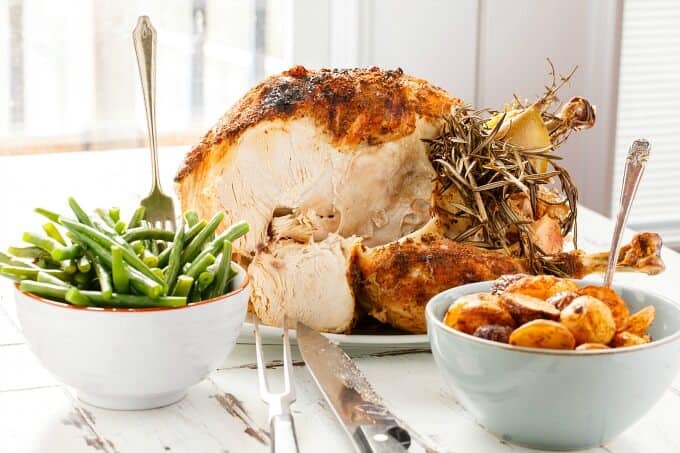 Ohh, October, how I both love and dread you, haha!
My one big saving grace this year is that I am not attending the Food Bloggers of Canada Conference which always takes place in October (just after my husband's birthday no less!)
Now we just need to survive my birthday, my daughter's birthday, Thanksgiving, my husband's birthday, and Halloween and we are all set 😉
In the end though, I do think it is really neat that we are all born in October 🙂
Now let's talk about Canadian Thanksgiving and Canadian Turkey Month!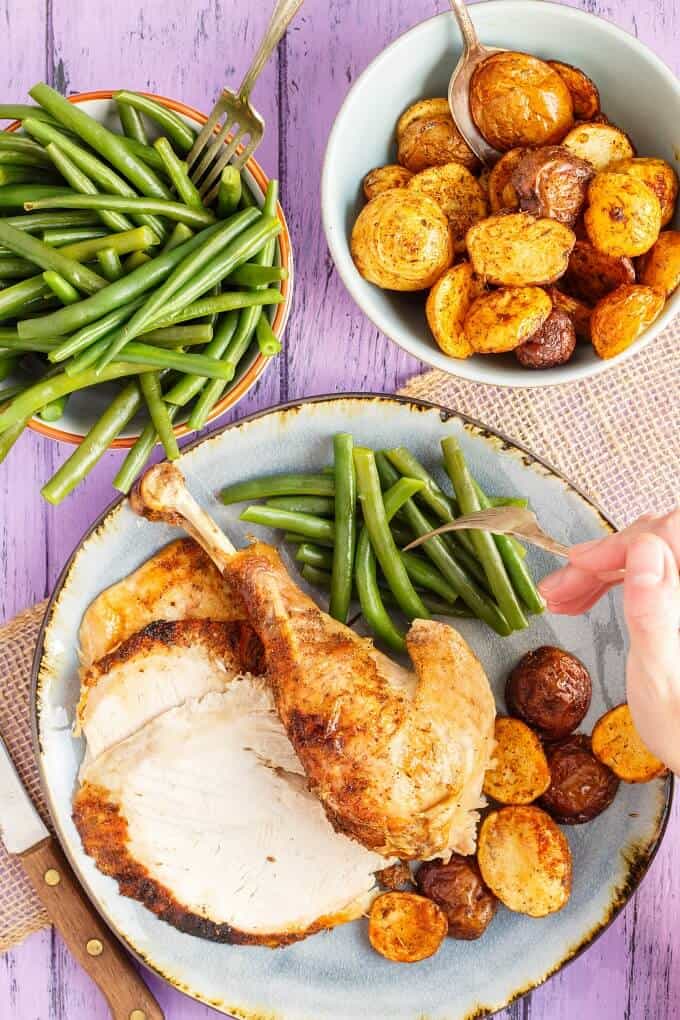 Today's slow cooker whole turkey is added to my great array of whole turkey recipes! I have become the queen of different whole turkey cooking methods and there is no complaint here! It is all about tradition and I guess my tradition is finding all the different ways to cook a whole turkey 😉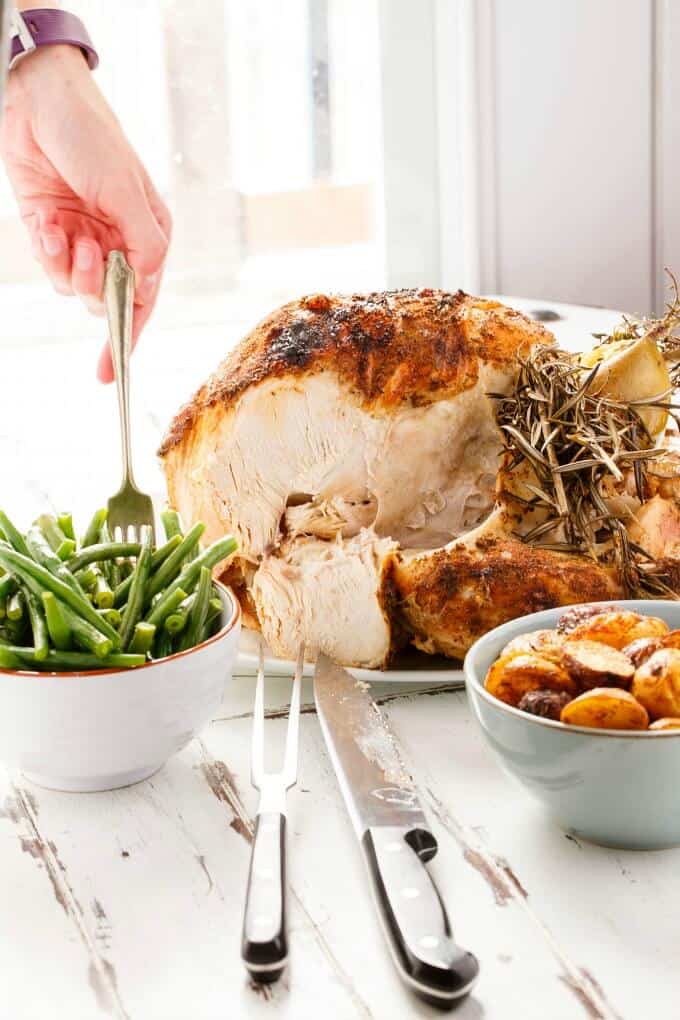 Now of course it is Canadian Turkey Month this October as we are celebrating Canadian Thanksgiving. However, Canadian Turkey Month is not just about whole turkeys. We want to get you excited about turkey all month long, whether that be planning for weeknight dinners, weekend family nights, or gatherings with special friends. The best part is that turkey can be swapped for any of the usual proteins in your favorite recipes. I like to think of turkey fingers, turkey noodle soup, or even turkey pot pie!
As for Canadian Thanksgiving, I feel this slow cooker whole turkey fits a lot of criteria. This recipe is great for beginner cooks who feel intimidated by whole turkeys. It frees up much needed oven space (though you do want to broil it in the end to achieve a crispy skin!) And it is also perfect for small to large crowds!
How do you fit an entire turkey into a slow cooker?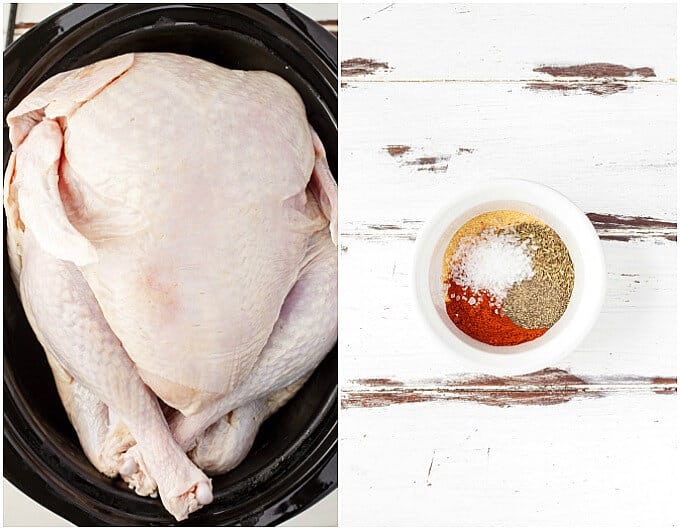 It is not as hard as you think! My slow cooker is 6-quarts but there are larger ones on the market. Even then, my 11 pound turkey fit perfectly into my appliance. I may have gotten away with putting the lid on, but figure aluminum foil is always a good choice (and I swear it keeps the heat in better!)
So how did this slow cooker whole turkey turn out?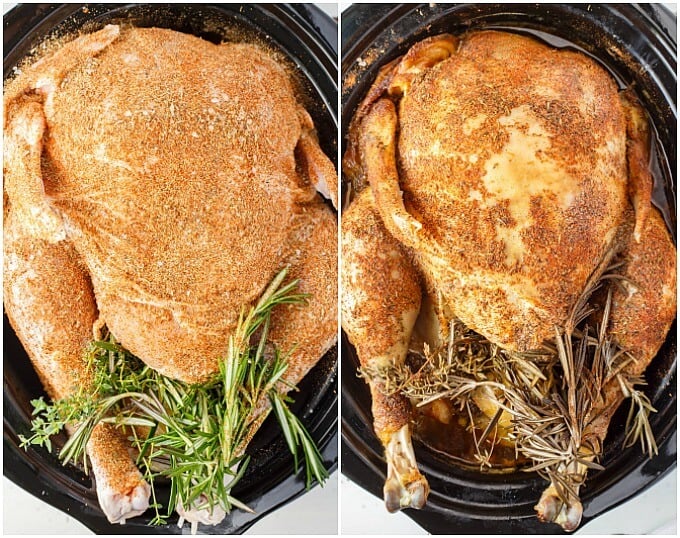 AMAZING!!
I did not brine my turkey this time around as I thought with the slow cooking method that the meat would melt off the bones. And I was right!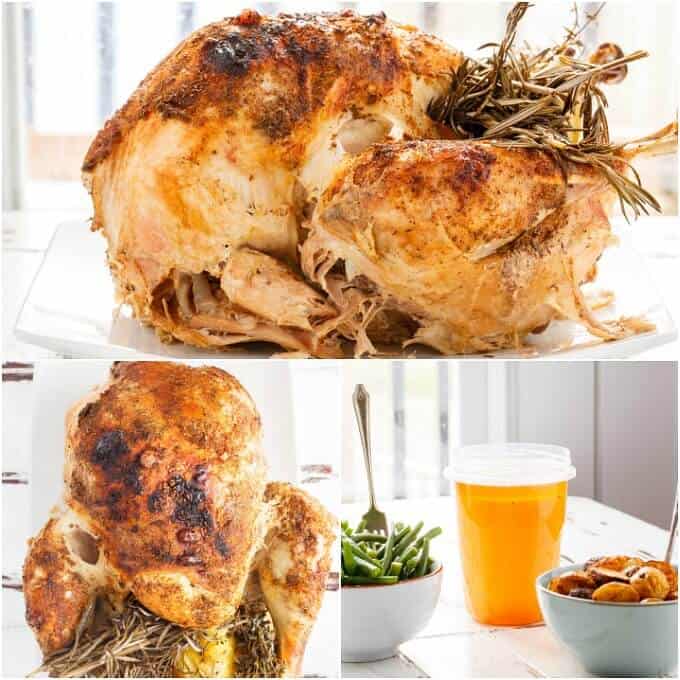 As you can see in the pictures, some of the parts just fell right off the turkey! No worries of dry, over-cooked meat here!
And the crazy part, too, is that I did not add any liquid or butter to the turkey. All the juices that you see in the slow cooker came naturally from the turkey.
Of course, every slow cooker is different so you may need more or less time depending. I did not even bother checking the internal temperature of the turkey until the 6 hour mark as there was no way it was going to be done by then! You can also take that time to baste the turkey with the juices.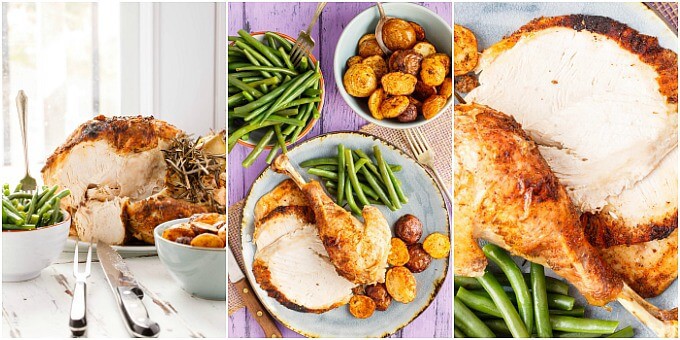 Lastly, keep your slow cooker on something solid, like a baking sheet, just in case the juices run over the side (mine did not, but when I took the aluminum foil off I always managed to get liquid onto my counter top.) If you feel there is too much liquid, you can always remove some!
📖 Recipe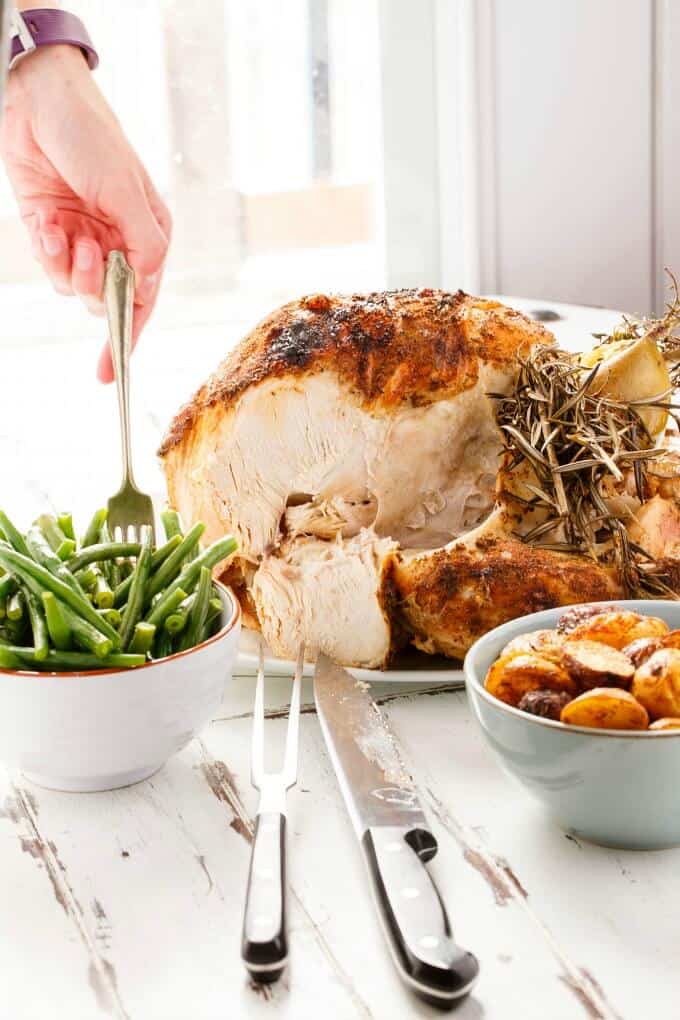 Slow Cooker Whole Turkey
Total Time:
8 hours
10 minutes
This slow cooker whole turkey recipe is a great way to free up oven space! If you are using a large turkey (12+ lbs) you will need longer cook times AND possibly a larger slow cooker 😉
Ingredients
5 kg (11 lbs) whole turkey, thawed, insides removed
1 tsp. paprika
1 tsp. kosher salt (if you are brining your turkey, do not use salt listed here!)
½ tsp. black pepper
½ tsp. dried thyme
1 tsp. garlic powder
Instructions
Place your turkey into a 6-quart slow cooker.
Combine seasonings and sprinkle over turkey (and underneath skin if you can.)
Cover slow cooker with aluminum foil and place onto a baking sheet (I found when I removed the foil that sometimes built up liquid would drip onto the counter.)
Place slow cooker on low heat and cook for 8 hours, or until internal temperature of breasts reaches 165F. You can baste accordingly but every time you open the slow cooker you are releasing all the heat!
Transfer turkey to baking sheet and broil until skin is browned and crispy. Cover and allow to rest 20 minutes before slicing and serving!
Notes
Use whatever spices/rubs/marinades you like but just remember that the turkey yields a lot of excess juices, so do not add any liquid to the slow cooker! If you find the liquid level getting too high in your slow cooker, you can remove some (keep an eye on it!)
Nutrition Information:
Yield:

8
Serving Size:

1
Amount Per Serving:
Calories:

945
Total Fat:

37g
Saturated Fat:

11g
Cholesterol:

544mg
Sodium:

706mg
Carbohydrates:

1g
Protein:

143g
Remember that in the month of October there are many reasons to choose Canadian Turkey!
It is an easy substitute to other proteins!
It is lean, but still super juicy! (This can be seen in this recipe, lol.)
There are sooooo many cuts of turkey: legs, thighs, drumsticks, breasts, wings, you name it!
It is full of flavors! Just like subbing it into your favorite dish, turkey pairs well with spices and rubs!
Turkey is cost-effective! Whole birds can be roasted for pennies per pound and make for great meal prepping and batch cooking!
This is a sponsored post. I was fortunate enough to receive monetary compensation and/or products from Canadian Turkey. Though compensation was received, all opinions are my own and I would not recommend a product that I did not enjoy.
Love this slow cooker whole turkey?! Try some of these recipes: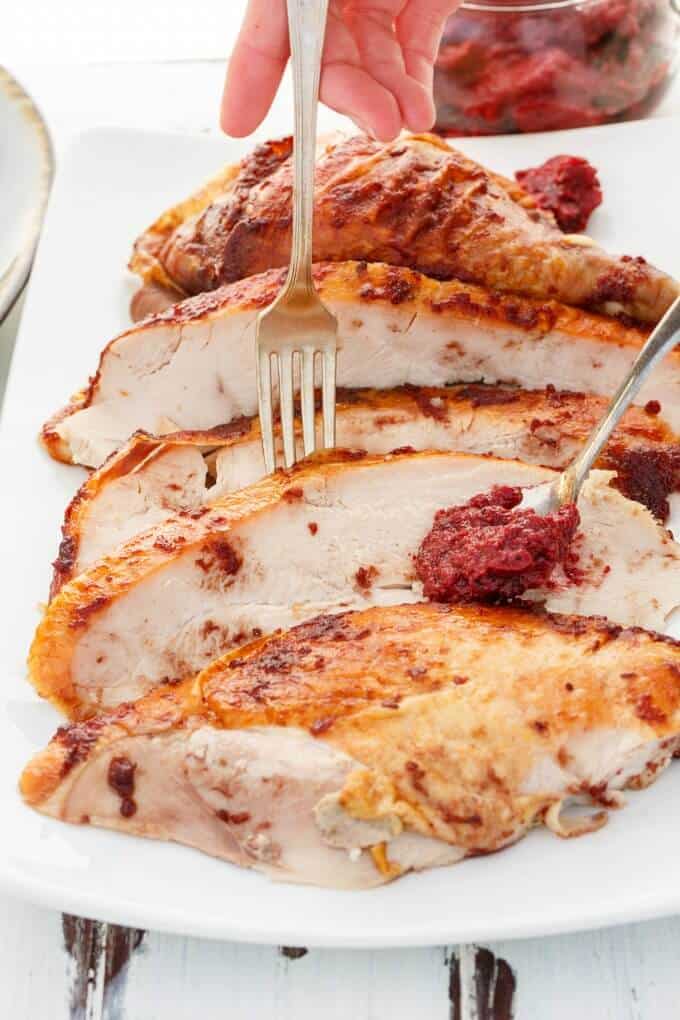 Roasted Cranberry Butter Turkey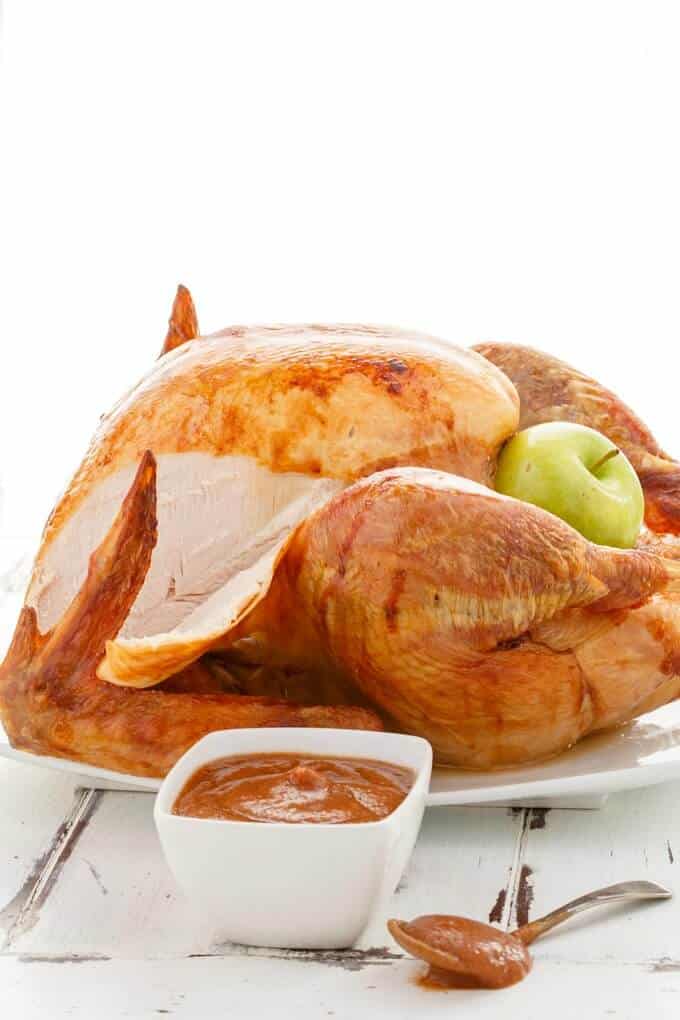 Roasted Apple Butter Turkey with Turkey Bacon Scalloped Potatoes