Canadian Thanksgiving is just around the corner! Turkey is our star, and people want originality 🙂 This roasted apple butter turkey is the crispiest turkey you will ever have, and the most moist! Feel free to pair it along with my turkey bacon scalloped potatoes!
This is a sponsored post. I was fortunate enough to receive monetary compensation and/or products from Canadian Turkey. Though compensation was received, all opinions are my own and I would not recommend a product that I did not enjoy.
It is Thanksgiving season and you know what that means!
TURKEY!
I feel Thanksgiving isn't the same without turkey on the table 🙂
Nowadays people are more familiar with their turkey cuts. Ground turkey has taken off, however, turkey legs, half-breasts, thighs, etc. make for great holiday meals. Some people have large families, others are small and simple, and Canadian Turkey can help you out this holiday season no matter what your lifestyle!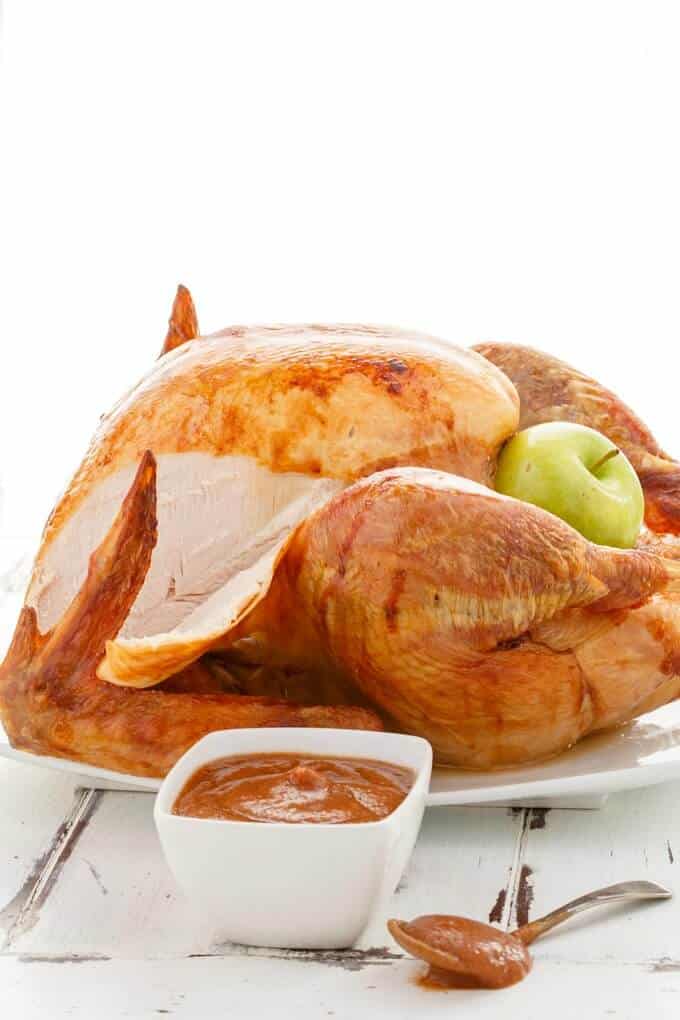 For our Thanksgiving, I like changing things up. This roasted apple butter turkey pairs perfectly with turkey bacon scalloped potatoes! Turkey all around!
Originally I was going to cook the apple butter with the turkey, but I have found my new turkey methods really yield a moist and tasty dinner.
How do I manage this?!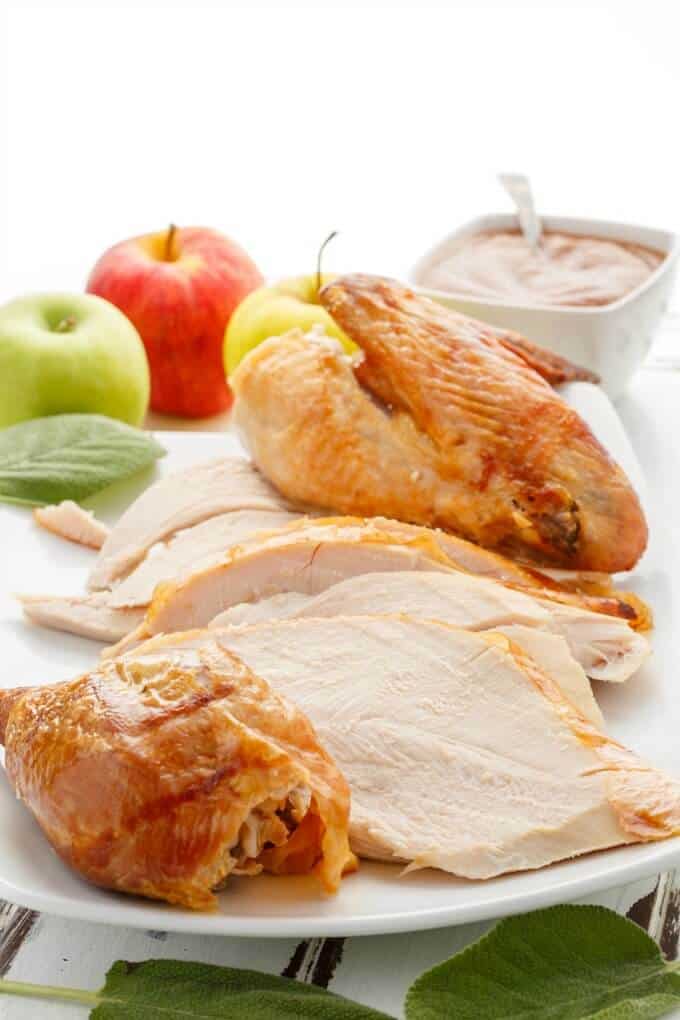 Well, brining is essential I believe. What a difference it makes. My husband says he can 100% taste and see the difference. And really, brining is not hard at all! To think I was afraid at one point 😉 Honestly though, you can throw in whatever you like flavor-wise, but as long as you have a good balance of salt and water, you are golden!
Secondly, after the brining stage, I like to pat my turkey dry and allow it to sit, uncovered, in my refrigerator overnight. This allows the turkey skin to dry out, and when we go to cook it, it results in the crispiest skin ever! Seriously, no butter, no oil, nothing. I put my turkey into the oven dry. And it comes out anything but dry!
With these two techniques you are always rewarded with the perfect roasted turkey. If brining, DO NOT salt your turkey before cooking it. The brine adds so much saltiness and if you season your turkey more, you are going to over-salt. I know everyone says salt, salt, salt, but in this case, DO NOT!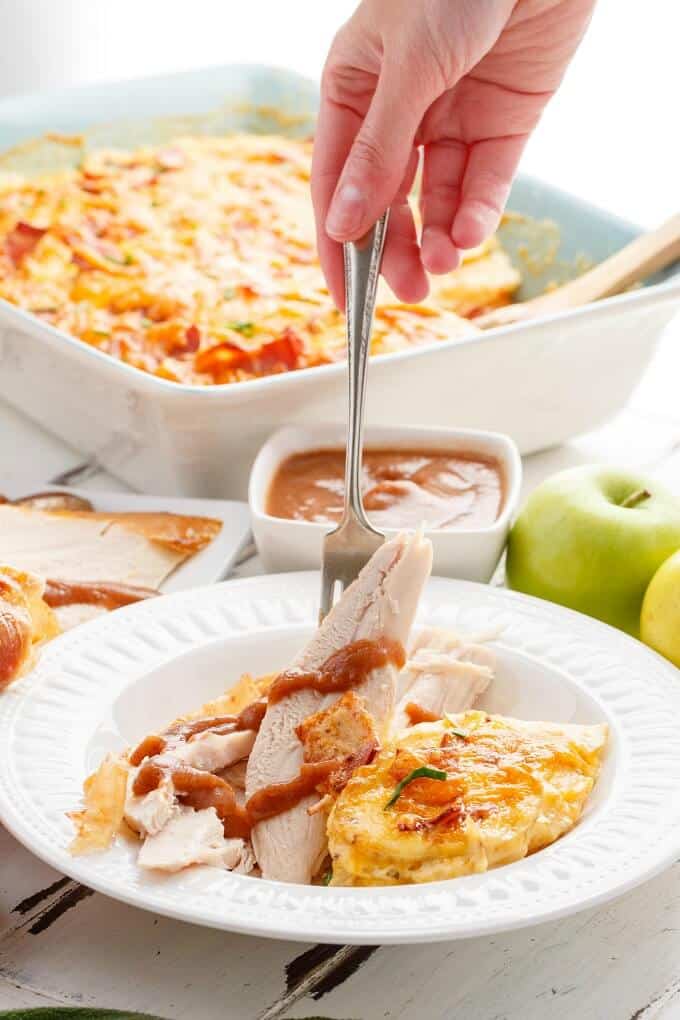 This roasted apple butter turkey uses my homemade apple butter (made in the slow cooker!) You can have the apple butter cooking all day and ready to serve alongside your turkey. Or, if you are like me and like to plan ahead, feel free to make the apple butter in advance! Then you can choose if you want to serve it cold, warm, or hot!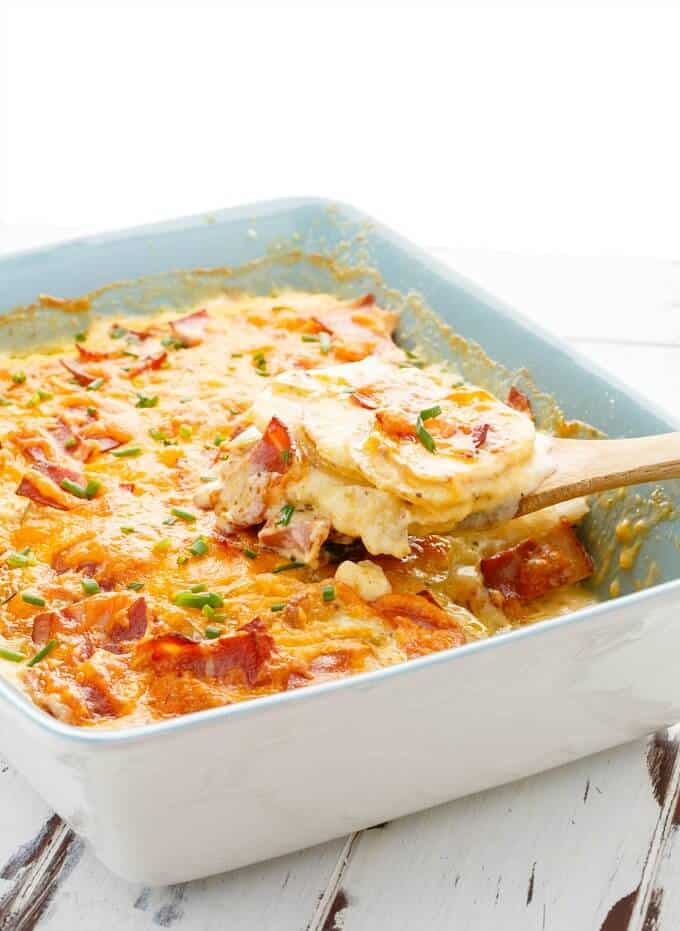 Alongside this roasted apple butter turkey I went with turkey bacon scalloped potatoes. No party is complete without scalloped potatoes, especially if they utilize turkey bacon!
Ohhh, turkey bacon, how awesome you are! This is a newer ingredient for me (I have worked with it before, but never as much as recently.) However, what a fantastic substitution to pork bacon. The brand I work with is not greasy at all, meaning you get some nice crispy bacon without all that fattiness. Though, bacon grease is great for cooking up homefries in 🙂
Better yet, my daughter LOVES turkey bacon and requests it over regular bacon now! Win! So it just made sense to make turkey bacon scalloped potatoes alongside our roasted apple butter turkey 🙂 Canadian apples with Canadian turkey 🙂
Looking to make your Thanksgiving easy and enjoyable this year? Remember these little facts!
Brine your turkey! This takes 8 hours or more so plan ahead.
Remove turkey from brine, pat dry, and allow to dry out in the fridge overnight.
Save time on Thanksgiving day by prepping what you can the night before! Hint hint, apple butter!
The slow cooker is your friend for side dishes to keep the oven free for your turkey!
Meat thermometer is your friend: I use one to ensure I don't overcook my meat.
Not enough people for a whole turkey? Consider turkey breast (rolled or stuffed,) or even half-breasts (like my slow cooker lemon-dill turkey breast.)
Still feeling overwhelmed? Canadian Turkey has all the how-to's when it comes to whole turkeys! You can even start a new tradition and use turkey parts (legs, wings, etc.) in place of a whole turkey (meaning faster cook time and less worry!)
📖 Recipe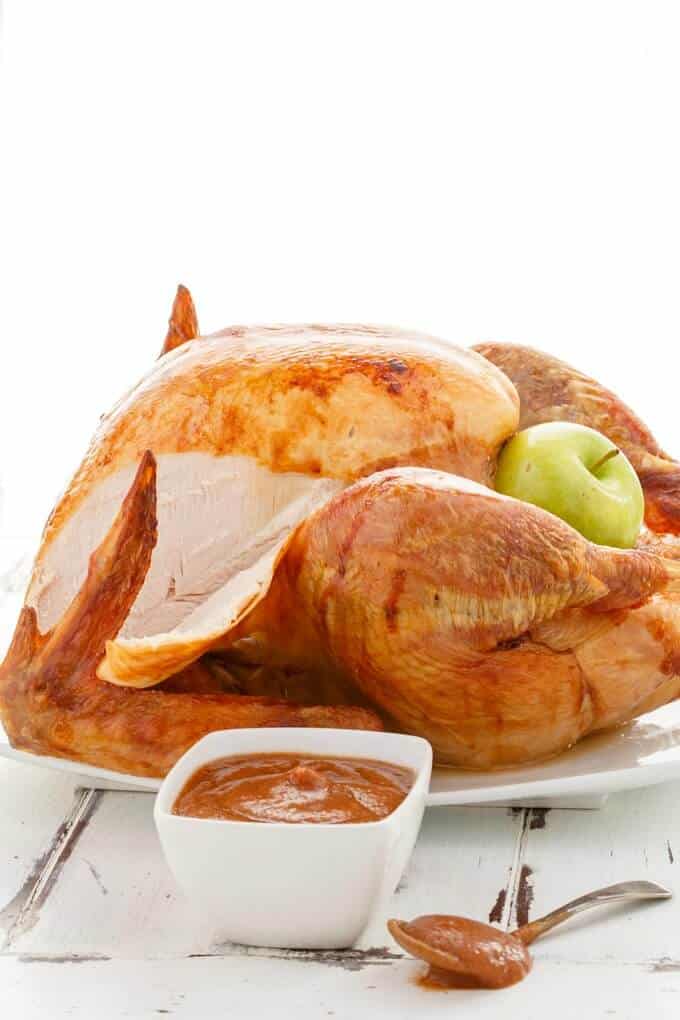 Roasted Apple Butter Turkey with Turkey Bacon Scalloped Potatoes
Cook Time:
2 hours
10 minutes
Total Time:
2 hours
35 minutes
The combination of sweet and salty is divine here when it comes to the salty turkey paired with sweet apple butter!
Ingredients
12 lbs (5.5 kg) whole turkey, insides removed
1 batch homemade apple butter or store-bought!
2 cups water or broth
Brine
1 ¼ cups salt
1 ½ cups brown sugar
18 cups cold water
1 carrot
2 limes, halved
2 apples, halved
4 fresh bay leaves
1 garlic clove
1 onion, halved
Scalloped Potatoes
8 slices turkey bacon, sliced into 1 inch pieces
3 lbs potatoes, thinly sliced
⅓ cup butter
⅓ cup all-purpose flour
2 cups milk
1 cup heavy whipping cream
Salt and pepper
¼ tsp. cayenne
1 tsp. dried oregano
3 garlic cloves, minced
1 tbsp. whole grain coarse mustard
2 cups + 1 cups grated cheddar cheese
Instructions
Brine
Combine 6 cups cold water with sugar and salt in a large saucepan over medium heat. Stir occasionally until salt and sugar have dissolved (no need to boil!) Remove from heat and cool to room temperature.
Combine remaining water and ingredients into a large stock pot or special brining bag. Pour water/sugar/salt mixture in. Add turkey and weigh down to fully submerge it if necessary (depending on your pot, you may need to make another half-batch of brine.)
Cover and refrigerate overnight.
Remove turkey and pat dry. Allow to sit overnight in the refrigerator again (you want it to basically dry completely! No need to cover.)
Turkey
Preheat oven to 450F. Place turkey into roasting pan and pour water or broth down below (turkey isn't super fatty so we want something to baste with.)
Place into oven, uncovered, and lower heat to 350F. Cook for 1 hour, remove to baste. If wings are looking dark, you can cover them with aluminum foil. Return to oven and roast for 30 more minutes; baste again. Cook for another 30 minutes, and baste. Cook time is 2 to 2 ½ hours, or when your breast reaches 170F.
Remove from pan and wrap in aluminum foil. Allow to rest for at least 20 minutes before slicing!
Serve with apple butter over top of turkey meat.
Turkey Bacon Scalloped Potatoes
Place a large frying pan over medium-heat. Add bacon and cook until crispy, about 8-10 minutes.
Heat a medium-sized pot over medium heat. Add in butter, waiting until it melts and is bubbling before adding flour. Whisk very frequently for about 5 minutes, or until the roux has deepened in color. Add garlic in the last minute and cook until aromatic.
In a separate bowl, mix together the milk, cream, salt, pepper, cayenne, oregano, and mustard. Pour into roux, whisking constantly. Bring to a boil and add 2 cups of cheese. Stir until melted and blended. Remove from heat.
Preheat oven to 350F. Grease a 9x13 inch baking dish.
Place in enough potatoes to cover the bottom. Add some sauce and sprinkle with bacon. Repeat again until no potatoes or sauce remains (I save a bit extra sauce to pour over the top potatoes for extra coverage and creaminess.) Reserve some bacon and cheese for topping.
Bake for 1 hour 10 minutes, uncovered until potatoes are soft. In the last 10 minutes, top with bacon and cheese!
Notes
If brining your turkey, don't salt your turkey afterwards, it will be salty enough! No need for oil or butter on the skin as the drying in the fridge will result in a crispy turkey skin!
Nutrition Information:
Yield:

12
Serving Size:

1
Amount Per Serving:
Calories:

485
Total Fat:

20g
Saturated Fat:

11g
Trans Fat:

1g
Unsaturated Fat:

7g
Cholesterol:

88mg
Sodium:

12158mg
Carbohydrates:

60g
Fiber:

4g
Sugar:

31g
Protein:

18g
This is a sponsored post. I was fortunate enough to receive monetary compensation and/or products from Canadian Turkey. Though compensation was received, all opinions are my own and I would not recommend a product that I did not enjoy.
Love this roasted apple butter turkey and turkey bacon scalloped potatoes?! Try some of these recipes: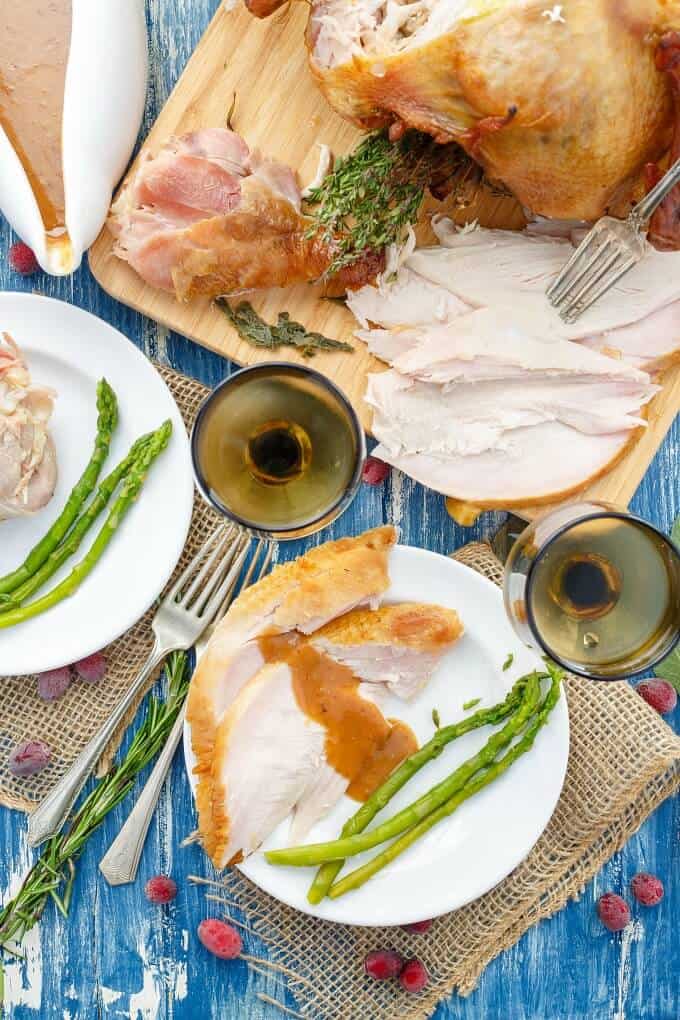 Smoked Turkey Recipe (How to Smoke a Turkey)