This mashed rutabaga recipe has been in my life ever since I can remember! A staple at all family functions, you will not believe how easy this one is!
Two new recipes in one week?! I cannot believe it either!!
Told you I would get back into the swing of things 🙂 And better yet, two non-sponsored posts! Not that there is anything wrong with sponsored posts, however, I feel sometimes it can be a bit overwhelming if it is all you see on a blog 🙂
In case you missed it, I began my Canadian Thanksgiving series off with a slow cooker honey-mustard apple ham! You know you wanna check it out!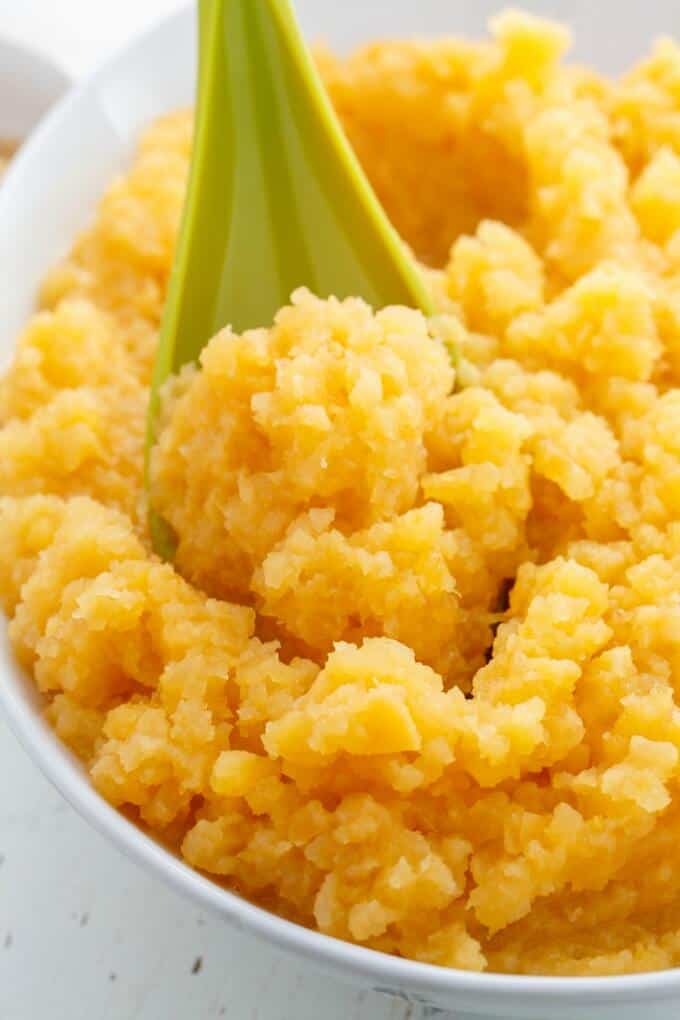 Today's mashed rutabaga recipe is an oldie when it comes to my family, but a goody 😉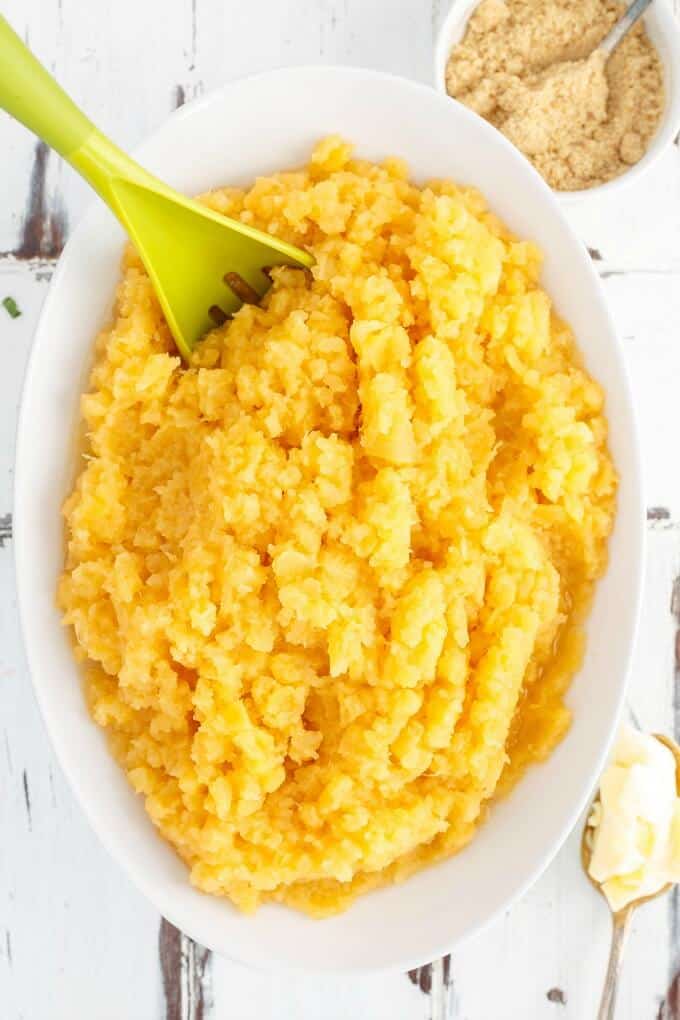 As kids, we knew it as mashed turnip. It wasn't until I was older and cooking for myself that I realized turnip and rutabaga are two different things... I KNOW!
However, my family still dubs it turnip and I am not going to argue, lol. Each year it is on our dinner table, and none gets left behind (or if it does, it is fought over afterwards!)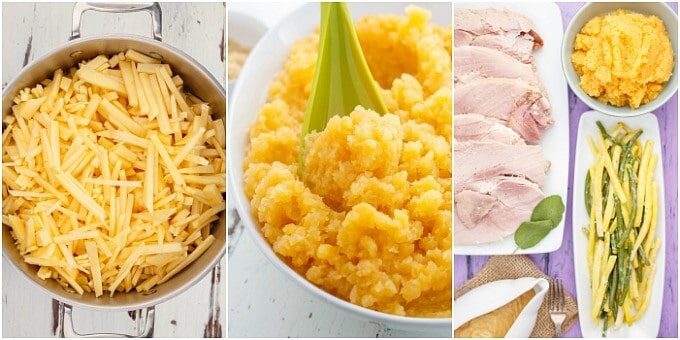 Mashed rutabaga is really simple as long as you listen to what I have to say here. Keep your rutabaga chunks small. I mean quite small. They will cook much faster this way. The funny thing about rutabaga is that you think it is done cooking, and then it is not. Soooooo many times I have done this. I kid you not, it is the most frustrating thing ever. That is why I am here to help!
You want to boil the rutabaga for a MINIMUM of 40 minutes. Yes, 40 minutes. Even if you pierce it with a fork beforehand and think it feels tender, it isn't. Just trust me on this! You will go to pour it into a bowl to mash and find out really quickly that the job is going to suck because the pieces are still firm. At that point I just hand over the mashing to my husband!
However, if you boil it until soft, mashing will be a breeze! Then it is just the butter and brown sugar with some seasonings. That's it! I put ingredient totals in the recipe, however, when I make this, there is no measuring. Just add butter and sugar in small amounts until you find the flavor that works best for you (some prefer sweeter, others prefer more butter.)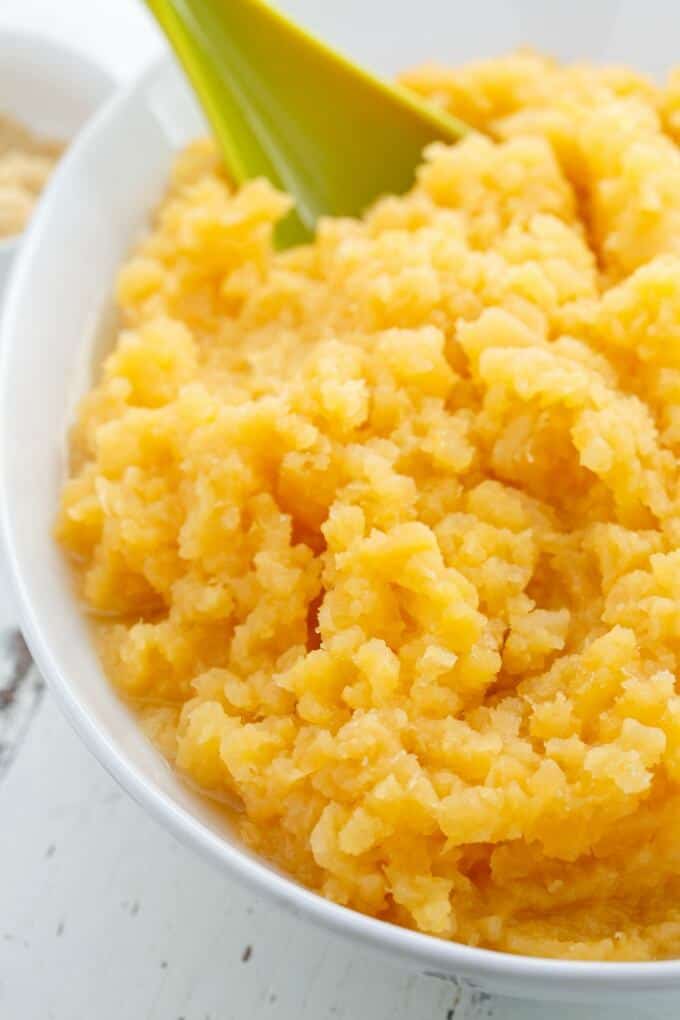 I also think this mashed rutabaga would be a perfect vegan side dish! Sub in vegan butter or even coconut oil (it will really work here!) in place of regular butter and there you have it!
And here you thought I only had canned or boxed foods growing up 😉 Remember I have one more side dish to share with you, so come back next week for an awesome twist on a classic!
📖 Recipe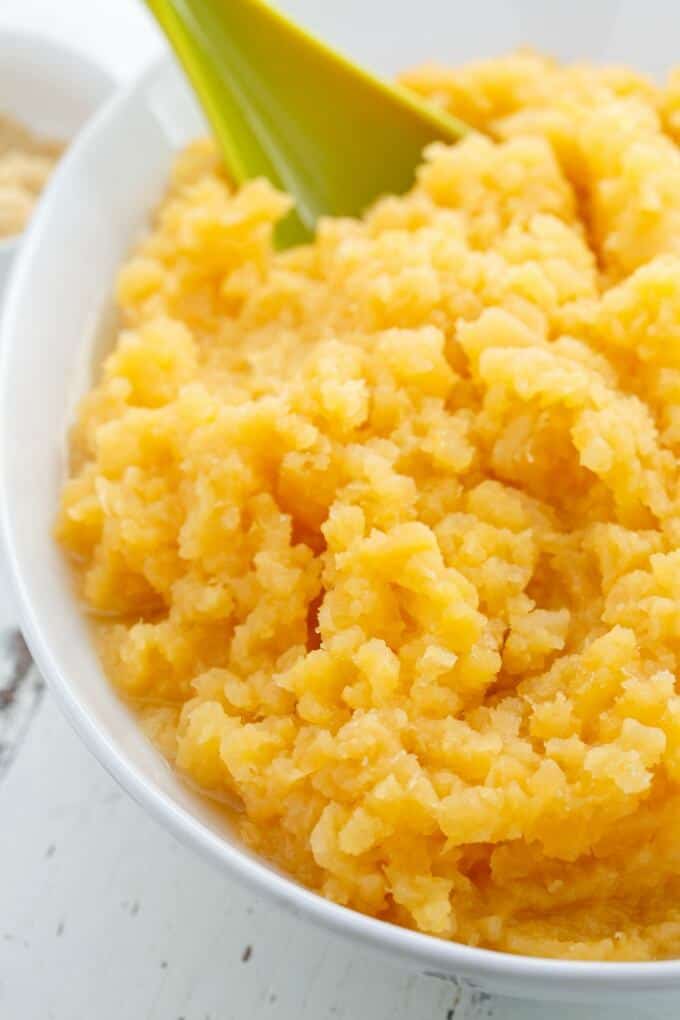 Mashed Rutabaga (Mashed Turnip)
A simple side dish that can easily be made vegan! It is also great to make ahead of time 🙂
Ingredients
4 lb rutabaga, skin removed and diced into small chunks (or cut into little matchsticks.)
3-4 oz (just under ½ cup) salted butter (start off slow and add more if necessary!)
3 tbsp. brown sugar
Salt and pepper
Instructions
Add rutabaga to a large pot of salted water. Cover and bring to a boil.
Reduce heat and boil, uncovered, for 40-50 minutes, or until rutabaga is EASILY pierced with a fork. Drain.
Combine butter and sugar with rutabaga. Mash until relatively smooth (you will probably have some chunks but that is okay!)
Season with salt and pepper. Taste and adjust ingredients accordingly to your own taste.
Serve!
Notes
Make sure you cook the rutabaga until it is VERY tender. Sub in butter alternatives for a vegan spin 🙂
Nutrition Information:
Yield:

6
Serving Size:

1
Amount Per Serving:
Calories:

201
Total Fat:

8g
Saturated Fat:

5g
Trans Fat:

0g
Unsaturated Fat:

3g
Cholesterol:

20mg
Sodium:

148mg
Carbohydrates:

32g
Fiber:

7g
Sugar:

19g
Protein:

3g
Love this mashed rutabaga?! Try some these recipes: