Canadian Thanksgiving is sneaking up, and what better way to celebrate than with one epic meal! This slow cooker honey-mustard apple ham is our main dish! Pair along with some sides and dessert and you will have one festive holiday celebration 🙂
With the crazy summer temperatures we have been having, you would never guess Canadian Thanksgiving is just around the corner.
I also feel Canadian Thanksgiving does not get the love like American Thanksgiving.
Thanksgiving in the U.S.A. is CRAZY popular! People are constantly pinning recipes, sharing table spreads, and preparing for Black Friday. While Canada is trying to make Black Friday popular here as well, I still feel Boxing Day is the big one for us (along with Christmas dinner!)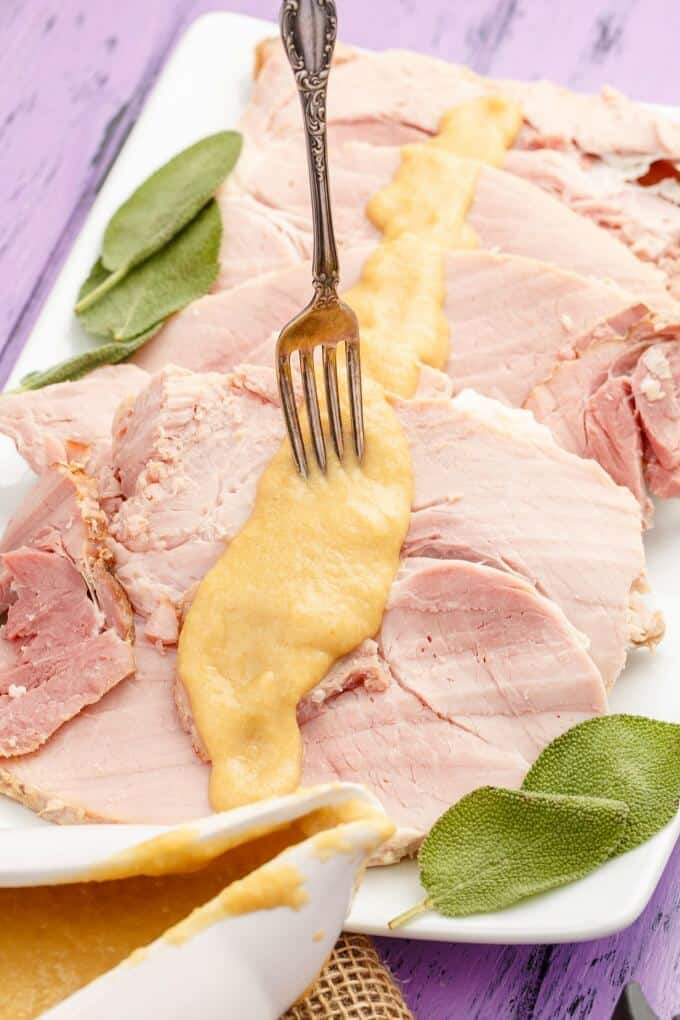 So with this slow cooker honey-mustard apple ham, I am benefiting both my Canadian and American readers 🙂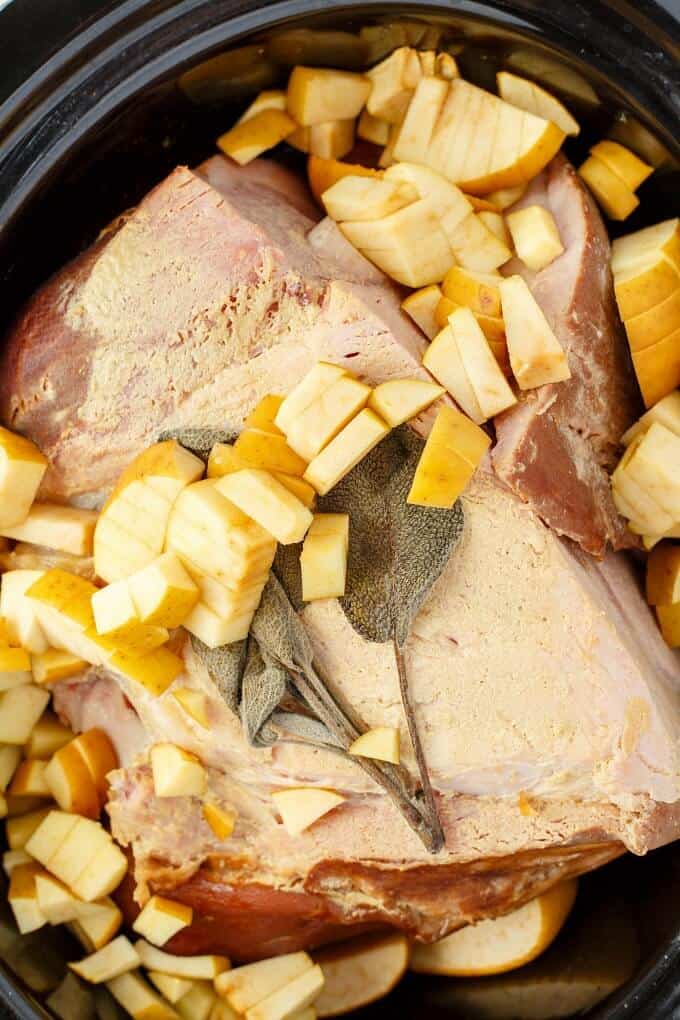 Unlike my slow cooker honey-garlic ham, this recipe utilizes a larger cut of meat that is bone-in. Bones are great for providing flavor, and awesome to use again for broth or soups 🙂 And you bet I did not let that bone go to waste here! Feel free to checkout my slow cooker pea-potato soup recipe if you need some inspiration on how to use up leftovers.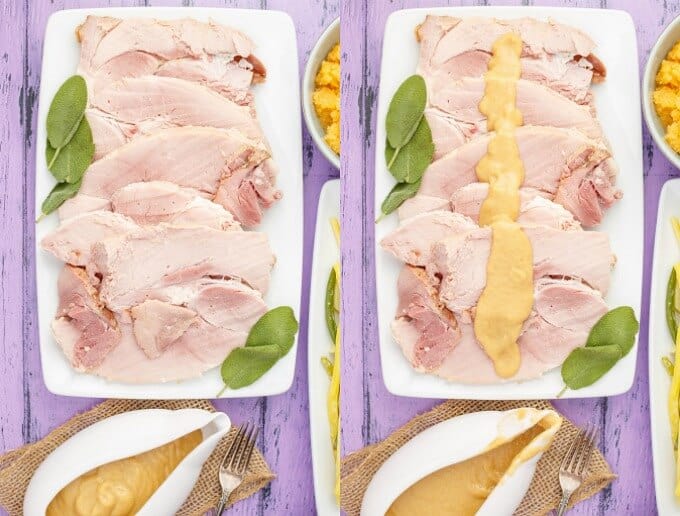 For this slow cooker honey-mustard apple ham, I went with flavors that are commonly seen with pork, but not the same ole brown sugar/mustard ham. The sauce is actually "homemade" as I put together my own portions of mustard and honey 🙂 This makes it easier for people to adjust the recipe accordingly (not a mustard fan? Tone it down a bit!)
As for the apples, I kept thinking "how am I going to include these?"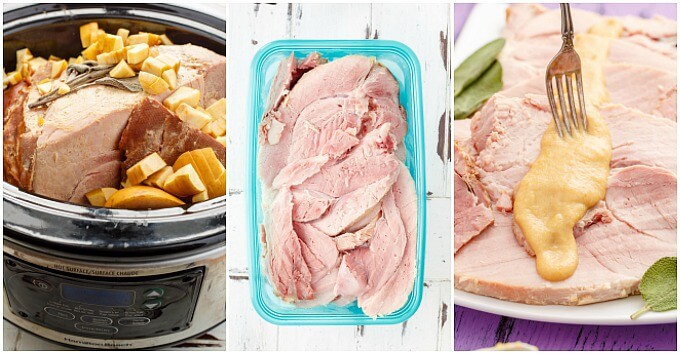 Well, you will be blown away with how flavorful this sauce is! As the ham is resting, move all the contents from the slow cooker into a large saucepan. Simmer for a short bit to help concentrate those flavors, adding water if necessary. Move everything to a blender and puree until smooth (adding more water until you achieve the consistency you desire.) The apples add natural sweetness alongside the honey, and help balance the saltiness of the pork. Seriously, it is almost like a salty-apple gravy!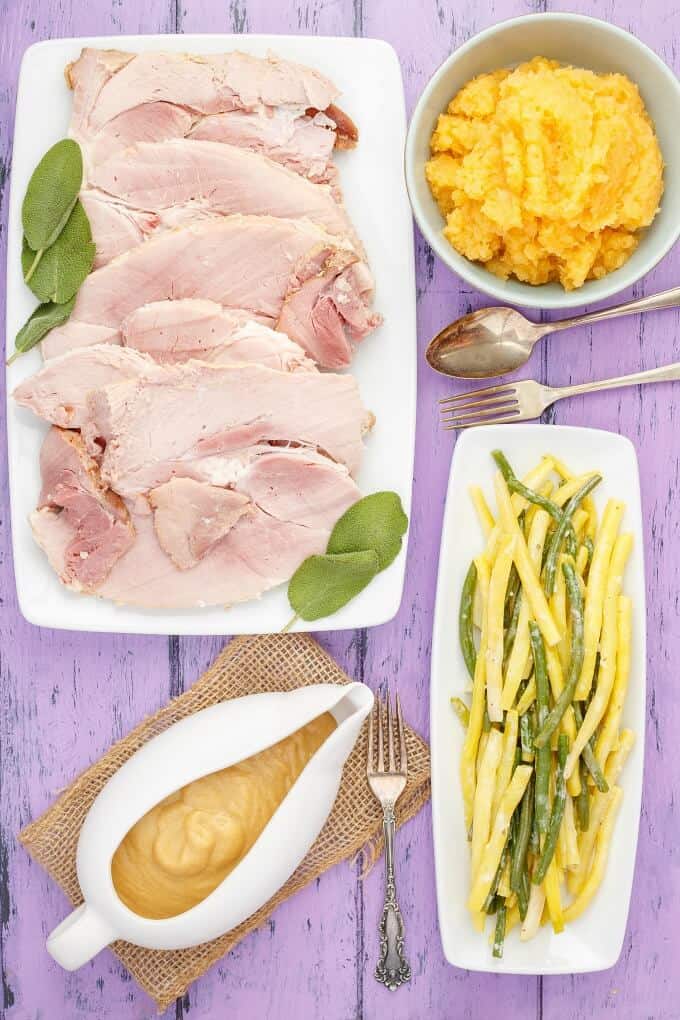 As always, I want to point out that this slow cooker honey-mustard apple ham may differ in cook time for everyone depending on their slow cooker. Don't go too big as you won't be able to close the slow cooker 🙂 I had to trim mine a bit to fit, but no big deal.
📖 Recipe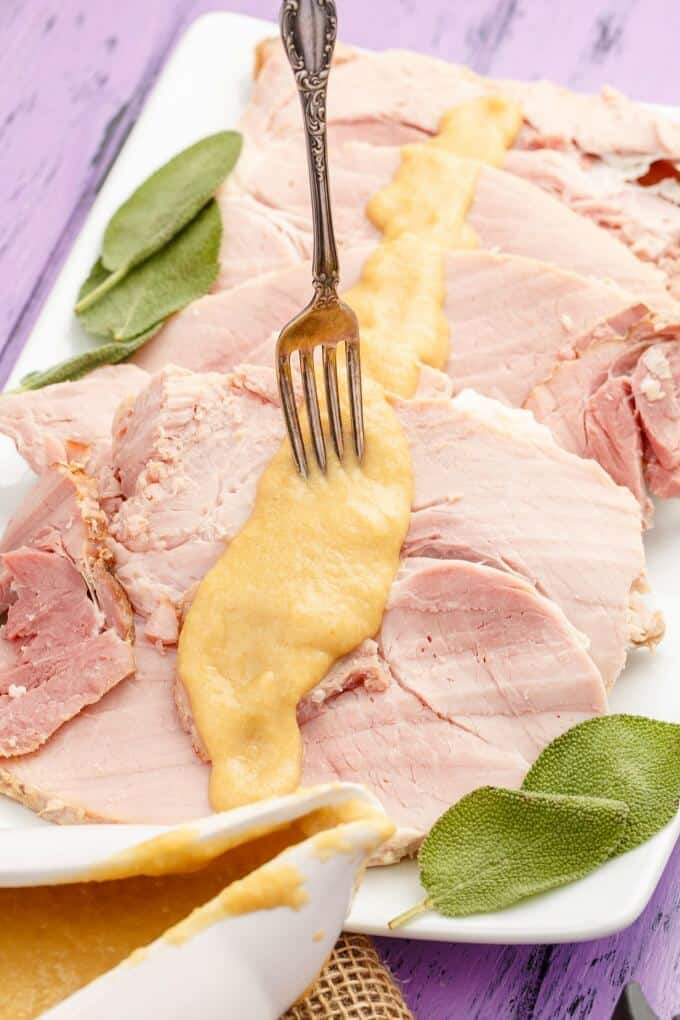 Slow Cooker Honey-Mustard Apple Ham
Cook Time:
8 hours
10 minutes
Total Time:
8 hours
25 minutes
Ham is the perfect meat for the slow cooker! Free up that oven space!
Ingredients
7.7 lb hickory smoked ham shank portion
⅓ cup honey
¼ cup dijon mustard
1 tsp. Worcestershire sauce
1 lb apples, diced (I used three golden delicious apples)
1 garlic clove, minced
4-5 large sage leaves
Black Pepper
Instructions
Place ham into 6-quart slow cooker, trimming if necessary.
Combine honey, mustard, Worcestershire, garlic, and black pepper. Pour over ham evenly. Top with sage leaves.
Cook on low heat for 2 hours. Add in apples and continue cooking for 4-6 hours, or until ham is cooked through (145F.)
Allow to rest, slice, and serve!
Apple "Gravy"
Pour all contents (except ham) from slow cooker into a large frying/saute pan. Bring to a boil over medium heat. Simmer for 10 minutes, or until slightly reduce. Toss sage leaves.
Transfer to blender and add some water. Puree until smooth, adding more water if necessary to get the consistency you desire! It will thicken up in the fridge overnight as there is fat in ham (so you may have to water it down a bit more when reheating.)
Serve over ham!
Notes
The "gravy" is super simple and easily customized! Add water in small amounts as you cannot take away if you add too much 😉 You can also add all the apples at the beginning of cook time, but the above method leaves a bit of firmness to the apples if you do not desire the "gravy."
Nutrition Information:
Yield:

8
Serving Size:

1
Amount Per Serving:
Calories:

611
Total Fat:

11g
Saturated Fat:

4g
Trans Fat:

0g
Unsaturated Fat:

7g
Cholesterol:

96mg
Sodium:

4140mg
Carbohydrates:

52g
Fiber:

2g
Sugar:

18g
Protein:

79g
See those side dishes alongside this honey-mustard apple ham? They will be coming to the blog in the next few weeks so you can prepare one awesome meal from one awesome blog 😉 I'll update this page when those recipes go live so you do not have to search.
Love this slow cooker honey-mustard apple ham?! Try some of these recipes: