Turkey is not just for the holidays! Utilize this lean protein all summer long, including this grilled herbes de Provence turkey (a whole turkey recipe that will feed all your party guests!) Welcome to the second part of my four-part grilling series! #BBQwithTurkey
This is a sponsored post. I was fortunate enough to receive monetary compensation and/or products from Canadian Turkey. Though compensation was received, all opinions are my own and I would not recommend a product that I did not enjoy.
Hey everyone!!
I'm back with part two of my grilling series with Canadian Turkey! If you missed my first post, be sure to check out my grilled sriracha turkey drumsticks as they introduce you to this collaboration 🙂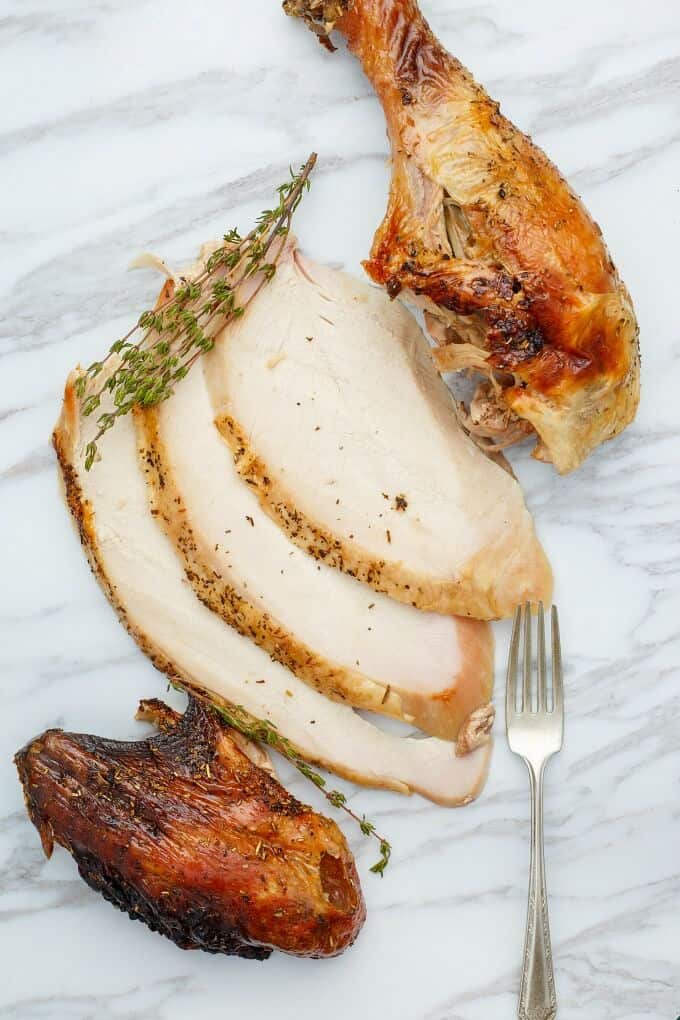 I spoke briefly about my overall theme in the last post: Cooking Around the World with Canadian Turkey. We began with an appetizer recipe that has Asian-influence. Today's herbes de Provence turkey is all bout French cuisine and utilizes the whole bird, showing you that even though there are no holidays around, whole turkey makes the ideal summer party food! French cooking is big here in Canada and what better way to showcase the cuisine than combining it with a healthy, lean cut of protein! My herbes de Provence actually come all the way from France (a friend gave me some from her sister-in-law's recent trip) but there are so many store-made versions you can find. Better yet, you can even make your own! Such a simple mixture that yields great flavors!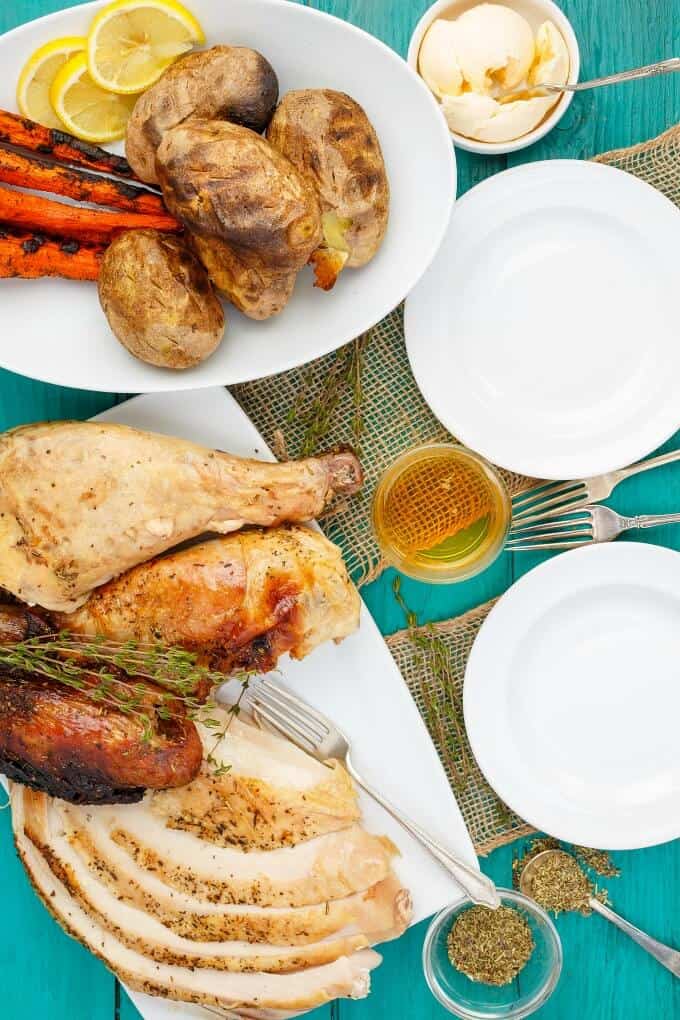 Now that we are outside more than ever during these hot months, we are often scrambling for dinner ideas! I for one cannot wait for a pool where I can just spend all day outside and then not have to worry about heating my house in the end. Break out the BBQ because this grilled herbes de Provence turkey is a life-changer!
You want to entertain a small to large crowd but don't want to spend time away from your guests. Using the grill is an ideal choice because you are already outside anyway so why not cook right then and there?! I personally thought this whole turkey would take ages to cook, but was pleasantly surprised when my 16-pound turkey took under 4 hours to cook at around 350-375F! Just as I was heading out the door for my dentist appointment my husband stated "I think the turkey is done." Nothing beats coming home to a fully rested bird (meaning no dry meat here!)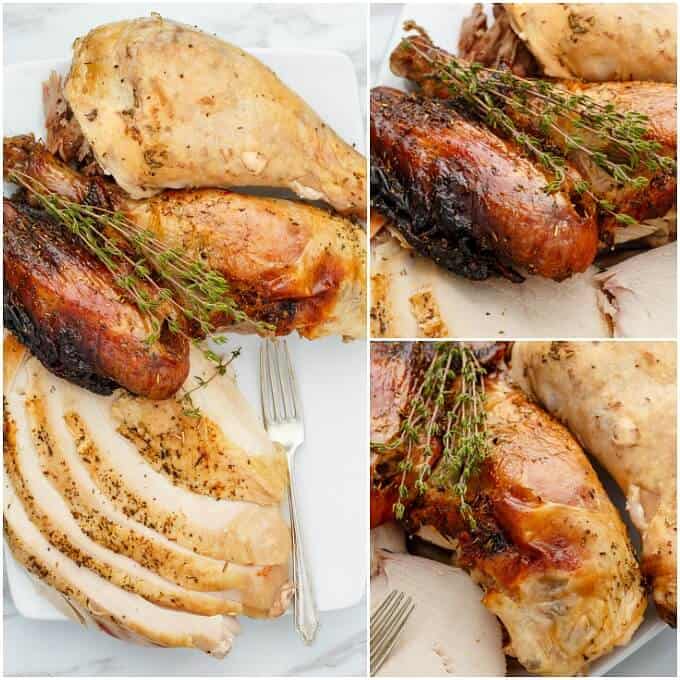 Besides obviously providing guests with a flavorful and juicy dinner, you want to showcase how easy everything was and that even guests with different dietary ideologies can still partake. Going with a simple dry rub this time (we did a wet marinade in the last post!) results in easy prep, and no real worrying of "OMG I TOTALLY FORGOT TO MARINADE THE MEAT LAST NIGHT!" I'll be honest and say I tend to lean towards wet marinades, however, I have a newfound love for dry rubs! Yes, I did brine the turkey and highly recommend you do so too. It helps sooooo much! So much. Since I began brining meats I have seen a big improvement in juiciness and tenderness. Locked in flavors that only reward you, not punish you 😉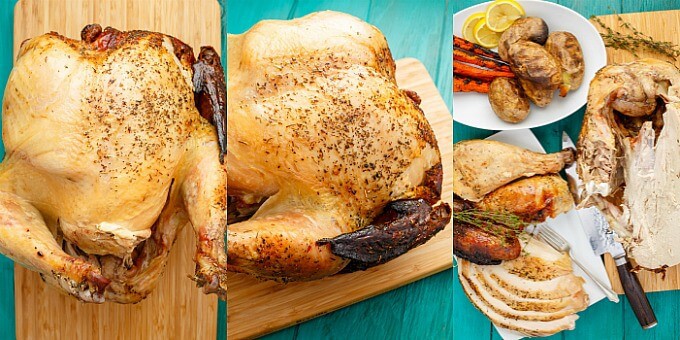 With this grilled herbes de Provence turkey I wanted to showcase a new grilling method. We did go with indirect heat again, which was discussed in the previous post, but this time we went with the beer can turkey method. You fit a whole turkey onto a beer can?!
Yes I did, haha. If you happen to follow me on Instagram you would have seen how I managed this! Thankfully my husband had a tall can kicking around 😉 Now I know there is controversy to whether this method is appropriate or not for meat, but I want to state that I went with this method because I wanted a nice, crispy skin, all the while yielding tender meat. When the turkey is upright, all the fat drips into the pan below. This means no gooey turkey skin from sitting in excess liquid... You know exactly what I mean!
With all the fat dripping from the herbes de Provence turkey, you are gently coating the skin, allowing for crispiness, but locked in moisture under the skin! When you grill your food, you are rewarded with moist meat, locked in flavors, and a natural smoky flavor! And with simple rubs and marinades, you don't need to douse everything in sugary or salty sauces.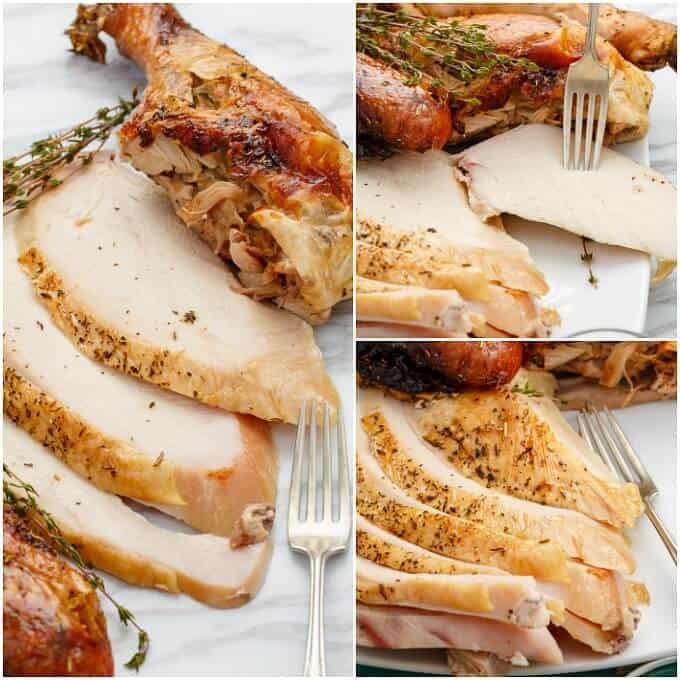 Much like the previous recipe, you are cooking your turkey over a burner that is not on, leaving the other burners on to create a warm oven. Resist opening the lid of the BBQ constantly as you will only slowdown cook time! The only thing I would do differently is rotate the turkey halfway through as I found my turkey was on a slight angle (meaning less even cooking color!) Otherwise, I cannot get over how easy this beer can turkey is! I feel I will be outside on the grill during the colder months for Thanksgiving as this was one of my husband's favorite turkey recipes to date!
📖 Recipe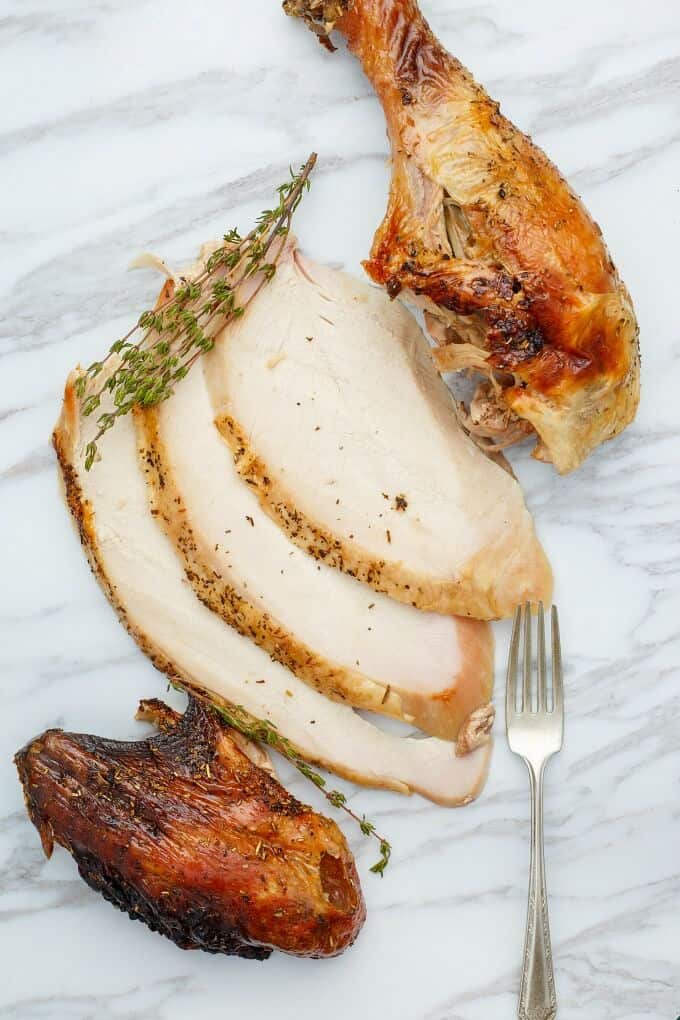 Grilled Herbes de Provence Turkey (Beer Can Turkey)
Cook Time:
3 hours
30 minutes
Total Time:
3 hours
45 minutes
Herbes de Provence makes such an awesome dry rub and you can find it any local grocery store (or feel free to make your own!)
Ingredients
1 (7.5 kg/16 ½ lb) whole turkey, giblets and neck removed.
⅓ cup Herbes de Provence mix (available at grocery stores!)
1 tall can of beer (your choosing!)
Brine
1 ½ cups table salt
2 cups brown sugar
16 cups cold water
1 lemon, sliced
3 peaches, halved
2 limes, sliced
4 garlic cloves
1 large onion, halved
Instructions
Brine
Combine 6 cups cold water with sugar and salt in a large saucepan over medium heat. Stir occasionally until salt and sugar have dissolved (no need to boil!) Remove from heat and cool to room temperature.
Combine remaining water and ingredients into a large stock pot or special brining bag. Pour water/sugar/salt mixture in. Add turkey and weigh down to fully submerge it if necessary (depending on your pot, you may need to make another half-batch of brine.)
Cover and refrigerate overnight.
Remove turkey and pat dry. Allow to sit overnight in the refrigerator again (you want it to basically dry completely! No need to cover.)
Grill
Remove turkey from refrigerator.
Crack open tall can of beer and pour a couple of tablespoons into a glass (don't throw it out! Drink it!) Place can into a grill-safe dish or aluminum pan. Carefully place the turkey on top of the can. Rub entirely with Herbes de Provence.
Preheat grill to 350-375F. Turn off one burner and place turkey pan on that side (keep other burner(s) on so we now have indirect heat!)
Cover and cook for 2 hours (don't peak!) Baste and cook for another hour, covering wings/drumsticks with foil if they appear to be browning too fast. Baste again. Continue cooking until turkey reaches 165F (mine finished between 3 and 3 ½ hours!)
Remove from pan, discard beer, cover with aluminum foil. Allow to rest for 20 minutes before serving!
Notes
I swear by brining! If you brine the turkey, do not salt it afterwards! Add any ingredients you like to the brine (I had extra peaches, but apples, oranges, etc. work, too!) You want the skin as dry as possible before grilling as this will achieve the crispy skin we all love! Cook time may vary depending on how well your grill maintains heat (use a meat thermometer to check internal temperature beginning around the 3 hour mark.)
Nutrition Information:
Yield:

8
Serving Size:

1
Amount Per Serving:
Calories:

259
Total Fat:

1g
Saturated Fat:

0g
Trans Fat:

0g
Unsaturated Fat:

0g
Cholesterol:

62mg
Sodium:

21271mg
Carbohydrates:

58g
Fiber:

2g
Sugar:

51g
Protein:

5g
For more
safe handling guides
and
how-to's
when dealing with a whole turkey, please visit Canadian Turkey.
Be sure to come back in a couple of weeks to see what part three of my series will be! Hint hint, it is salad time!
This is a sponsored post. I was fortunate enough to receive monetary compensation and/or products from Canadian Turkey. Though compensation was received, all opinions are my own and I would not recommend a product that I did not enjoy.
Love this grilled herbes de Provence turkey?! Try some of these recipes: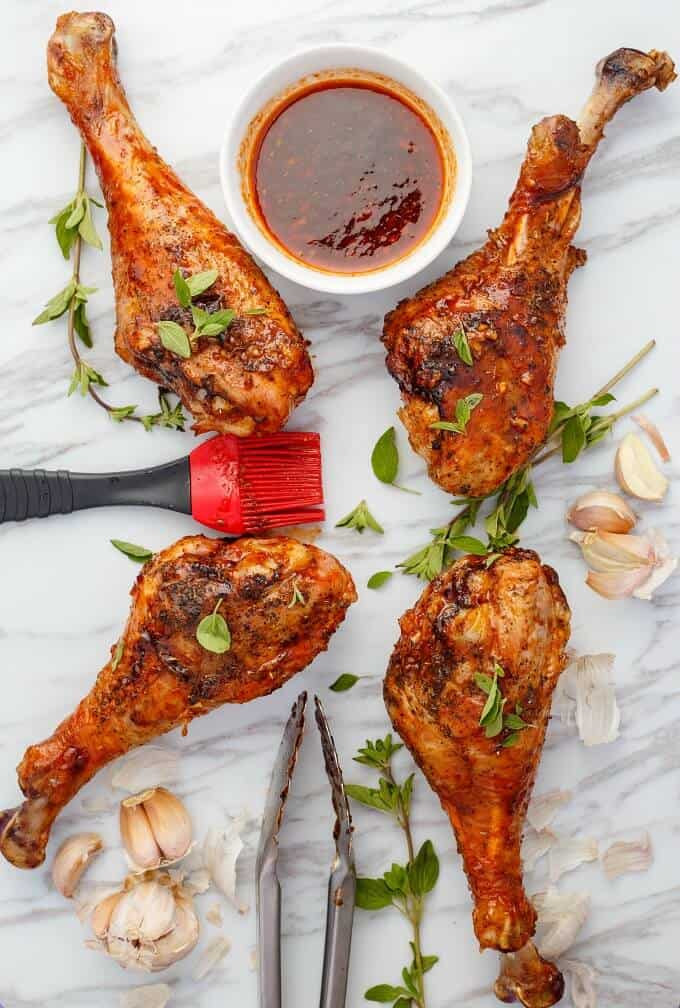 Grilled Sriracha Turkey Drumsticks