Yay for summer! With the nice weather here, I am happy to be back with Canadian Turkey and a four-part grilling series that should have your mouth watering throughout the journey! We begin with these grilled sriracha turkey drumsticks: a mixture of sweet and spicy, but perfect for the entire family! #BBQwithTurkey
This is a sponsored post. I was fortunate enough to receive monetary compensation and/or products from Canadian Turkey. Though compensation was received, all opinions are my own and I would not recommend a product that I did not enjoy.
What an interesting summer it has been so far.
Lots of RAIN. RAAAAAIN!
I am all for it, but considering the rain has been non-stop since early spring, I am starting to feel my love weakening...
Thankfully nice weather is here just in time for my new four-part grilling series with Canadian Turkey! I cannot express how much love I have for this project! We will be discussing all things turkey, whether that be different cuts of meat, their health properties, or just how you can include turkey in your every day lifestyle.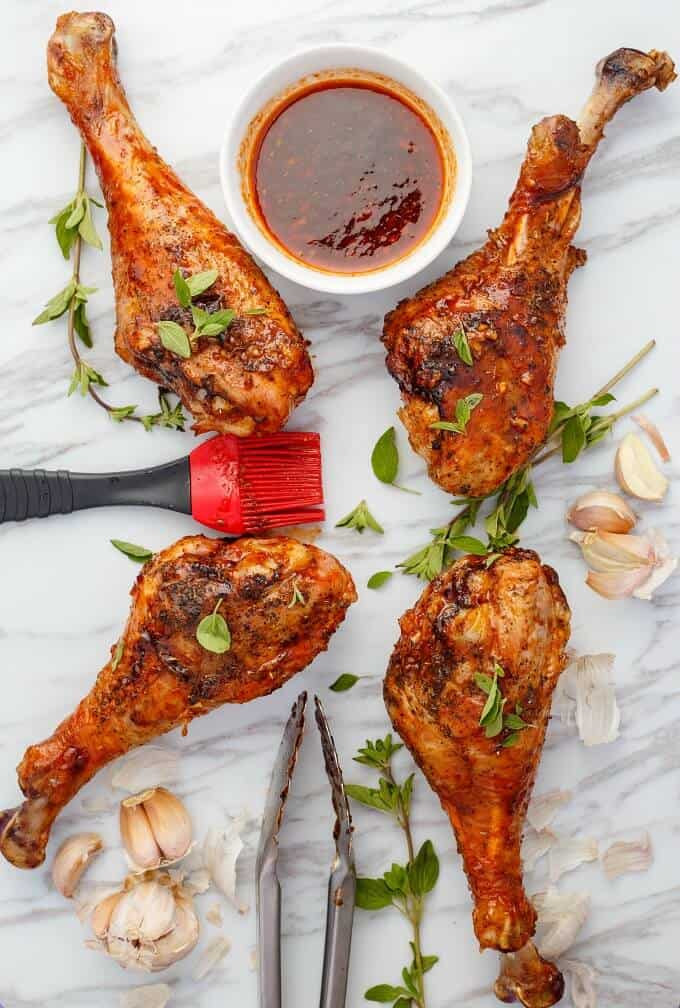 Let's begin with these grilled sriracha turkey drumsticks!
My goal with this series is to show you many things. First, how versatile turkey is, especially on the grill. Different cuts of turkey, along with different grilling methods leaves you with endless combinations! Secondly, we want to showcase how this high-protein meat is perfect for every day summer entertaining (people want light, nutritious, and simple!) And lastly, my theme for this project is all about Canada and our multiculturalism! My four posts will showcase an appetizer, an entree, a salad, and a side dish! Within those four categories I will be visiting flavors from around the world that are popular here in Canada. Meaning, you probably won't find these recipes on the menu in their home country, but here in Canada you may find them in your favorite Canadian-Chinese food restaurant, or that local Italian-Canadian joint.
As foodies, we love all cuisines but realize that the Western world has definitely adapted these "classic" recipes into something more familiar. Since my family has never traveled, I can honestly say I have never had authentic Chinese food or Indian food (well, then again, I have grown up with many friends from around the world so perhaps I have had a taste!) People want what is familiar to them, and that is why I have decided to venture into the theme of "Cooking Around the World with Canadian Turkey!"
These grilled sriracha turkey drumsticks are my appetizer recipe, and tie in with Canadian-Chinese flavors. We all have our local favorite takeout places, and these drumsticks are a twist on one of my most popular recipes! I thought I would reinvent it here using a cheap, but delicious cut of turkey that retains all its moisture on the grill!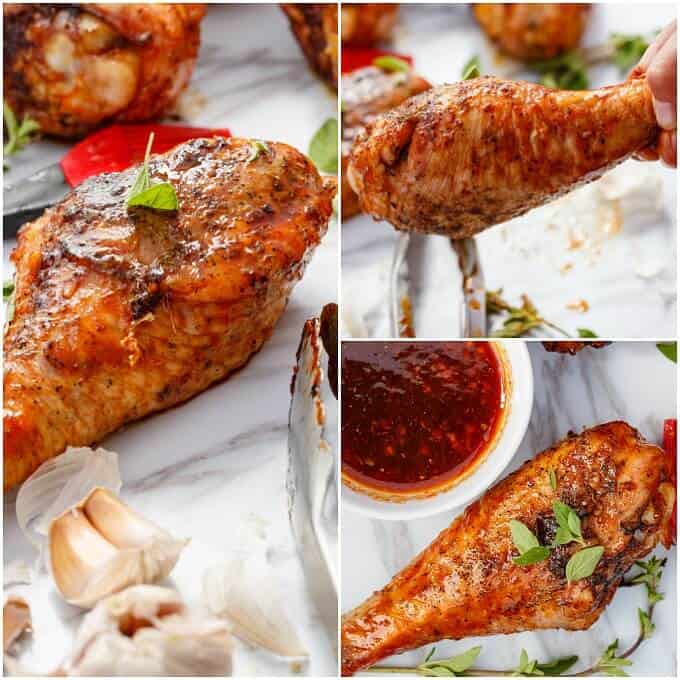 Personally, as someone who doesn't grill too often (because my husband lays claim to that appliance!) I wanted something easy and resilient. Basically I did not want to destroy the meal I was making, haha.
With these grilled sriracha turkey drumsticks I went with the indirect heat method for grilling. Such a great method for beginners and really reduces the chance of burning your meat! In this case, I seasoned the turkey drumsticks with a dry rub and placed them over a medium-high oiled grill. With about 3-5 minutes per side, the drumsticks are quickly crisped, giving you that nice charred flavor without resulting in a burnt finish. Turn off one burner and lower the rest, placing the drumsticks over the burner with no heat. Close the lid, and keep your temperature around 325-350F, rotating the drumsticks every 10-15 minutes. This ensures a nice, even cook! No more worries of burning the outside meat while the middle remains raw 😉
When the grilled sriracha turkey drumsticks are nearing completion (around 20 minutes left,) you can start covering the meat in sauce. Saving this until the end allows the skin to remain crispy and keeps the sauce from burning onto the turkey (there is honey in the sauce so we want to be careful!)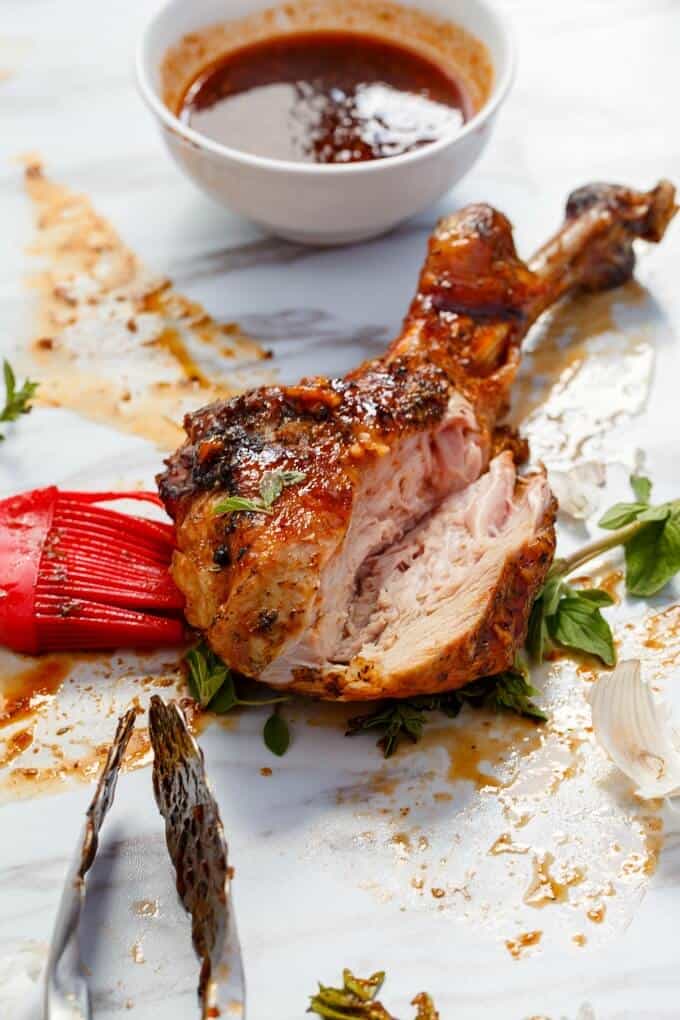 To make the meal even healthier, feel free to trim or remove the skin entirely before BBQing. This will reduce flair-ups on the BBQ (however, my cuts were really nice as is and resulted in no extra prep work!)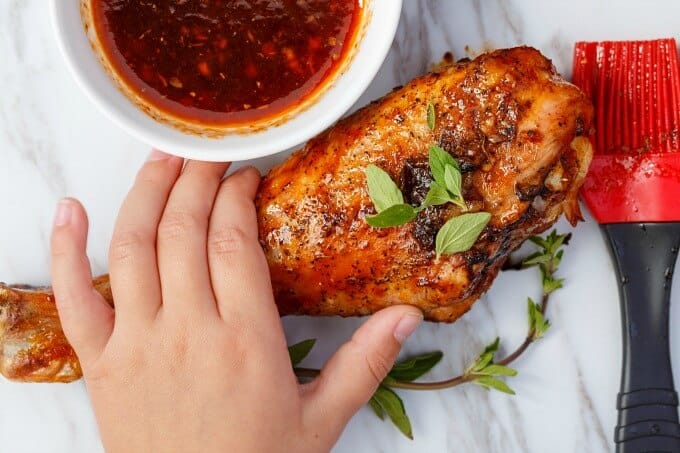 I'll finish this first post by stating that turkey is a very versatile meat, so be adventurous with these drumsticks! Chili flakes will add more heat, while more honey will yield a sweeter taste. We want to show you that turkey is the perfect lean grilling meat and it can be enjoyed all year round! Personally, turkey wings would be divine in this recipe! If you can get your hands on those you will have a great poolside appetizer! No more chicken wings and beer, bring on the turkey wings! NOTE: You can see how big the turkey drumsticks are in contrast to my almost 6-year-old's hand. I cannot help but compare them to the drumsticks you would see Fred Flintstone eat, lol.
📖 Recipe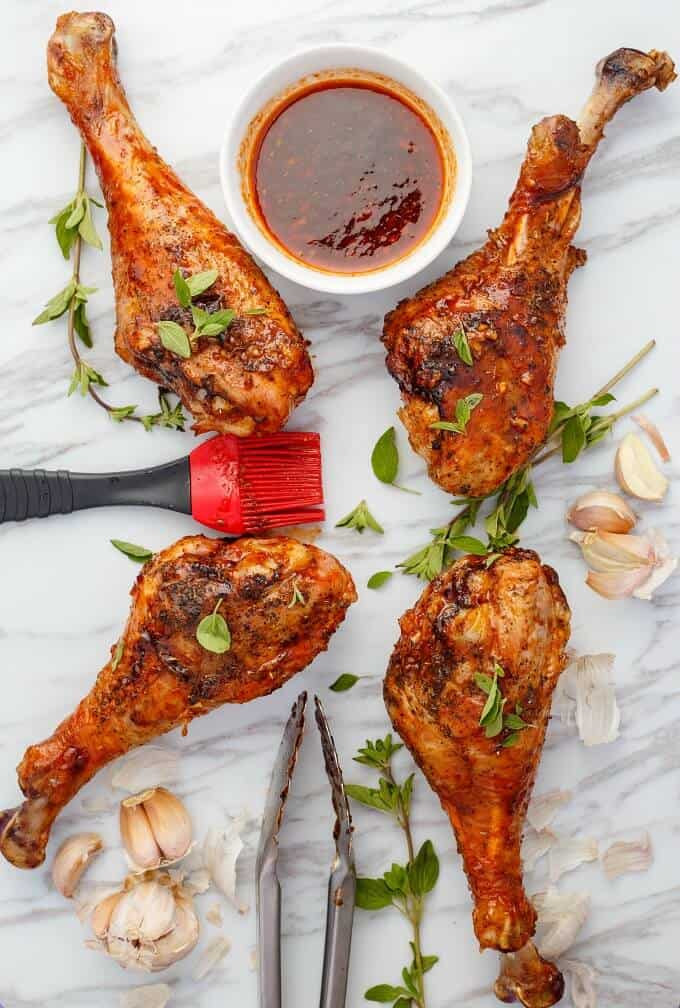 Grilled Sriracha Turkey Drumsticks
Total Time:
1 hour
10 minutes
Quick and to the point, you can easily use turkey wings in place of the drumsticks!
Ingredients
3 lbs turkey drumsticks (skin removed if desired.)
Salt and pepper
1 ½ tsp. dried oregano
Sauce
¼ cup sriracha
¼ cup honey
2 tbsp. butter, melted
1 tbsp. soy sauce
4 garlic cloves, minced
1 tsp. dried oregano
Fresh oregano for garnish if desired!
Instructions
Pat turkey legs dry. Sprinkle with salt, pepper, and oregano.
Combine all sauce ingredients.
Preheat grill to medium-high (I was around 425-450F.) Lightly oil grill so turkey does not stick.
Place drumsticks onto grill over direct heat. Grill 3-5 minutes per side, or until nice grill lines appear and turkey separates from grill easily.
Turn off one burner and lower the other two until temperature is around 325-350F. Place turkey over section where heat is turned off (indirect heat.)
Cook for 50-60 minutes, turning every 10-15 minutes, until turkey reaches 165F internally. You want to baste them with sauce in the last 20-30 minutes.
Remove from heat, rest slightly, and serve with fresh oregano!
Notes
You will have some leftover sauce (depending on how much you baste.) You can drizzle it on top of the turkey or serve alongside rice 🙂 Cook time is approximate as it will depend on how well you maintain your BBQ heat and how thick the cuts are. A meat thermometer is your friend!
Nutrition Information:
Yield:

4
Serving Size:

1
Amount Per Serving:
Calories:

813
Total Fat:

38g
Saturated Fat:

12g
Trans Fat:

1g
Unsaturated Fat:

23g
Cholesterol:

424mg
Sodium:

1136mg
Carbohydrates:

23g
Fiber:

1g
Sugar:

20g
Protein:

97g
Our grilled sriracha turkey drumsticks are the perfect appetizer for your summer get-together! Up next? A grilled whole turkey that takes us to France (and changes things up from a wet marinade to a dry rub!) Stay tuned in a couple of weeks!
PS: Check out some other awesome grilling recipes using turkey!
This is a sponsored post. I was fortunate enough to receive monetary compensation and/or products from Canadian Turkey. Though compensation was received, all opinions are my own and I would not recommend a product that I did not enjoy.
Love these grilled sriracha turkey drumsticks?! Try some of these recipes: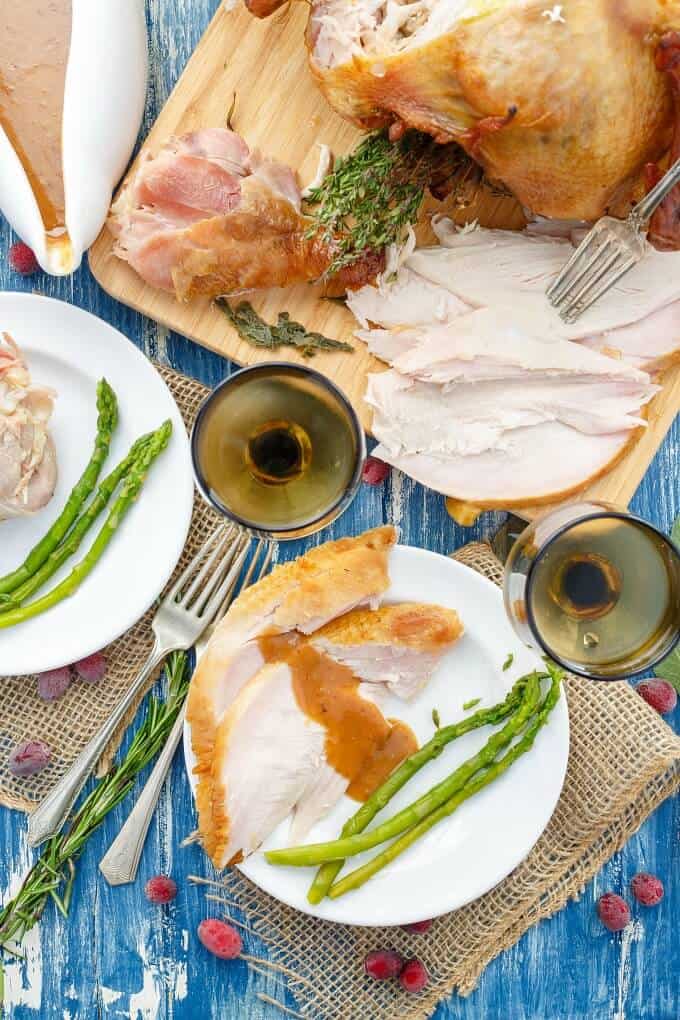 Smoked Turkey Recipe (How to Smoke a Turkey)