Let's celebrate everything Canadian with these homemade honey-garlic hamburgers with maple-bacon caramelized onions! Honey AND maple syrup?! Just trust me on this one 🙂
This is a sponsored post. I was fortunate enough to receive products and/or monetary compensation from Nude Bee Honey Co. Though products were received, all opinions are my own and I would not recommend a product that I did not enjoy!
Ever since receiving my beautiful package of honey from Nude Bee Honey, I have created countless recipes, all the while appreciating these flavors in their original form.
Since this honey is so sophisticated and made with care, I don't want to risk masking their great flavors! Mixing them into tea has been our specialty, but I really see any of these pairing perfectly over a soft cheese or finishing off a simple dessert.
However, sometimes your mind begins whirling and you think you have some amazing ideas! I still do, haha, but in this case, I wanted to revisit my childhood in relation to Canada 150 coming up.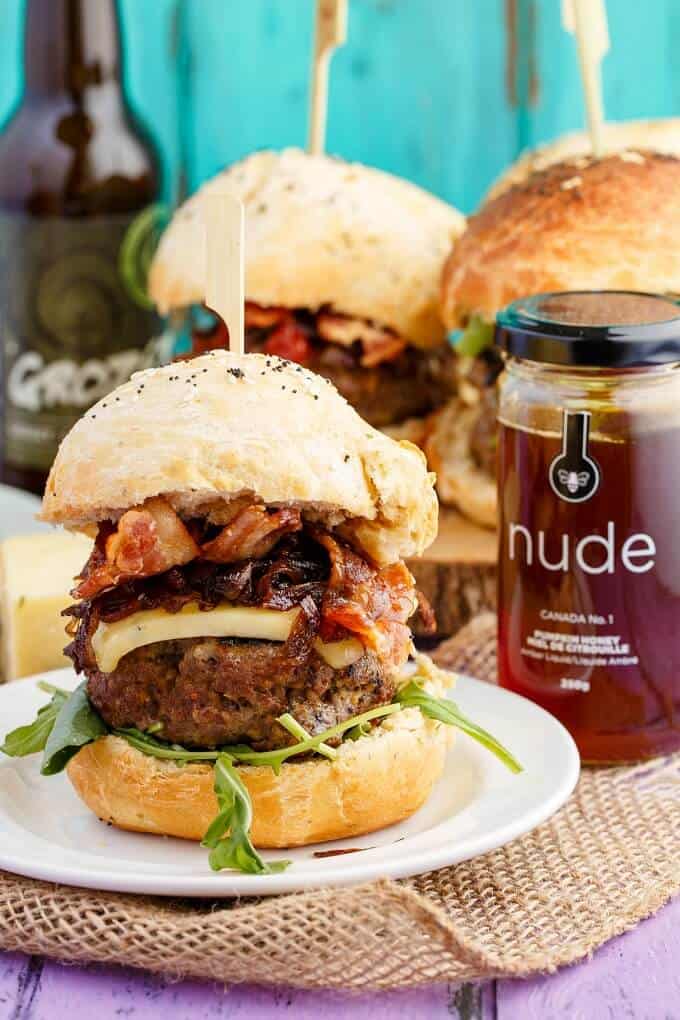 These homemade honey-garlic hamburgers with maple-bacon caramelized onions are FAR from the burgers my parents would make us when we were kids, but they do have some similarities (and memories!) Firstly, my parents would add a bit of "maple syrup" into our burger patties. Nothing CRAZY. It wasn't meant as a sugar rush: more of a way to bring in some nice flavors. And it did, from what I remember since meat was never my thing! But I'm going to be honest here: we never had real maple syrup in our house.
I SAID IT! All those years hating pancakes with "syrup." Turns out I had never actually had real maple syrup until I went on a class trip to a maple farm (not uncommon for us Ontario kids.)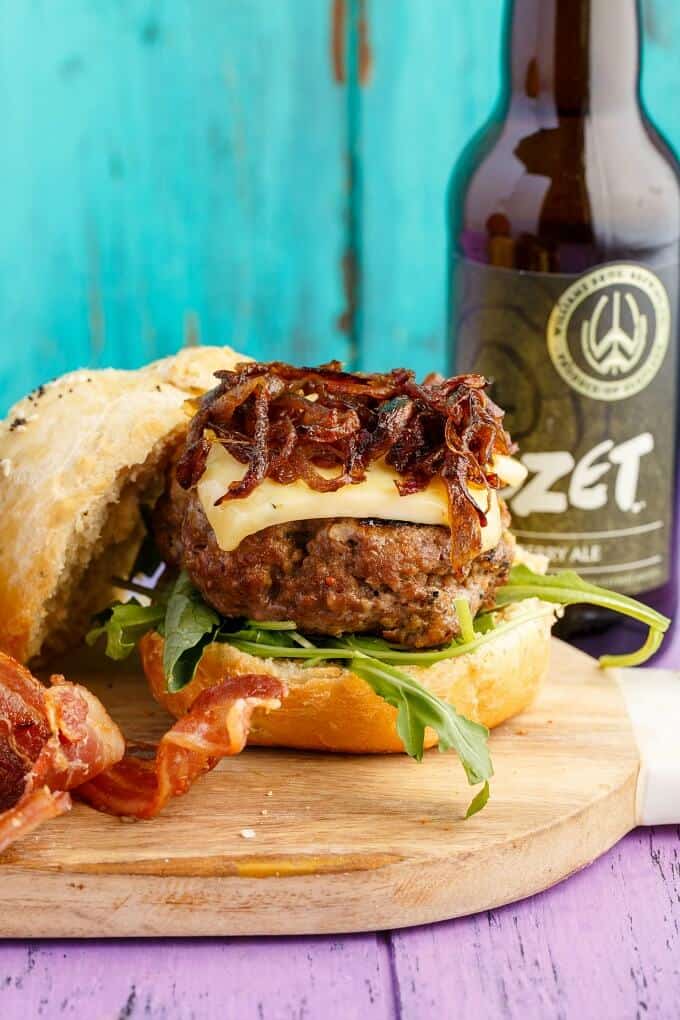 But if we are talking about honey, and definitely focusing on it, why bring maple syrup into the picture?
Honestly, many people think of maple syrup when it comes to Canada, but Nude Bee Honey shows you that we are just as comparative, if not better, than many when it comes to our honey production. Not only do they provide consumers with raw, unpasteurized honey (more about that can be found on their website here,) they also focus on the care of bees, choosing beekeepers wisely, and promoting farm market buying. As foodies in this household, we are all about supporting local farmers and businesses, especially those who put so much passion and care into their work!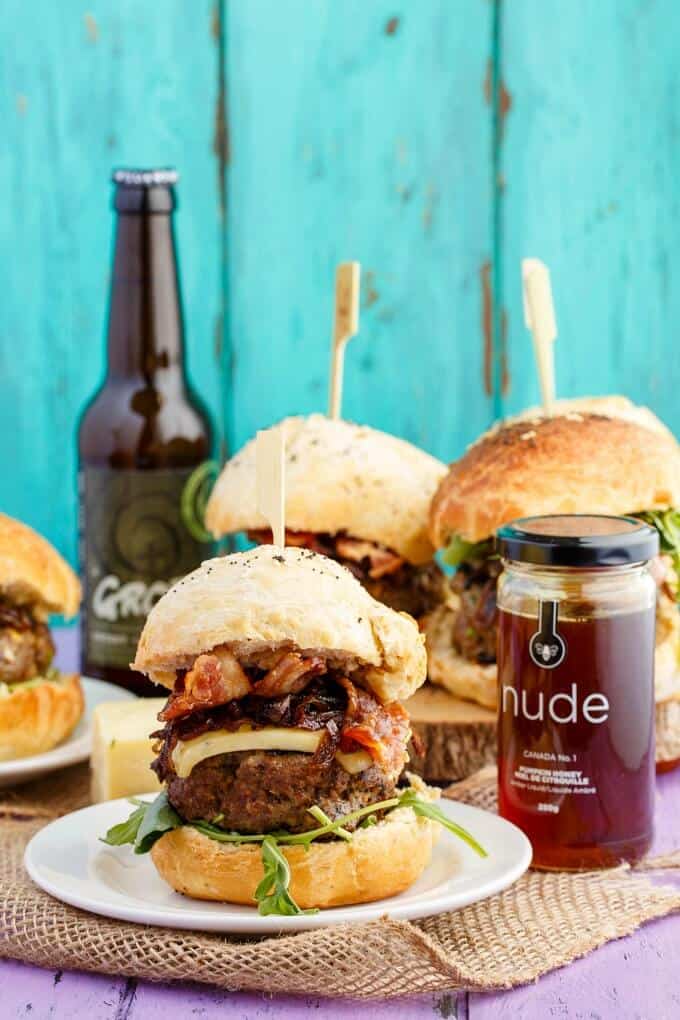 A lot of their honey-production comes from Ontario (woohoo!) but they have had honey come in from elsewhere. With a competitive honey market in certain provinces, it is nice to see a company coming in with new ideas and hipster traits (I mean that with the most love! My husband totally teases me about being "hipster." I'm just picky when it comes to books, TV shows, food, etc.)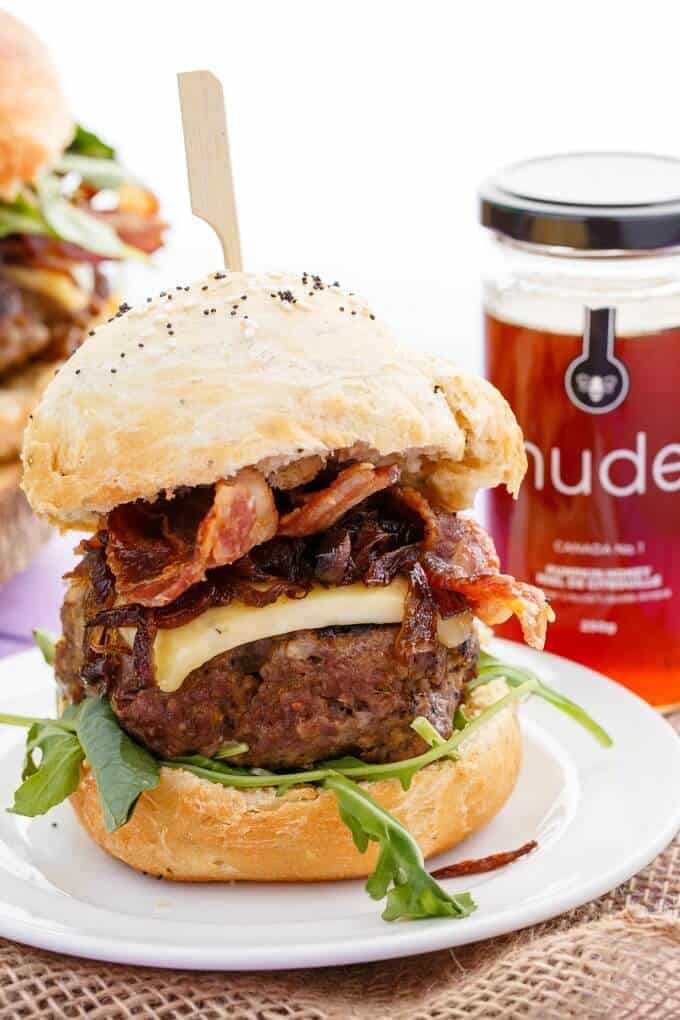 Honey, maple syrup, bacon: can we get anymore Canadian than that?! Okay, most definitely but I am happy to be supporting a local business with these homemade honey-garlic hamburgers! Great for both kids and adults, you can easily forego the fancy topping and stick to most basic traditions (my daughter LOVES onions, but had to add ketchup... Oh, you Canadian kid.)
On a final note, don't go in thinking these homemade honey-garlic hamburgers will be super sweet! The honey offers a mellow sweetness that makes for a truly unique burger!
📖 Recipe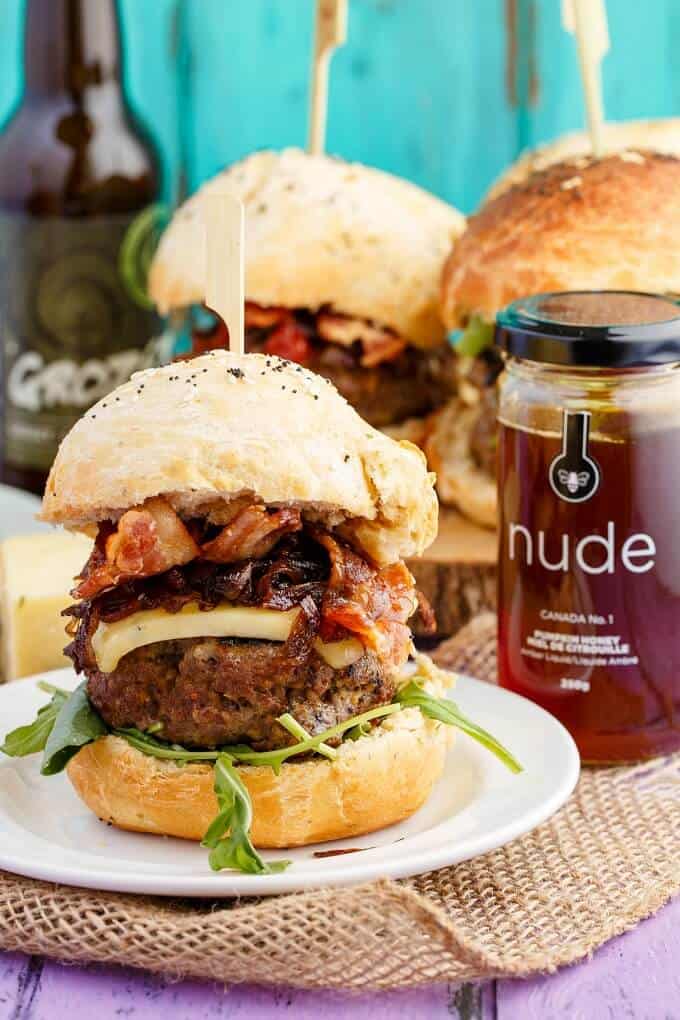 Homemade Honey-Garlic Hamburgers with Maple Bacon Caramelized Onions
Canadians always think of maple syrup, but we have some awesome honey, too! The mix of both work very well together in this recipe!
Ingredients
1 ½ lbs lean ground beef
1 tbsp. milk
¼ cup diced onion
Salt and pepper
2 tbsp. Nude Bee Honey
5 garlic cloves, minced
1 tsp. freshly minced ginger
1 large egg
1 tsp. coarse whole grain mustard
½ jalapeno, seeded and minced
½ cup breadcrumbs
Maple Bacon
7 slices of bacon
1 tbsp. maple syrup
Caramelized Onions
3 onions, sliced thin
1-2 tbsp. maple syrup OR honey
Salt
½ tsp. granulated sugar (optional: I find it helps brown my onions but we are already adding a sweetener!)
Instructions
Combine all burger ingredients into a large mixing bowl. Mix until JUST combined. Over-mixing will result in a tough burger.
Measure out ⅓ lb burger patties and shape accordingly (mine were about 164g each.)
Bacon
Add bacon to a large frying pan over medium-high heat. Cook until crispy, about 7-10 minutes. In last minute, stir in maple syrup and cook until sticky. Drain.
Onions
Using leftover bacon grease (or 1 tbsp. oil,) heat pan over medium-high heat. Stir in onions. Cook until beginning to brown, about 5 minutes. Add salt and sugar. Continue cooking, stirring frequently, until deep brown, another 10 minutes. Deglaze with maple syrup OR honey. Set aside.
Assembly
Cook patties over medium-high heat: 4-5 minutes per side, until internal temperature reaches 160F. Some people like medium-rare (but I just don't trust that!)
Place burgers onto homemade or store-bought buns. Layer with cheese, caramelized onions, and bacon. Add any other toppings you like (we added some arugula and Dijon mustard!)
Notes
Cook time may vary on burgers depending on how thick you form them!
Nutrition Information:
Yield:

6
Serving Size:

1
Amount Per Serving:
Calories:

440
Total Fat:

20g
Saturated Fat:

7g
Trans Fat:

0g
Unsaturated Fat:

10g
Cholesterol:

145mg
Sodium:

562mg
Carbohydrates:

24g
Fiber:

1g
Sugar:

13g
Protein:

40g
I hope you have enjoyed my two posts with Nude Bee Honey. I have been providing these recipes on my own accord because I truly love everything about them! My husband loves making mead, and I would not be surprised if in the future we take up beekeeping together 🙂
This is a sponsored post. I was fortunate enough to receive products and/or monetary compensation from Nude Bee Honey Co. Though products were received, all opinions are my own and I would not recommend a product that I did not enjoy!