I don't know about you, but I always think of pizza in the summer! This chicken bacon ranch pizza is quick to make, especially if using leftovers, and can be made with store-bought or homemade pizza dough! Don't forget, Cold is where it's Sold with Litehouse's Homestyle Ranch Dressing!

This is a sponsored post. I was fortunate enough to receive monetary compensation and/or products from Litehouse. Though compensation was received, all opinions are my own and I would not recommend a product that I did not enjoy.
Not even a month into summer and already I feel drained!
One downfall to having an only child is that she has no sibling(s) to keep her occupied!
Since I can only handle so many rounds of Go Fish I decided to get her into the kitchen. Pizza is a great activity for kids, and really keeps them busy! Of course, her favorite part is rolling out the dough and before you know it my pizza is 2-times the size it needs to be! Kids.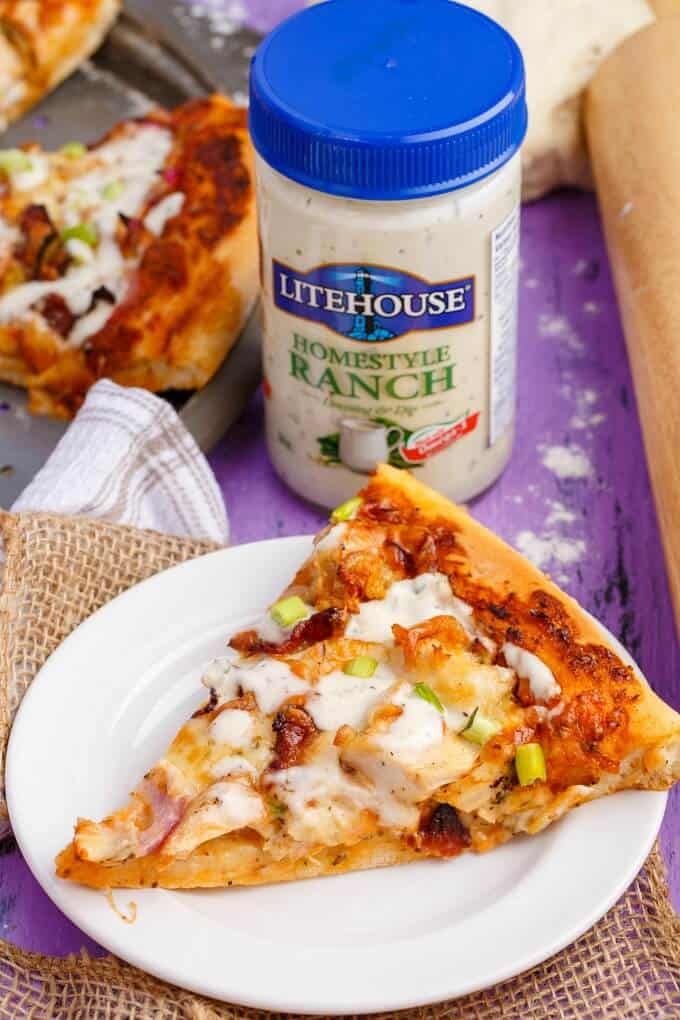 I'm happy to be partnering up with Litehouse today and this chicken bacon ranch pizza will please both kids and adults!
Ranch on pizza is not something new to us. I'm going to say 90% of the pizzas I make here include ranch in some form. It is missed dearly if I run out! My daughter has become used to it, too, and usually notes something is missing flavor-wise without it!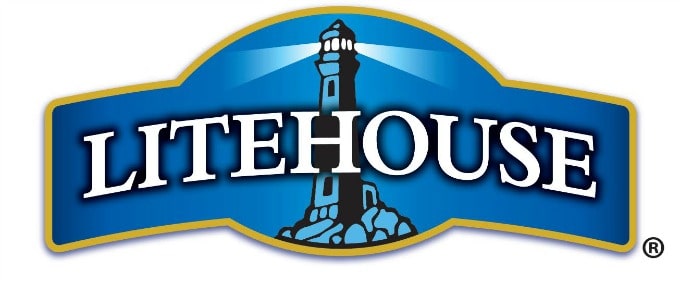 With us using ranch dressing as often as we do, you better believe we are looking for quality! I absolutely LOVE Litehouse's Homestyle Ranch Dressing!
Creamy, bold flavors with a tangy zip, Litehouse's Homestyle Ranch was recently declared the best-tasting ranch dressing by consumers during a blind sensory test against competing brands. Definitely well deserved because you can taste the difference with this cold dressing compared to those found on grocery shelves.
Litehouse stands behind the motto "Cold is where it's Sold," and this hits home to many. Personally, growing up we always grabbed our dressings off the shelves in the grocery store; all room temperature and no where near a fridge. Didn't even put a second thought as to why and how these dressings we able to stay "alive" so long without refrigeration.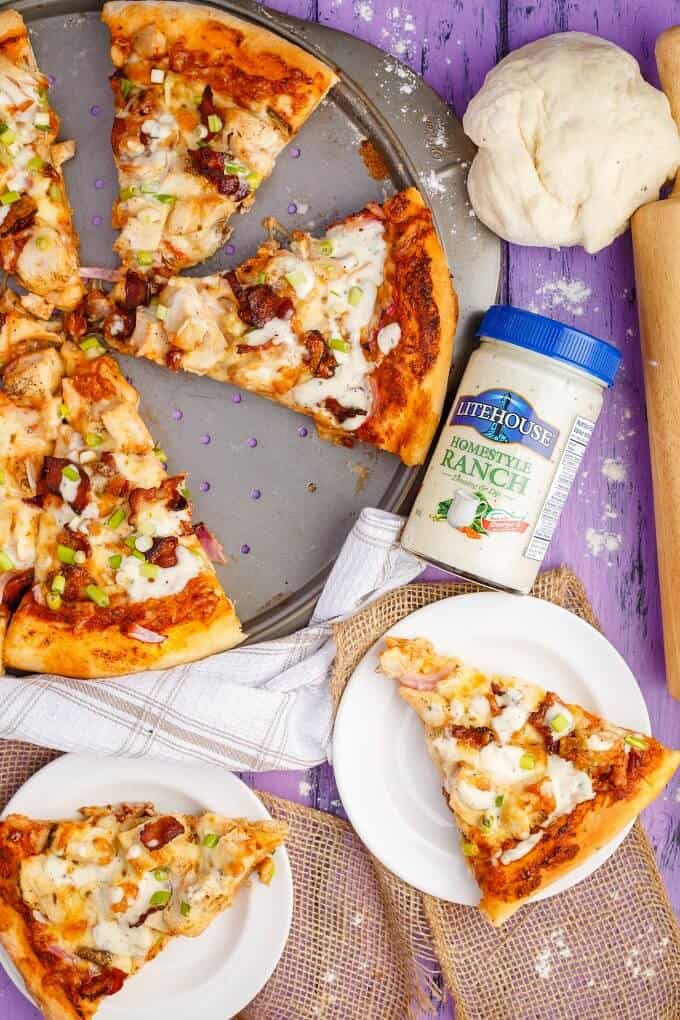 Now, as adults, my siblings and myself ALWAYS grab our dressing from the cold section. Grocery stores have them right up there in the produce section so you can't miss them. Who doesn't enjoy a meal finished off with a cold dollop of ranch dressing?! Especially on top of this chicken bacon ranch pizza 🙂
I even went as far as including their Homestyle Ranch Dressing into the pizza dough itself! But fear not, store-bought works great here, too, and I highly recommend it if you are short on time. Using leftover cubed chicken and crispy bacon, you will have a pizza baked in less than 20 minutes and that includes prep time!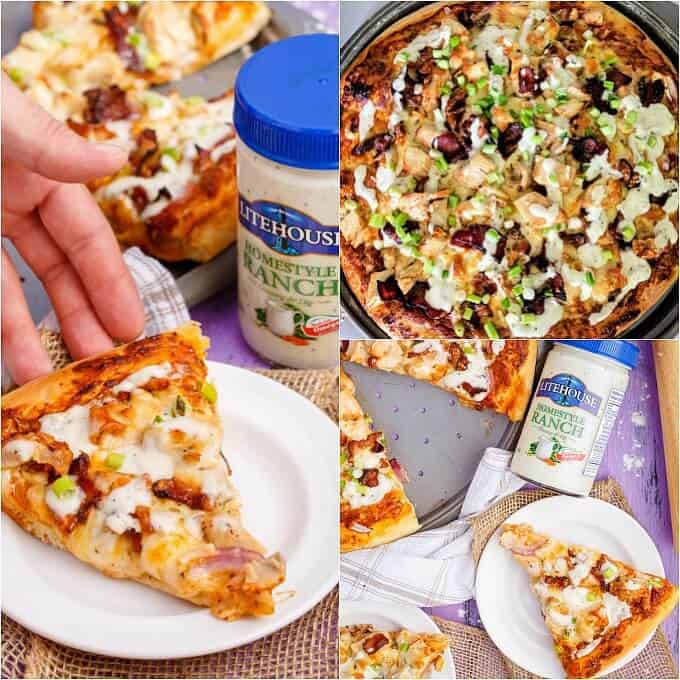 However, for me, I went 95% homemade with this chicken bacon ranch pizza because I really wanted to show that you can have an amazing & easy home-cooked meal, especially when paired with a high-quality dressing as the finishing touch! Seriously, ranch dough, ranch dressing layered on the dough, and finally, a nice, cold drizzling of ranch dressing on the freshly baked pizza! Yummy!
So next time you are thinking about a salad, or want a fresh mouthful of cool dip, be sure to cruise the refrigerated section of your grocery store for Litehouse's amazing line of products (and be sure to use the hashtag #SeeTheLite to browse more delicious recipes from my fellow blogging friends! There are a lot of recipes using Litehouse's Caesar Dressing!)
📖 Recipe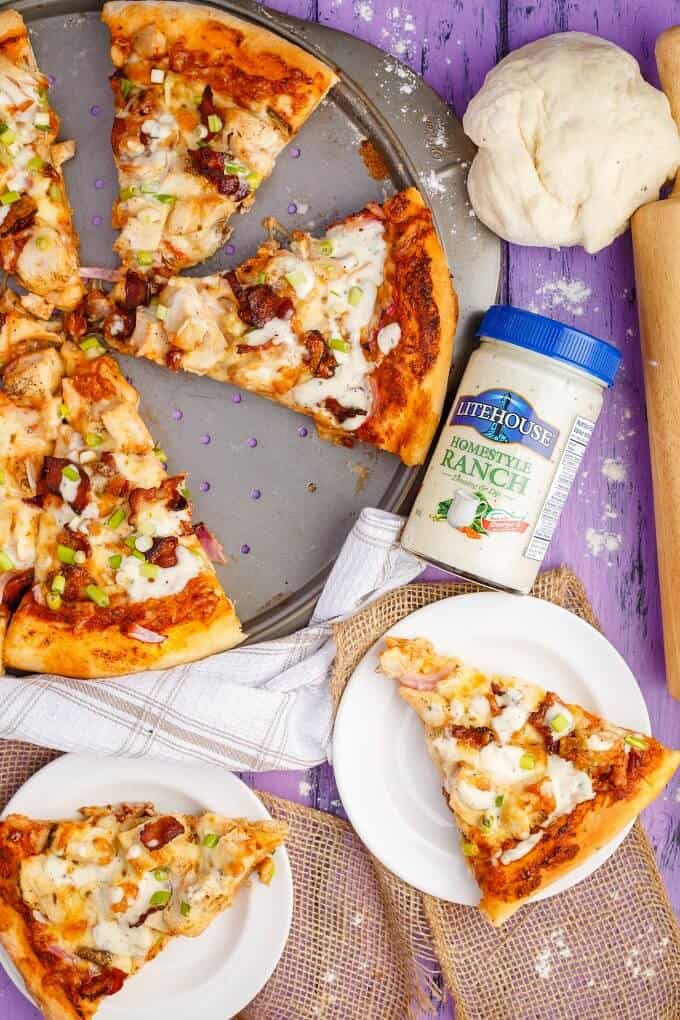 Chicken Bacon Ranch Pizza
An easy recipe where you can entirely homemade or use store-bought ingredients to help speed things up!
Ingredients
1 bottle Litehouse's Homestyle Ranch Dressing (approx. ½ cup.)
Toppings
1 lb boneless, skinless chicken breasts OR leftover chicken
8 oz bacon slices OR leftover crispy bacon
10 oz grated Cheddar, Mozzarella, Havarti or cheese of your choosing (more or less depending on what you like!)
1 cup store-bought OR homemade pizza sauce
1 small red onion, sliced
Green onion or chives for garnish!
Homemade Pizza Dough OR store-bought!
2 tsp. instant yeast
1 ⅓ cups 110F water
1 ½ tsp. salt
2 tsp. granulated sugar
1 tbsp. olive oil
⅛ cup Litehouse's Homestyle Ranch Dressing
3 ½ cups all-purpose flour
Instructions
Homemade dough (skip if using store-bought!)
Combine yeast and water in the bowl of a stand mixer. Allow to sit 5 minutes or until bubbles form. Pour in sugar, salt, olive oil, and Ranch Dressing. Dump in flour and mix, using the dough attachment, until dough pulls away from sides of bowl and forms a ball.
Lightly oil a large bowl and roll dough around inside it until gently coated. Cover with plastic wrap and allow to rise.
Chicken (skip if using leftover chicken!)
Preheat oven to 425F. Place chicken breasts into a shallow baking dish. Season with salt and pepper and roast for 20-30 minutes, or until internal temperature reaches 160F. Remove, allow to rest, and chop into cubes.
Bacon (skip if using leftover or pre-cooked bacon!)
Roughly chop bacon. Add to a large frying pan over medium-high heat. Cook until crispy (or your desired doneness,) 5-10 minutes. Drain and set aside.
Pizza
Roll out pizza dough to fit onto a large pizza pan.
Spread ⅛ cup of Ranch Dressing onto naked dough. Add tomato sauce (I used ¾ cup,) and spread evenly.
Add all the onion. Sprinkle half the cheese, chicken, and bacon onto the pizza. Repeat with remaining amounts.
Bake in a preheated 475F oven for 12-15 minutes, or until crust is nicely golden.
Remove from oven and allow to cool slightly. Drizzle with Ranch Dressing and garnish with green onions!
Slice & serve! Add more ranch if desired 😉
Notes
Cook time for pizza may vary with store-bought crust. You will save time by prepping your toppings a day in advance (leftover ingredients for the win!)
Nutrition Information:
Yield:

4
Serving Size:

4
Amount Per Serving:
Calories:

1416
Total Fat:

69g
Saturated Fat:

28g
Trans Fat:

1g
Unsaturated Fat:

35g
Cholesterol:

268mg
Sodium:

2775mg
Carbohydrates:

98g
Fiber:

6g
Sugar:

5g
Protein:

96g
This is a sponsored post. I was fortunate enough to receive monetary compensation and/or products from Litehouse. Though compensation was received, all opinions are my own and I would not recommend a product that I did not enjoy.
Love this chicken bacon ranch pizza?! Try some of these recipes: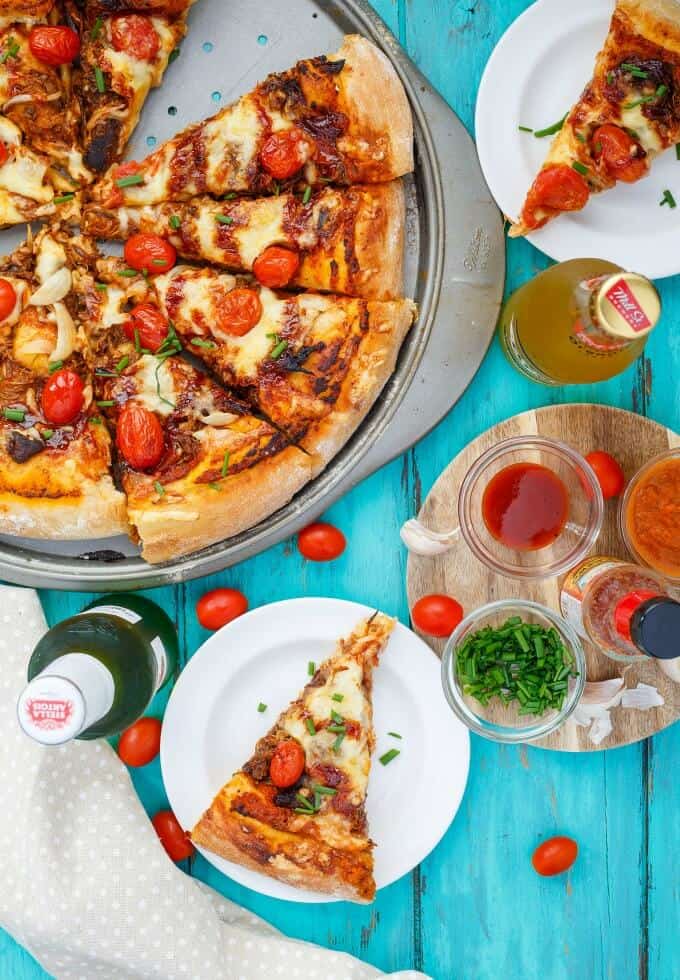 BBQ Pulled Pork Pizza using Leftovers