It's National Ice Cream Day!!! I finally got around to making a homemade vanilla bean ice cream, and even though I have used real vanilla extract in previous recipes, there is just something about vanilla beans...
Beat the summer heat with ICE CREAM!!
I actually made this homemade vanilla bean ice cream months ago in preparation for summer recipes, but totally forgot about it.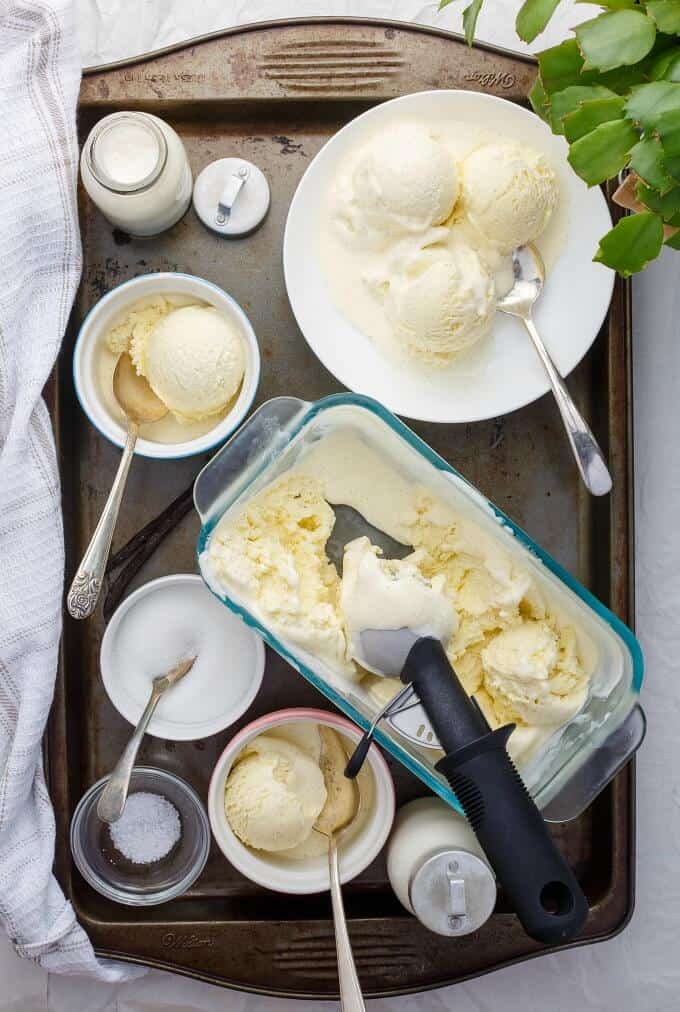 How could I forget about something so wonderful?
Well, the entire batch was eaten in one sitting by family... That good! My dad asked why I didn't make more and I said that people always say they are not "dessert fans." Guess we found something everyone likes!
My sister had treated me to vanilla beans in my stocking this past Christmas and I knew immediately they would go into a homemade vanilla bean ice cream. The great thing about vanilla beans is that you can reuse them. I scraped out my vanilla bean from the pods, but some just throw the beans right into their desserts. Now that I have some extra pods hanging around with no vanilla bean in them, I plan to save them for warm vanilla milk or gently flavored coffee drinks. You get the picture!
If I had to make a guess or assumption, I would say vanilla is probably one of the most popular flavors/scents out there. My brother loves anything vanilla scented; and since he isn't a big chocolate fan, you can bet most desserts are vanilla-flavored. While I LOVE chocolate, this homemade vanilla bean ice cream won me over! So soft, refreshing, and the flavors... I cannot describe to you how much joy once batch of ice cream brought to us!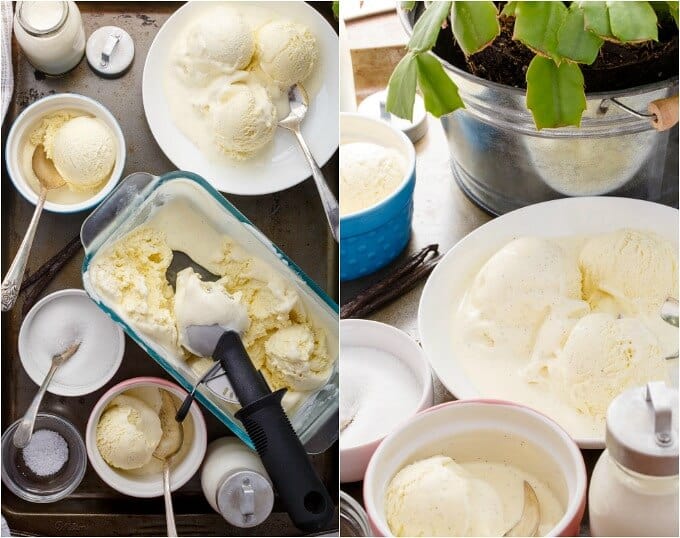 Now, if you cannot get your hands on vanilla beans (they are expensive,) you can check out my basic vanilla ice cream made using real vanilla extract. Don't cheap out here. You can tell the difference between the artificial and real stuff. And honestly? I feel you are not paying too much more. A giant bottle lasts me quite a while and I like to bake. Granted I don't bake as often as some, however, the bottle will last a long time! Generally speaking, my cookie recipes use 1 tsp. vanilla extract, and my vanilla Swiss meringue buttercream can use between 2-4 tbsp. However, regular American buttercream generally uses about 2 tsp. vanilla. Not much at all!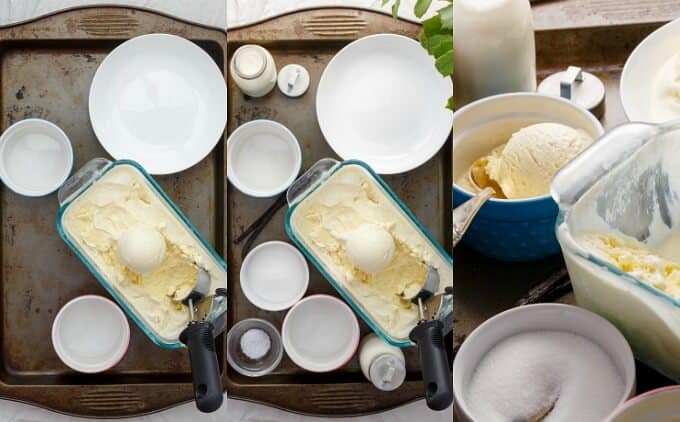 As I have continued to make more and more homemade ice cream recipes, I have figured out my ratios. No exception, I use at least 4 egg yolks, but usually 5. High fat content comes from heavy whipping cream, but still with some milk mixed in (Costco has a great deal on 35% cream but otherwise I generally wait for sales because it does add up!) And cornstarch! Just a tablespoon or so to help keep the ice cream smooth, velvety, and not icy and crystallized. Salt helps, too, as it impedes water crystals from forming (though we are not adding enough salt to even come close to reducing all the water, but every bit helps.)
So, you can enjoy this homemade vanilla bean ice cream on National Ice Cream Day, or save it for the holidays! I know this will be part of the menu come Thanksgiving and Christmas 🙂
📖 Recipe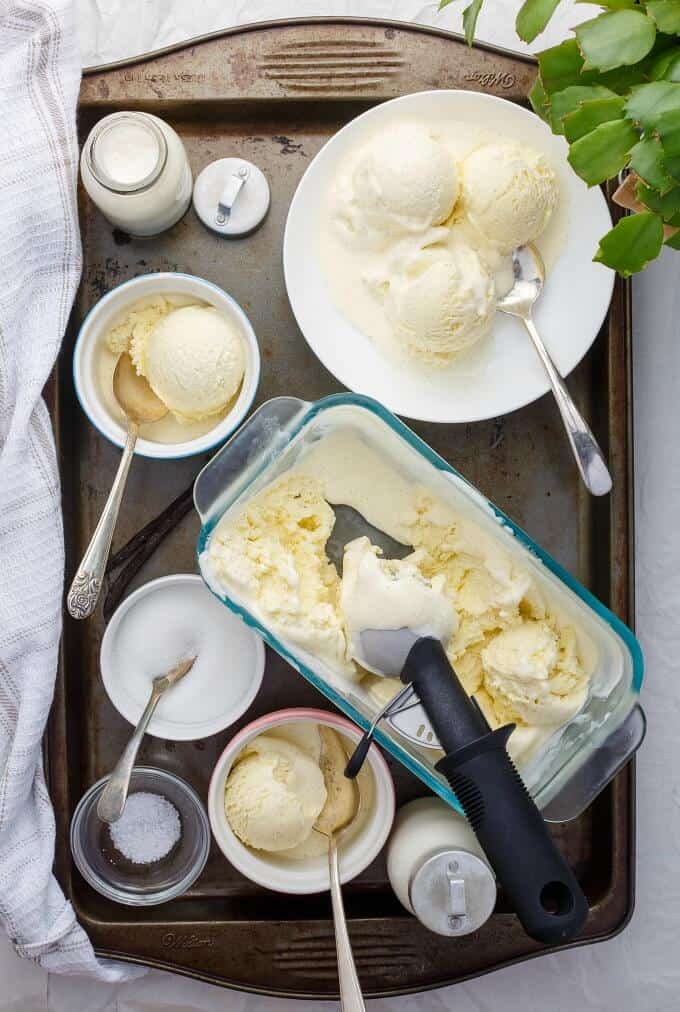 Homemade Vanilla Bean Ice Cream
Fresh vanilla beans make all the difference in this recipe!
Ingredients
2 cups heavy whipping cream
1 cup milk
½ cup granulated sugar
5 egg yolks
1 tbsp. cornstarch
Pinch of salt
2 vanilla bean pods, sliced lengthwise and vanilla bean removed
Instructions
Mix together 1 cup of cream and cornstarch. Set aside.
Combine 1 cup of cream and milk in a medium-sized saucepan over medium heat. Stir in sugar and salt and continue to whisk frequently until sugar has dissolved and mixture is very hot (but not boiling!)
Whisk egg yolks in a mixing bowl until paler in color. Carefully and slowly pour the hot liquid from the stove into the eggs, whisking constantly so you do not curdle the eggs. When fully combined, add the mixture back into the pan and pour in cornstarch mixture and vanilla beans. Bring to a hot temperature again (not boiling!,) stirring frequently. Remove from heat and allow to cool to room temperature (you can stir occasionally to prevent film build up.)
Cover and place into refrigerate overnight. When time to churn, follow the directions on your ice cream machine. Store in freezer-safe containers and allow to sit out for 5-10 minutes before serving!
Notes
When you remove the vanilla beans from their pod, don't discard the empty vessel! You can steeped it in milk or other liquids (no waste!)
Nutrition Information:
Yield:

8
Serving Size:

1
Amount Per Serving:
Calories:

304
Total Fat:

25g
Saturated Fat:

15g
Trans Fat:

1g
Unsaturated Fat:

8g
Cholesterol:

185mg
Sodium:

52mg
Carbohydrates:

17g
Fiber:

0g
Sugar:

16g
Protein:

4g
Love this homemade vanilla bean ice cream?! Try some of these recipes: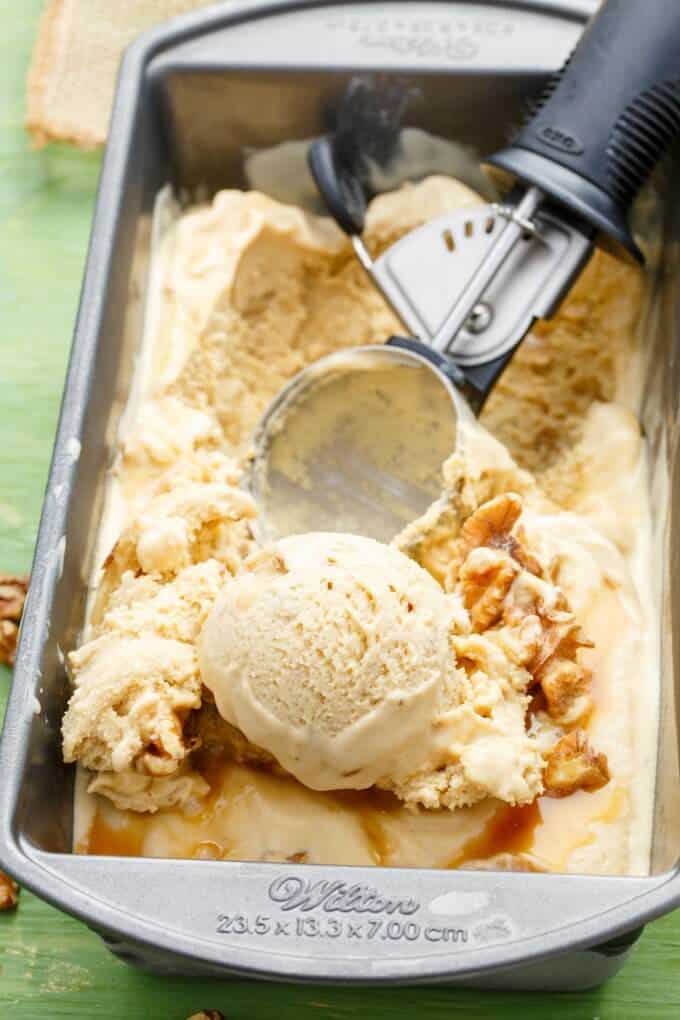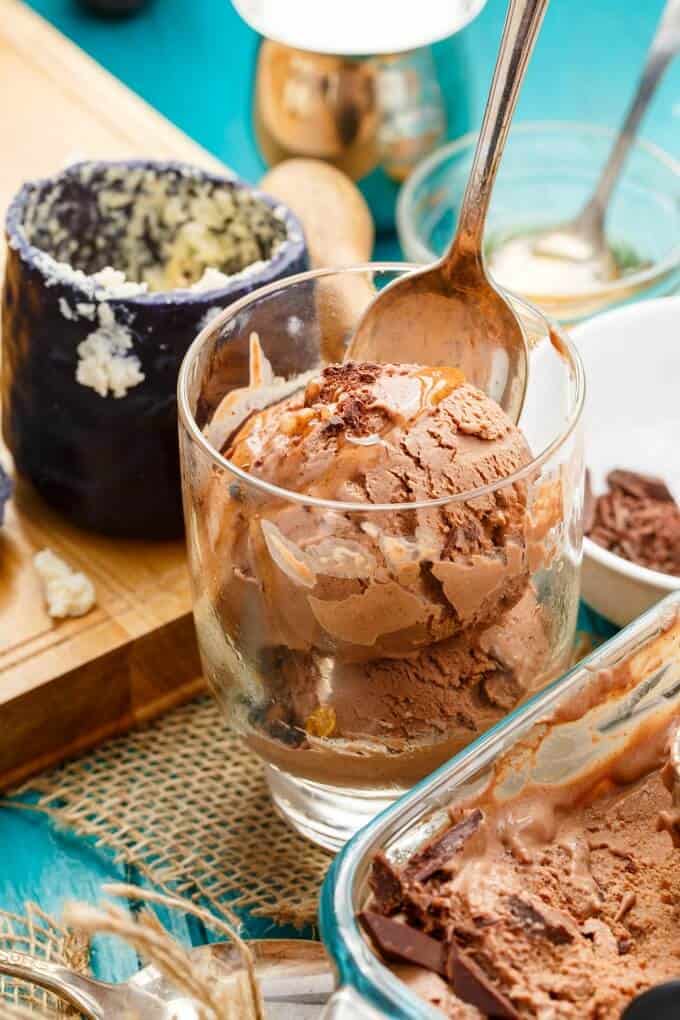 Homemade Maple Walnut Ice CreamDark Chocolate Blue Cheese Ice Cream with Honey