Vanilla vs chocolate: which do you choose?! Here is my basic vanilla ice cream recipe (much over-do but I am definitely a chocolate fiend!)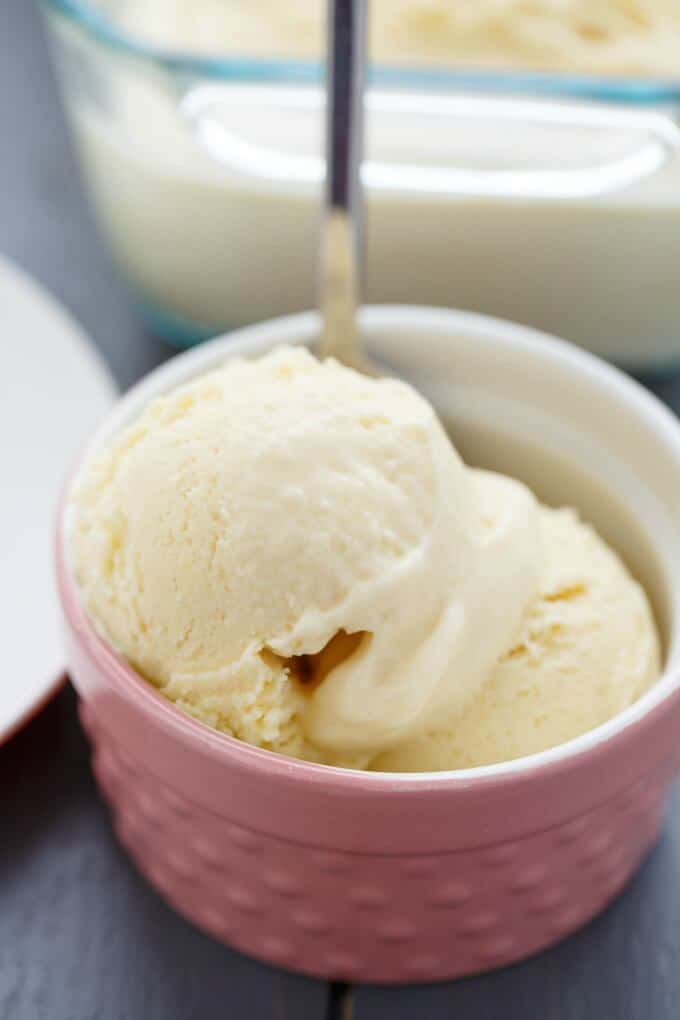 Summer is cruising along nicely and we have had many heat warnings. I figured it was time to break out the ice cream machine again and go a bit more basic. Of course, if basic is not your thing, my Oreos cookies and cream ice cream is doing extremely well! However, there are many who prefer simple, and this basic vanilla ice cream recipe fits the bill perfectly! Personally, I prefer chocolate when it comes to desserts, but with ice cream, I actually prefer a simpler base. Then I can add in a chocolate bar or two as my mix-in and have the perfect balance of vanilla and chocolate 🙂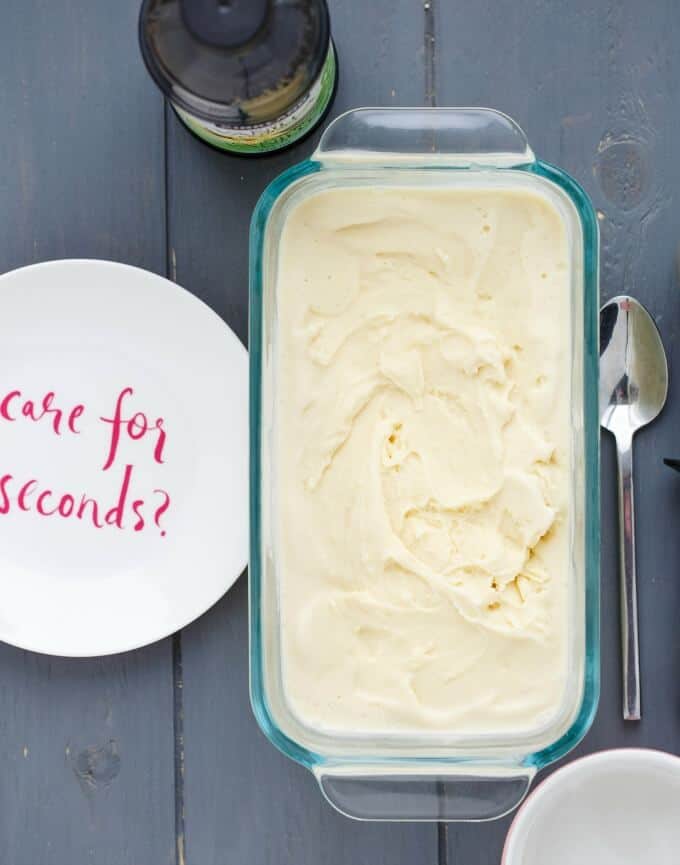 While chocolate may be my favorite when it comes to dessert, both my brother and sister prefer vanilla. Weirdos, but I guess I can forgive them. This basic vanilla ice cream contains nothing fancy. Meaning, I only used vanilla extract to get that vanilla flavor. Sure, I would love to use vanilla beans or vanilla paste, but I realize that they can be hard to find, and also quite expensive! Don't worry though, because I plan to revisit this recipe in the future and make it gourmet: vanilla bean ice cream! Yummy!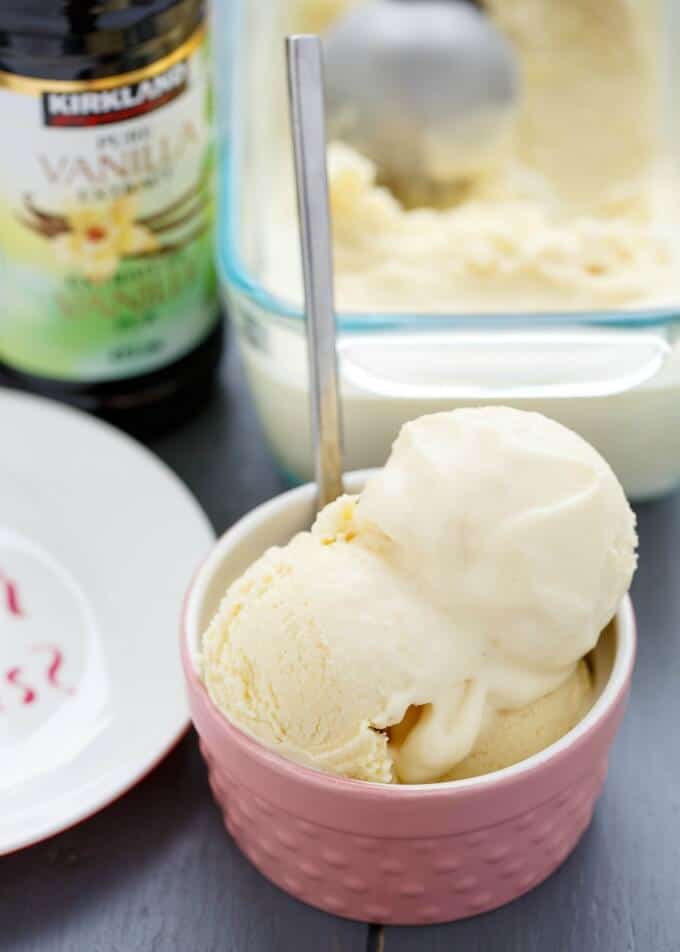 📖 Recipe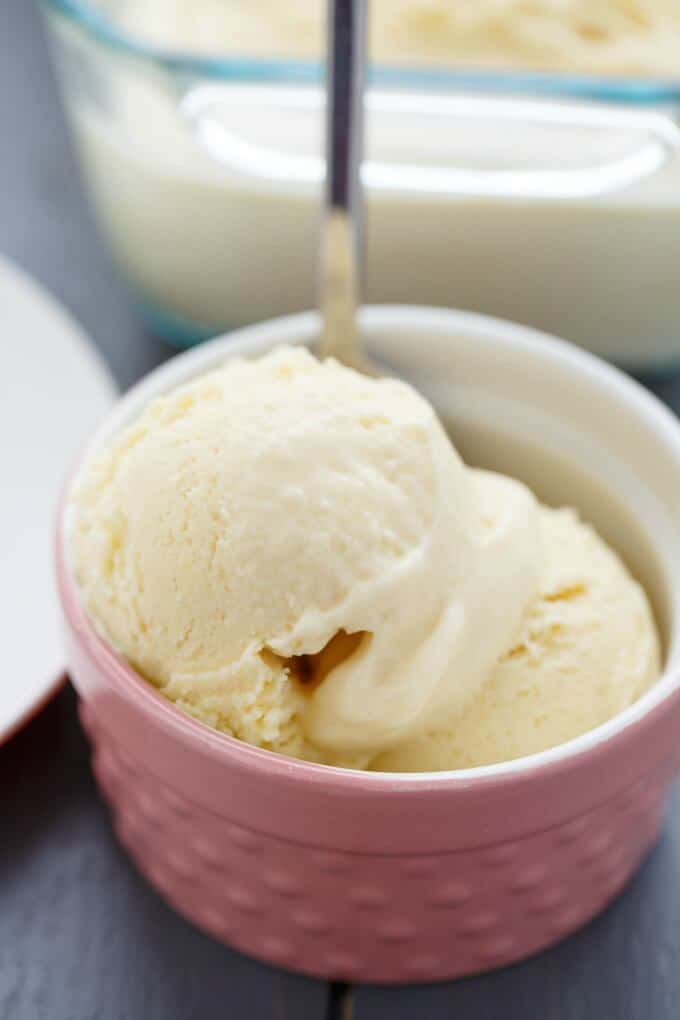 Basic Vanilla Ice Cream
So easy and tasty, this recipe will keep you cool all summer long!
Ingredients
2 cups heavy whipping cream
1 cup milk
½ cup granulated sugar
5 egg yolks
1 tbsp. cornstarch
Pinch of salt
1 tbsp. vanilla extract (pure, not the artificial stuff!)
Instructions
Mix together 1 cup of cream and cornstarch. Set aside.
Combine 1 cup of cream and milk in a medium-sized saucepan over medium heat. Stir in sugar and salt and continue to whisk frequently until sugar has dissolved and mixture is very hot (but not boiling!)
Whisk egg yolks in a mixing bowl until paler in color. Carefully and slowly pour the hot liquid from the stove into the eggs, whisking constantly so you do not curdle the eggs. When fully combined, add the mixture back into the pan and pour in cornstarch mixture. Bring to a hot temperature again (not boiling!,) stirring frequently. Remove from heat, stir in vanilla, and allow to cool to room temperature (you can stir occasionally to prevent film build up.)
Cover and place into refrigerate overnight. When time to churn, follow the directions on your ice cream machine. Store in freezer-safe containers and allow to sit out for 5-10 minutes before serving!
Nutrition Information:
Yield:

6
Serving Size:

1
Amount Per Serving:
Calories:

412
Total Fat:

33g
Saturated Fat:

20g
Trans Fat:

1g
Unsaturated Fat:

11g
Cholesterol:

247mg
Sodium:

70mg
Carbohydrates:

23g
Fiber:

0g
Sugar:

21g
Protein:

6g
When it comes to ice cream, I have to say my favorite is definitely sweet cream. Not quite vanilla flavor as you want to taste the sweetness from the cream and sugar. But it is sweet enough where you can enjoy the ice cream (and add in a favorite chocolate bar for fun!) Sweet cream is actually the reason my husband bought me an ice cream machine because our local ice cream shop that used to carry this flavor closed down. My way is more cost effective AND tastier 😉
Love this basic vanilla ice cream?! Try some of these recipes: