A perfect light meal for the hot weather AND it utilizes leftovers; this roasted zucchini-carrot soup will put your garden veggies to great use!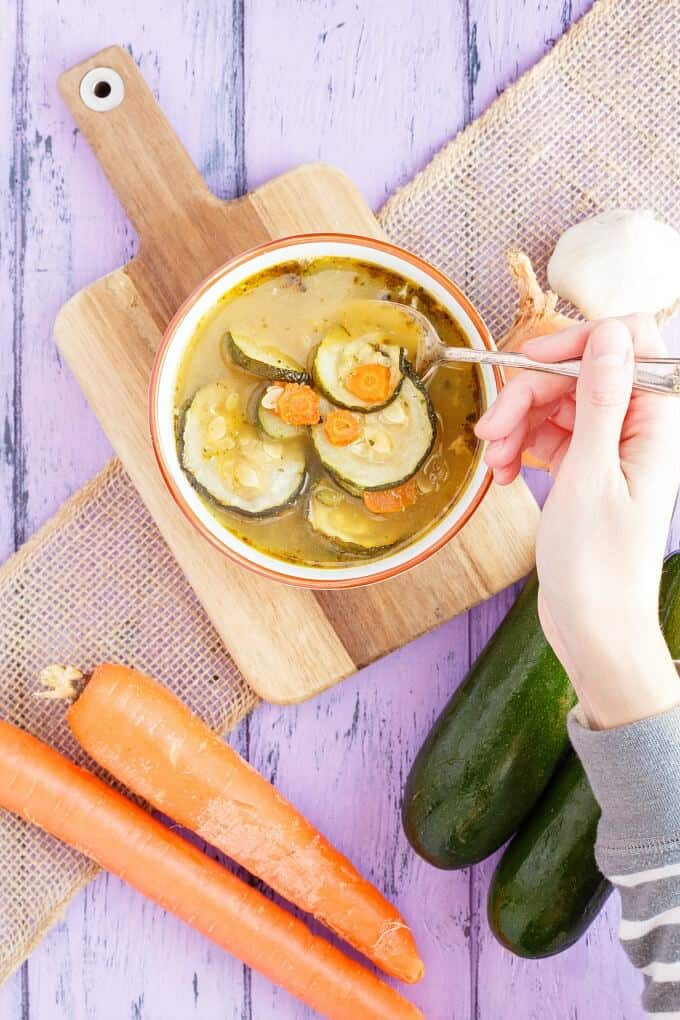 Holy, moly, is my vegetable garden ever doing well!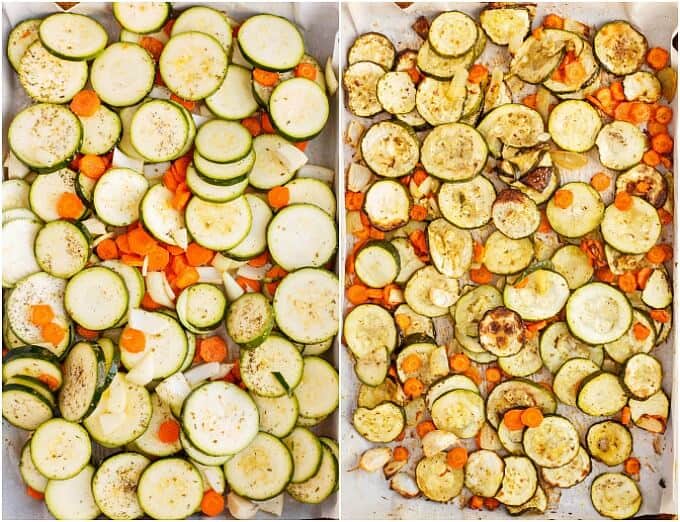 I finally got around to one after many years and I am just rolling in the veggies. Specifically zucchini. Not that I am complaining since zucchini is one of my favorite veggies, but the amount I get each day is insane! I even went with a mix of yellow and green, however, I see my local grocery stores are carrying grey zucchini and now I wish I had grown some of them.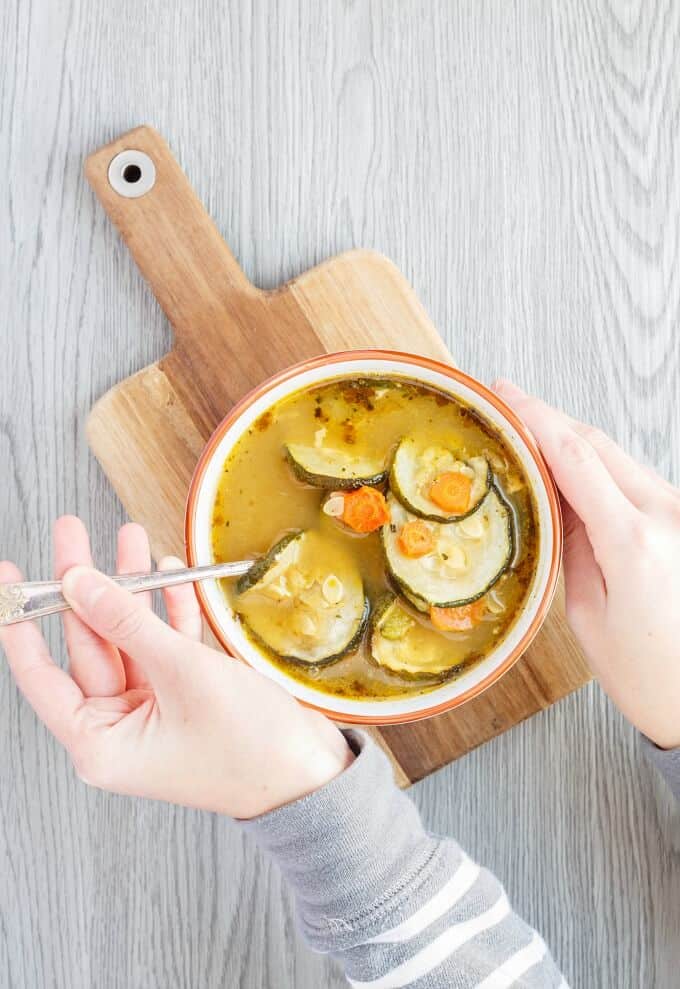 That aside, I knew I really had to get onto making zucchini recipes or all my hard work would go to waste. If you remember, I posted my Slow Cooker Curry Chicken for The Little Potato Company this past Monday. Well, I used the chicken carcass from that meal and made a homemade chicken stock! Then, taking it a step further, I made this entire roasted zucchini-carrot soup with that broth! Win!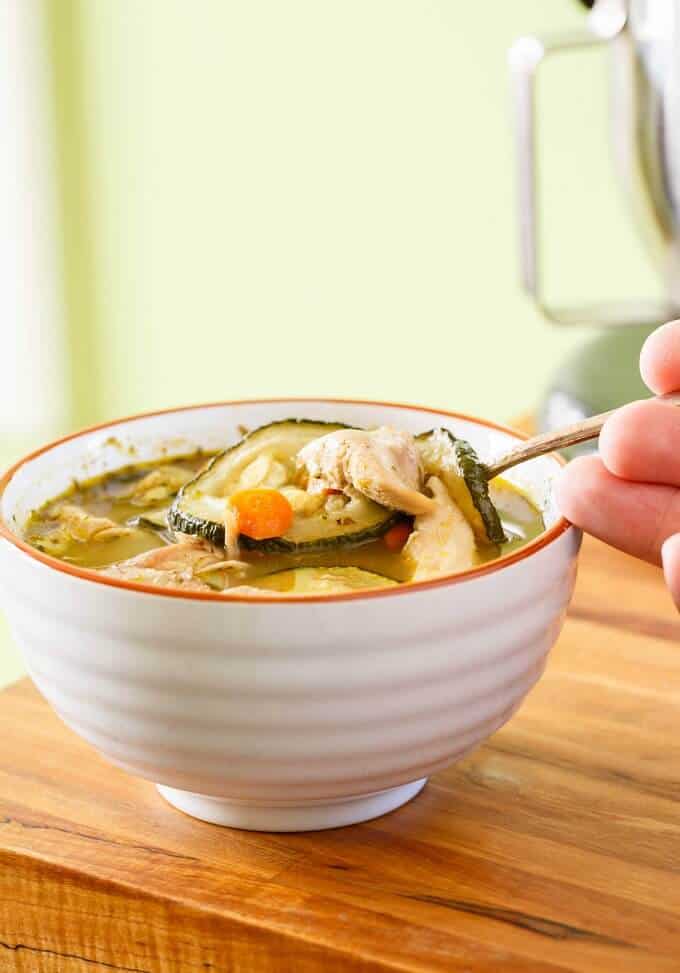 This time around I went with homemade turkey broth and leftover turkey meat!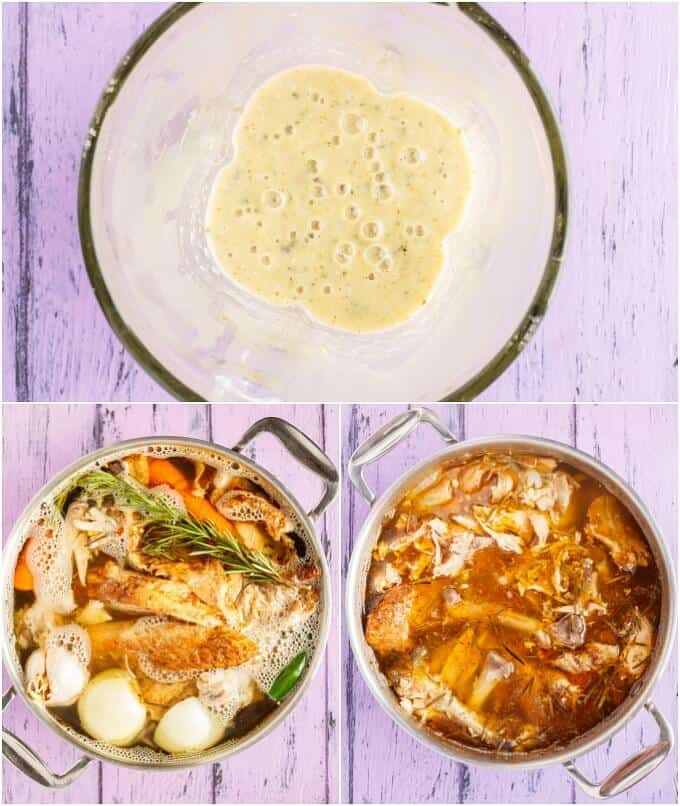 Utilizing leftovers is something I really love doing here and not only is the chicken gone, but the broth, too! I made my homemade chicken stock in the slow cooker this time, but you can make it on the stove top like I have in the past: see. Personally, for my broths I just throw random veggies and seasonings in. Nothing ever fails a stock and it is a great way to clean out your fridge if you have some sad looking veggies. On that note, I put in a jalapeno and the broth has a kick!
📖 Recipe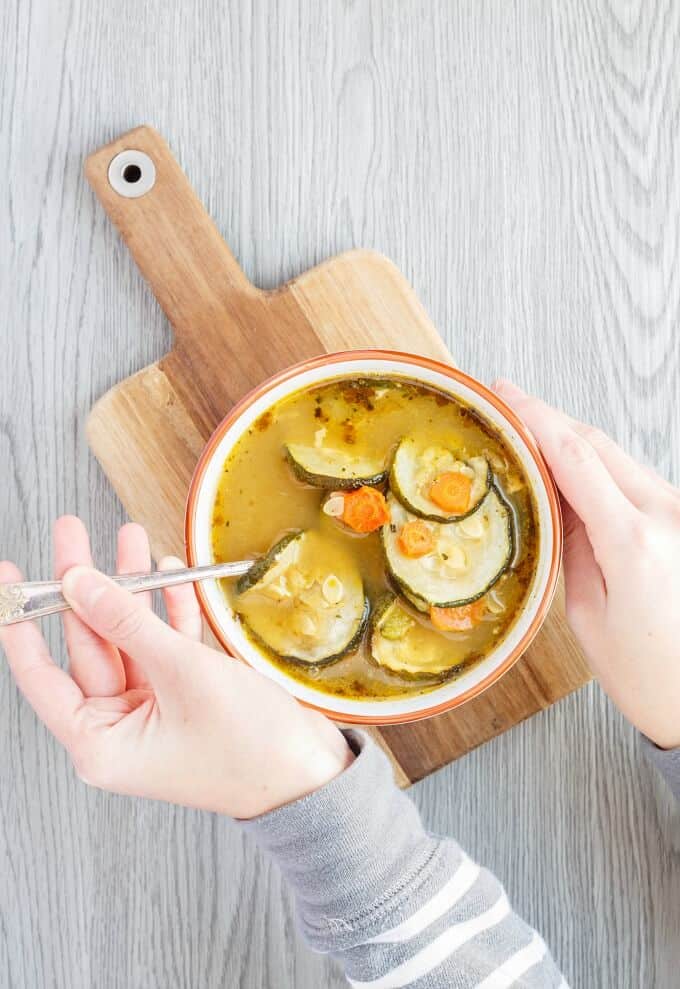 Roasted Zucchini-Carrot Soup
A light summer soup that utilizes all that zucchini from your garden! This roasted zucchini-carrot soup is great even during the cooler months!
Ingredients
2 ½ lbs zucchini, sliced ¼ inch thick
1 large onion, roughly chopped
1 lb carrots, peeled and sliced thick
3 garlic cloves, left whole and paper on
Olive oil for coating
Salt and pepper
1 ½ tsp. dried oregano
10-12 cups homemade chicken, turkey or vegetable broth
Instructions
Preheat oven to 425F.
Toss zucchini, carrots, onion, and garlic with enough oil to just coat the veggies. Season with salt, pepper, dried oregano and place onto baking sheet in a single layer. Roast for 10 minutes, toss, and cook for another 15-20 minutes, or until desired brownness is achieved.
Remove garlic from paper and place into blender along with half the zucchini and a ladle or two of broth. Puree until smooth.
Fill a large pot with cooked veggies, broth, and puree mixture over high heat. Bring to a boil, reduce heat, and simmer for 20 minutes. Season with salt and pepper and serve!
Notes
To make a homemade chicken/turkey stock, just combine the chicken/turkey carcass in a slow cooker with various amounts of veggies (I used 4 large carrots, 1 large onion, 1 head of garlic, 1 zucchini, 1 sweet pepper, 1 jalapeno) and 10 cups of water to fill my slow cooker. Set on low heat and cook for 12-24 hours depending on how bold you want the broth! Make sure to season generously with salt and pepper! Strain, chill, and remove top layer of fat and you have homemade stock!
Nutrition Information:
Yield:

6
Serving Size:

1
Amount Per Serving:
Calories:

713
Total Fat:

40g
Saturated Fat:

11g
Trans Fat:

0g
Unsaturated Fat:

25g
Cholesterol:

274mg
Sodium:

421mg
Carbohydrates:

14g
Fiber:

4g
Sugar:

6g
Protein:

73g
Love this roasted zucchini-carrot soup?! Try some of these recipes: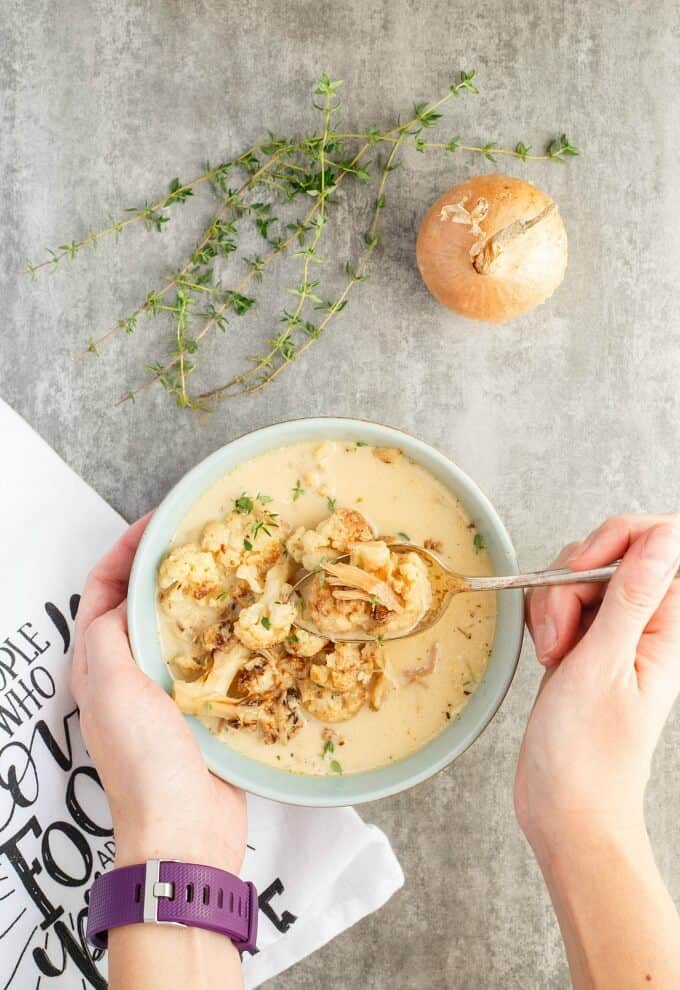 Roasted Cauliflower and Chicken Soup