Zucchini noodles, or "zoodles," are all the rage, so I hopped onto the bandwagon using my garden zucchini to make these miso meatballs over sauteed zucchini noodles!
Zucchini noodles are popping up EVERYWHERE! I love zucchini so this is not an issue at all. And I am all about people eating better. Heck, I hope my parents get into zucchini noodles but I highly doubt it. Older people get stuck in their ways...
I was actually introduced to zucchini noodles a couple of years ago when I won a vegetable spiral tool machine from a Canadian lottery. I gave the prize to my brother thinking I would have no use for it (relying on my trusty knife here!) However, regrets have set in! I cannnot take it back after all this time, though, I think he would definitely share it 🙂 That aside, I have a handy hand tool that helped me with these miso meatballs over sauteed zucchini noodles. Had to do it all by hand but hey! Workout!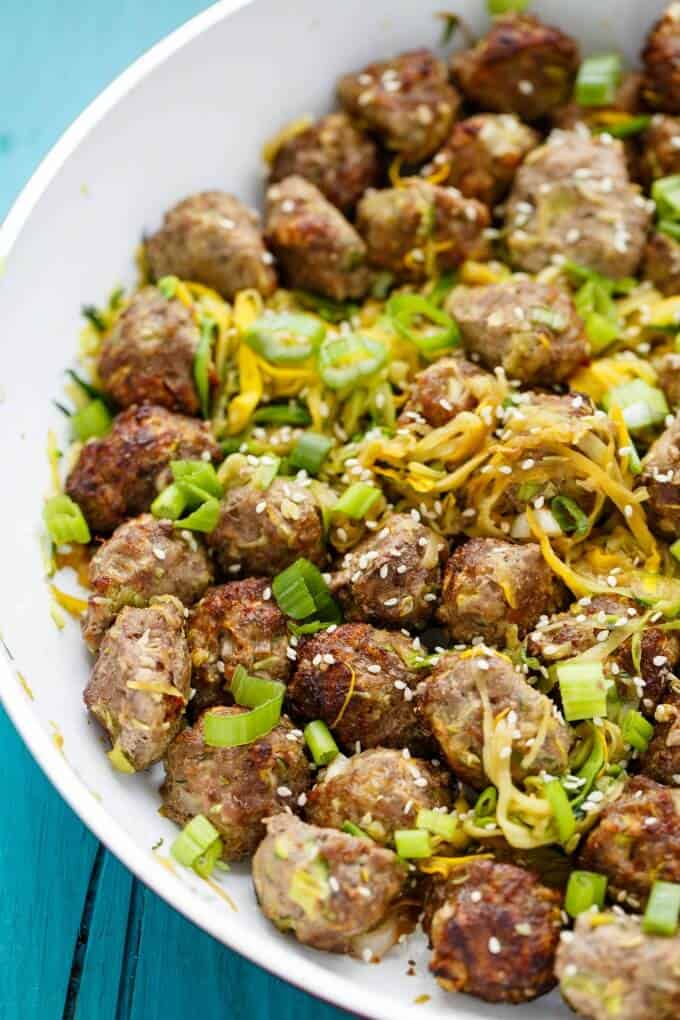 When I originally set out to make these miso meatballs, I had a couple of ideas in mind. Mr. TCW has been wanting me to make some homemade miso soup so I finally got around to buying the miso paste again. It was sitting in the fridge, calling my name along with some ground beef. Thinking back now, I wish I had some ground pork on hand, but the beef worked out well and I love the way these meatballs turned out! I was a little concerned about them being too salty seeing as miso paste is very salty, but I just made sure to limit my salt here.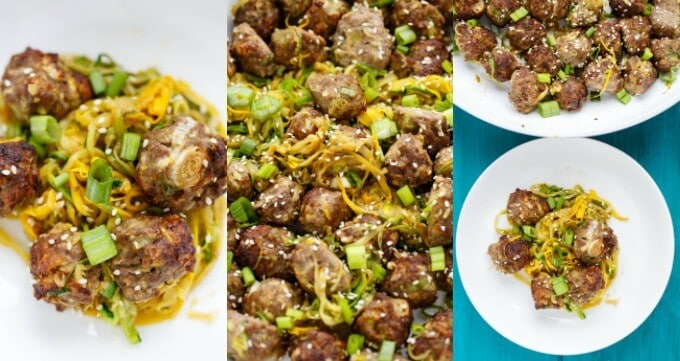 Another idea that came to mind when making these meatballs: including zucchini in the recipe somehow! My garden has been going crazy with zucchini and people are still giving me more!! I was starting to panic so I made a goal to not only include zucchini in the actual meatballs themselves, but serve them over zucchini! Almost like spaghetti and meatballs without the pasta 🙂 Mr. TCW was really impressed with the whole dish! Looked gourmet while remaining really simple to make. These miso meatballs over sauteed zucchini noodles may seem like a lot of work, but trust me, soooo simple, and the meatballs are baked, leaving you hands free for the remainder of the time you spend in the kitchen. I love the kitchen so no complaints here!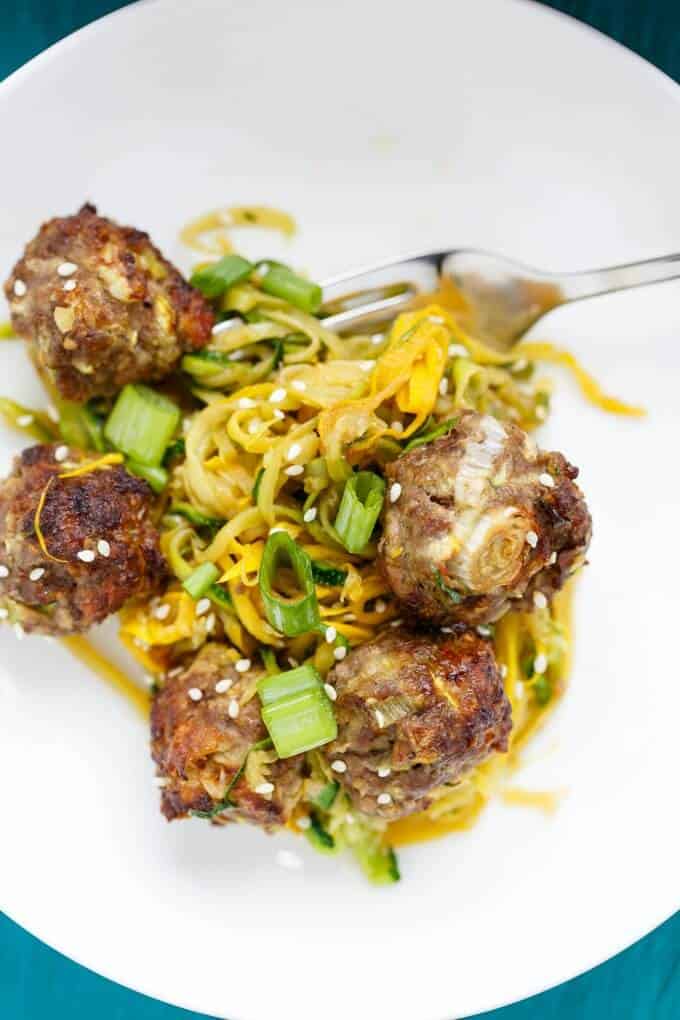 📖 Recipe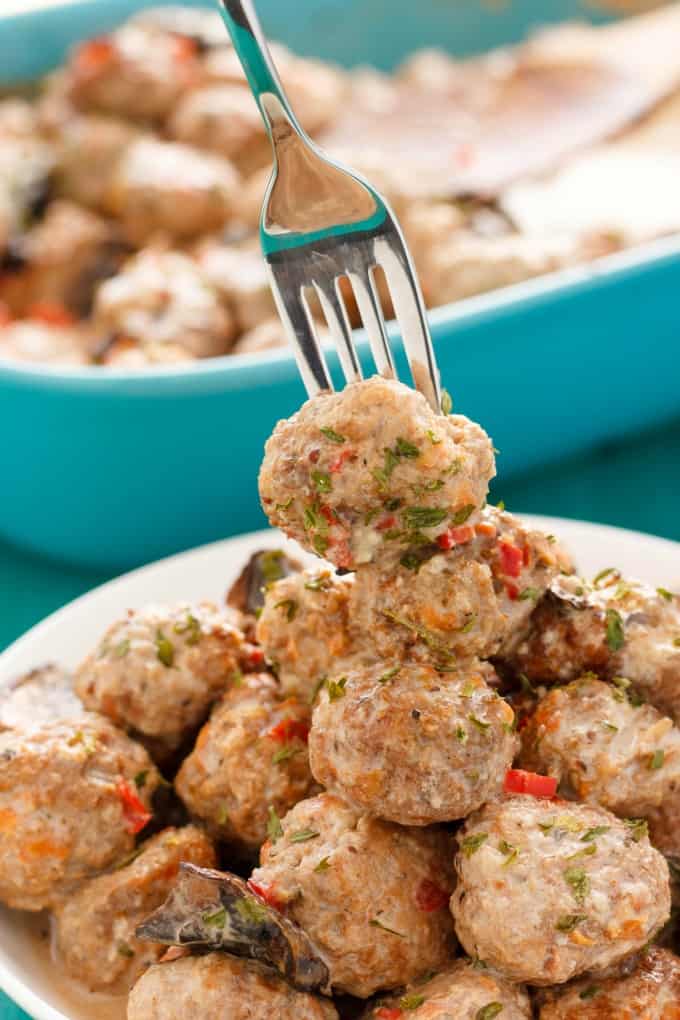 Miso Meatballs over Sauteed Zucchini Noodles
These miso and zucchini meatballs are great on their own, but over zucchini noodles you have a complete meal!
Ingredients
2 lbs ground beef or ground pork
3 tbsp. miso paste
2 eggs
¼ cup breadcrumbs
¼ cup panko breadcrumbs
¾ lb zucchini, grated (I used a mix of yellow and green.)
2 garlic cloves, minced
1 tbsp. fresh ginger, minced
1 bunch (½ cup) sliced green onions
Black pepper
¼ tsp. chili flakes
Zucchini Noodles
2 large zucchini (I used a mix of yellow and green.)
1 tsp. olive or sesame oil
2 garlic cloves, minced
1 tbsp. soy sauce
½ tbsp. rice wine vinegar
1 tsp. brown sugar
Instructions
Preheat oven to 400F. Line baking sheet with parchment paper or silicone mat for easy clean up.
Combine all of the meatball ingredients into a large mixing bowl and mix until JUST combined. Do not overwork meat. Measure out 1 tablespoon-sized portions and roll into balls. Place onto baking sheet (will probably have to work in two batches) and bake for 20-25 minutes.
Zucchini Noodles
Using a spiral or noodle attachment, create your zucchini noodles. My tool makes long, thin noodles.
Add oil to a large frying pan over medium-high heat. When hot, add noodles and cook for 1 minute. Add garlic and cook for another minute. Stir in sauce and cook for 1 more minute.
Place noodles onto plate and top with meatballs. Garnish with additional green onion and sesame seeds if desired!
Nutrition Information:
Yield:

4
Serving Size:

1
Amount Per Serving:
Calories:

876
Total Fat:

52g
Saturated Fat:

18g
Trans Fat:

2g
Unsaturated Fat:

26g
Cholesterol:

315mg
Sodium:

1065mg
Carbohydrates:

23g
Fiber:

4g
Sugar:

7g
Protein:

77g
Oh! You can leave the zucchini noodles raw (I know many do) but I thought cooking them up would add a nice element (you are cooking them quickly here so they stay firm but absorb that amazing sauce!)
Love these miso meatballs over sauteed zucchini noodles?! Try some of these recipes: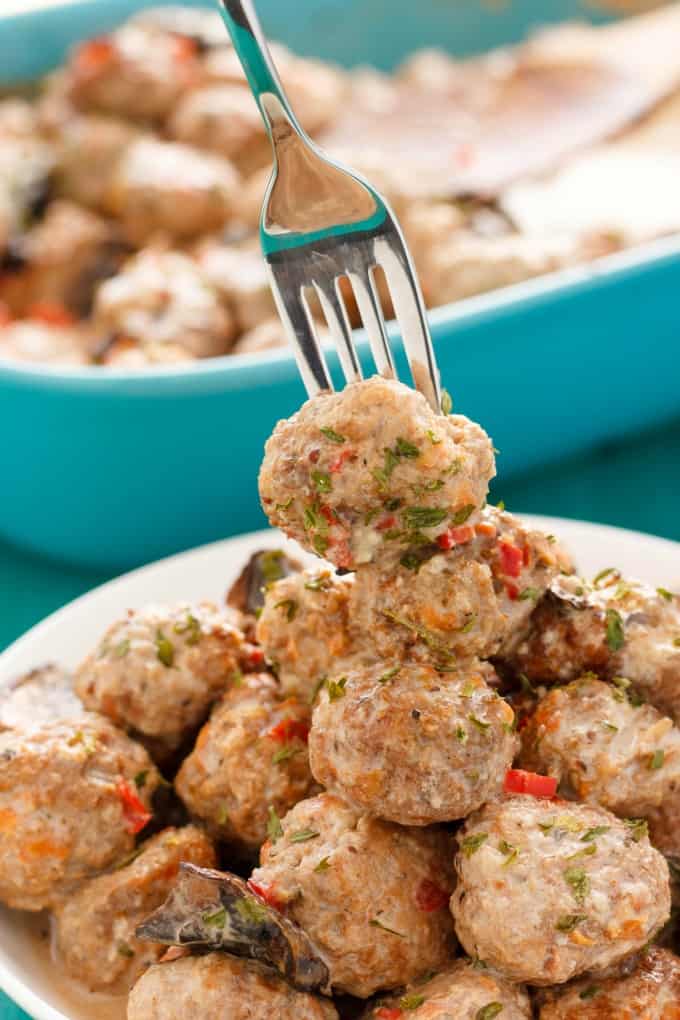 Turkey Meatballs in a Creamy Portobello Mushroom Sauce