Chocolate, cookies, and just plain deliciousness, this Oreos cookies and cream ice cream is definitely going to send you over the edge (into awesomeness!)
Remember that no bake strawberry pudding pie I made at Easter but did not get around to posting until last month? Well, this Oreos cookies and cream ice cream was made at the extact same time and served for Easter dessert… I get it, I am behind! But it makes much more sense to post an ice cream recipe now than it did during Easter. Well, I can eat ice cream any time of the year, but search engines prove that ice cream is all about summer!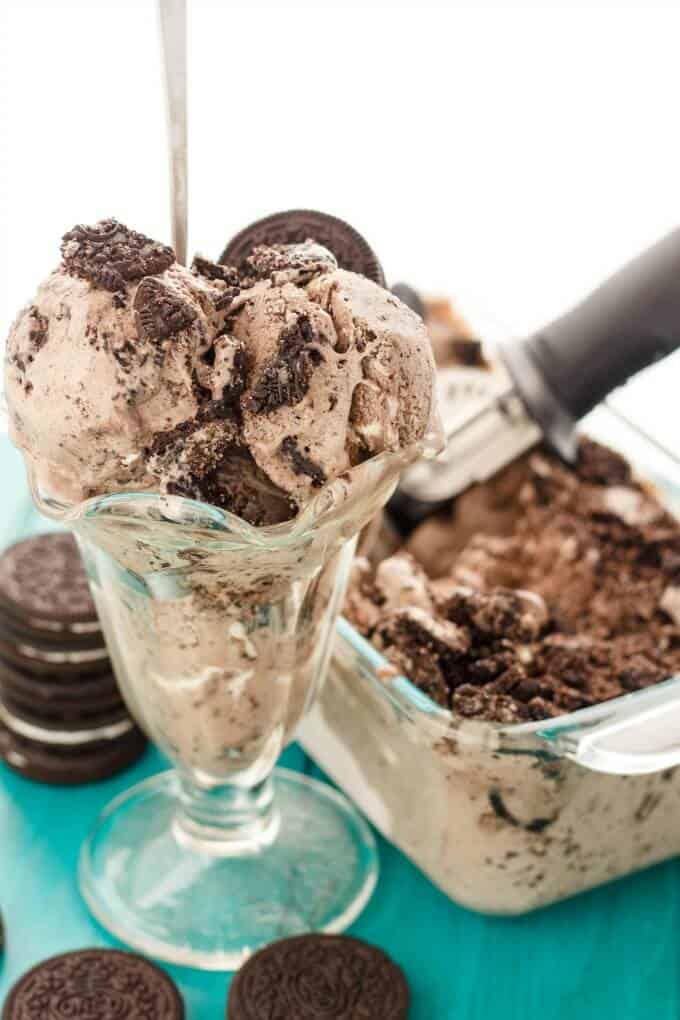 I wanted to call this recipe cookies and cream ice cream. I mean, it is. But I don't know if I put too many Oreos in (ummm, no,) or just mixed it a bit too much, because the cookies turned the ice cream into a chocolate base instead of vanilla! Am I complaining?! Heck no! This recipe has sooo many cookies, which makes it all the better. Plus, Oreos are just awesome!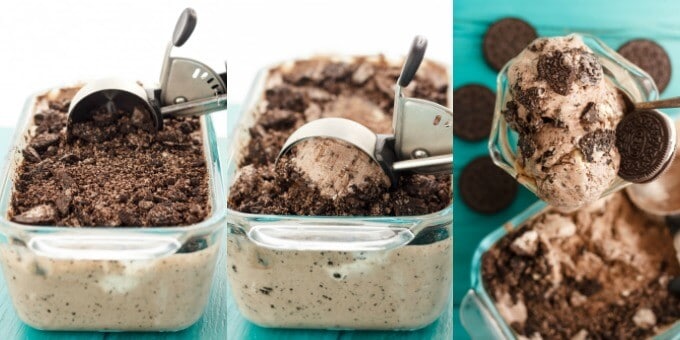 Okay, so like alllll my other ice cream recipes, this one includes a custard base. Meaning, we heat our cream and sugar on the stove and carefully whisk it into the beaten egg yolks. If you are not careful enough, you will curdle/scramble the eggs. If that does happen, don't worry. You can pour the mixture through a sieve. Just remember to do it before you mix it in the machine. I also did not mix in the broken cookies until near the end of the ice cream cycle, but I still must have mixed them in a bit early as the chocolate in the cookies broke down somewhat and transformed the base to chocolate. No worries. If you want more of a vanilla ice cream, just mix in the cookies in the last minute! Or cut down on cookies, however, I think that is a terrible idea 😉

Oreos Cookies and Cream Ice Cream
---
Kacey
Yields 1
Oreos and ice cream?! The perfect summer treat!
5 minPrep Time
25 minCook Time
30 minTotal Time
Ingredients
2 cup heavy whipping cream
1 cup milk
1/2 cup granulated sugar
5 egg yolks
1 tbsp. cornstarch
1/4 tsp. salt
1/2 tsp. vanilla extract
12 Oreo cookies + more for topping
Instructions
Mix together 1 cup of cream and cornstarch. Set aside.
Combine 1 cup of cream and milk in a medium-sized saucepan over medium heat. Stir in sugar and salt and continue to whisk frequently until sugar has dissolved and mixture is very hot (but not boiling!)
Whisk egg yolks in a mixing bowl until paler in colour. Carefully and slowly pour the hot liquid from the stove into the eggs, whisking constantly so you do not curdle the eggs. When fully combined, add the mixture back into the pan and pour in cornstarch mixture. Bring to a hot temperature again (not boiling!,) stirring frequently. Remove from heat, stir in vanilla, and allow to cool to room temperature (you can stir occasionally to prevent film build up.)
Cover and place into refrigerate overnight. When time to churn, follow the directions on your ice cream machine. In the last few minutes, add in roughly chopped Oreos. Store in freezer-safe containers and allow to sit out for 5-10 minutes before serving! (I like to add more broken cookies on top!)
7.8.1.2
409
https://thecookiewriter.com/oreos-cookies-and-cream-ice-cream/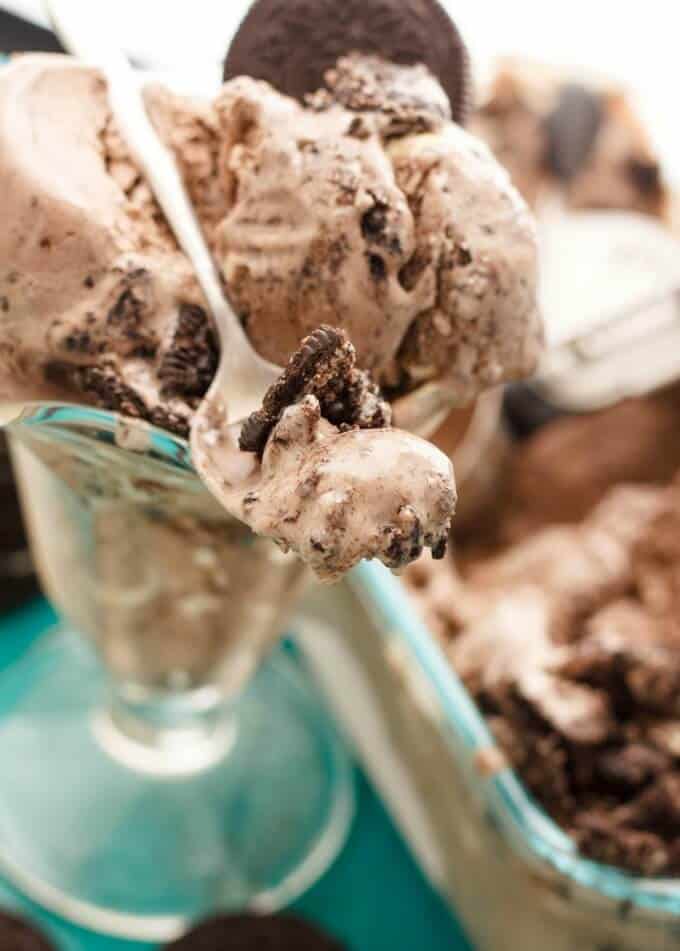 My favourite part of revisiting old recipes like this one? My husband's reaction to my photo editing. "Where is that?!" Where is what, Dan? The ice cream?" "Yeah!" "Ohh, sorry, this is the one from Easter…" "Ohh… So sad." I am sorry, Dan! I plan to make it again, I just need to stop eating all the boxes of Oreos! Why are they so good?!
Love this Oreos cookies and cream ice cream?! Try some of these recipes: