We are all thinking about #Canada150 here! Maple syrup is probably one of the top 3 foods/ingredients that comes to mind when thinking of Canadian cuisine so of course I had to make some wonderful homemade maple walnut ice cream using fresh Canadian syrup!
With all these happenings, I figured ice cream was in order.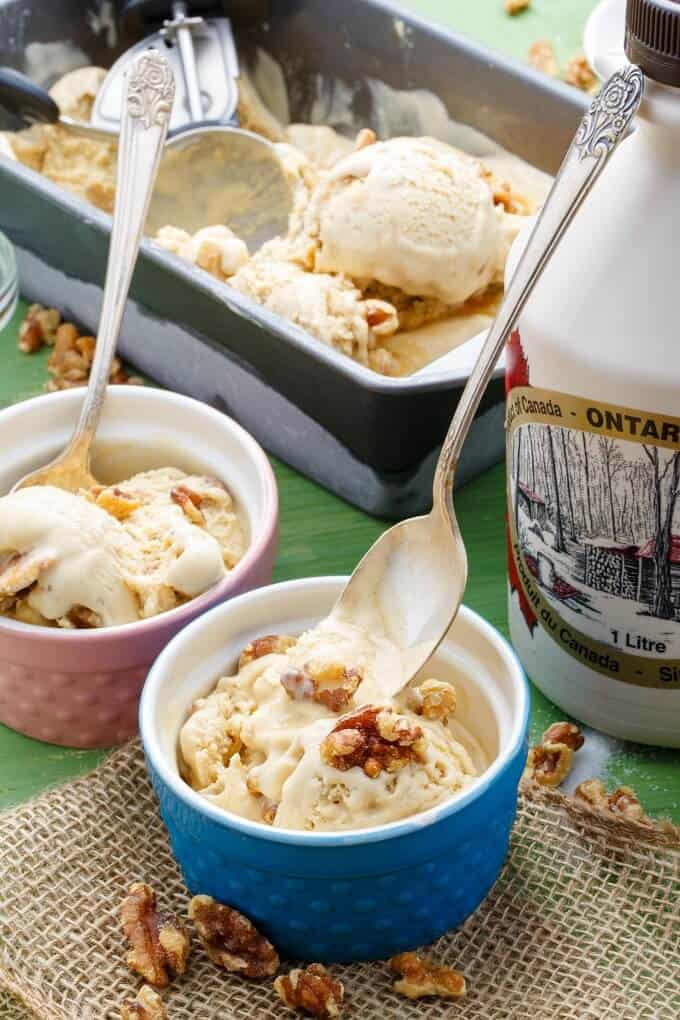 This homemade maple walnut ice cream truly fills our Canadian hearts with joy! My husband purchased a bottle of maple syrup from a coworker who actually manufactures his own syrup! How neat is that?! He has property lined with maple trees and tapped to get all that syrup. We enjoyed it so much that a second bottle was purchased shortly after the first 🙂
While I definitely wanted to focus on more Canadian recipes such as butter tarts, poutine, and nanaimo bars, things have been a tad hectic here! I did however ask for my husband's grandmother's butter tart recipe so I'm sure that will be making an appearance at some point this year! I mean, Canadians are celebrating #Canada150 all year long 🙂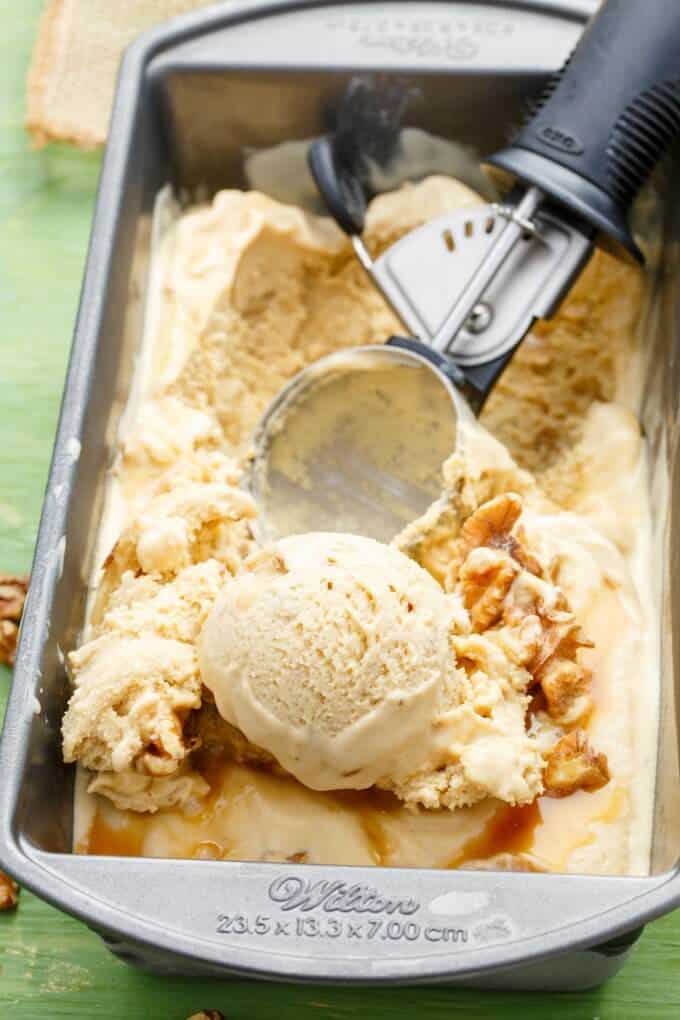 Before we go breaking out that Kraft Dinner, Ketchup Chips, and Tourtière, let's really talk about how delicious and creamy this maple walnut ice cream is!
Regular readers will know that I LOVE ice cream, especially the homemade route. You will find many varieties here at The Cookie Writer, and you will notice that all use cream! I feel real ice cream needs cream! It is called ice CREAM after-all! Did you know that store-bought "ice creams" that contain no milk or ingredients derived from milk are actually called frozen desserts here in Canada? Yeah, frozen desserts are made with oils instead (read all about it here! No affiliation in this post, just sharing some info!)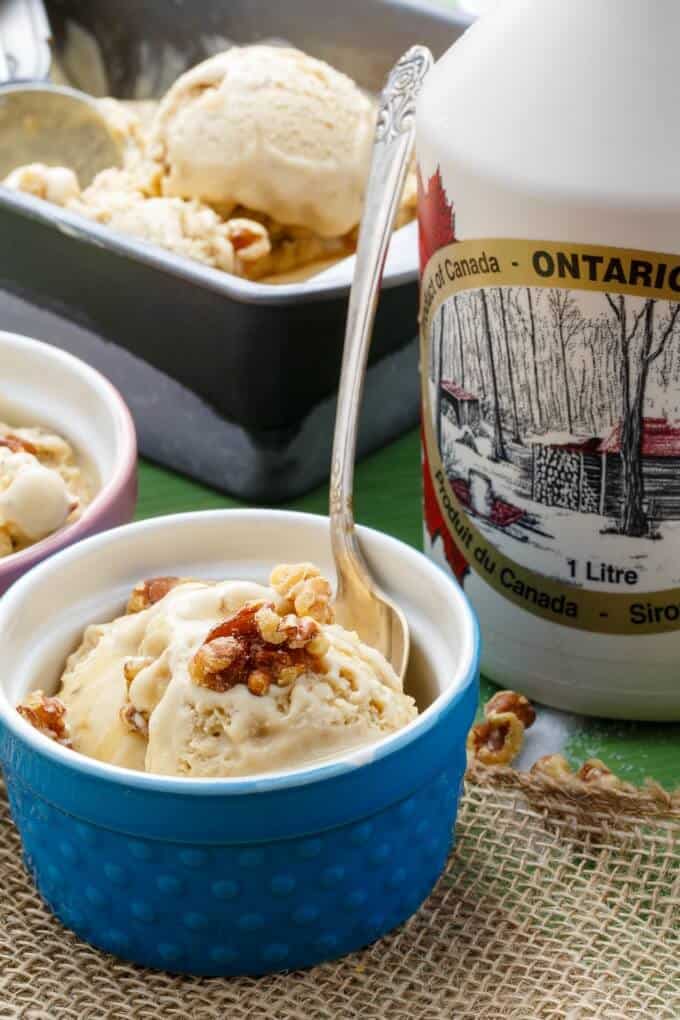 Without getting political or heavily nutritional-based, I'll just focus on why I love real ice cream so much!
It is creamy, smooth, and has that special taste about it! I tend to use granulated sugar when it comes to my recipes, but in this case I substituted in pure maple syrup. It is great because maple syrup is seen as a great sugar alternative (but let's be real, guzzling a bottle of real syrup is still not healthy, haha.) Perfect in any diet, maple flavoring adds a lot to a dish! In this case, maple walnut ice cream is supposed to taste like maple so using it in place of granulated sugar is a no-brainer 🙂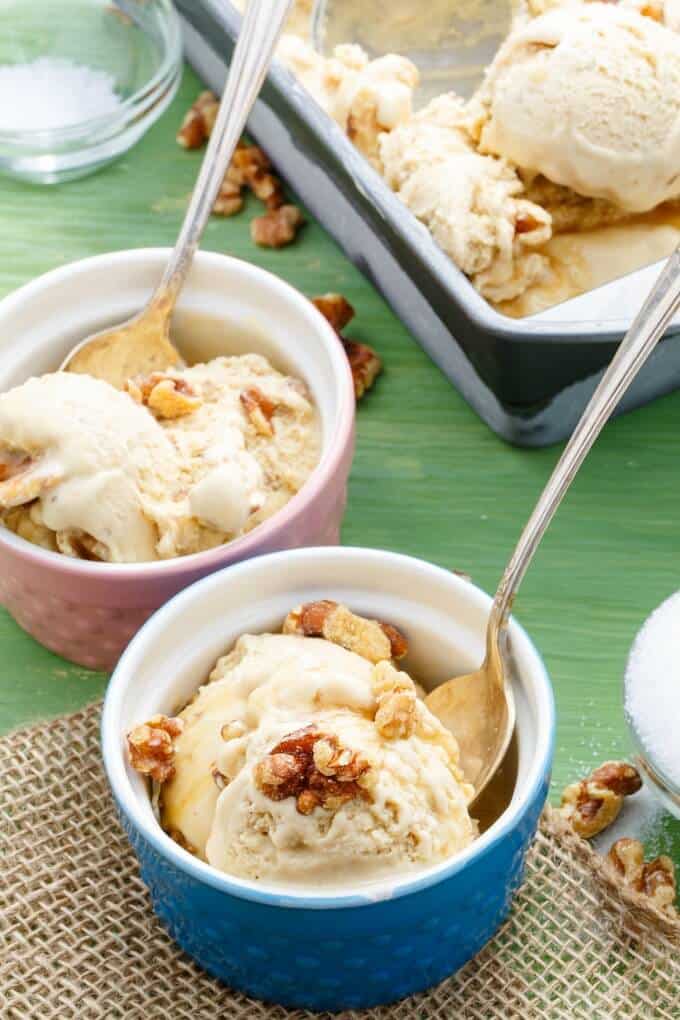 However, to get the truly amazing maple taste in this recipe, you want to reduce your syrup a bit before adding the milk and cream. Much like reducing balsamic vinegar, you are concentrating the flavors making the ingredients bolder than ever! And me being me, I toasted the walnuts before adding them because toasted nuts are way better than ordinary nuts (this sentence sounds all sorts of wrong, haha!)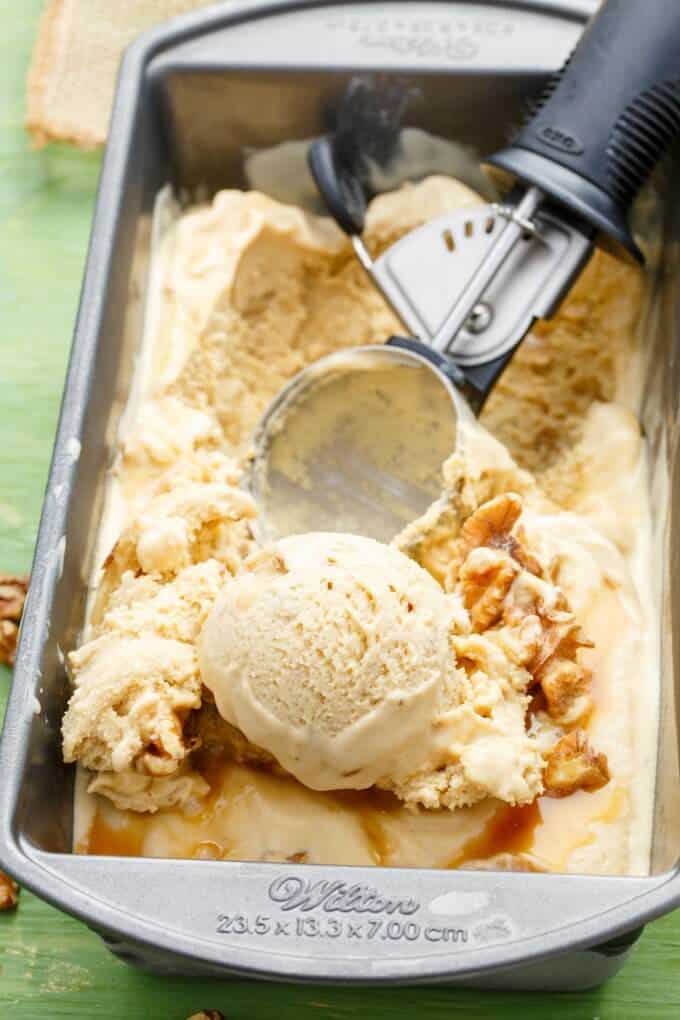 Homemade Maple Walnut Ice Cream
Reducing the maple syrup brings out a more concentrated flavor palette!
Ingredients
2 cups heavy whipping cream
1 cup milk
1 cup high-quality maple syrup
1 cup walnuts
5 egg yolks
1 tbsp. cornstarch
Pinch of salt
Instructions
Preheat oven to 350F. Place walnuts on baking sheet and cook for 10 minutes, tossing every so often, until lightly browned. Roughly chop.
Ice Cream
Add egg yolks to a large mixing bowl. Whisk until paler in color. Set aside.
Place a medium-sized saucepan over medium heat. Add syrup and bring to a boil. Reduce heat and simmer until reduced to ¾ cup (you can even go crazier and reduce the syrup to half cup!) Stir in 1 cup cream, milk, and salt. Raise heat to medium and whisk occasionally until mixture is hot but not boiling.
Slowly and carefully whisk cream-mixture into yolks, making sure to take your time so you don't scramble the eggs. Whisk until smooth. *Pour through fine sieve if needed.
Return mixture back to stove top. Combine remaining cream and cornstarch and pour into pan. Whisk occasionally until reheated, but do not allow to boil. Remove from heat and allow to come to room temperature (stirring occasionally.) Cover and refrigerate overnight.
Churning
Follow the directions on your ice cream machine. I churn my mixture until it is almost set, and stir in the chopped walnuts in the last 5 minutes of the cycle.
Pour into container, top with additional walnuts and maple syrup if desired, and freeze!
Notes
Before serving ice cream, allow it to sit out for 10 minutes or so to soften enough to scoop 🙂
Nutrition Information:
Yield:

6
Serving Size:

1
Amount Per Serving:
Calories:

595
Total Fat:

45g
Saturated Fat:

21g
Trans Fat:

1g
Unsaturated Fat:

21g
Cholesterol:

247mg
Sodium:

76mg
Carbohydrates:

44g
Fiber:

1g
Sugar:

38g
Protein:

9g
I've been talking about Canada 150 so much that I seemed to have skipped over the fact that Father's Day is this weekend! I know both my husband and dad would love this! We joke maple walnut ice cream is an old person's flavor choice, but let's be honest, it is a flavor that very few do not enjoy!
Love this homemade maple walnut ice cream?! Try some of these recipes: