Of course when I finally get around to posting these kiwi-grape mojitos the weather takes a dive! No fear, because I would drink these any time of the year!
We are getting closer to summer vacation and the drink recipes keep on coming!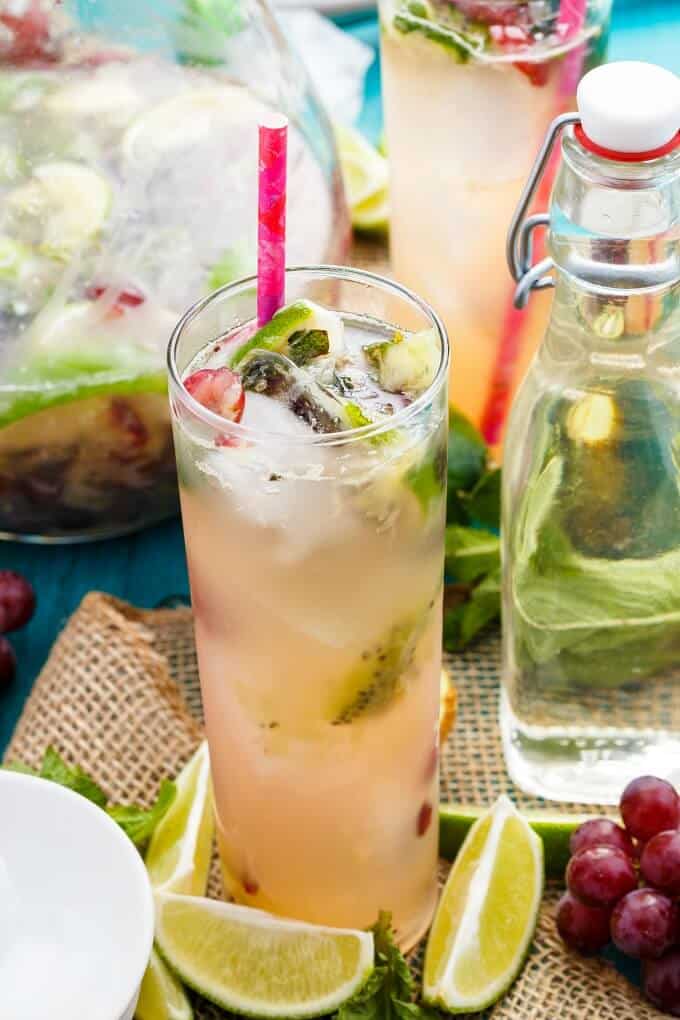 As a big mojito lover, I am always looking for new flavor combinations. Don't get me wrong, the classic mojito recipe is amazing and highly recommended. But I like fruit, sugar, and experimenting with classics, so that is why today we are talking about these kiwi-grape mojitos!
As a kid, grapes were always in our refrigerator. Green grapes that is. You will still find grapes in my house, but they will most definitely be red! I don't know why, but they are the ones I prefer and funny enough, my sister is the same way! We never had red grapes as kids so maybe that is it?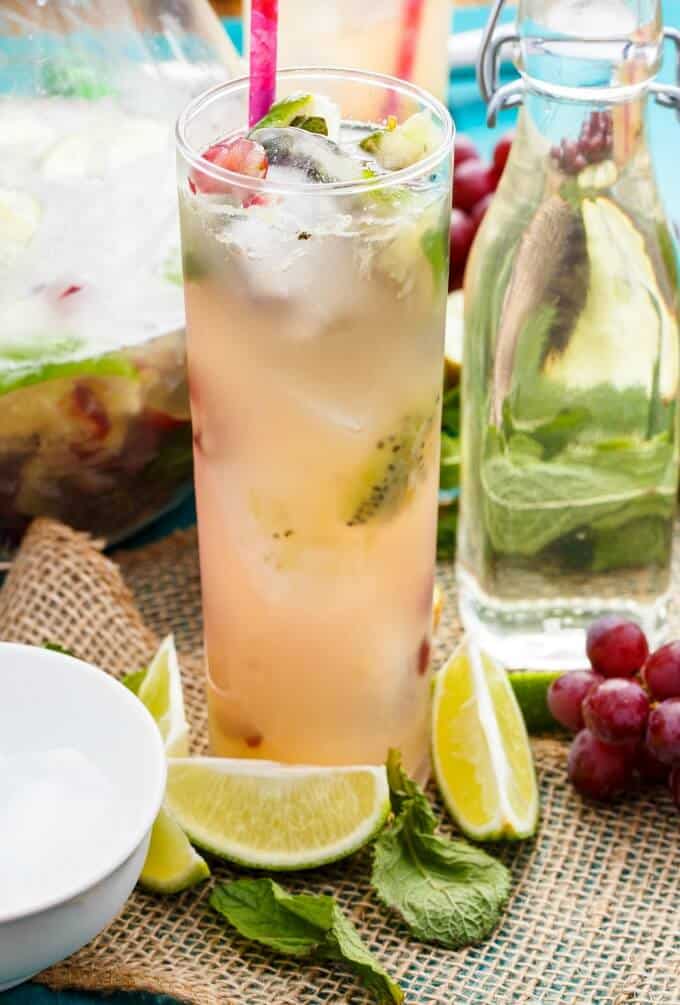 Truth be told, as I was mixing these kiwi-grape mojitos I got a bit concerned with the color. It almost looked grey when muddling the grapes and kiwis. Should I have used green grapes instead?! Is this going to taste terrible?! My concerns were growing, but in the end it all turned out fine. Well, more so AWESOME because not only was the color a pretty shade of pink/peach, but the flavors were phenomenal! I've said my broiled grapefruit mojitos are my favorite, but I think these kiwi-grape mojitos are a close second!
I did weigh out my ingredients, and used more grapes than kiwi (because I only had a few kiwis kicking around,) so that makes this recipe quite versatile. Really, I see no harm in adding a few extra pieces of fruit in!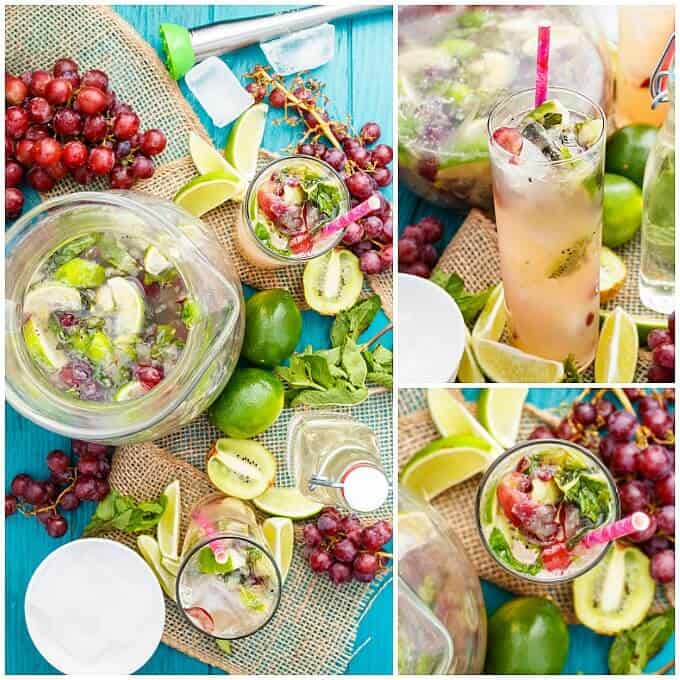 Besides being cool, refreshing, and naturally vegan, vegetarian, and gluten-free, these kiwi-grape mojitos can be made with no alcohol, making them perfect for baby showers and other kid-friendly events!
Before you jump into the recipe, please note that you want to chill this beverage for a good couple hours, if not longer, to bring out flavors of the fruit. However, don't let it chill overnight because the limes will bring out bitterness. If you have leftovers, strain drink and toss away the additives.
📖 Recipe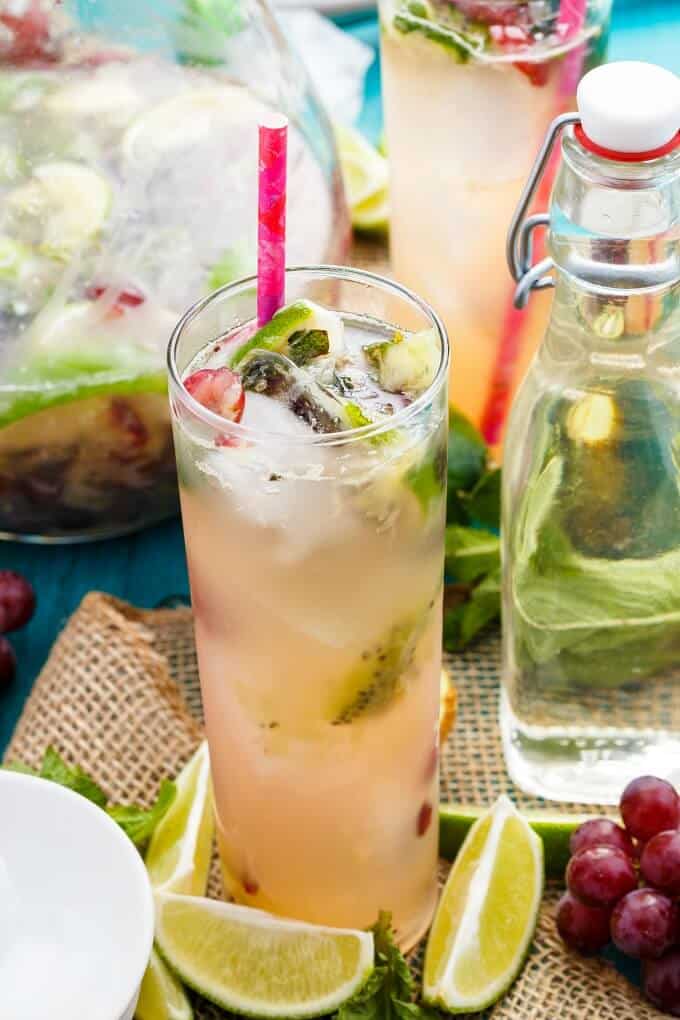 Fresh Kiwi-Grape Mojitos
A surprisingly refreshing beverage that uses in-season fruit! Allow the drink to sit in the fridge for a good couple hours to really bring out the flavors!
Ingredients
1 lb total fresh kiwis (skin removed & roughly chopped) and red grapes (I used more grapes than kiwis!)
1 cup simple syrup
1 cup white rum (omit for alcohol-free recipe)
1 bunch (30 grams) mint leaves, removed from stems
2 limes, sliced into wedges
3 cups club soda
Instructions
Add limes and mint to a large pitcher. Using a muddler, crush limes until all juices have been released. Stir in kiwis, grapes, & muddle some more.
Pour in simple syrup, club soda, and rum. Mix until combined (you can muddle the fruit a bit to break them down if desired.)
Serve over ice in tall glasses!
Notes
Simple syrup is made using a 1:1 ratio of sugar and water. Cook over medium heat until sugar has dissolved (do not boil!) Cool and use.
Nutrition Information:
Yield:

6
Serving Size:

4
Amount Per Serving:
Calories:

418
Total Fat:

2g
Saturated Fat:

0g
Trans Fat:

0g
Unsaturated Fat:

1g
Cholesterol:

0mg
Sodium:

358mg
Carbohydrates:

85g
Fiber:

8g
Sugar:

39g
Protein:

7g
My vegetables garden seeds were doing so well in the house! Moved them out around Victoria Day weekend and I literally have nothing left 🙁 The giant bunny that roams around the neighborhood sure had a feast!! Here is to hoping he stays away from my next batch (and my mint leaves because I am sick of buying sad looking mint at the grocery store!)
Love these kiwi-grape mojitos?! Try some of these recipes: