Summer is sneaking up and there is nothing more refreshing than these strawberry mojitos! Easily made with or without alcohol, simple syrup makes all the difference here (nothing worse than biting into sugar granulates!)
I realize I have been totally slacking on the blog.
It's been a rough past few months trying to figure out where I want to take this project and how to go about it where I still feel sane. I think I have finally figured out something, so now it is just time to act on it!
Until then, my posts may still be all over the place (a bit off from my usual Monday/Tuesday post schedule.)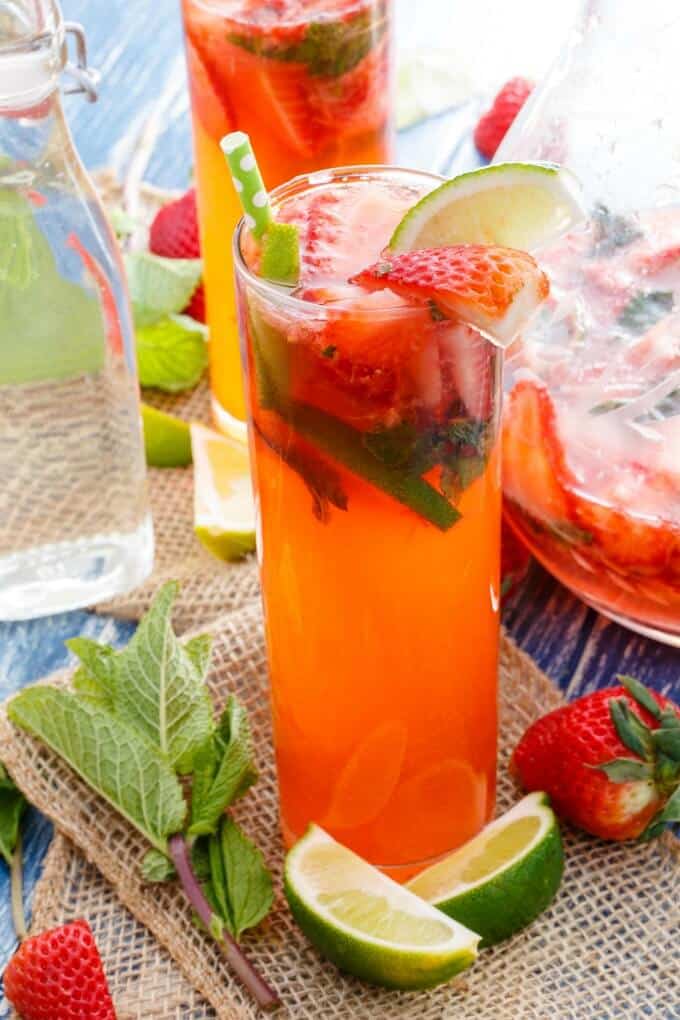 But today I bring you these fresh strawberry mojitos!
Mojitos are my favorite drink to make! So easy, tasty, and there are endless flavor combinations! I know they aren't very traditional when you play around with them so much, however, some of us like that new element to a classic 😉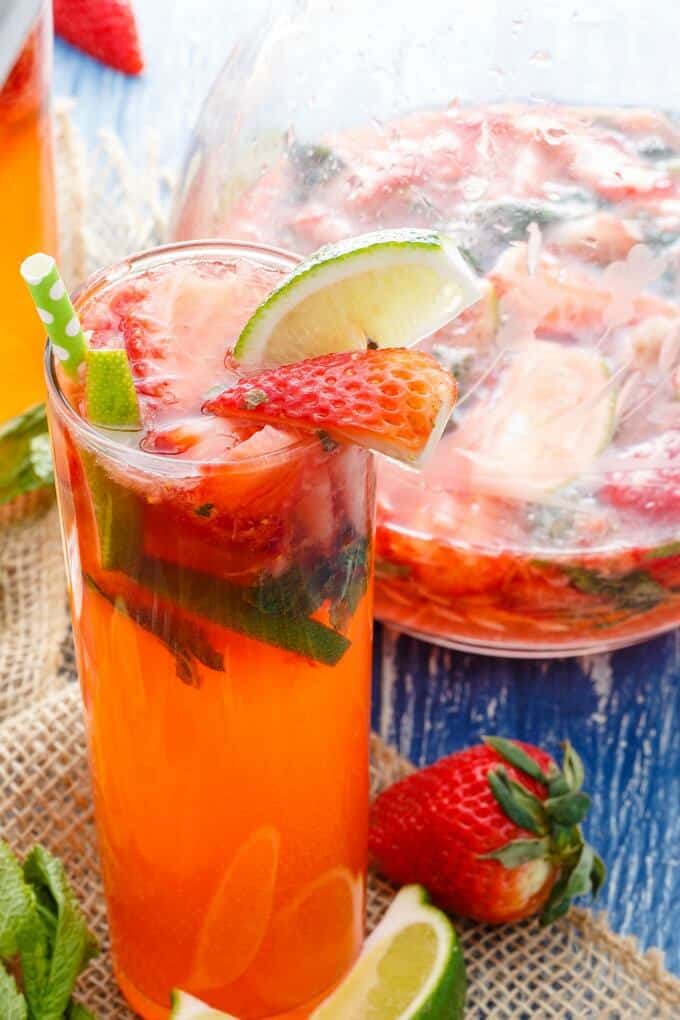 Strawberry mojitos have been on my mind forever and I wanted to use fresh ingredients because let's face it, strawberry season is AMAZING! Sure, frozen would work here, too, and great for the off-season, but with summer creeping up, there is no excuse not to use fresh berries!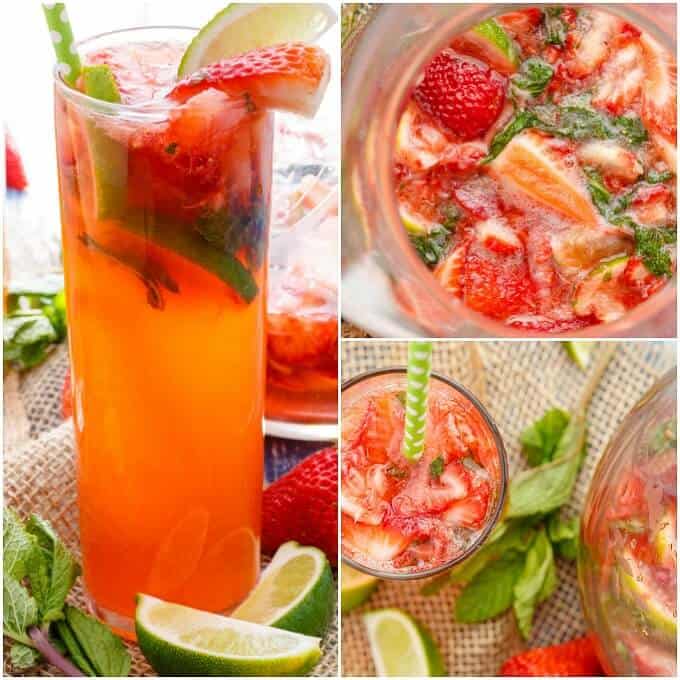 Now, these strawberry mojitos came to life because my daughter began to express her "sickness" over strawberries. She gets fresh fruit every day for school and you can only rotate items so much through 10 month of the year! I just wish she had mentioned this boredom before I had 3 lbs of strawberries in the fridge!
But let's face it, even though she is sick of strawberries, she had no issues asking for another glass of these strawberry mojitos!
📖 Recipe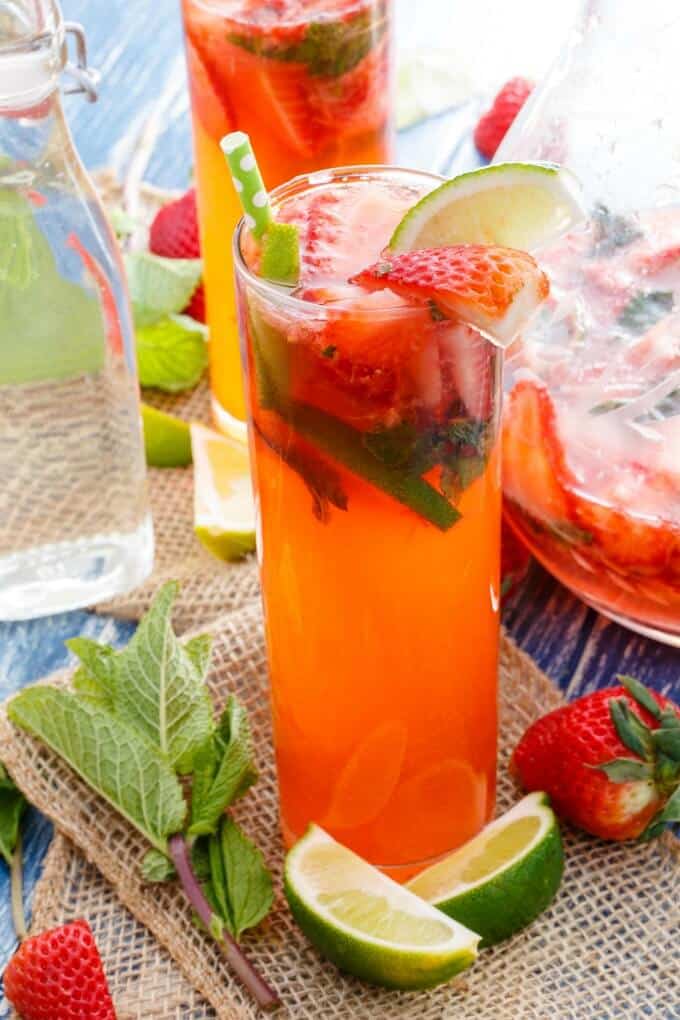 Fresh Strawberry Mojitos
Fresh strawberries are so decadent in this drink, but frozen will work, too!
Ingredients
1 lb fresh strawberries, sliced (reserve some for garnish if desired.)
1 cup simple syrup
1 cup white rum (omit for alcohol-free recipe)
1 bunch (30 grams) mint leaves, removed from stems
2 limes, sliced into wedges
3 cups club soda
Instructions
Add limes and mint to a large pitcher. Using a muddler, crush limes until all juices have been released. Stir in strawberries and muddle some more.
Pour in simple syrup, club soda, and rum. Mix until combined (you can muddle the berries a bit to break them down if desired.) Add more strawberries if desired!
Serve over ice in tall glasses!
Notes
Simple syrup is made using a 1:1 ratio of sugar and water. Cook over medium heat until sugar has dissolved (do not boil!) Cool and use.
Nutrition Information:
Yield:

4
Serving Size:

4
Amount Per Serving:
Calories:

292
Total Fat:

0g
Saturated Fat:

0g
Trans Fat:

0g
Unsaturated Fat:

0g
Cholesterol:

0mg
Sodium:

5mg
Carbohydrates:

50g
Fiber:

3g
Sugar:

44g
Protein:

1g
Great to make early in the day so it has time to chill! However, the limes will make the drink go bitter if kept in too long (so if you have leftovers, be sure to strain the goodies out before storing.)
Love these strawberry mojitos?! Try some of these recipes: