I'm taking my favorite cookie recipe and turning it into this giant fudge stuffed cookie! Just as good (if not better!) than the small fudge stuffed cookie at Dairy Queen 😉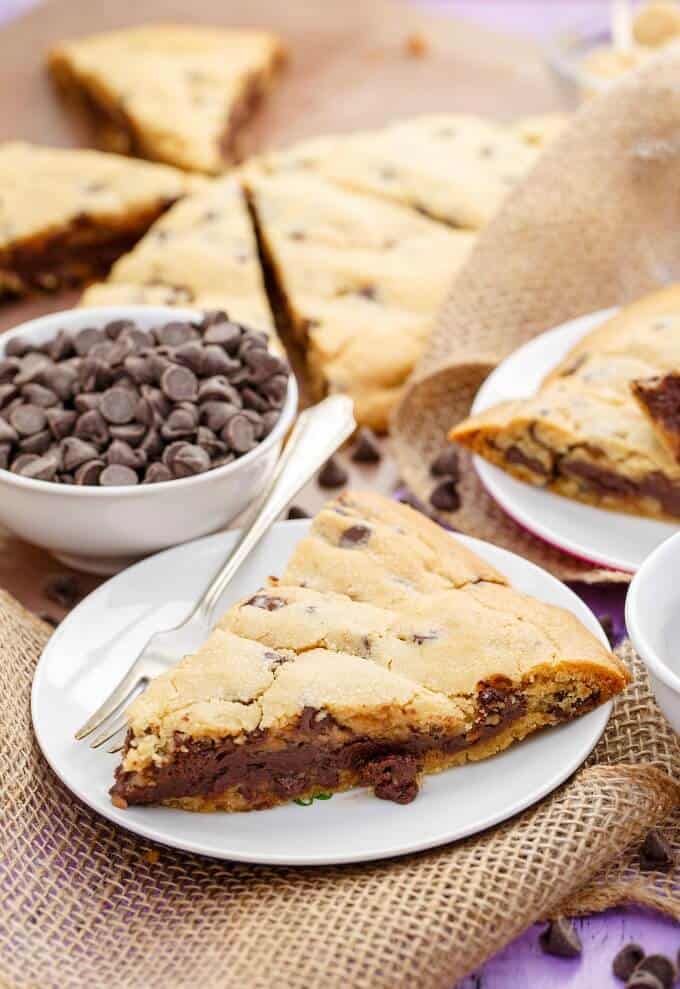 Ohhhh, this giant fudge stuffed cookie is dangerous!
My sister has been sending me photos of herself enjoying Dairy Queen's fudge stuffed cookie for the better part of a year and I finally got around to trying them.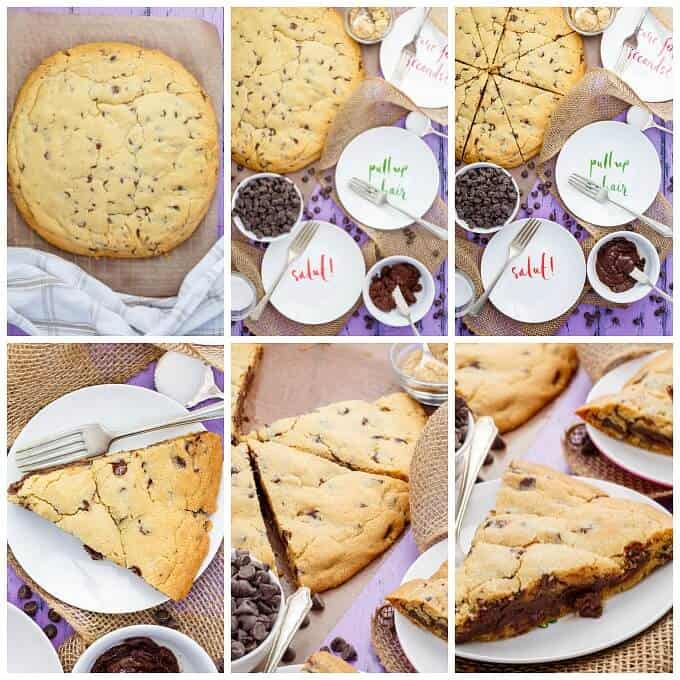 Dangerous.
No surprise when she mentioned she wanted a giant fudge stuffed cookie for her birthday! She did want it in the shape of Tweety Bird and decorated to perfection but in the end all she received was this cookie… Poor her, right?!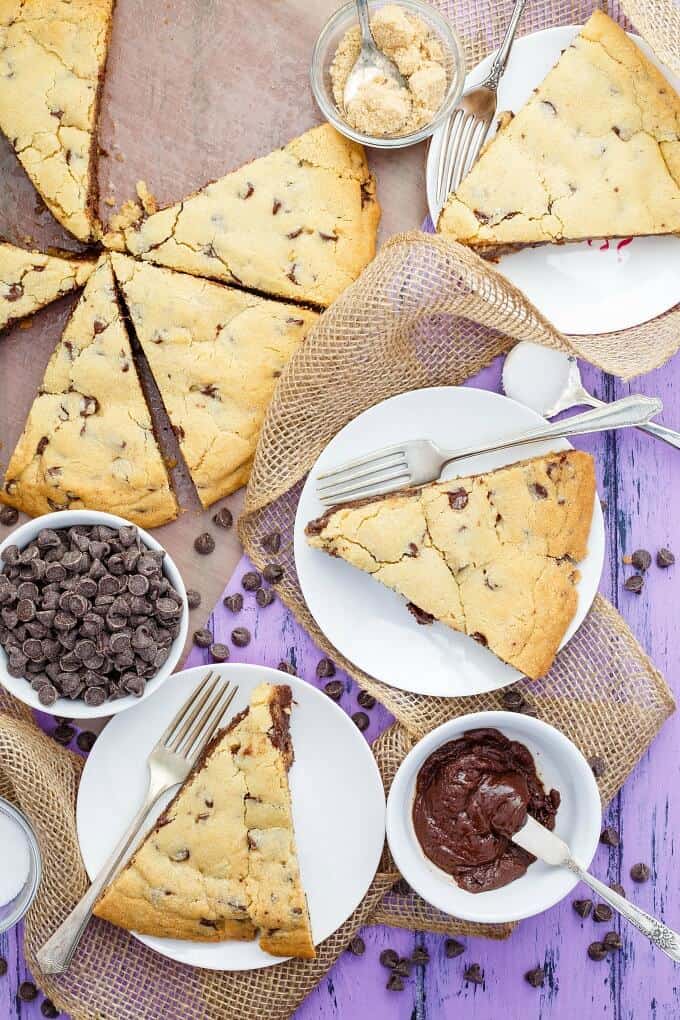 I seriously love how this turned out and had no problems making it again for another friend. It is one batch of my favorite cookie recipe (soft and chewy chocolate chip cookies) and some homemade fudge. Not that hard fudge that Canadians think of, but this soft, melty, delicious chocolate fudge. I'm salivating thinking of it!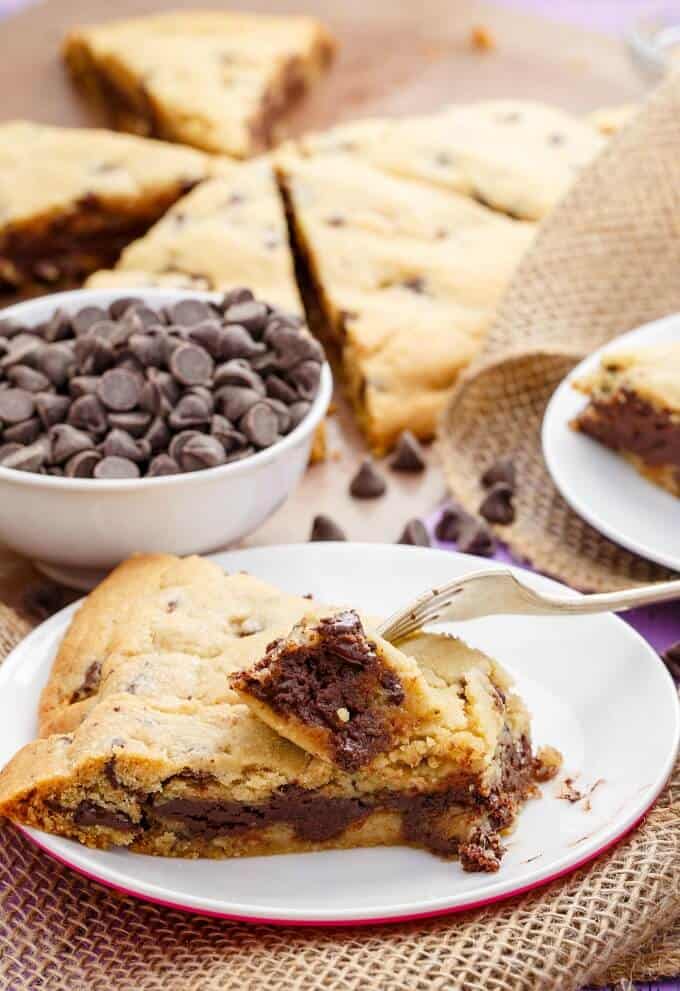 Honestly, probably one of the easiest desserts I have ever made next to ordinary chocolate chip cookies. I love how simple this giant fudge stuffed cookie is and yet it still looks "gourmet." A showstopper at any holiday event or ideal for the biggest of cookie lovers (who doesn't love cookies?!) Even if you aren't a baker, this is one recipe that would really wow your guests 🙂
As I write this I am totally imagining a giant cream cheese stuffed red velvet cookie! Time to break out the baking sheet! Ha, yeah right, my cookie sheet never goes away!
📖 Recipe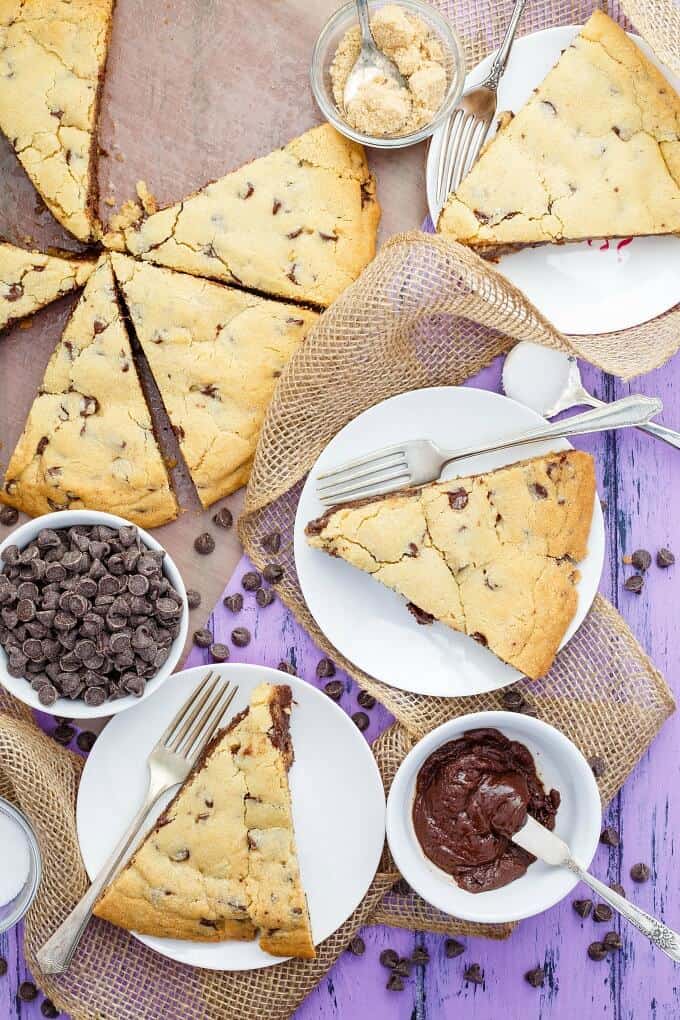 Giant Fudge Stuffed Cookie (Chocolate Chip Cookie)
A totally sweet and decadent treat, I definitely recommend sharing this with a bunch of friends!
Ingredients
½ cup packed brown sugar
½ cup granulated sugar
1 cup butter, room temperature
1 tsp. vanilla extract
1 large egg, room temperature
2 cups all-purpose flour
1 tsp. baking soda (please use a fresh box to ensure a fluffy cookie!)
¼ tsp. salt
1 cup chocolate chips
Fudge
1 ¼ cups (10 oz) bittersweet or semi-sweet chocolate
7 oz condensed milk
Instructions
In the bowl of a stand mixer, add butter and sugars. Beat until light and fluffy, about 5 minutes. Pour in egg and vanilla and mix until well combined.
In a small bowl, sift together flour, baking soda, and salt. Gradually add to butter mixture, mixing until just combined. Stir in the chocolate chips.
Fudge
Combine chocolate and milk in small saucepan over medium-low heat. Cook, stirring occasionally, until melted and smooth.
Assembly
Form dough into a large ball and split in half as evenly as possible. Layer one portion onto baking sheet lined with silicone liner or parchment paper and spread out into the shape of a flat cookie (about ¼ inch thick.) Layer fudge on top, making sure to keep it a bit away from the edges so we can seal the cookie. You may not use all the fudge!
Flatten out remaining cookie on separate sheet of parchment paper and place over top of fudge. Seal edges the best you can. Place into refrigerator to chill for 30 minutes.
Cook
Preheat oven to 350F.
Place into oven and bake for 25-30 minutes (cook time will vary on thickness of cookie.) Remove and set pan on cooling rack. Allow to cool before slicing and serving!
Notes
You may have some leftover fudge filling, so save that for future little cookies or just drizzle it on top of the cookie! Allow the cookie to cool greatly before attempting to move or it will fall apart!
Nutrition Information:
Yield:

8
Serving Size:

1
Amount Per Serving:
Calories:

663
Total Fat:

35g
Saturated Fat:

22g
Trans Fat:

1g
Unsaturated Fat:

11g
Cholesterol:

96mg
Sodium:

471mg
Carbohydrates:

84g
Fiber:

3g
Sugar:

57g
Protein:

8g
After I made this numerous times I got to thinking: wouldn't this be great in a skillet?! Everyone sitting around the campfire digging into a fudge stuffed cookie skillet topped with ice cream and whipped cream?! Ohhh, I foresee a future recipe! Maybe an ooey-gooey marshmallow combination!
Love this giant fudge stuffed cookie?! Try some of these recipes: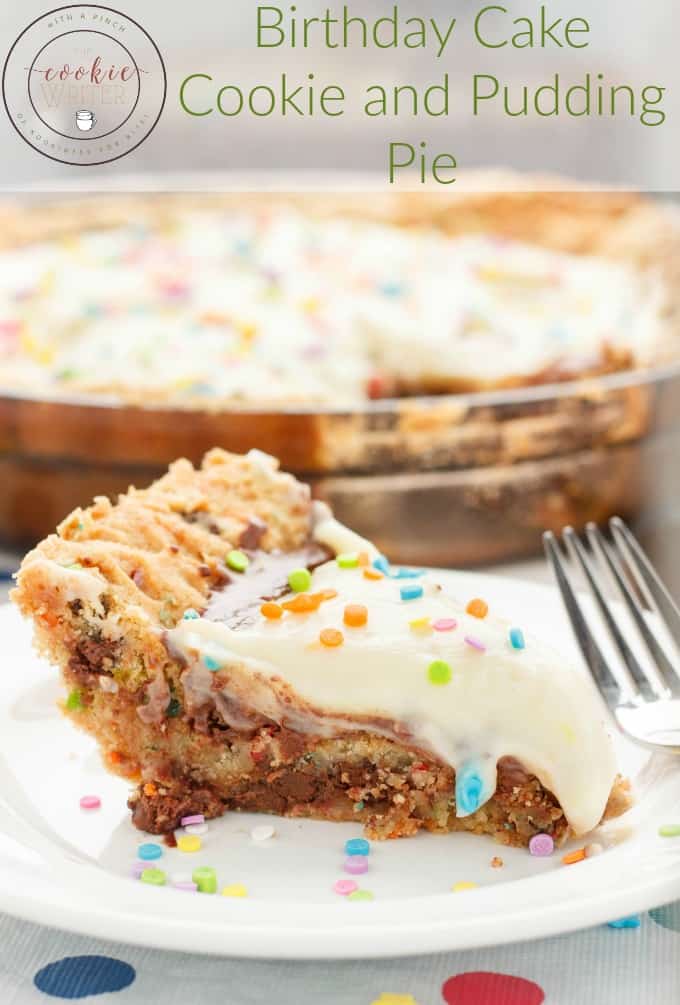 Birthday Cake Cookie and Pudding Pie