Say "Happy Birthday" in style with this birthday cake cookie and pudding pie! A mix of birthday cake cookie and birthday cake pudding 🙂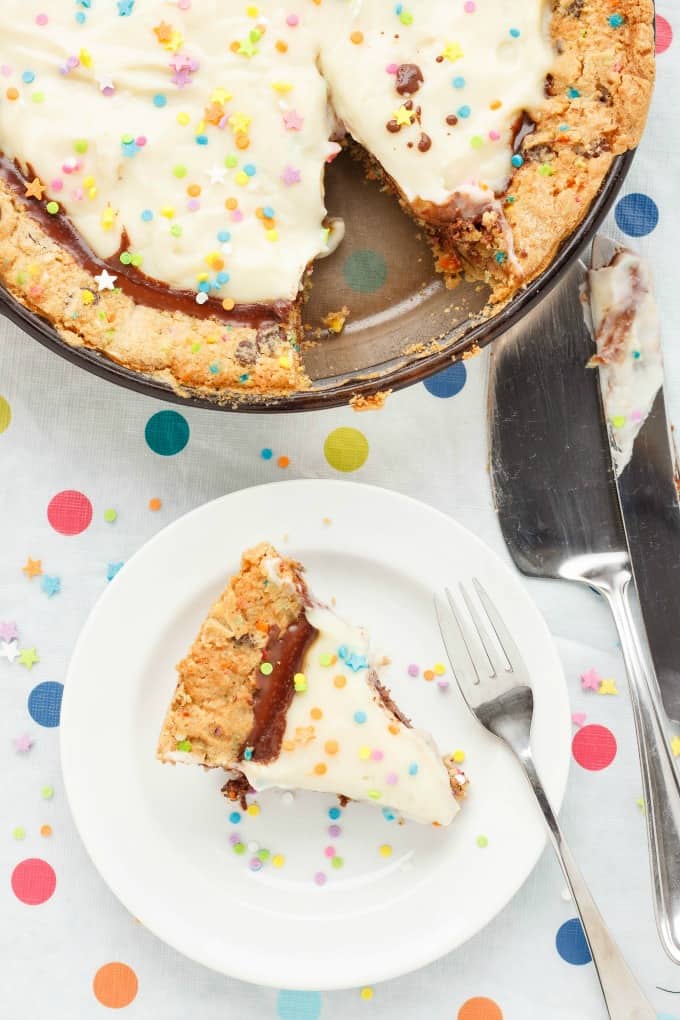 My sister's birthday was a couple of days ago and as I said, I love making her birthday dessert! This year was no exception, and I was really proud of the end result. Then again I only got one tiny piece so that does say something...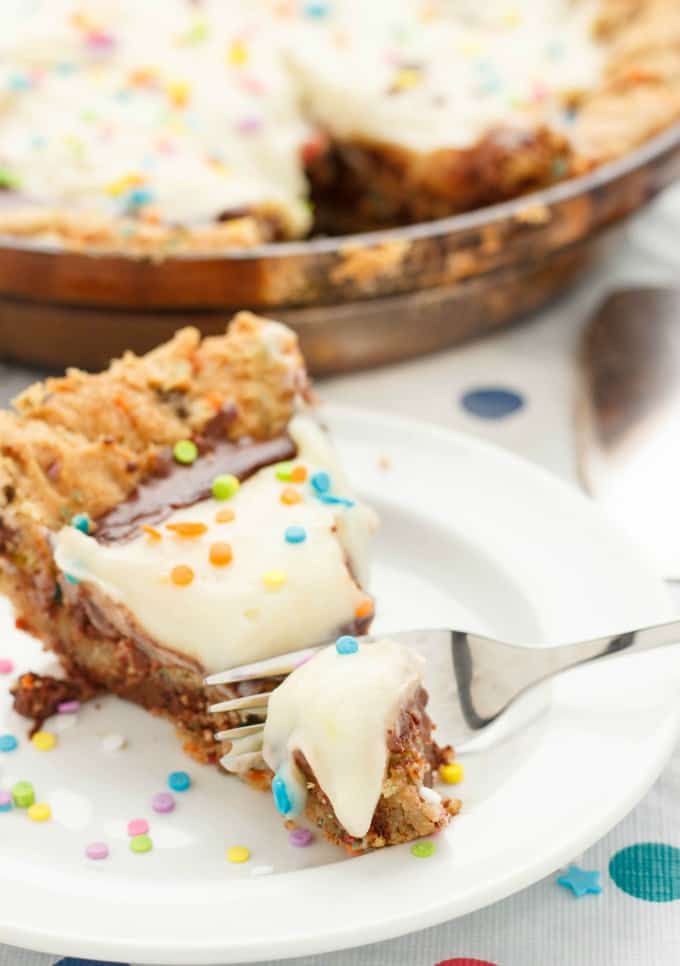 This birthday cake cookie and pudding pie is a combination of all things birthday cake-flavored! The crust is one batch of birthday cake chocolate chip cookies, cooked completely. The crust was then covered with ½ cup melted chocolate and topped with a batch of homemade birthday cake pudding. Finished off with sprinkles, this dessert turned out to be the ultimate birthday dessert! Would I change anything? Nothing! It turned out so well the first time that I don't see a reason to change a thing.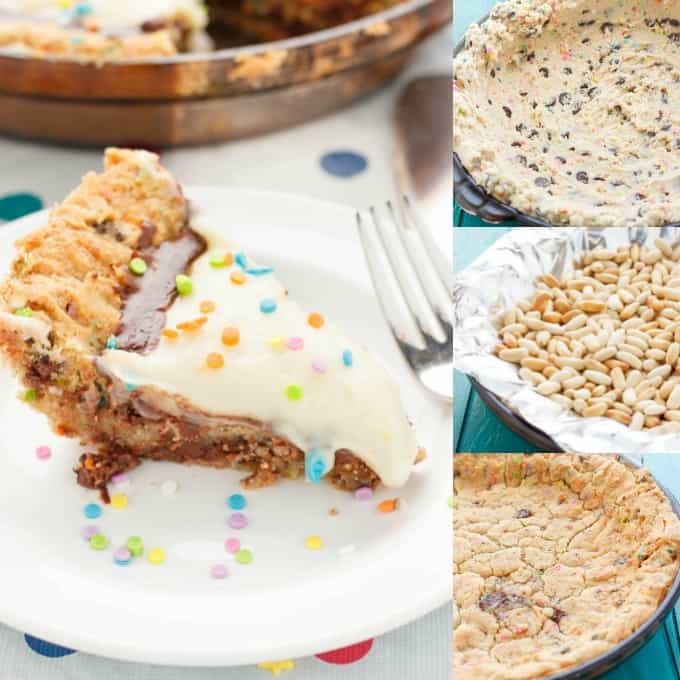 Worried about the cookie not being soft? Do not fret. At first I thought I over-baked the cookie but it turned out just right, and I actually put the pie together one day in advance of serving and the cookie was still as moist as the first day. Of course, as soon as I handed the dessert to my sister she double-checked to make sure the cookie was soft... Thanks!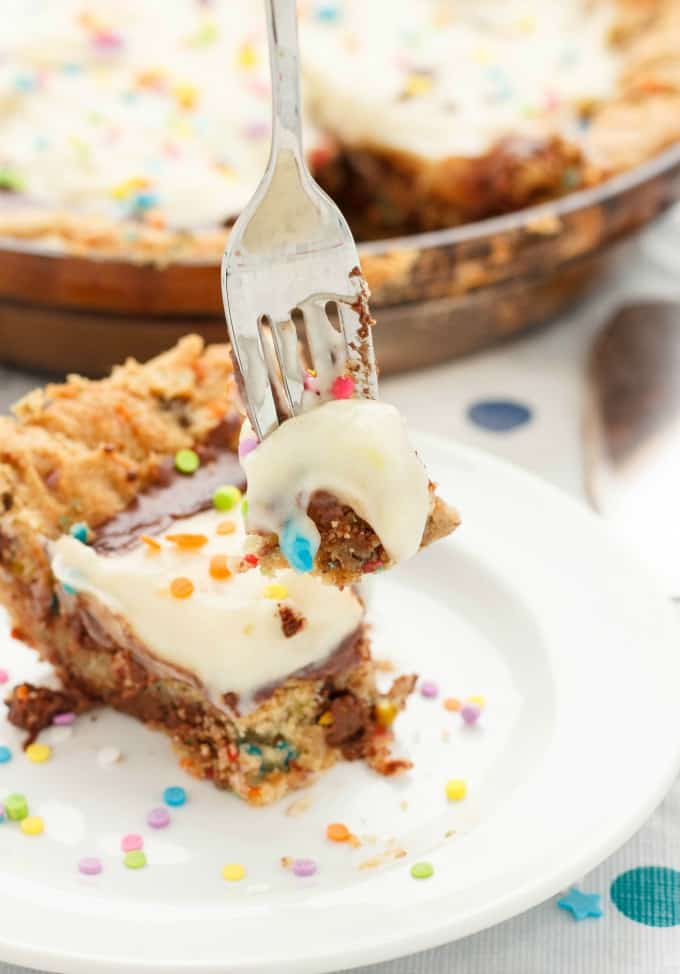 Don't have the time to make everything from scratch? This birthday cake cookie and pudding pie can be made with store-bought chocolate chip cookie dough and pudding. It may not be birthday cake-flavored, but you can still mix in some sprinkles 🙂 Honestly though, the baking and pudding stage take no time at all and the dessert can easily be made ahead of time. I wrapped mine in plastic wrap and kept it at room temperature overnight (have yet to kill anyone by leaving my dairy out!)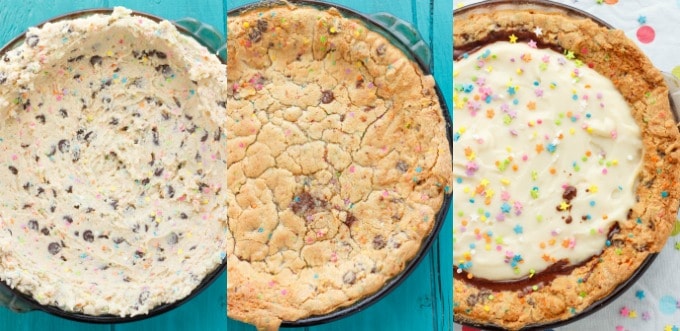 📖 Recipe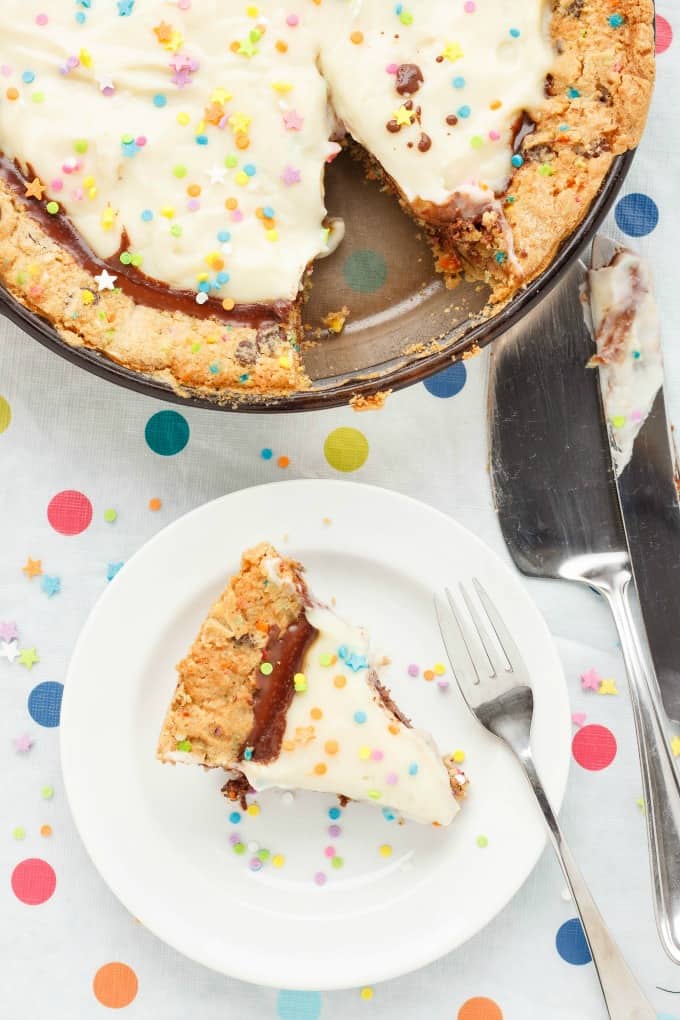 Birthday Cake Cookie and Pudding Pie
This recipe can easily be made with store-bought ingredients! You may think the cookie needs longer to cookie, but trust me, the residual heat will help firm up that cookie 🙂
Instructions
Preheat oven to 350F.
Place cookie dough into a 9 or 10-inch pie dish and use a spoon to spread it out the best you can (up the sides, and across the bottom.) Grease one side of aluminum foil really well and place butter-side down on top of the raw cookie crust. Fill with pie weights or dry beans.
Bake for 10 minutes. Remove beans and foil and bake for another 15-20 minutes, or until cookie crust is golden brown. Remove from oven and use a spoon to gently push down the middle and sides of the pie crust if they have risen (just to get it back into the shape of a crust!) Allow to cool.
Melt chocolate and spread over middle of pie crust. Pour pudding into crust. Wrap in plastic wrap until ready to serve. Garnish with sprinkles before serving (if you do it earlier the colors will bleed!)
Nutrition Information:
Yield:

8
Serving Size:

1
Amount Per Serving:
Calories:

285
Total Fat:

14g
Saturated Fat:

4g
Trans Fat:

0g
Unsaturated Fat:

9g
Cholesterol:

22mg
Sodium:

140mg
Carbohydrates:

39g
Fiber:

1g
Sugar:

29g
Protein:

2g
Can her birthday come again so I have an excuse to revisit this recipe?! Nah, we can just make it for fun this summer and relish in the fact that you don't need a birthday in order to celebrate 🙂
Love this birthday cake cookie and pudding pie?! Try some of these recipes: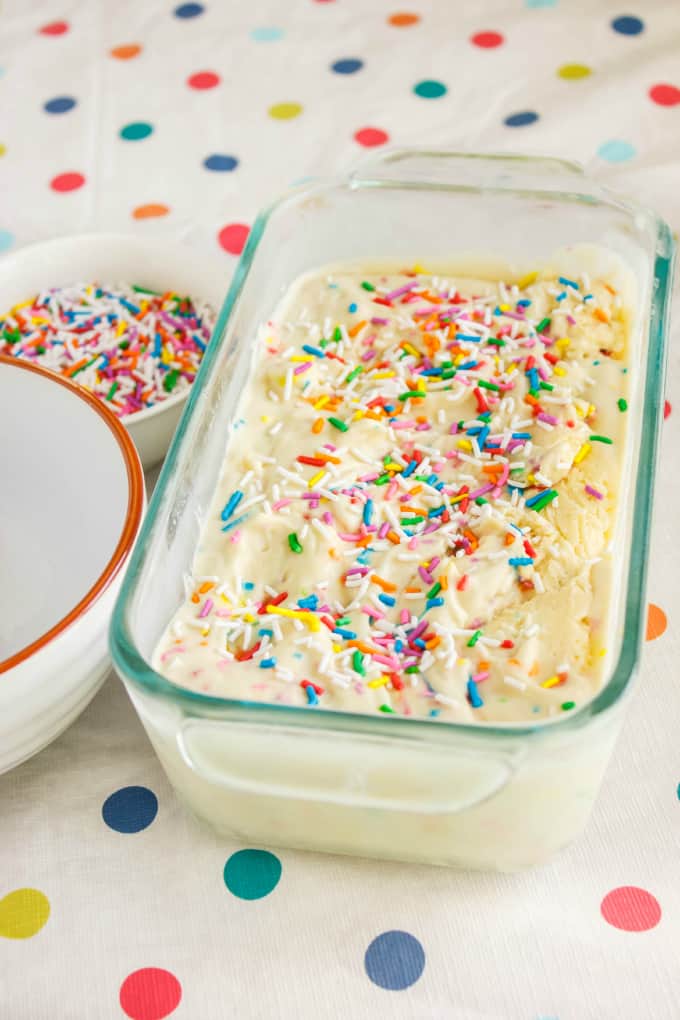 Homemade Birthday Cake Ice Cream