Summer is almost here, and that means ICE CREAM SEASON!
I love me some ice cream, and now that I have tasted high-quality ice cream, I cannot eat the cheap stuff anymore. Call me an ice cream snob but I can tell when an ice cream is made with real cream and when it is not. That being said, I find myself mostly making homemade ice cream to quench my cravings.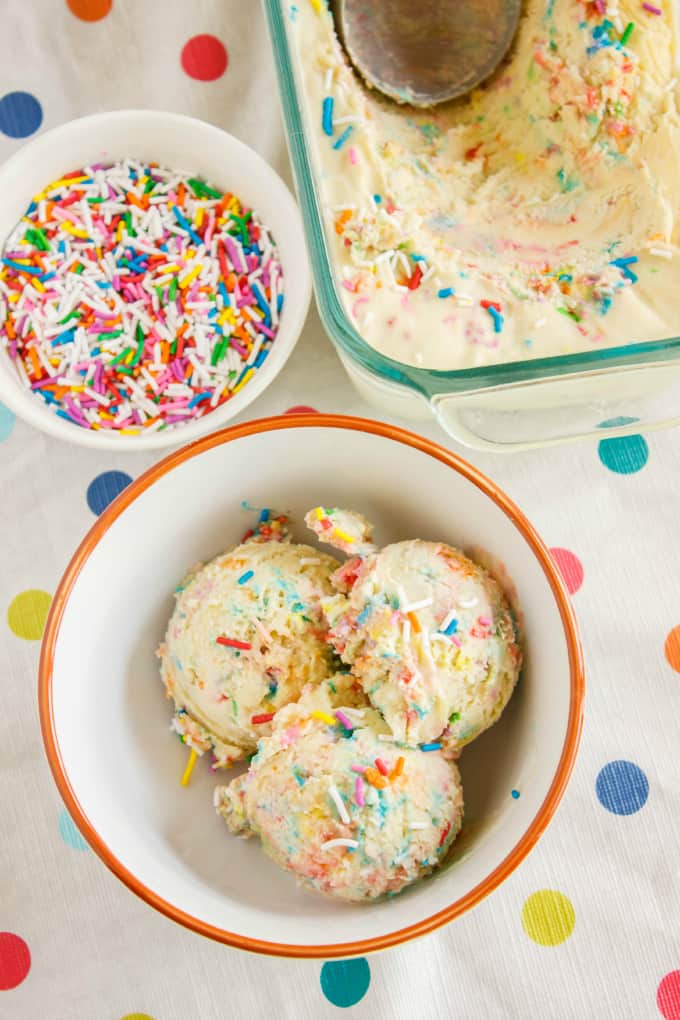 And then there are people like my sister who like the funky and kind of crazy ice cream flavors... Usually I would not touch birthday cake ice cream, but it was for her birthday and I know how much she loves it. It was so simple to make, and while I am calling this recipe homemade, I did use store-bought confetti cake mix to bring out the birthday flavor. Otherwise, still homemade! Semi-homemade? Nah, homemade birthday cake ice cream!

Her birthday was early May, so you can see it has taken me a while to post this recipe. No worries though, because I am bringing it out just in time with the hotter temperatures. Surprisingly, I really loved this ice cream even if it was a funky flavor that I usually do not by. It was like eating vanilla pudding, or, well, I guess a birthday cake, haha. You know what I mean! Creamy, not too sweet, but definitely thick. She really loved it and I was happy to please her! Though I totally forgot to make her spicy pecans she requested...
📖 Recipe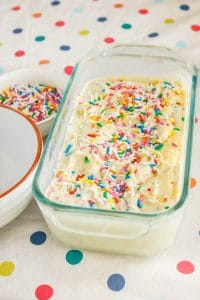 Homemade Birthday Cake Ice Cream
Homemade birthday cake ice cream to quench those cravings, or to just celebrate an awesome birthday!
Ingredients
2 cups heavy whipping cream
1 cup milk
½ cup confetti cake mix
½ tsp. vanilla
4 egg yolks
¼ cup granulated sugar
⅛ - ¼ cup sprinkles
Instructions
In a medium saucepan, combine 1 cup of cream, milk, confetti mix, and sugar over medium heat. Heat until hot, but do not let boil (and all the sugar has dissolved.). Whisk the egg yolks in a separate large mixing bowl. Carefully and slowly pour the hot cream into the egg yolks, whisking constantly so the eggs do not scramble. Add remaining cream and continue whisking until all the cream is blended. Transfer the mixture back into the pan and stir in the vanilla extract. Bring up to a hot temperature again, stirring occasionally. Turn off heat, and allow to cool to room temperature, stirring occasionally to keep film from building up. Cool in refrigerator overnight.
To make the ice cream, follow your machines instructions. When the ice cream is almost set (usually 20 minutes in my machine) add in the sprinkles.
When the ice cream is finished churning, transfer to a freezer safe storage container.
Nutrition Information:
Yield:

8
Serving Size:

1
Amount Per Serving:
Calories:

302
Total Fat:

25g
Saturated Fat:

15g
Trans Fat:

1g
Unsaturated Fat:

8g
Cholesterol:

162mg
Sodium:

89mg
Carbohydrates:

16g
Fiber:

0g
Sugar:

13g
Protein:

4g
Now, of course I did not just make her ice cream for her birthday (though she would have been happy with that.) I wanted to do something crazy, something unique. She is so predictable that I actually had too many dessert ideas in mind! This birthday cake ice cream was the start of something dangerous. Really, really dangerous...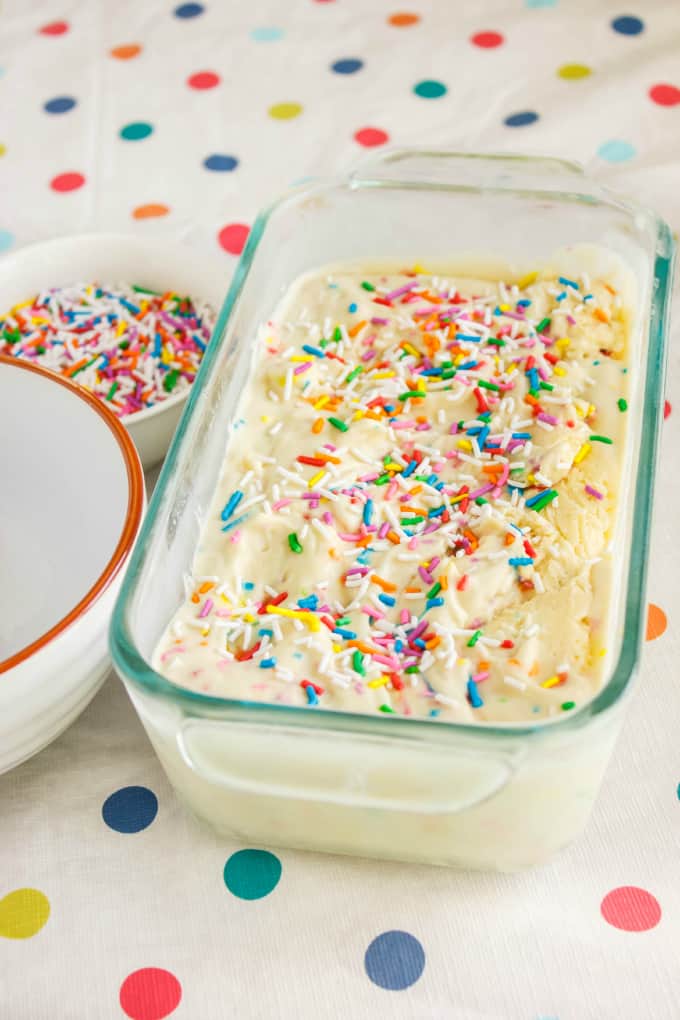 I am talking about a homemade birthday cake ice cream cake! Wow, I will have to think of another name for that! I absolutely fell in love when the idea hit me and knew I had to make it for her. Stay tuned this week for the recipe (trust me, it is worth it!)