Autumn is all about soups, so give this massaman curry French onion soup a try! The curry paste adds such a wonderful flavor (and you can use your preferred style!)
I love a good ole soup, and even during the summer I can easily enjoy a bowl of the good stuff, as long as it is not too heavy.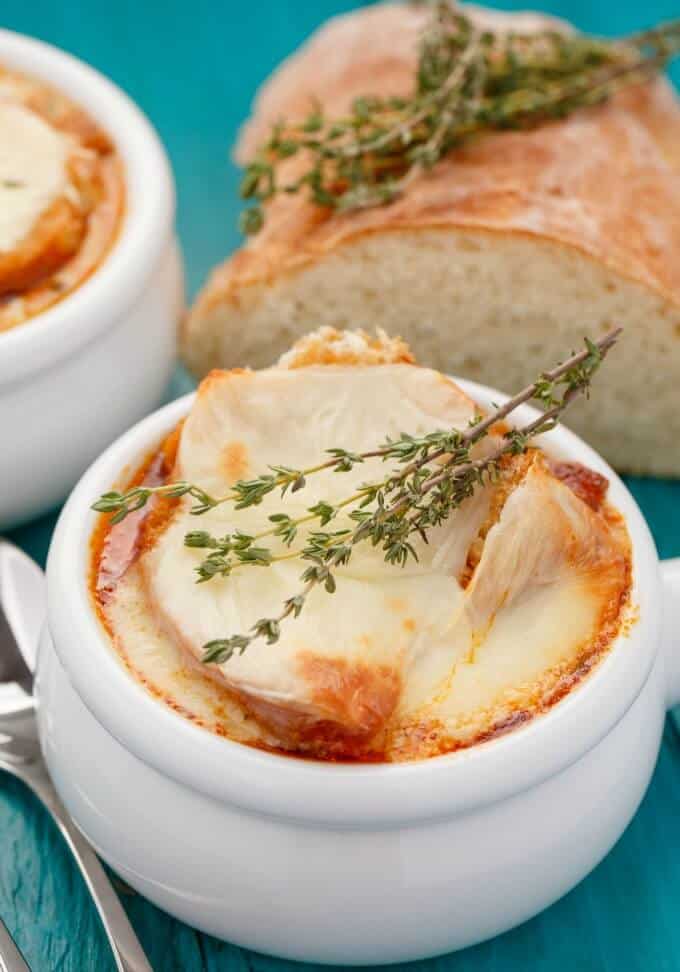 As much as I love creamy soups, that is not happening in the heat. No way, buddy. Instead, I thought I would share with you my Massaman curry French onion soup. I made this some months ago and we loved it! While going through my posts I couldn't believe I had not shared it! You may remember my previous Roasted Vegetable Massaman Curry Soup (Coconut-Free). That would also be perfect in the warmer weather (the only reason I have not made it recently is because the price of cauliflower has been ridiculous!)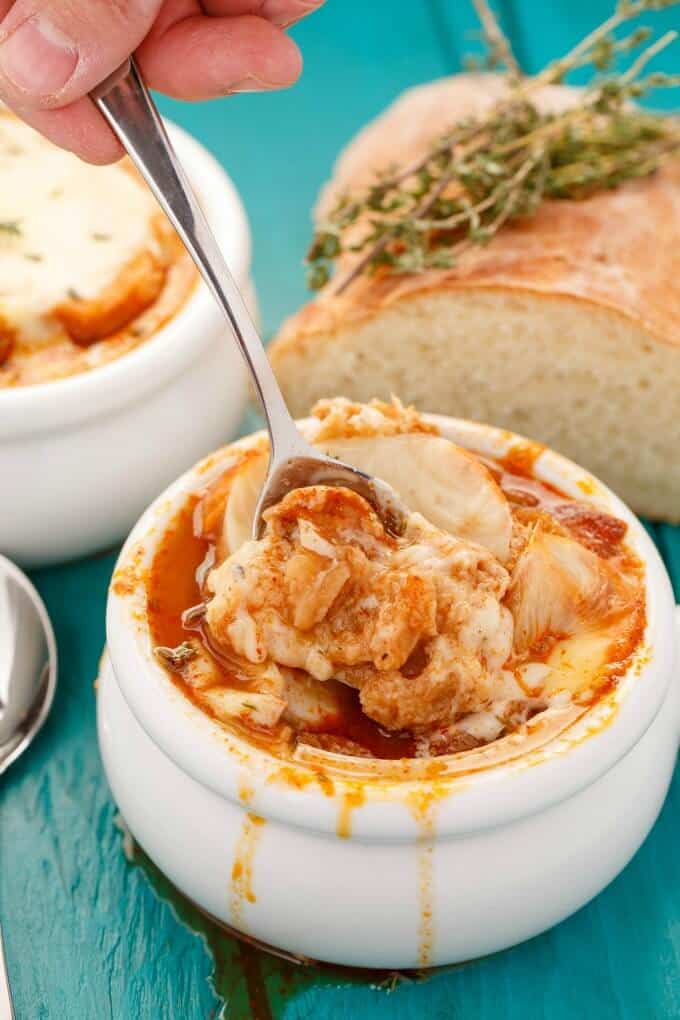 French onion soup is already rich as is, so just imagine adding curry to it. Like I have said many times, I am not a curry fan, but there is something about this particular curry type (and adding it to soup,) in which I cannot get enough! Mr. TCW has requested these soups again and I feel so bad for denying him, but there are just so many recipes out there that I want to try/create. One day, Mr. TCW!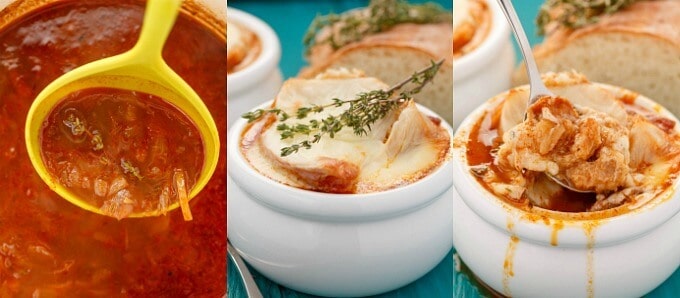 Okay, so this curry French onion soup is super easy to make. I personally prefer caramelized onions in my soup, but don't worry if you don't have the time or patience to wait for them to reach that state. I have seen many restaurants who just cook them until softened.
I do believe that the red wine really adds an element to this soup. Since most French onion soups contain beef broth, I had to work some magic with the vegetarian version. But hey, you can do so much with this broth! Use only olive oil and omit the cheese and you have a vegan recipe. Use gluten-free bread and you have a gluten-free soup. Endless possibilities! Be creative and have fun! PS. I really think the fresh thyme heightens the broth (who knew thyme and curry would work?!)
📖 Recipe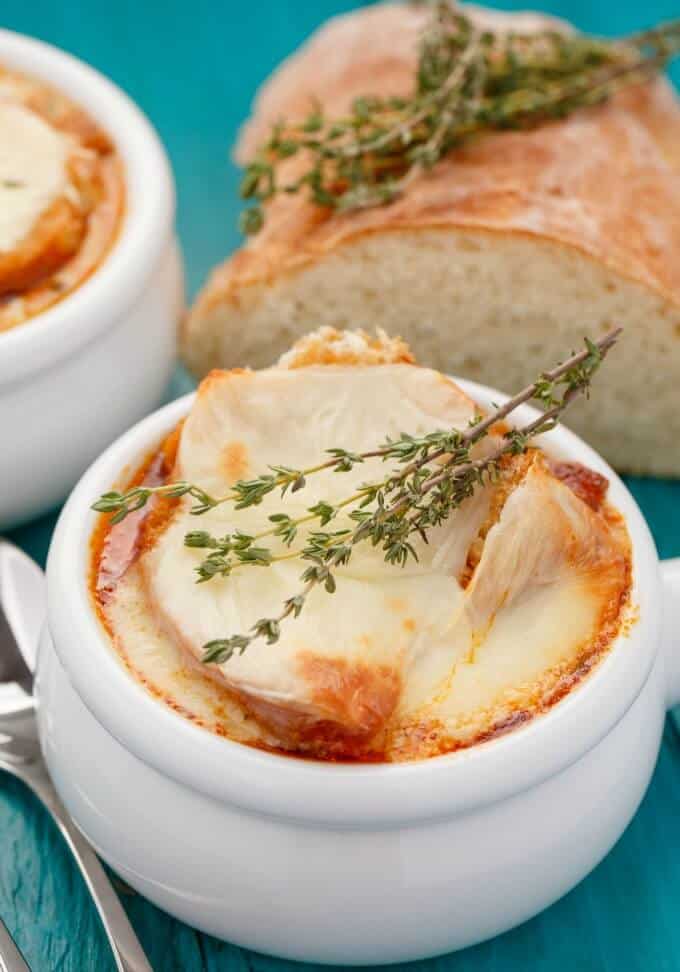 Massaman Curry French Onion Soup
Cook Time:
1 hour
10 minutes
Total Time:
1 hour
25 minutes
The use of curry paste heightens the soup to a whole new level!
Ingredients
5 large onions, sliced thin
1 tbsp. olive oil
1 tbsp. butter (can sub in oil for a vegan soup.)
1 tsp. granulated sugar
½ cup red wine
4 cups vegetable broth (or alternative for non-vegetarian recipe.)
Salt and pepper
2 tbsp. massman curry paste
Sprigs of fresh thyme (about 1 tbsp. freshly chopped.)
Extras
Bread for topping (use gluten-free bread for GF meal)
Cheese for topping (gruyere is traditional but feel free to use whatever you have on hand or omit altogether for a vegan soup!)
Instructions
In a large pot over medium-high heat, melt the butter and oil. Stir in the onions and cook for 5-10 minutes, or until onions are beginning to brown. Season with salt and sugar. Continue cooking until onions reach your desired state, stirring often, about 10-15 minutes.
Deglaze pan with wine.Simmer for a few minutes until wine is pretty much evaporated. Add in the curry paste and fresh time and cook for another minute. Stir in broth and bring to a boil. Season with salt and pepper. Reduce heat and simmer for 20 minutes, uncovered.
Ladle soup into French onion soup bowls. Place slice of bread onto each bowl of soup and cover with cheese. Place under your stove broiler and cook until nicely browned (alternatively you can cook the soup at 375F until cheese melts.)
Serve with some fresh thyme if desired!
Nutrition Information:
Yield:

4
Serving Size:

1
Amount Per Serving:
Calories:

225
Total Fat:

9g
Saturated Fat:

4g
Trans Fat:

0g
Unsaturated Fat:

5g
Cholesterol:

15mg
Sodium:

1026mg
Carbohydrates:

26g
Fiber:

3g
Sugar:

11g
Protein:

5g
Now that I have been raiding my recipe collection, I am seeing how far behind I am in posting. I post about 4 times a week and still can't keep up. Guess that shows you how much I love to cook! Oh well, the more the merrier! And once my daughter starts school I am going to have more time to spend in the kitchen! Hoe exciting!
Love this massaman curry French onion soup?! Try some of these recipes: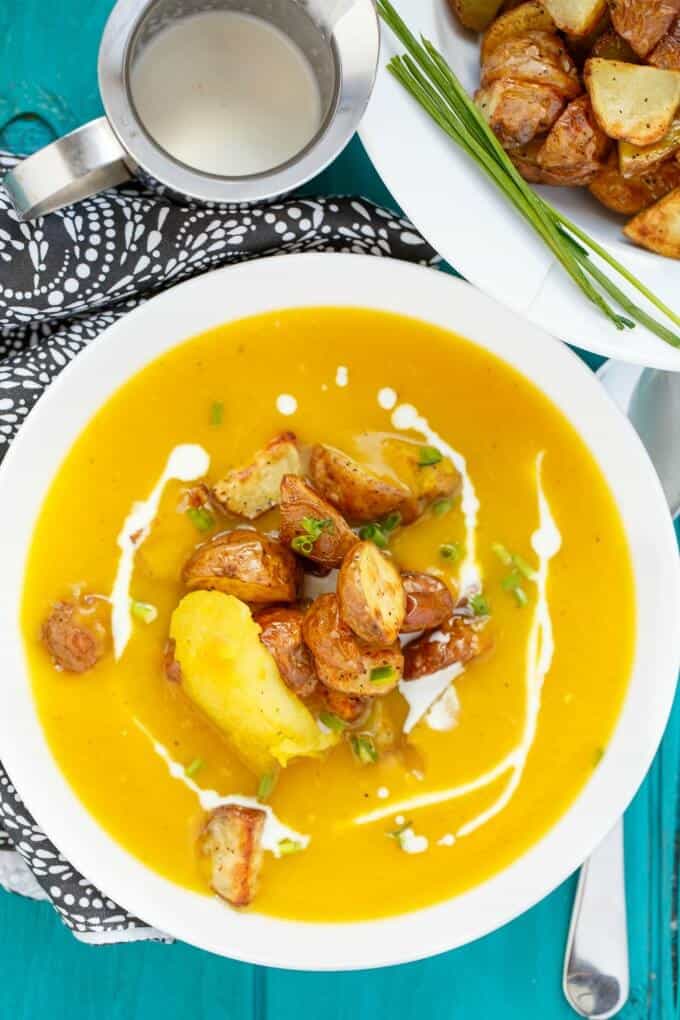 Roasted Apple Pumpkin Soup with Potatoes