Sometimes I say in previous posts that I will be posting a future recipe based on whatever we were talking about in said post. However, sometimes I forget.
Thankfully, I did not leave you guys hanging and have the promised homemade birthday cake ice cream cake.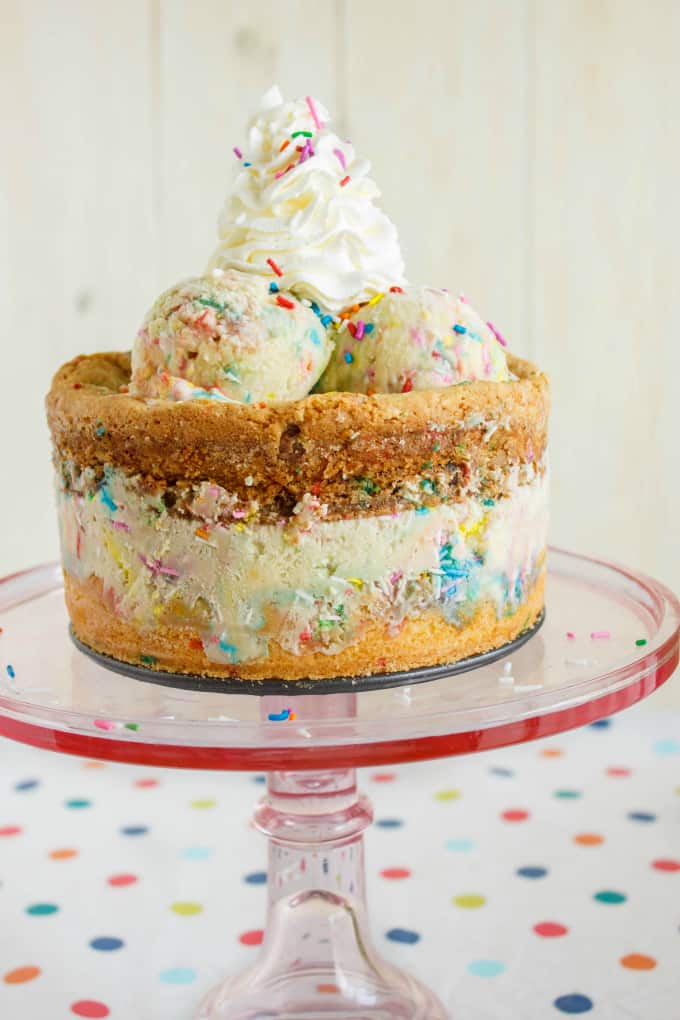 Yes, I did not come up with a better name, but I think this tongue-twister suits the cake! It is fun, colorful, and sooo tasty! Plus, I made it for my sister's birthday with love!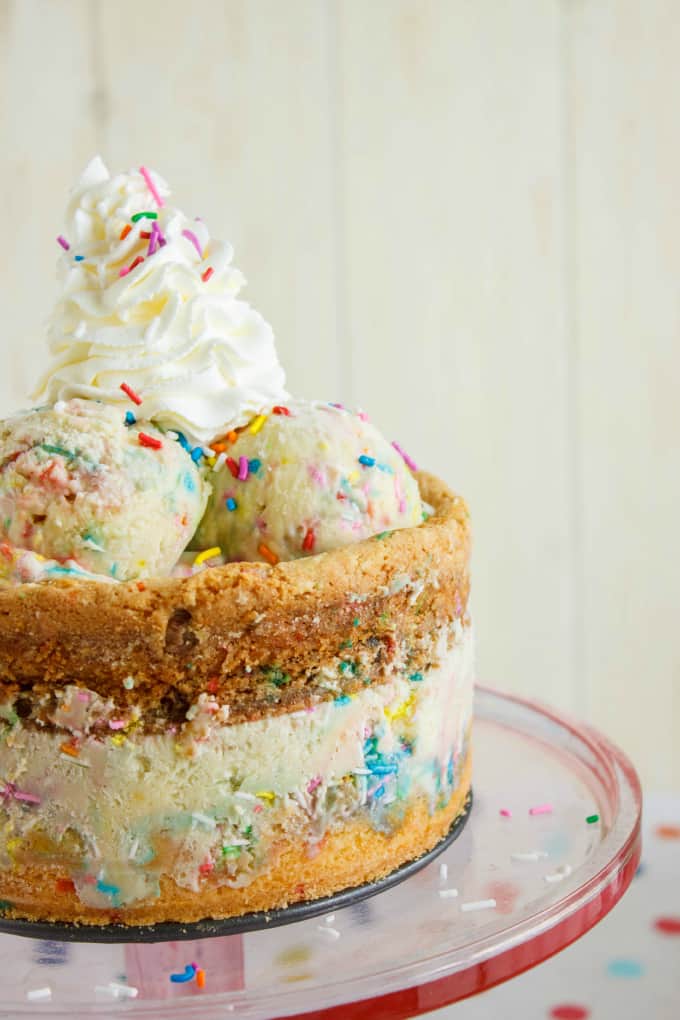 The idea came to me when I had way too many ideas in mind for what to make my sister for her birthday. She is so predicable that I could not choose one idea! So instead I combined a ton of her loves into one, all including the same flavor: birthday cake.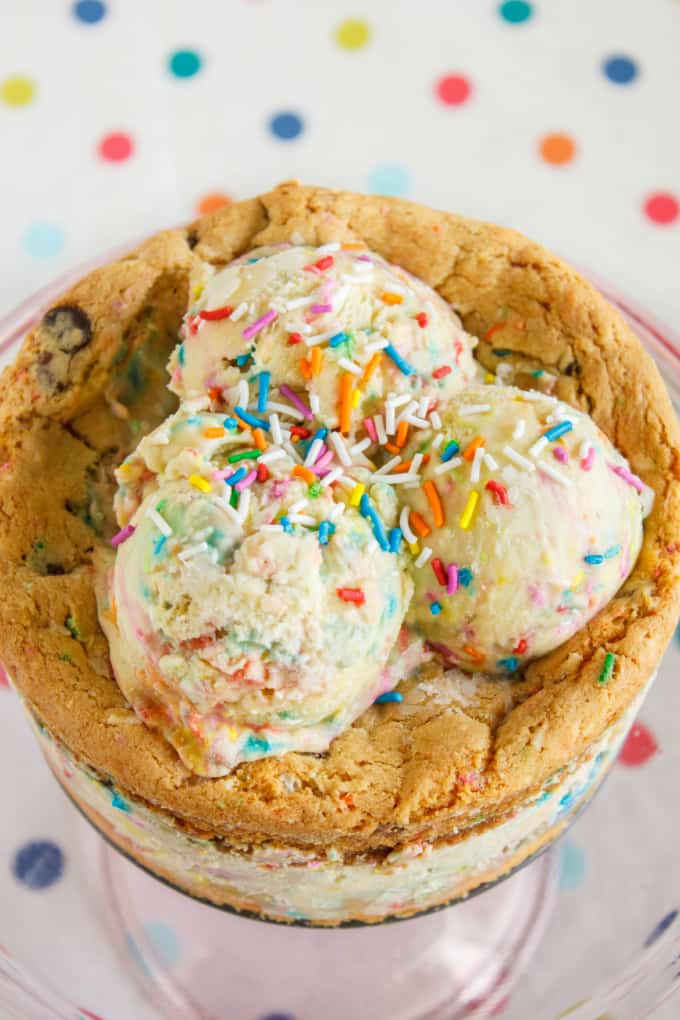 I had made birthday cake cookies in the past, but never took the time to make an actual confetti cake or birthday cake ice cream. Well, all those things are in the past now because they turned into one awesome birthday cake ice cream cake! Woohoo! I love just saying it. Now, before you get all concerned about time and effort, you could easily make this cake with boxed goodies. It might not be a bad idea considering to make the birthday cake ice cream you only use ½ cup of mix from the box. Now what do you do with the remaining cake mix?! I say, many, many birthday cake chocolate chip cookies....

📖 Recipe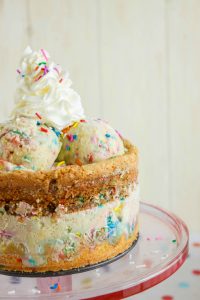 Homemade Birthday Cake Ice Cream Cake
Prep Time:
1 hour
30 minutes
Total Time:
2 hours
20 minutes
Delicious and chilly homemade birthday cake ice cream cake! Perfect for those crazy birthday cake lovers, or just for fun during the summer months!
Ingredients
1 recipe of homemade birthday cake ice cream (or a container of your favorite store-bought!)
Cookie layer:
½ cup + ⅛ cup all purpose flour
½ cup + ⅛ cup confetti boxed cake mix (just powder, do not make the cake!)
¼ tsp. baking soda
⅜ cup butter, room temperature
¼ cup granulated sugar
⅛ cup brown sugar
1 egg, room temperature
½ tsp. vanilla
¼ - ½ cup chocolate chips
⅛ cup sprinkles
Cake layer:
⅜ cup cake & pastry flour
¼ cup all-purpose flour
½ tsp. baking powder
Pinch of salt
¼ cup butter, room temperature
⅜ cup granulated sugar
1 egg, room temperature
⅛ cup heavy whipping cream
⅛ cup buttermilk
½ tsp. vanilla
Instructions
Start with the cake layer: Grease your 6-inch springform pan. Set aside. Preheat oven to 350F.
Cream together butter and sugar in a stand mixer until light and fluffy. Mix in the egg until well combined. Stir in vanilla.
Sift together the flours, baking powder, and salt in a small bowl. Combine heavy whipping cream and buttermilk in another bowl. Alternatively add each mix to the butter mixture, starting and ending with the dry ingredients. Mix until just combined.
Pour batter into pan and level out. Bake for 18-20 minutes, or until toothpick comes out clean. Allow to cool for 10 minutes or so before removing from pan to complete cooling.
Cookie layer: You want your cookie to be the same size as your cake. You can either cook the cookie in the pan or just use the circular part and bake on a baking sheet.
Line a baking sheet with parchment paper or a silicone mat.
In the bowl of your stand mixer, add the butter and sugars. Cream together until lightly and fluffy, about 5 minutes. Add the egg and mix until well combined. Pour in the vanilla and stir.
Sift together the flour, cake mix (if you catch any sprinkles in your cake mix, just dump them into the sifted product.), and baking soda. Add slowly to your wet ingredients, mixing until just combined. Stir in the chocolate chips and sprinkles until evenly combined.
Place the ring part without the bottom of the springform pan onto the cookie sheet. Pour the batter into the ring and press down until a nice, even cookie is achieved. Place into 350F oven and bake for 18-22 minutes (keep checking, every oven is different.)
Allow to cool for about 10 minutes on the baking sheet and then move to a cooling rack. *Note, the cookie may sink in the middle like mine did, but that just provides space to place your ice cream onto!
Assembly:
Put together your springform pan again. Place the cake into the bottom of the pan (trimming if necessary.) Spoon enough ice cream on top of the cake so when you put your giant cookie on top, it reaches the top of the pan. Remember to take your ice cream out a bit before assembly so it is easy to work with. Finally, add the cookie on top of the ice cream. If desired, add more scoops of ice cream on top of the cookie!
Cover with plastic wrap and freeze. Serve with whipped cream if desired (and remember to allow the cake to sit out 15-20 minutes before serving so it is easier to slice!)
Nutrition Information:
Yield:

8
Serving Size:

1
Amount Per Serving:
Calories:

509
Total Fat:

27g
Saturated Fat:

14g
Trans Fat:

1g
Unsaturated Fat:

11g
Cholesterol:

116mg
Sodium:

354mg
Carbohydrates:

62g
Fiber:

1g
Sugar:

37g
Protein:

6g
(Here are the recipes for my
homemade birthday cake ice cream
and
birthday cake chocolate chip cookies
.)
This was my first ice cream cake EVER. So impressed with myself. I started to get a little worried when I went to take apart my springform pan and the cake was sticking to the sides... I ran a spatula/knife down the sides and that loosened the cake no problem. Another safe method would be to remove the springform pan before the cake is completely/too frozen in the freezer.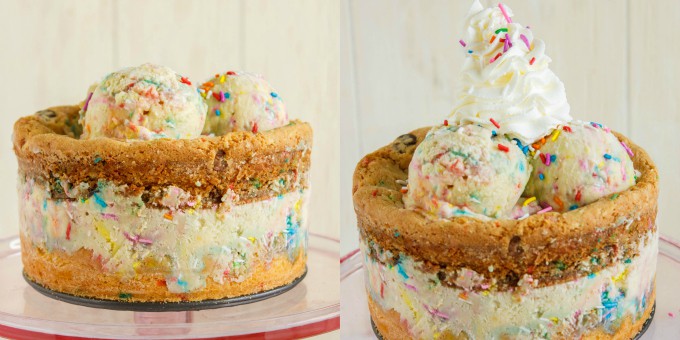 Another note on the whole frozen thing: this birthday cake ice cream cake is many things as you can probably see. That being said, the layers need time to defrost. When going to serve the cake, I would take it out at least 15-20 minutes in advance. We forgot to do so and cutting the cake was interesting to say the least. DON'T FORGET TO SIT OUT. There, you should not forget now!