My daughter is a big popsicle lover. Most kids are. I remember as a kid my mom pouring Kool-Aid into our popsicle molds and making Kool-Aid popsicles. I don't see Kool-Aid in many houses anymore (we had sooooo many points that we never claimed, so sad,) but that does not mean we cannot enjoy homemade popsicles!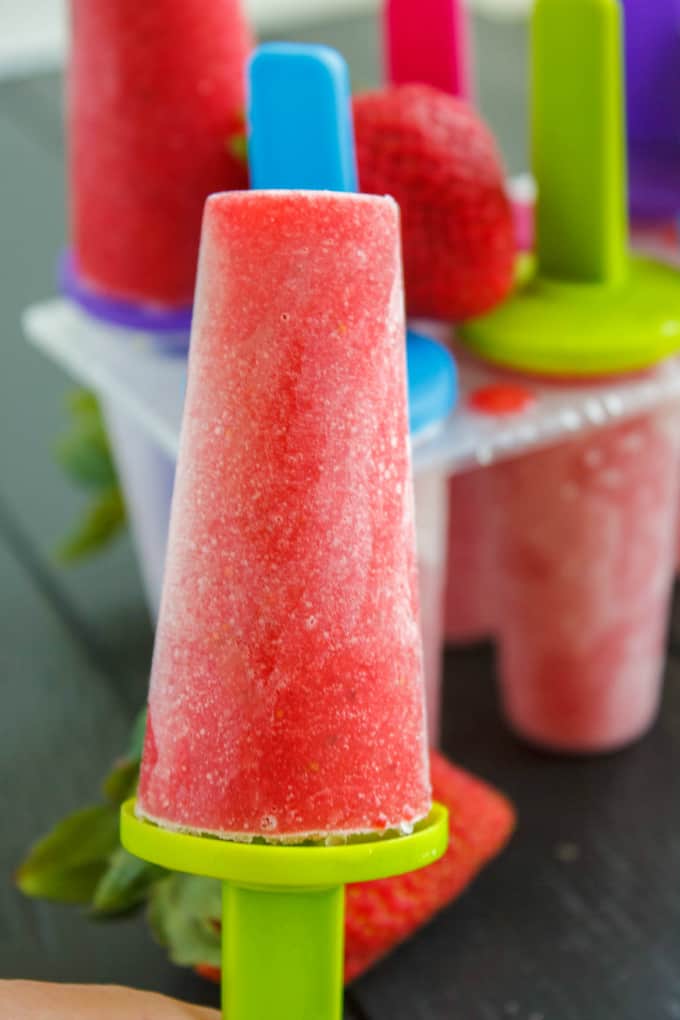 Last year I made these awesome watermelon popsicles that were featured on Buzzfeed. This year, instead of a watermelon abundance, I had way too many strawberries. To cope with this issue, I decided to make some strawberry popsicles. However, after some research (and actually eating one) I am beginning to think these are more along the lines of strawberry sorbet popsicles. I wanted to call them thick popsicles, but that sounded weird... But they are thick. I mean, when I bit into one, it was so soft and yet not your traditional popsicle, and I loved it! I figured it was the fresh fruit that made the popsicles so thick, but whatever it is, they are delicious!

Truth time: I did not know the differences between sorbets, sherbets, and gelatos so I had to look those up online. That's where I got the idea to name these strawberry sorbet popsicles. Sorbets are usually non-dairy "ice creams." They also use simple syrups so that worked perfectly with my naming process. Now I have the urge to make an actual sorbet, but for now, these strawberry sorbet popsicles are the perfect individual servings.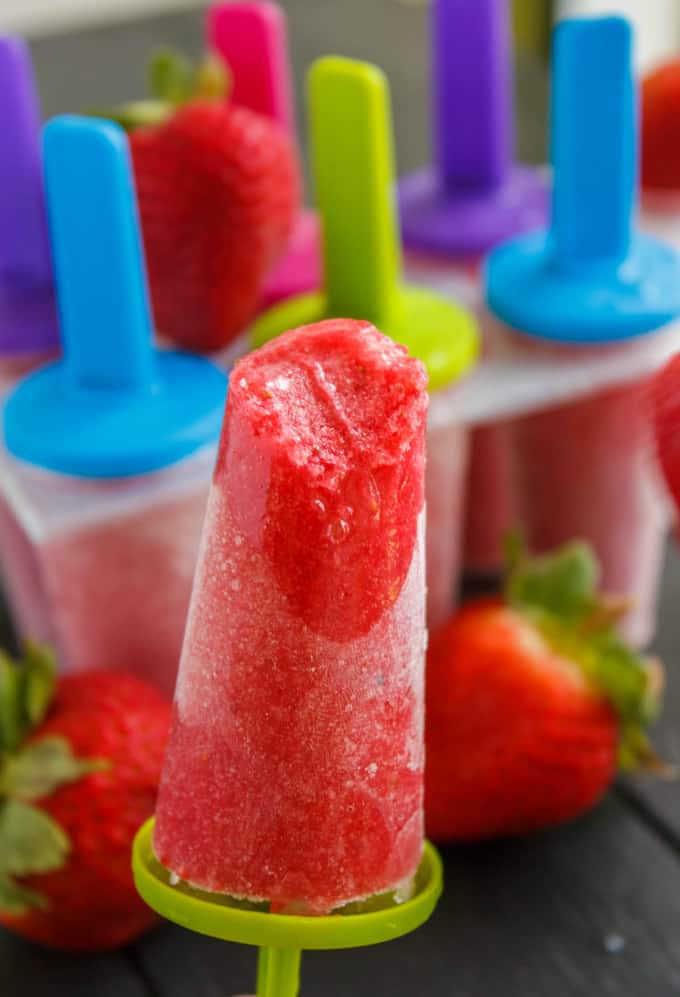 📖 Recipe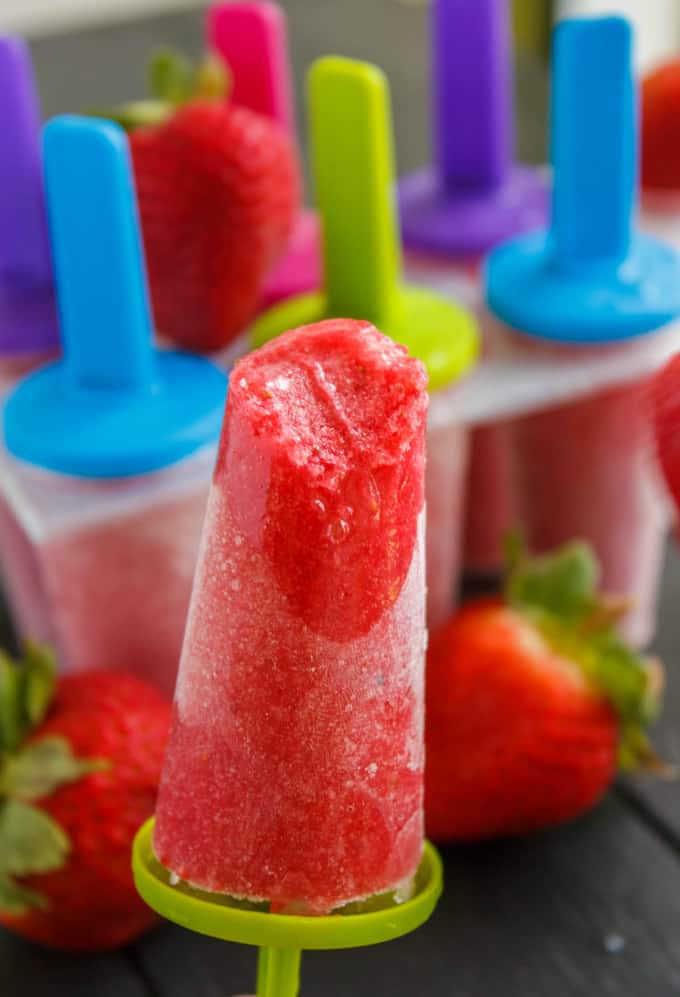 Strawberry Sorbet Popsicles
Homemade popsicles just got awesome! Strawberry sorbet popsicles are thicker than traditional popsicles, but packed full of the same awesome flavor!
Ingredients
½ lb strawberries, cleaned and tops removed
Squeeze of fresh lime juice
¼ - ½ cup simple syrup (based on your sweetness!)
Pinch of salt
Instructions
In a food processor, add the strawberries, pinch of salt, and a squeeze of lime juice. Puree until smooth. Add simple syrup and combine.
Pour the liquid evenly into each of your popsicle molds. I made exactly 8 in mine, but every mold is different! Place your ends in and pop into freezer.
*Simple syrup is made by mixing equal parts of water and granulated sugar and heating until all the sugar dissolves!
**Dipping these popsicles in melted chocolate sounds pretty awesome...
Nutrition Information:
Yield:

8
Serving Size:

1
Amount Per Serving:
Calories:

20
Total Fat:

0g
Saturated Fat:

0g
Trans Fat:

0g
Unsaturated Fat:

0g
Cholesterol:

0mg
Sodium:

17mg
Carbohydrates:

5g
Fiber:

1g
Sugar:

4g
Protein:

0g
It is so strange, but now that I think about it, I literally only make one popsicle recipe a year... Hmmm, I guess I have to change that! My daughter enjoyed these but I find she still prefers the store-bought (is she even my child?!!) I do try and keep the sugar content low, so maybe I am not satisfying her sweet tooth! She just likes to give me attitude and be difficult!
On a final note, the strawberries can be replaced with any of your favorite fruits. Strawberry and banana would be nice for those who crave that combo. I am more of an ice cream lover (bet you cannot tell with those ice cream recipes I have on my blog...) I am seriously considering making these strawberry sorbet popsicles again and dipping them in melted chocolate... OMG, how good does that sound?! Don't be surprised if you see that recipe soon!