Another recipe late to the party, but I know it was worth it!
Ready for it?!
S'mores cheesecake...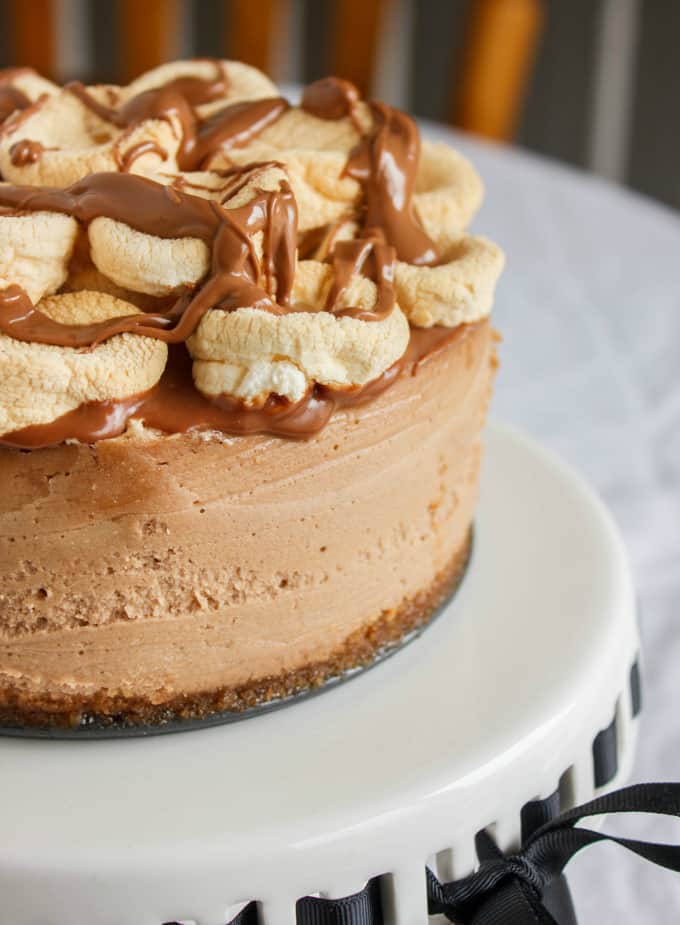 That's right, I did it! And no butane torch either (I really need to invest.) I absolutely loved creating this recipe. Something about making cheesecakes is in my blood. Eating them, not so much (but hey, I am my sister and brother both do not eat it either!)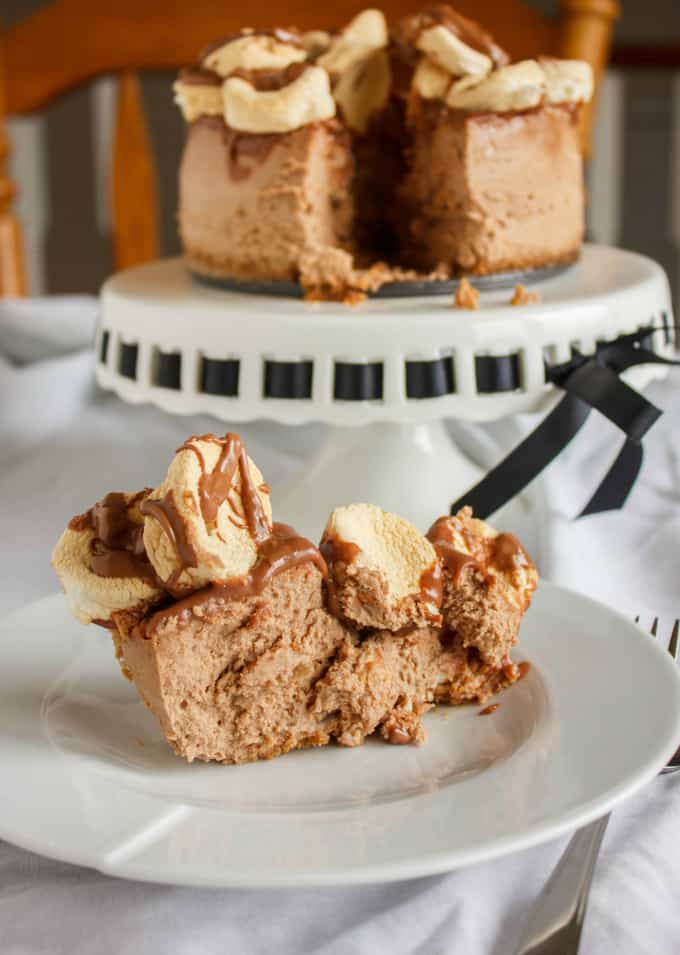 I had just bought a 6-inch springform pan and wanted to make a cheesecake in it. All my other cheesecakes have been made in 9 or 10-inch pans and they make a ton! Waaaaay too much, and obviously a lot more ingredients. With the 6-inch pan I wanted to experiment with the ingredients to make a smaller cheesecake, but also a different type of cheesecake than all my other creations. That's when I thought about s'mores. This s'mores cheesecake is really easy to make (I guess if you are familiar with making cheesecakes, but I have never had any issues!) I even provide you with details on how to toast those marshmallows without using a butane torch (which many do not own.)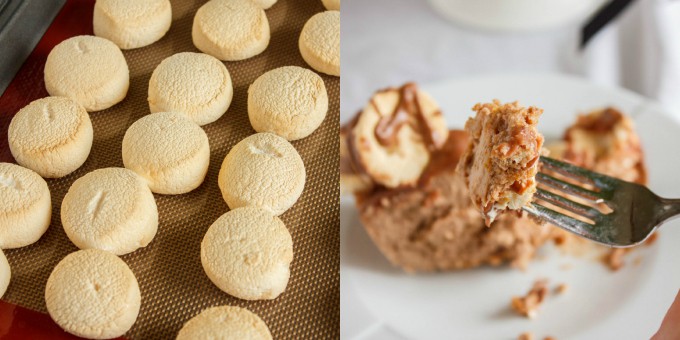 Let's get to it! This recipe can be made gluten-free by omitting the graham cracker crust. I believe marshmallows can be gluten-free as long as you look for the correct product. I have been meaning to make vegetarian marshmallows for sometime, so one day I will make a vegetarian s'mores cheesecake (not for myself of course!) I love that this idea of s'mores is brought to you in cheesecake form. S'mores can be so messy, but are a fun summer treat. Now you can enjoy s'mores without the mess (and satisfy that cheesecake craving!)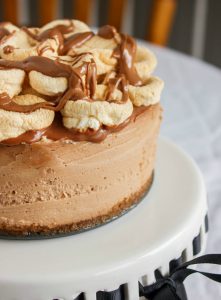 S'mores Cheesecake (6-inch pan)
Total Time:
2 hours
30 minutes
No butane torch needed for this homemade s'mores cheesecake! Lush and creamy, you will never have no-bake cheesecake again!
Ingredients
3 eggs, room temperature
1 cup sour cream, room temperature
500 g cream cheese, room temperature
¼ cup butter, room temperature
½ cup granulated sugar
1 tbsp. cornstarch
1 tsp. vanilla
2 (45 g each) Jersey Milk chocolate bars, melted
1 tbsp. unsweetened cocoa powder
Filling:
1 cup marshmallows
1 tbsp, butter
¼ tsp. vanilla
Crust:
½ cup crushed graham crackers
1 tbsp. brown sugar
¼ cup butter, melted
Ganache:
¼ cup heavy whipping cream
¼ cup chocolate
Salt
12 marshmallows, sliced in half
Instructions
You can make the crust in advance.
Crush your graham crackers until they resemble fine crumbs. Mix in sugar and butter, stirring until combined. Press crust into the bottom of your 6" springform pan. Bake at 350F for 8-10 minutes. Remove from oven and allow to cool.
Grease the sides of your 6" springform pan with butter (don't worry about the bottom part.) Wrap a couple of layers of aluminum foil around the outside of the bottom of the pan (and about half way up the sides of the pan.) Do not skip this part! Have available another pan that is big enough to hold your 6" springform.
Preheat oven to 300F.
Add the eggs and sour cream into a large bowl and beat well with a hand mixer. In another bowl, add in the cream cheese and butter. Mix with your hand mixer until smooth (no lumps.) Pour this mixture into the sour cream mixture. Pour in melted chocolate and beat again until combined and smooth.
Add in the sugar, cocoa powder, cornstarch, and vanilla. Beat until combined, about 2 minutes (you want a nice, soft batter, but you don't want to over-mix either.) Pour half the mixture over your crust and shake/jiggle the tray for a smooth layer.
In a large pan, melt 1 tbsp. of butter over medium heat Stir in marshmallows and allow to melt completely. Remove from heat and stir in vanilla. Pour on top of cheesecake batter in pan. Smooth the best you can (will be sticky!!) Pour the remaining cheesecake batter on top (I had a bit extra, so do not fret. Leave about a inch of room or so from the top.)
Place into the larger pan. Fill the larger pan up with hot tap water, just about halfway up the springform pan. Place into oven and bake for 1 hour and 30 minutes, or until lightly brown (note: start checking the cheesecake around the 1 hour mark.)
Remove the pan from the oven and transfer the cheesecake out of the water and onto a cooling rack. Leave the aluminum foil on for the first 20 minutes to half an hour. Then remove the foil and continue to cool completely. Cover and refrigerate overnight preferably.
To create the topping preheat oven to 375F. Line baking sheet with silicone mat. Arrange marshmallow halves onto sheet, cut side down. Bake to 5-8 minutes, or until nice and golden. Allow to cool while making the ganache.
To make the ganache, bring heavy whipping cream and salt to a light simmer. Remove from heat and pour over chocolate that is sitting in a heat-proof bowl. DO NOT TOUCH. Allow to sit for about 10 minutes and then stir. When the consistency is somewhat thicker, pour a bit over your cheesecake top. Stack marshmallows on top and drizzle with remaining chocolate.
Chill and serve!
**You do not have to put the marshmallow filling in the middle of the cheesecake: this would probably eliminate any waste of batter.
***If you do not have enough ganache to drizzle on top of the marshmallows, just melt a chocolate bar and drizzle that.
Nutrition Information:
Yield:

10
Serving Size:

1
Amount Per Serving:
Calories:

501
Total Fat:

38g
Saturated Fat:

22g
Trans Fat:

1g
Unsaturated Fat:

12g
Cholesterol:

156mg
Sodium:

363mg
Carbohydrates:

35g
Fiber:

1g
Sugar:

26g
Protein:

7g
I love making cheesecakes! They are so much fun! And I personally think that baked cheesecakes taste way better than no-bake cheesecakes. However, I know everyone does not have the equipment or time for baked cheesecakes, so I am going to start investing time into no-bake cheesecakes. We all have to admit when the hot summer comes, no one wants to be running the oven in their house... Okay, maybe just me!
Also check out: