Strawberry season is never a bad thing and we are getting a head start here with these easy strawberry squares for Easter!
Remember when I said I was really behind on posts? Let me tell you, today's post is a recipe all the way back from Easter dinner...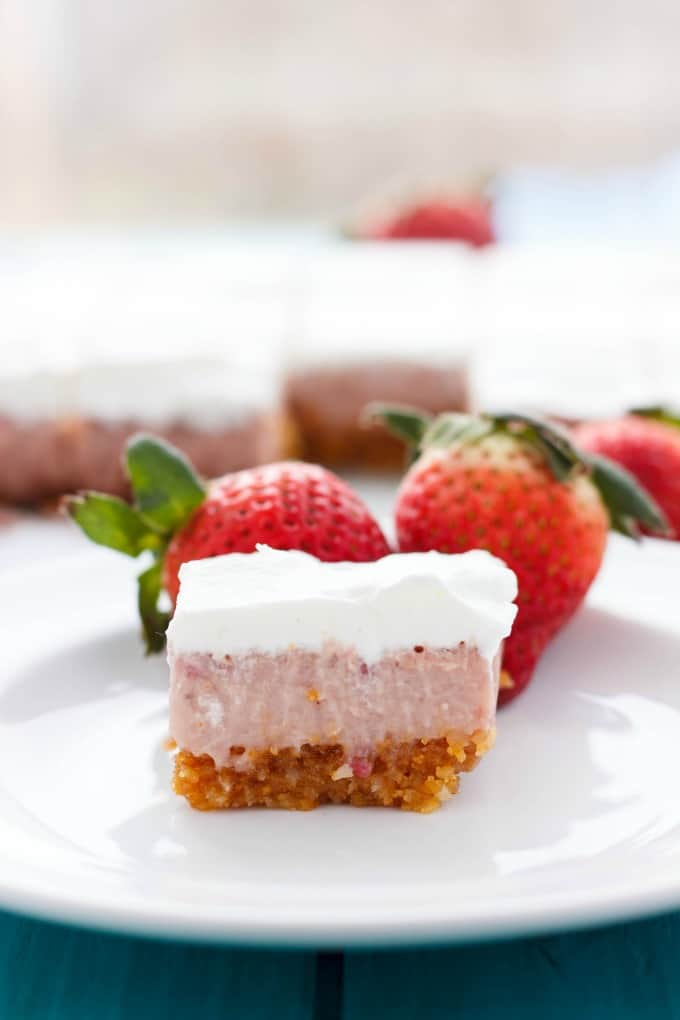 Sooooo long ago! I did not forget about these easy strawberry squares. If anything, I kept telling myself to post them but I kept writing up others. Well, no more worries, they are here to stay!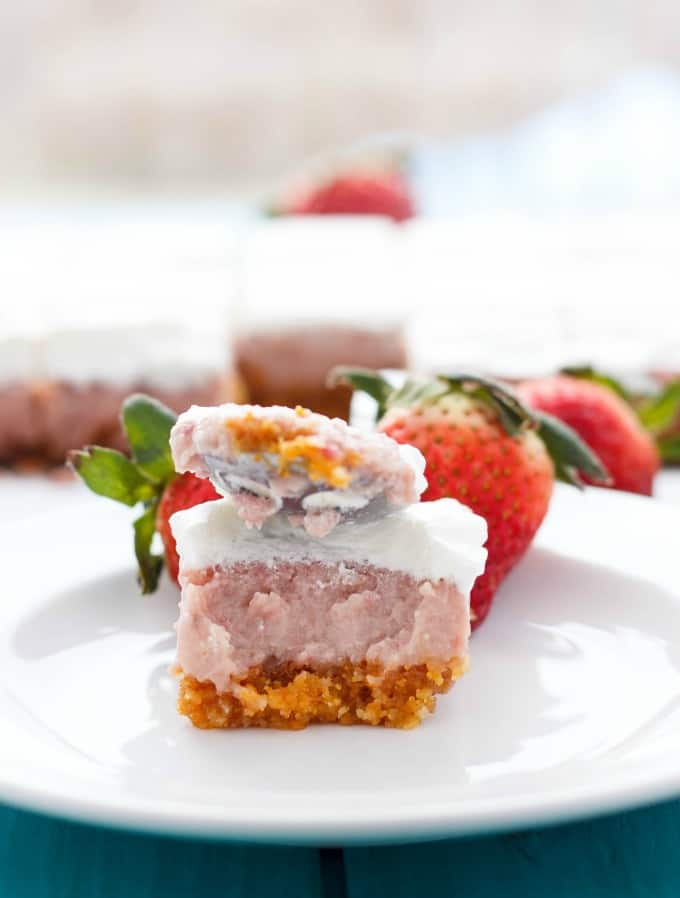 We visited my grandmother for Easter at my Aunt and Uncle's house. I brought these easy strawberry squares for dessert! The original recipe was actually for lime squares, but I surprisingly had no limes on hand. I did, however, have a lot of strawberries that needed to be used up. I took the chance and it worked out perfectly! Everyone loved them and even my sister enjoyed the dessert (she is not a big pie/pastry eater.) My dad commented how good they were and I immediately jumped on that stating "I was the best and of course my food is perfect." He proceeded to tell me I took it too far and that is why he does not complement me, haha. My husband has already stated I am quite modest.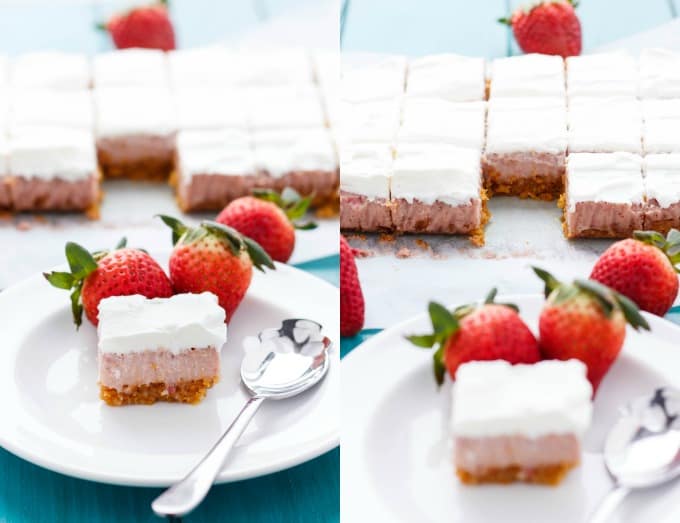 I really loved the flavor in this dessert. However, as you cannot see with the new photos, the strawberries kind of caused a weird appearance on top of the dessert. No problem, I hid that with some homemade whipped cream. Whipped cream makes everything better, muahaha. After adding the whipped cream to these easy strawberry squares, I saw an immediate difference in presentation and fell in love! Then proceeded to eat a piece before going over for dinner...
📖 Recipe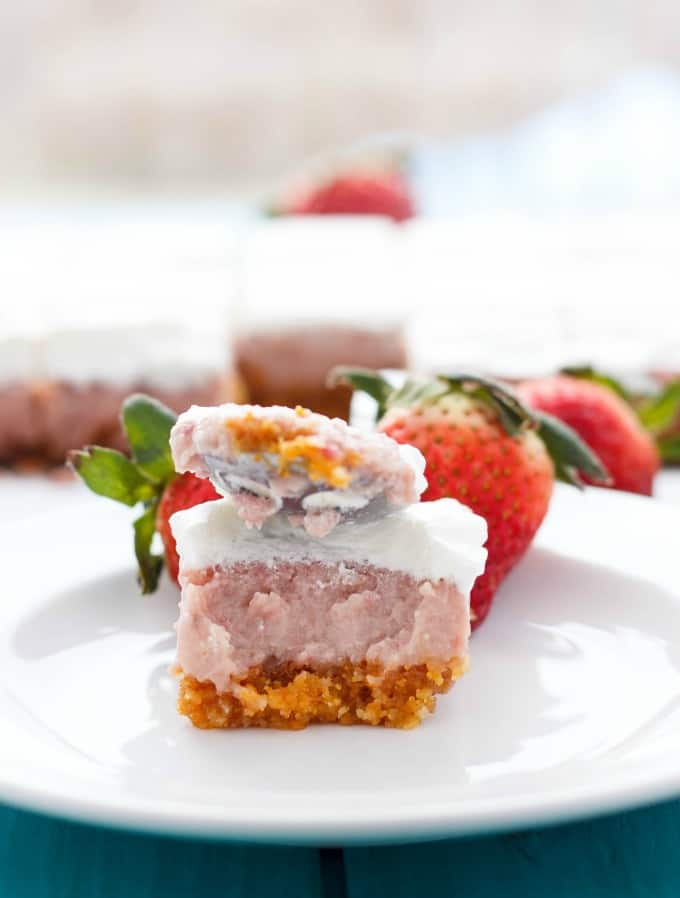 Easy Strawberry Squares
The perfect dessert for Easter, or you can wait until that nice summer heat hits!
Instructions
Homemade Coconut Flour
Pour a heaping ¾ cup of unsweetened, shredded coconut into a food processor. Process until the coconut resembles flour (it will not be super powdery, but it definitely will be fine in texture.)
Crust
Preheat oven to 350F. Grease a 10x6 inch pan (mine is a 1-quart pan but a square pan should work, too!) with butter and line with parchment paper.
Using a pastry blender or food processor, combine coconut flour, crumbs, sugar, zest, and salt. Add in the butter, vanilla, and mix until it all comes together. Press into the bottom of the pan evenly (you can also press up the sides of pan if you have enough room.) Bake for 10-12 minutes, or until lightly browned. Allow crust to cool.
Filling
While crust is cooling, whisk the egg yolks until paler in color. Add in milk, vanilla, lemon juice, and freshly pureed strawberries. Mix well. Pour filling into crust and bake for 15-20 minutes, or until set (if will kind of look jiggly but not overly so.)
Cool on wire rack and chill in refrigerator until ready to serve.
Whip up heavy whipping cream until soft peaks form. Add in sugar if using. Whip until stiff peaks form. If just using store-bought whipped cream, smooth over top of strawberry layer. Slice into squares and serve!
Nutrition Information:
Yield:

16
Serving Size:

1
Amount Per Serving:
Calories:

139
Total Fat:

8g
Saturated Fat:

5g
Trans Fat:

0g
Unsaturated Fat:

3g
Cholesterol:

52mg
Sodium:

73mg
Carbohydrates:

13g
Fiber:

1g
Sugar:

8g
Protein:

3g
Let's talk about the homemade coconut flour. I have worked with this flour many times and love it. However, it is different from other flours (and even store-bought coconut flour.) It does get very fine in texture, but never fluffy like other flours. I am telling you this because if you decide to use a different type of flour, you will have to watch the ratios. I would try ½ cup of flour and see if you need to add more from there. Personally, homemade coconut flour is one of my favorites. So easy to make and it adds coconut flavor when not masked by other heavy additives. My sister had no idea what the crust was made of but she liked it.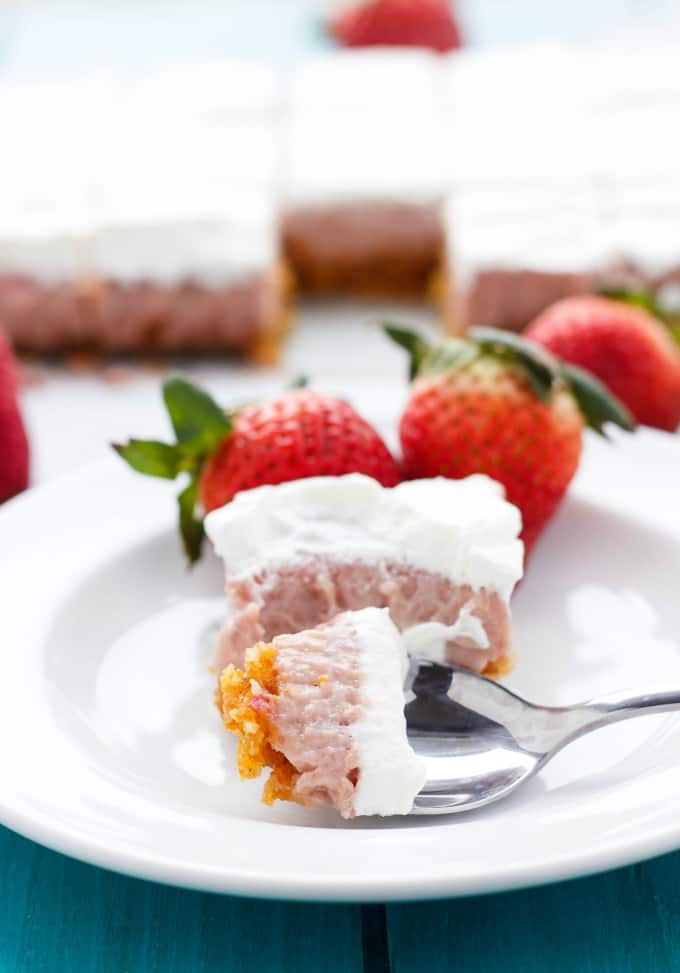 Lastly, I only had grapefruit on hand so I used the zest from it in my crust. However, feel free to use any fruit here. I love grapefruit and want people to love it as well so I keep promoting it. I completely understand why people do not care for it though!
Love these easy strawberry squares?! Try some of these recipes: