These pecan and lemon bars make a wonderful dessert for spring and are packed full of that lemon zip!
You know what I have always loved? Sour candies! Anything sour, really. Sometimes I will eat so much of it my tongue gets raw. I know, too much information, but just trying to explain my love for all things sour!
In my childhood I would always eat the lemon slice that came with my drink. Now I see my daughter do the same. I love the face she makes but she keeps going back for more! I knew when making today's pecan and lemon bars I wanted something with a bit of bite, and I got exactly that!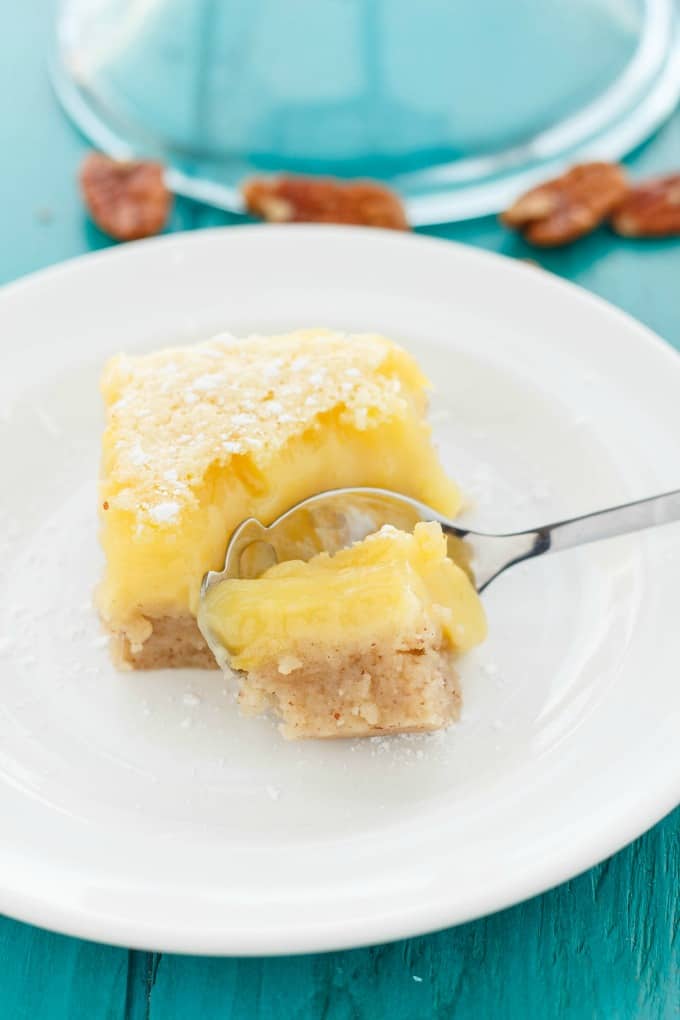 When I have any lemon dessert, I expect a bit of punch. My husband bit into one of these and was floored with the lemon taste. He said it was a bit sour but he loved it. I had a hard time sharing these pecan and lemon bars, but knew it would be unwise to eat them all. I will be making them again, and soon!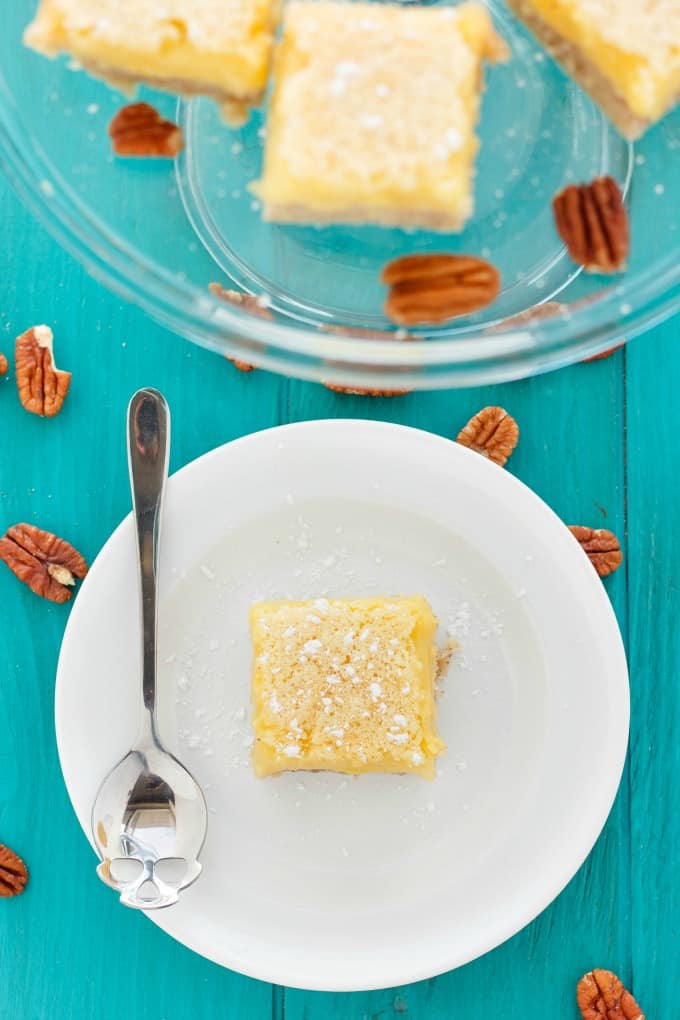 For now though, I will just tell you my story of how they came to be. I accidentally bought a bunch of lemons thinking I had none at home. That was not the case. Now I had too many lemons (is that possible?!) I made some lemon recipes but still had quite a bit leftover. It then dawned on me that I had never made lemon bars before! I know! I have deprived myself of so many things. I found a recipe at Rock Recipes that sounded really good, but I wanted my own spin on it. I was going through the cupboards and found a tiny handful of pecans I had left. Pecan and lemon bars were born! Of course, the end appearance is not what I had in mind, but they tasted AMAZING. Personally, I wanted to use ground almonds in the recipe but all my almonds were gone. Don't worry, I will totally make these again with almonds!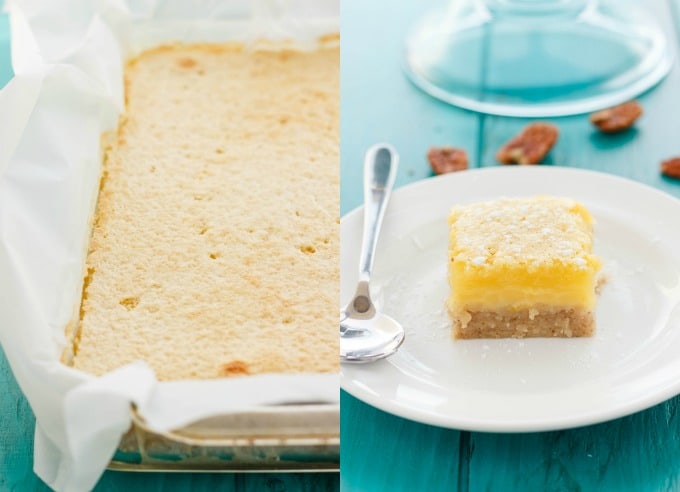 I placed the ground pecans on top of the shortbread after it had cooked. I was hoping when I poured the lemon mixture on top of the pecans, the pecans would remain between the shortbread and lemon filling. That was not the case. Maybe this is why I did poorly in science class... Perhaps next time I will bake the pecans right into the shortbread, but otherwise, some confectioners' sugar hides the pecans (though they added nice flavor!) Feel free to omit altogether if there are concerns of allergies. So I have remade these and just incorporated the pecans right into the shortbread! So much easier and they taste divine!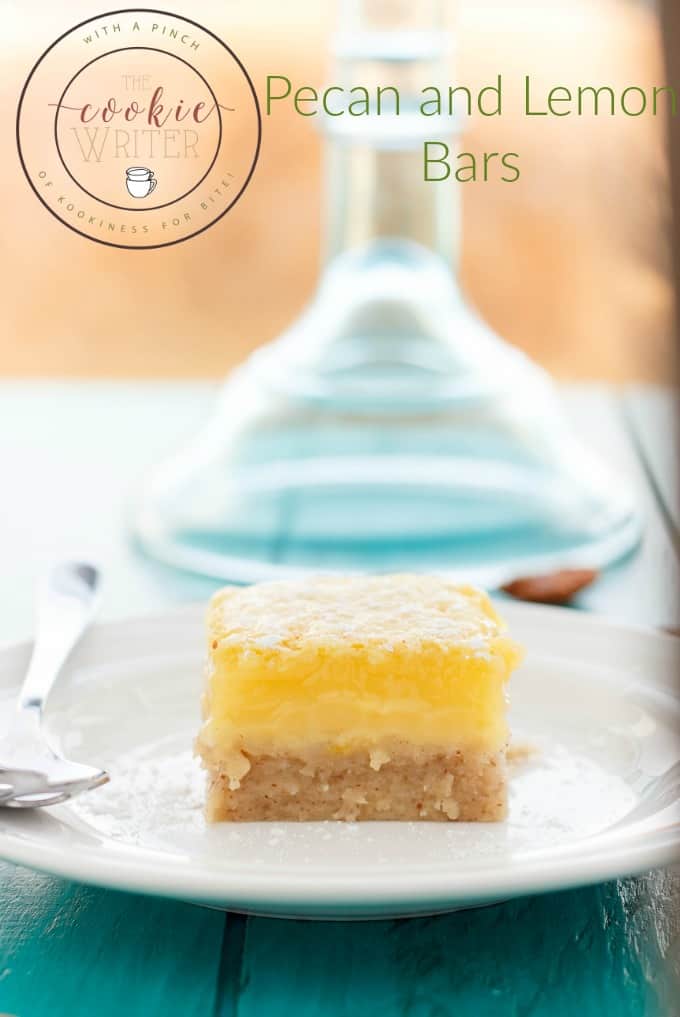 Pecan and Lemon Bars
A spin on a classic, these pecan and lemon bars are easy to make and pack a punch. Plus, who does not like some pecans in their dessert!
Ingredients
Shortbread
1 cup butter, cold and cubed
⅓ cup granulated sugar
2 cups all-purpose flour
½ cup pecans, ground fine
¼ tsp. almond extract
Filling
1 cup granulated sugar
¼ cup brown sugar
4 large eggs, room temperature
¼ cup all-purpose flour
Salt
2 tbsp. lemon zest
¾ cup freshly squeezed lemon juice
⅛ tsp. almond extract
Topping
Confectioners' sugar for dusting
Instructions
Preheat oven to 350F. Grease a 10x6 pan (mine was a 1-quart dish) with butter and line with parchment paper.
Crust
Combine butter, sugar, flour, ground pecans, and extract in a food processor and process until pea-sized bits of dough form. Press into the pan and form an even layer. Bake for 20 minutes, or until crust is beginning to brown. Remove from oven and set aside.
Filling
While the pastry cooks, whisk together the sugars, eggs, flour, salt, lemon juice, zest, and extract. Allow to sit for about 10 minutes. Whisk the lemon mixture again and pour over the shortbread. Place into oven and bake for 20-25 minutes, or until filling is set.
Cool. Remove from pan and slice. Topping with confectioners' sugar if desired!
Nutrition Information:
Yield:

8
Serving Size:

1
Amount Per Serving:
Calories:

626
Total Fat:

30g
Saturated Fat:

16g
Trans Fat:

1g
Unsaturated Fat:

12g
Cholesterol:

154mg
Sodium:

299mg
Carbohydrates:

83g
Fiber:

2g
Sugar:

54g
Protein:

8g
I cannot express how easy this recipe is! The most difficult and time consuming part was juicing the lemons. I also have a tendency to forget to zest my lemons before juicing them. Sigh.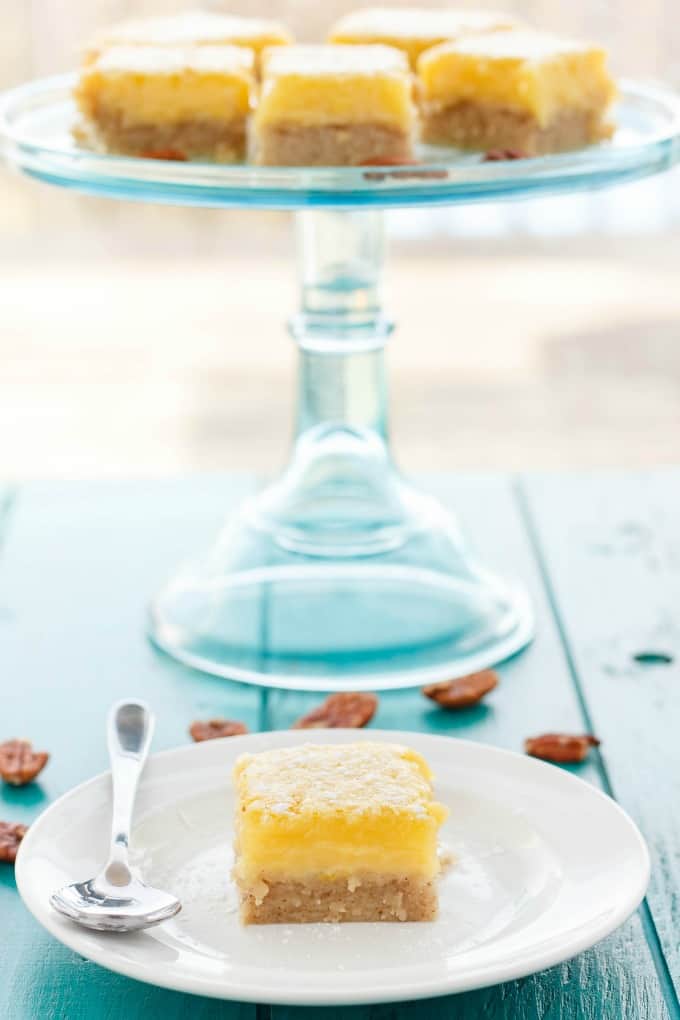 As I said above, these pecan and lemon bars do have some bite to them so maybe one tablespoon of zest would work for people who do not like sour things. I cannot get enough lemon flavor! I actually made lemon curd with the remaining lemons and plan to post that some time next week (and I made sure it was sour!) Summer is so close, all I can think about is lemons and homemade lemonade!