Last week I posted my Reese's Peanut Butter Brownies and mentioned I had a vegan recipe hanging around. I held to my promise and present to you my vegan chocolate brownies!
Now, I know many people do not like fancy ingredients when baking, but let me assure you, these vegan chocolate brownies contain nothing crazy. Making flax-eggs are SUPER easy. Really, really easy. I buy my flaxseed from my local Bulk Barn and grind it into a powder myself, however, you can buy it pre-ground. I do it myself because whole flaxseeds last a lot longer than ground flaxseed. There are other egg-alternatives out there, but this is the one I am most familiar with. I have heard the same great results making chia seed-eggs, but I have yet to try those (plus chia seeds are way more expensive than flaxseeds!)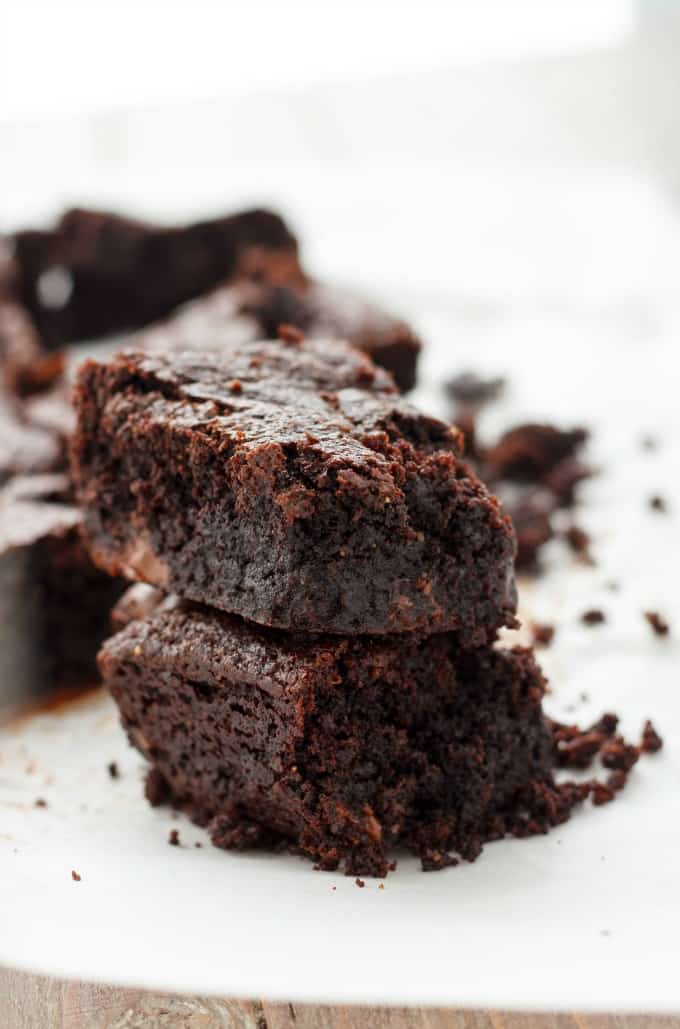 Okay, so how do you make flax-eggs? I really should make a tutorial on it, however, you can see some photos and steps in my previous vegan chocolate chip cookies post. You are mixing 1 tbsp. ground flax with 3 tbsp. water. Combine and allow to sit for 10-15 minutes until it looks almost gelatinous. Bam, you have one flax-egg! My only problem is not thinking ahead of time to making the flax-egg and then having to busy myself doing other things while the mixture thickens.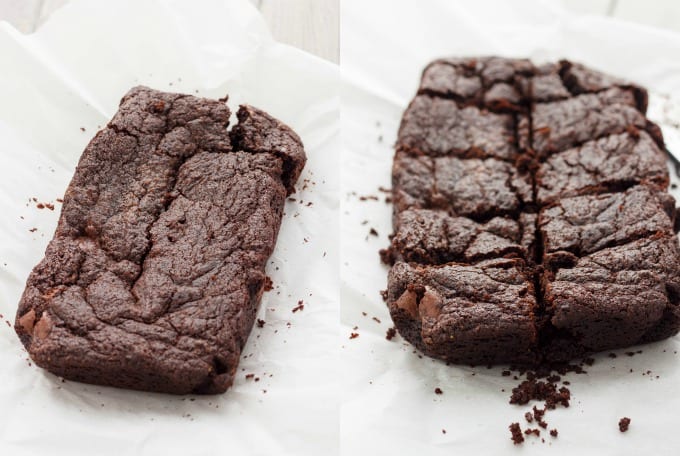 Another ingredient I used in this recipe is coconut oil. I absolutely love the stuff and use it even in my non-vegan recipes! I find it adds a nice amount of moisture to a recipe without being overbearing. Some people say they can taste the coconut flavor in my desserts, but I have a hard time finding it especially when it is in chocolate desserts. These vegan chocolate brownies needed a bit extra cooking time, but otherwise they were soft and moist, even days later! I know brownies are suppose to be firmer, but I like mine almost cake-like in texture, so I tend to always microwave my room-temperature brownies!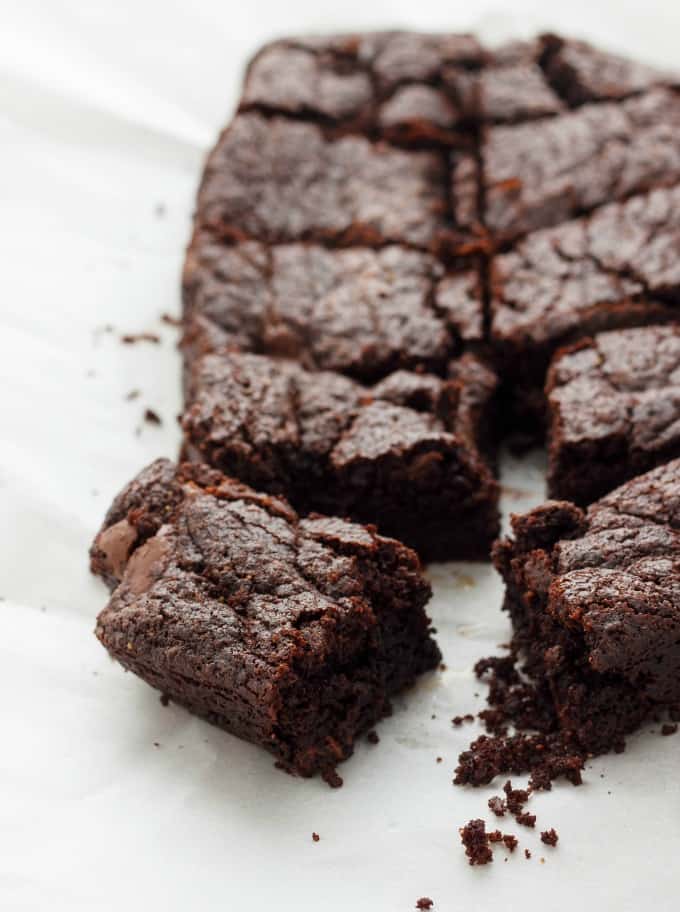 📖 Recipe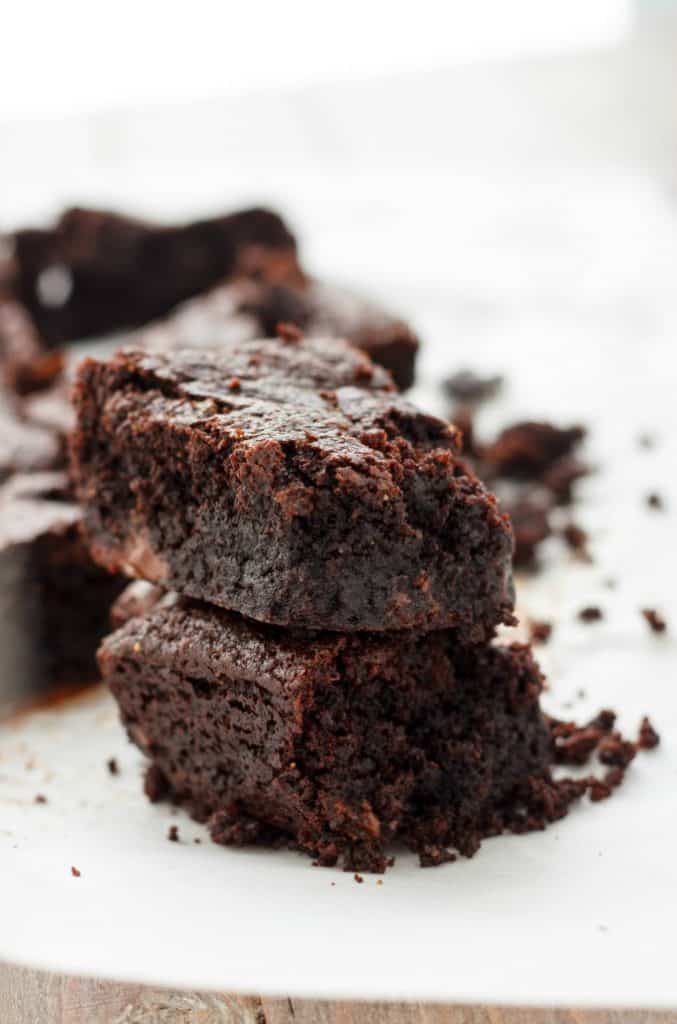 Vegan Chocolate Brownies
You can use any size pan you like, but just remember to watch your cooking time!
Ingredients
½ cup coconut oil, melted
½ cup unsweetened cocoa powder
½ cup granulated sugar
¼ cup brown sugar (I accidentally omitted this the second time around and the recipe was still fantastic!)
2 flax-eggs
¼ tsp. baking soda
1 tsp. vanilla
Pinch of salt
½ cup all-purpose flour
⅛ cup peanut butter
½ cup chocolate chips (or carob chips.)
Instructions
In a medium-size mixing bowl, mix together the coconut oil and cocoa powder. Add sugars and mix. Add flax-eggs and mix until well combined. Stir in vanilla and peanut butter. Sift together the salt, flour, and baking soda. Mix into the wet ingredients until just combined. Stir in the chocolate chips.
Preheat oven to 350F. Grease a 9x5 inch pan (mine is about 2 inches deep) and line with parchment paper (makes for easier removal.) Pour the batter into the pan and place into oven and bake for 40-45 minutes (I like mine under-cooked a bit, but for a firmer texture, cook until toothpick comes out clean.) Allow to cool completely before cooking!
Sprinkle with confectioners' sugar or melted peanut butter!
Nutrition Information:
Yield:

6
Serving Size:

1
Amount Per Serving:
Calories:

453
Total Fat:

28g
Saturated Fat:

18g
Trans Fat:

0g
Unsaturated Fat:

6g
Cholesterol:

31mg
Sodium:

116mg
Carbohydrates:

48g
Fiber:

4g
Sugar:

32g
Protein:

6g
(Here are my
non-vegan brownies!
)
I added the peanut butter for extra protein, but it can easily be omitted. In that case, keep an eye on your cooking time as it should take a few minutes less. Or you could always use another butter such as almond or cashew! The possibilities are endless!
So there we have it, another reason turned vegan. You don't have to be vegan to enjoy these brownies, and I bet your guests will not even know they are vegan! However, just because they are vegan does not mean they are healthy, haha.