I am sooooo excited to share this cake with you today, I am surprised I have held off this long!
While I do not sell cakes professionally (too much stress!) I do love making them and I knew I wanted to make something girly, but different, for my cousin's 13th birthday. Pink was the color choice, obviously, but I needed something more. Her mother is kind of crazy when it comes to things, so I figured a zebra pattern on the inside of the cake would please the pair (and I had been dying to try the technique!)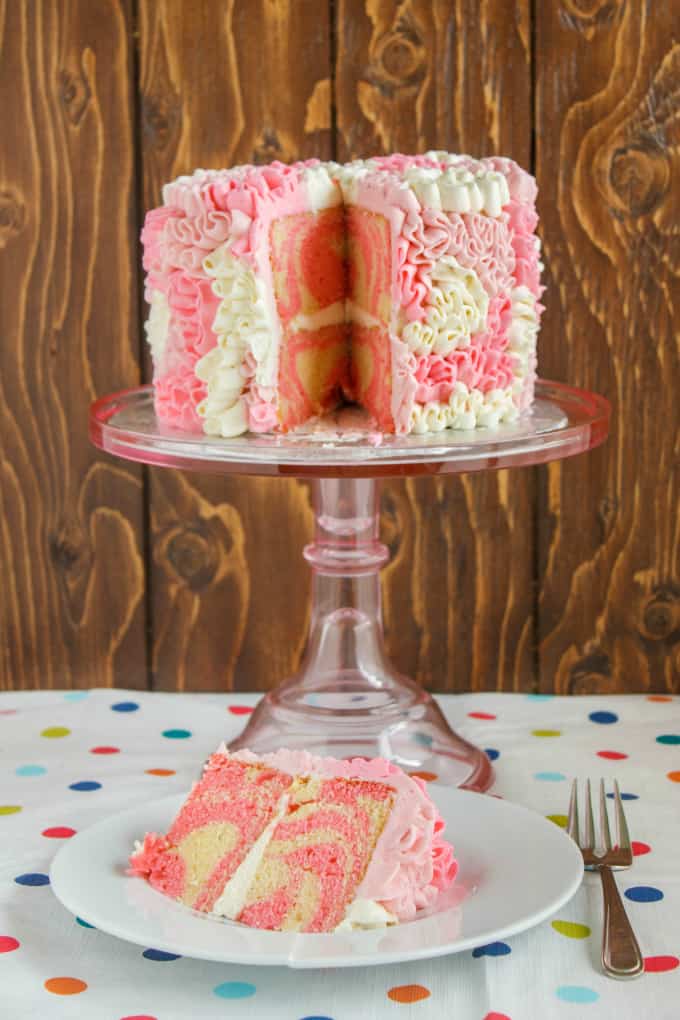 Welcome to my zebra cake with messy ruffles! Ahhh, so happy I can finally share this with you guys! I shared some pictures on my personal Facebook, but held off anywhere else. My sister teased me that I cut into the birthday girl's cake to take a picture, but hey, she was getting free cake so no complaints!
Now, coming up with the design idea for this zebra cake with messy ruffles was kind of a journey. I knew I wanted those zebra stripes. I did not want to go with black stripes because it would be too harsh against pink icing. I knew the icing had to be pink, but how was I suppose to decorate the cake so it paired perfectly with the inside?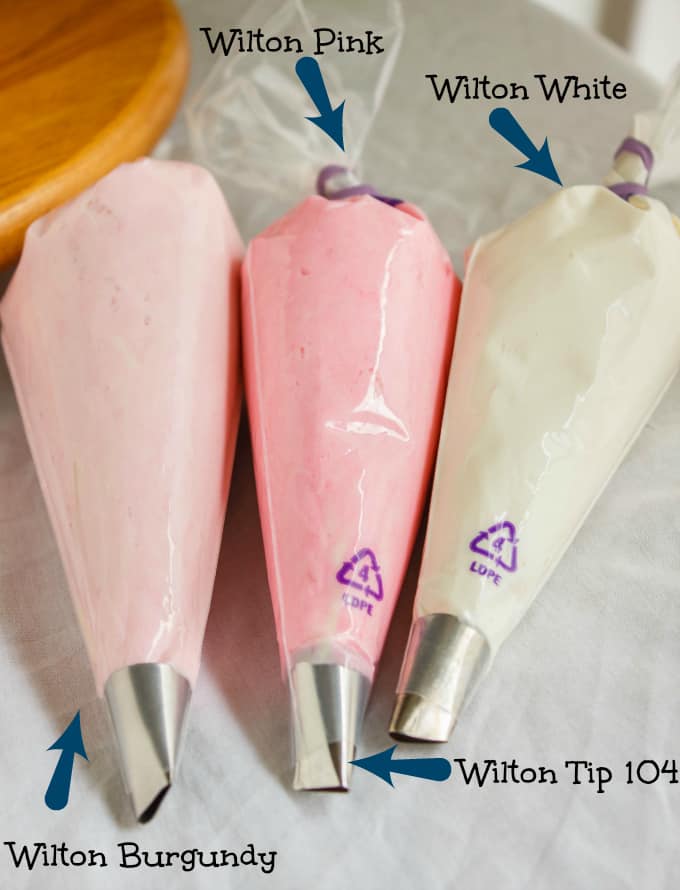 Then I remembered the tutorial I saw for messy ruffles. I have done ruffles in the past, but not like this. What I love about this technique is the "no thinking" aspect. Basically start piping and keep moving! Whenever I found myself thinking about the ruffles I would notice the icing did not look as pretty as my non-thinking spots. I know it sounds weird, but just do not think. Go with the flow and keep the arm moving. I wanted a pattern that mirrored the zebra pattern, so I colored my icing in three shades: white, bright pink, and a darker pink. The brighter pink was made with Wilton's Pink and the darker pink (my favorite by the way) was made with Wilton's Burgundy. I feel the burgundy shade does not get enough love, but when used in the correct manner, it creates the most awesome Victorian pink shade. I also colored my icing using Wilton's White food coloring to help hide the ivory color my butter adds to the icing.
I asked the birthday girl before the big day what her favorite cake type was and she mentioned vanilla. Not surprised. I worry about making vanilla cakes in advance because they dry out so easily. This recipe held up well, but I really prefer chocolate when it comes to cakes that need to be made ahead of time! My sister loves this vanilla cake recipe, and I have to say it does do very well after one day. I was going to create her a marble cake using chocolate and vanilla, but then we would not have the pink stripes! Instead, I separated the vanilla cake batter into two bowls and left one plain and colored the other pink.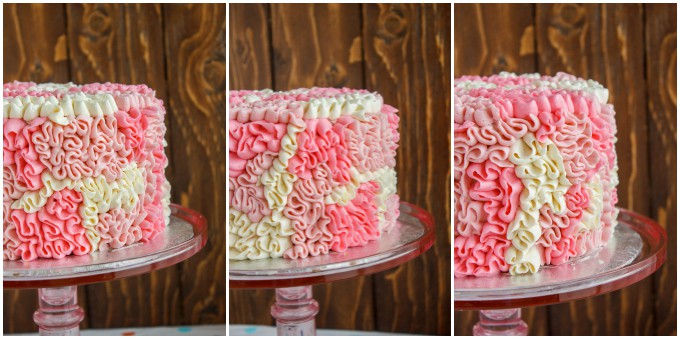 But what about the cool zebra pattern?!

I cannot take credit for that, but I saw an awesome tutorial and had to try it out. And it worked perfectly! You can see in the photo above that I basically spooned the batter in ¼ cup at a time. I started with the plain batter and poured it into the pan, followed by a scoop of the pink batter right on top of the previous batter. I continued until no batter remained. Now, this works soooo much better with a wetter batter, but my vanilla cake recipe is quite thick. Just tap the pan gently onto the table to get the batter to spread out (don't worry, the effect will still work even if you make a mistake!) Another "don't think too much about it" technique.

📖 Recipe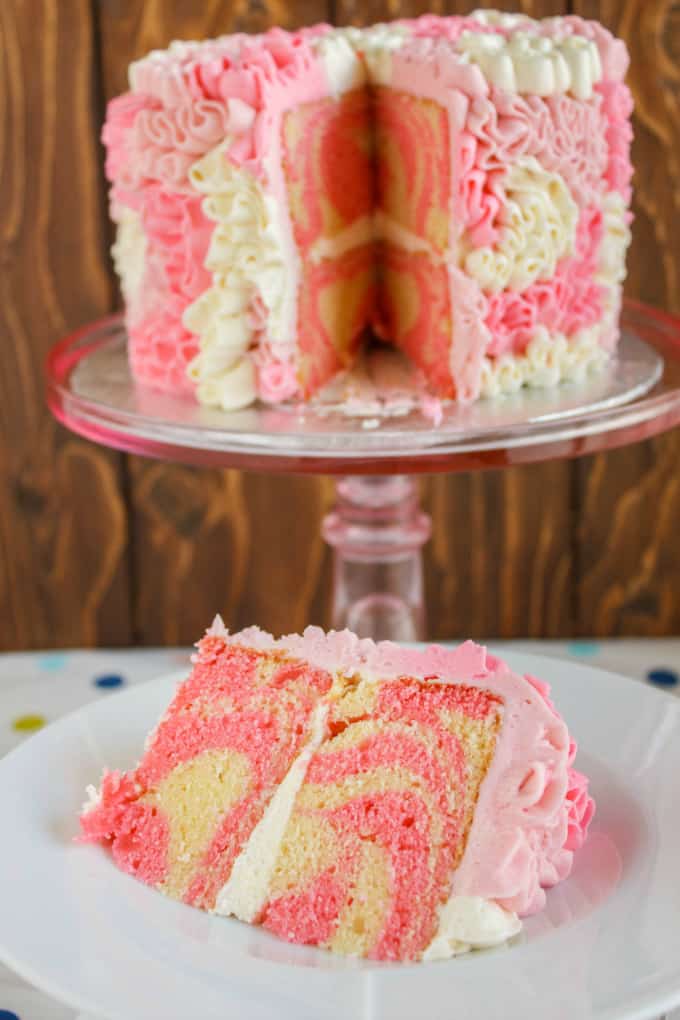 Zebra Cake with Messy Ruffles
Whether for a baby or teenager. this zebra cake with messy ruffles will wow all your guests (and they will not believe how easy it was to make!)
Ingredients
1 ½ cups cake and pastry flour
1 cup all-purpose flour
2 tsp. baking powder
¼ tsp. salt
1 cup butter, room temperature
1 ½ cups granulated sugar
4 eggs, room temperature
½ cup heavy whipping cream, room temperature
½ cup buttermilk, room temperature
2 tsp. vanilla
1 batch of vanilla buttercream (link below recipe!)
Instructions
In the bowl of a stand mixer, add the butter and sugar. Beat until light and fluffy, about 5 min. Beat in the eggs one at a time, making sure to combine well before adding the next. Add vanilla extract and mix well.
Sift together the flours, baking powder, and salt.
With the mixer on low, add in the flour mixture and milk mixture alternatively, always starting and ending with the dry ingredients. I usually work in ½ cup flour mixture and ⅛ to ¼ cup liquid alternatively. Mix until just combined.
Preheat the oven to 325F.
Grease two 6-inch round pans. Divide batter into two bowls, leaving one as is and tinting the other pink with food coloring (I used Wilton's Pink.) Starting with the uncolored batter, scoop ¼ cup batter into each pan. Next, scoop ¼ cup of pink batter on top of the previous ¼ cup batter, aiming right for the middle. Give the pan a little shake or tap to get the batter to spread. Continue until no batter remains.
Place into oven and bake for 30-35 minutes, or until toothpick comes out clean. Allow to cool for about 10 minutes and then flip cakes out onto cooling rack. Cool completely.
Separate your buttercream into three bowls. Tint one white, one light pink, and one dark pink. Place into piping bags with tip 104 attached. With the fat part of the tip touching the cake, begin creating random messy ruffles. Don't think! Just move! There is a link in the post to a video.
Cover entire cake with ruffles and serve!
Nutrition Information:
Yield:

12
Serving Size:

1
Amount Per Serving:
Calories:

521
Total Fat:

28g
Saturated Fat:

15g
Trans Fat:

1g
Unsaturated Fat:

11g
Cholesterol:

141mg
Sodium:

398mg
Carbohydrates:

62g
Fiber:

1g
Sugar:

40g
Protein:

6g
(Here is my recipe for
vanilla buttercream
)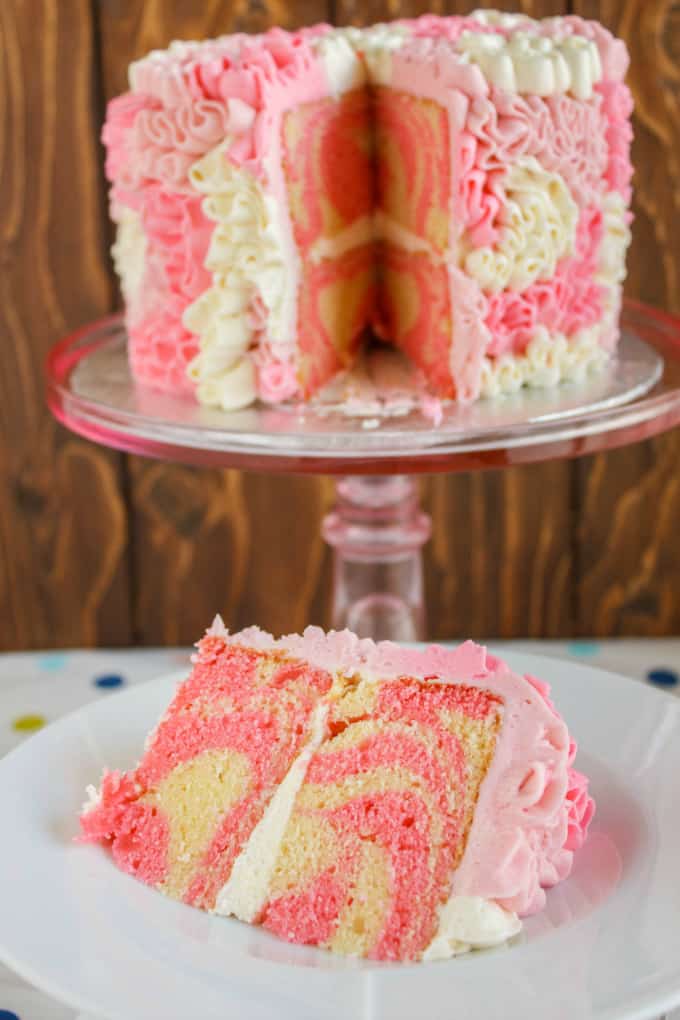 Once again, I cannot believe how nice this cake turned out! I am not even a fan of pink and extreme girliness (is that a word?!), but this cake is just so cute! It would work perfectly as a baby's first smash cake or just about any girly-girl. My daughter loved it, but she still demands more elaborate cakes (I am curious to what her 4 year birthday cake will be!) And please do not stress over this cake design, it is much easier than you think. I bet it could all be completed in one day but I find my hands cramp up with certain icing techniques, so splitting up the baking and decorating was a good call on my part.