Chocolate and peanut butter lovers beware, these Reese's peanut butter brownies are going to knock your socks off!
Oh, boy, do I have something dangerous and decadent today.
I am warning you now, chocolate lover's beware.
Sure you want to look?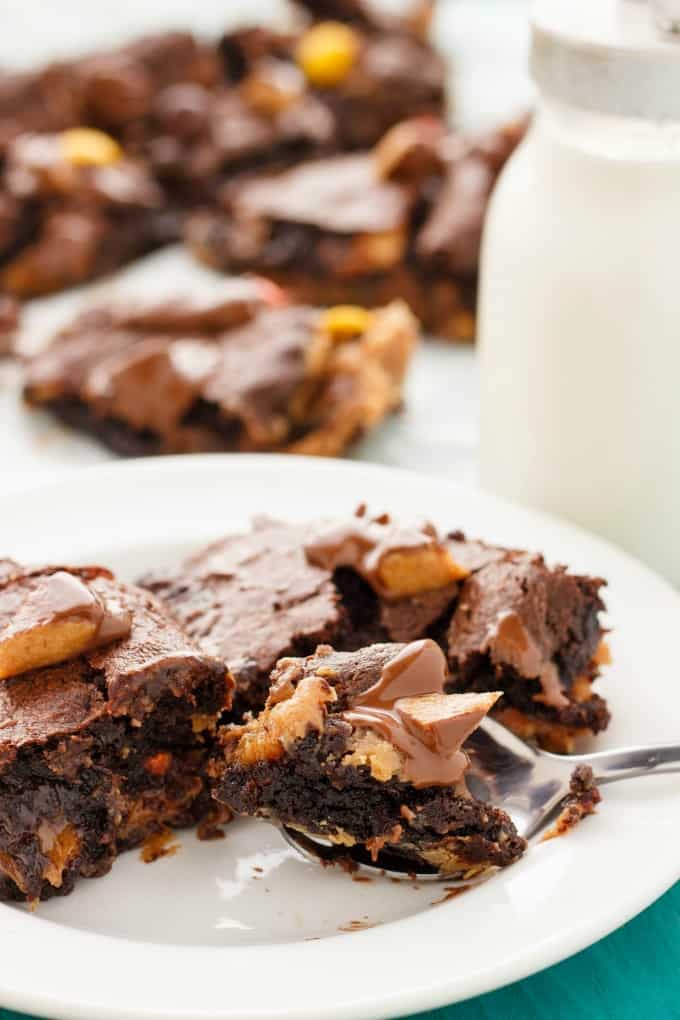 Okay, I had worked with this basic brownie recipe from Food.com years ago, and since then it is the only brownie recipe I use! So moist, rich, and tasty, I see no other reason to look around. Some people commented that the brownies were more cake-like than brownie-like, but I think that is based on the way you cook them. I prefer softer baked goods when it comes to brownies, so I deliberately under-cook mine. However, baking these fully should result in your typical brownie texture.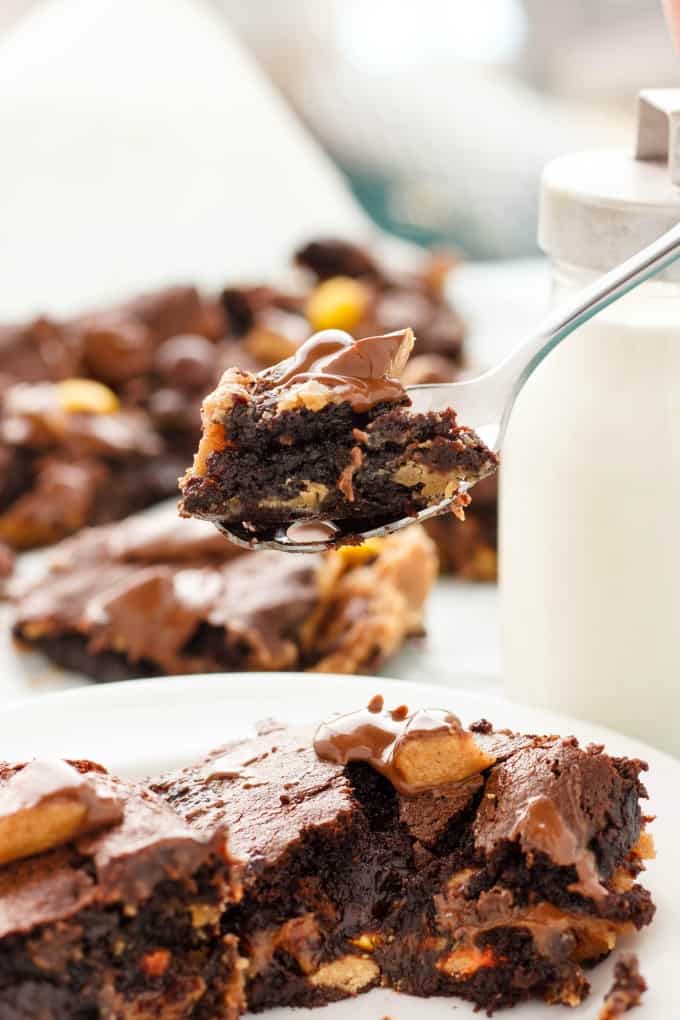 Now, as I said, I have worked with the basic brownie recipe for years but I wanted to switch it up. This is where my Reese's peanut butter brownies come from! Ahhh, I am drooling as I write this (gross, right?) So delicious, and a chocolate lover's dream come true! They reminded me of a giant Reese's peanut butter cup! Plus, being homemade, I found they resulted in a much gooier, chocolaty texture. A win in my books!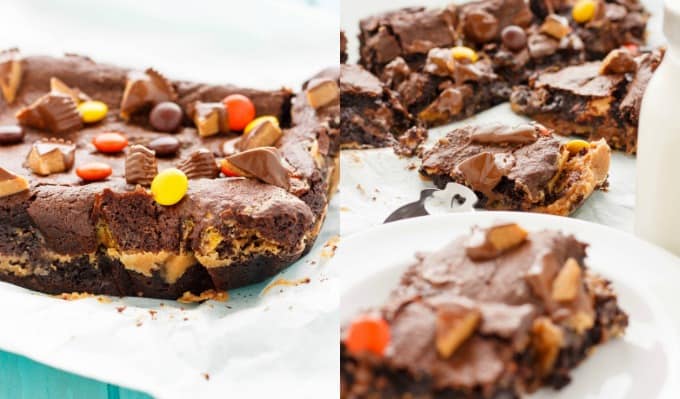 I used Reese's Pieces bits (you know those colorful mini pieces that can be found in the chocolate chip section of your grocery store.) And I used a lot of Reese's peanut butter cups. I think I used 4 packs of Reese's peanut butter cups, all containing three cups each. But hey, you can never have enough peanut butter cups! They are my weakness!
Oh, I am sure you could recreate these using a boxed brownie mix, so if you are short on time or fear baking, just follow the directions on the box instead. It will be soooo worth it to make these homemade!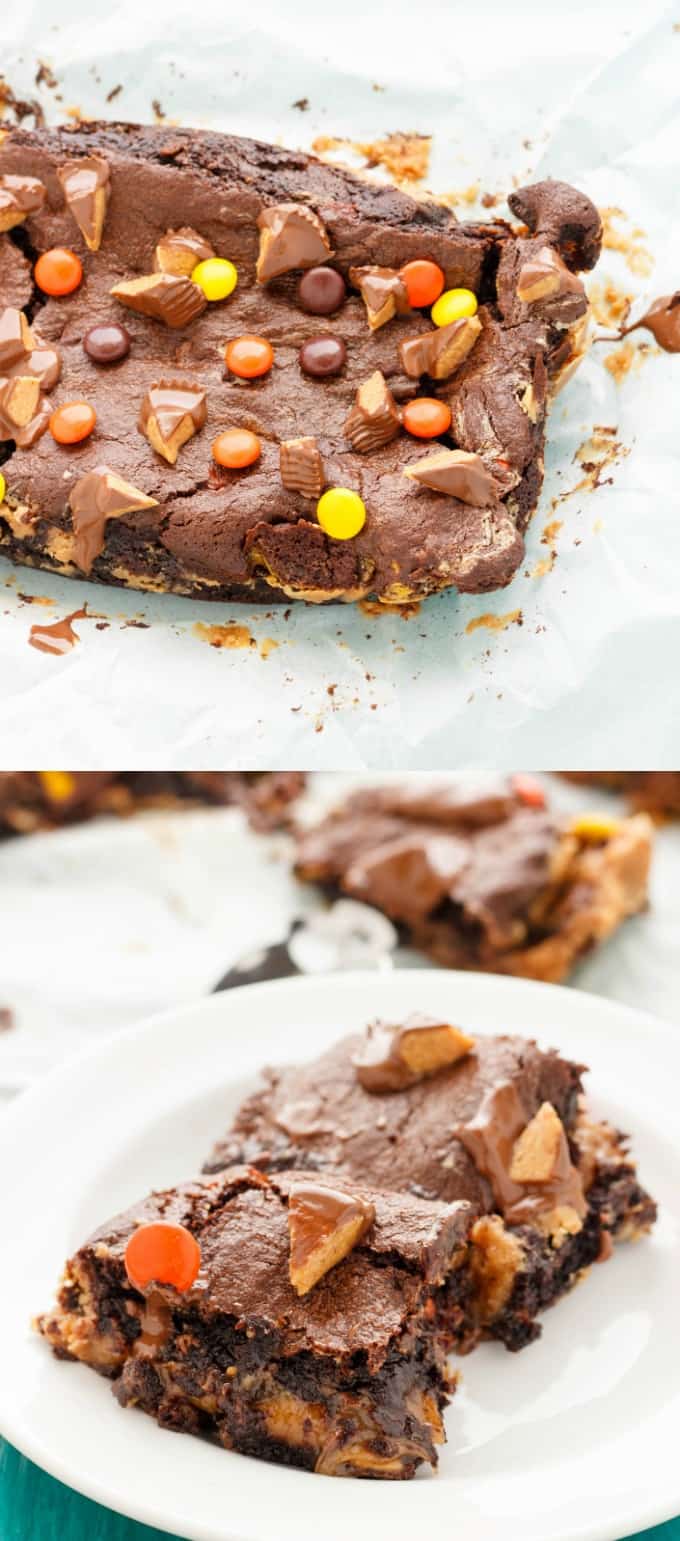 📖 Recipe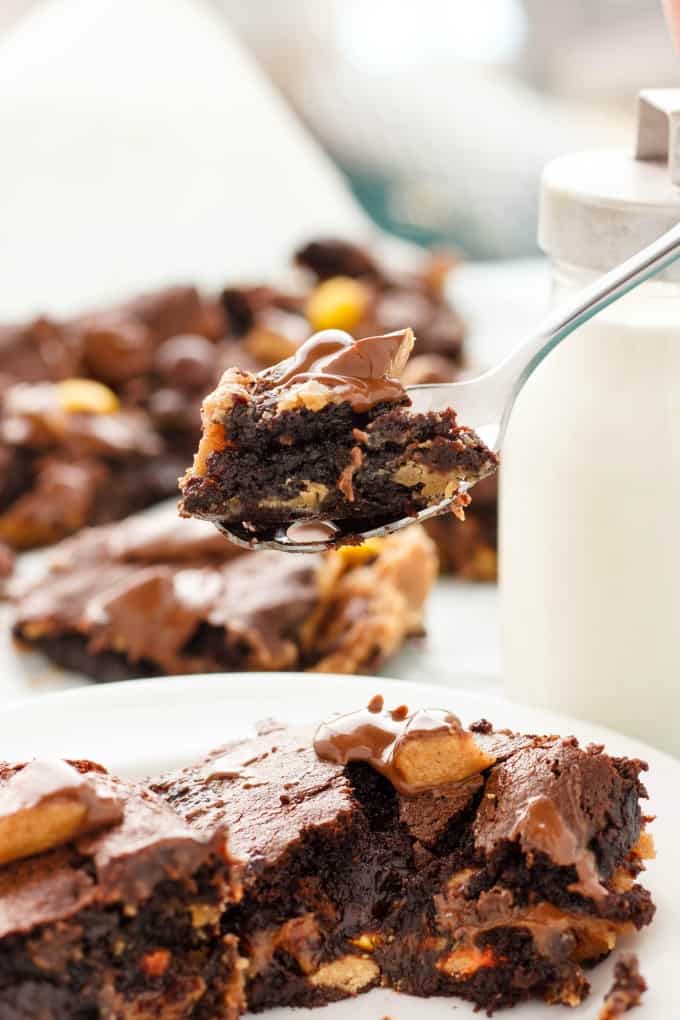 Reese's Peanut Butter Brownies
So gooey and delicious, these brownies are more cake-like than traditional brownies, but so worth it!
Ingredients
½ cup melted butter
½ cup unsweetened cocoa powder
½ cup granulated sugar
¼ cup brown sugar
2 eggs, room temperature
½ tsp. baking soda
1 tsp. vanilla
Pinch of salt
½ cup all-purpose flour
½ cup Reese's pieces (those colorful small chocolates)
1 (3 piece) bar Reese's peanut butter cups, roughly chopped
Filling
½ cup peanut butter
½ cup confectioners' sugar
2 tbsp. milk
1 (3 piece) bar Reese's peanut butter cups, roughly chopped
Topping
2 (3 pieces each) bars Reese's peanut butter cups, roughly chopped
Reese's pieces (those colorful small chocolates)
Instructions
Filling
In a small mixing bowl, add the peanut butter, sugar, and milk. Mix well with a fork until smooth.
Brownies
In the bowl of your stand mixer, add the melted butter, cocoa powder, and sugars. Mix until well combined. Add one egg at a time, making sure to mix well between each. Stir in vanilla.
Sift together the salt, flour, and baking soda. Mix into the wet ingredients until just combined. Stir in the Reese's pieces and the peanut butter cups.
Preheat oven to 350F. Grease a 9x5 inch pan (mine is about 2 inches deep and totals 1 quart.) Line with parchment paper for easy removal if desired. Pour half the batter into the pan. Top with peanut butter filling and three Reese's peanut butter cups. Top with remaining batter. Place into oven and bake for 40-45 minutes (I like mine under-cooked a bit, but for a firmer texture, cook until toothpick comes out clean.)
While still warm, decorate with chopped peanut butter cups and Reese's Pieces.
Note: Parchment paper is not necessary, but while it does give the brownies a more rustic look, I find the removal so much easier!
Nutrition Information:
Yield:

8
Serving Size:

1
Amount Per Serving:
Calories:

474
Total Fat:

27g
Saturated Fat:

13g
Trans Fat:

0g
Unsaturated Fat:

11g
Cholesterol:

78mg
Sodium:

335mg
Carbohydrates:

51g
Fiber:

3g
Sugar:

37g
Protein:

10g
And just when you thought it was all over, I actually made another batch of these Reese's peanut butter brownies, but vegan-style! Keep an eye out for that recipe sometime next week. I want to give this recipe a gluten-free spin, but working with Robin Hood Nutri Flour Blend Gluten-Free is proving a bit more difficult than I thought. I know I can use other gluten-free flours, but there are some people, like my mother-in-law, who do not want to buy a ton of flour types. This flour blend is convenient, but it definitely has its cons at times (all the baked goods remind me of whole wheat recipes!)
Love these Reese's peanut butter brownies?! Try some of these recipes: