Dairy Farmers of Canada's Cheese of the Month Club continues today with some awesome #CanadianCheese hailing from Oxford County, Ontario! These open-faced Reuben sandwiches utilize Tipsy, an amazing Canadian cheese soaked in wine for several days, making it the ideal melting cheese for today's recipe! Look at that color!
This is a sponsored post. I was fortunate enough to receive products and/or monetary compensation from Dairy Farmers of Canada. Though products were received, all opinions are my own and I would not recommend a product that I did not enjoy!
Dairy Farmers of Canada's Canadian cheese selection is another winner!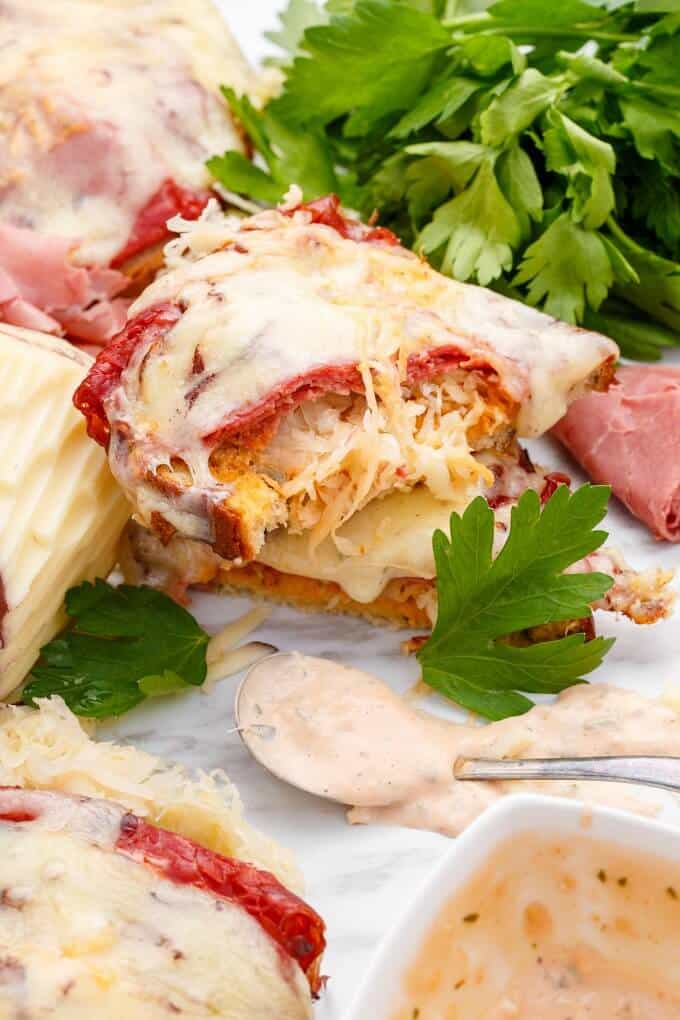 Canada is not only home to great cheeses, but great wine as well! Pair the two together and you come out with Tipsy: Gunn's Hill Artisan Cheese's original Oxford Harvest cheese that has been soaked in Palatine Hills Cabernet Merlot for several days. The rind is completely edible and lends a beautiful color to any dish (especially today's open-faced Reuben sandwiches!)
To be honest, when I first unraveled this cheese my mind went blank. I didn't know what to make! The color is beautiful and I definitely did not want to mask that.
Sometimes simpler is better, and since Tipsy is modeled after a little known Swiss cheese called Mutchli, I decided to stick to more traditional routes!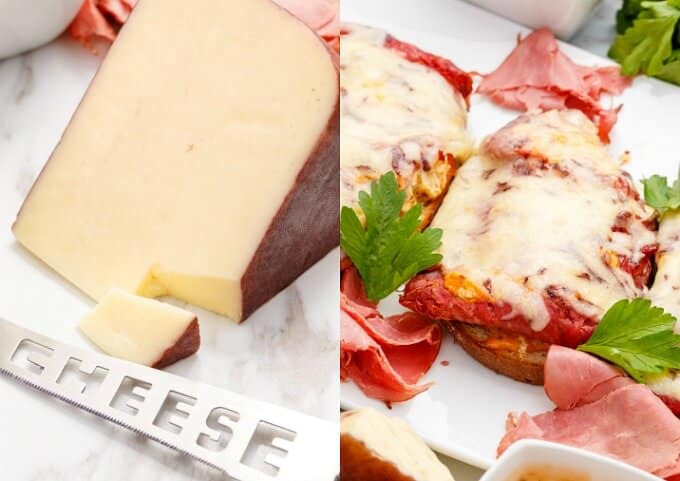 A mild creamy cheese that is lightly lactic and buttery in flavor, Tipsy is delicately aged on cedar wood planks (only adding to the flavor!) My daughter (who is now 4 for 4 with our Canadian Cheese of the Month Club) said the mellow flavors reminded her of bread, haha. I was so enamored on my first bite, expecting a really strong wine flavor but rewarded with a soft, mellow taste. I don't know if I would use the word "bread" to describe the flavor, but there is something truly unique about the taste that had me going back for more and more!
After realizing the wine flavor of Tipsy is nowhere close to what I was expecting, my mind immediately went to traditional Swiss cheese recipes. Tipsy's creator, Shep, at Gunn's Hill Artisan Cheese shows Swiss influence in his award-winning cheeses with techniques learned while making cheese in the town of Handeck, in the Swiss Alps. These influences can be seen/tasted in the production of some of Canada's finest award-winning cheese, all of which are handcrafted, using traditional cheese making methods at Gunn's Hill. I just love it!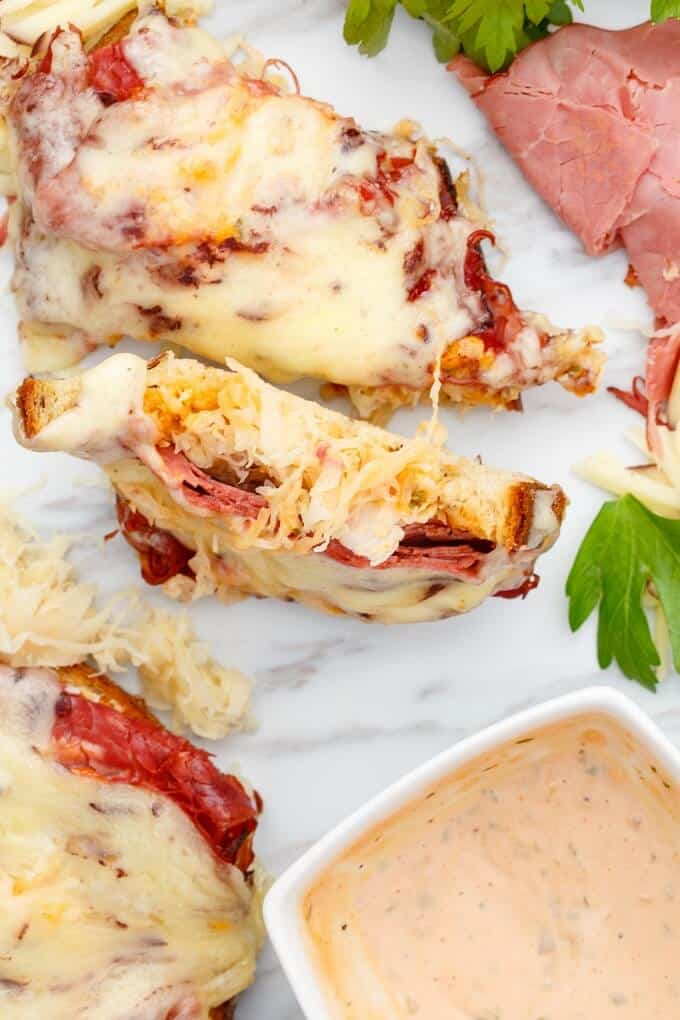 This is how these open-faced Reuben sandwiches were created! A classic recipe that stars a famous Canadian cheese that is both decadent in taste, and truly beautiful in presentation. I love how the color comes through (but let's be honest, it's the taste that matters!) I was so jealous I could not indulge in these creations, but fear not, I made myself a "Reuben" without the meat (seriously, Tipsy could not be passed up!) My taste-tester ate all three sandwiches in one sitting so that says something 🙂
While I LOVE cooking with wine, I am not a wine drinker. This only produced more anxiety when coming up with a recipe! However, I must say again, the perfect balance of wine and natural cheese taste comes out here! I will forever have this cheese as a member of our household, especially when serving to wine-loving guests 🙂 The great part is that Tipsy is even rewarding for the non-wine lovers (like myself!) Win-win all around!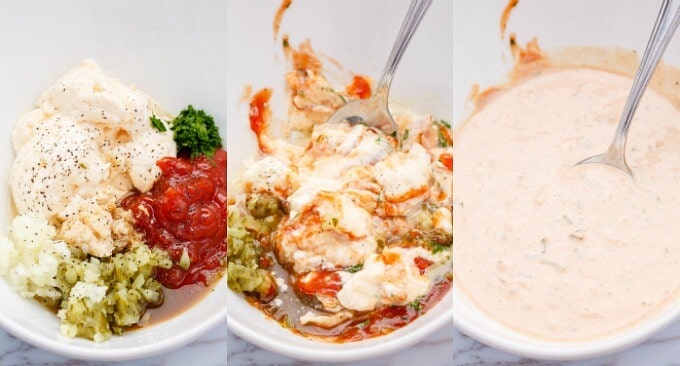 For these open-faced Reuben sandwiches themselves, measuring of ingredients isn't too important. Add as much meat and sauerkraut as you seen fit, and then top with copious amounts of Tipsy cheese! Trust me, not overwhelming at all and the star of the show! You can also forgo the homemade Russian dressing and buy a store-bought variety (or Thousand Island Dressing) but I think my recipe is darn good!
And fear not! These open-faced Reuben sandwiches can be cooked in the oven, on the stove top, or even on the BBQ! Summer picnics here we come!
📖 Recipe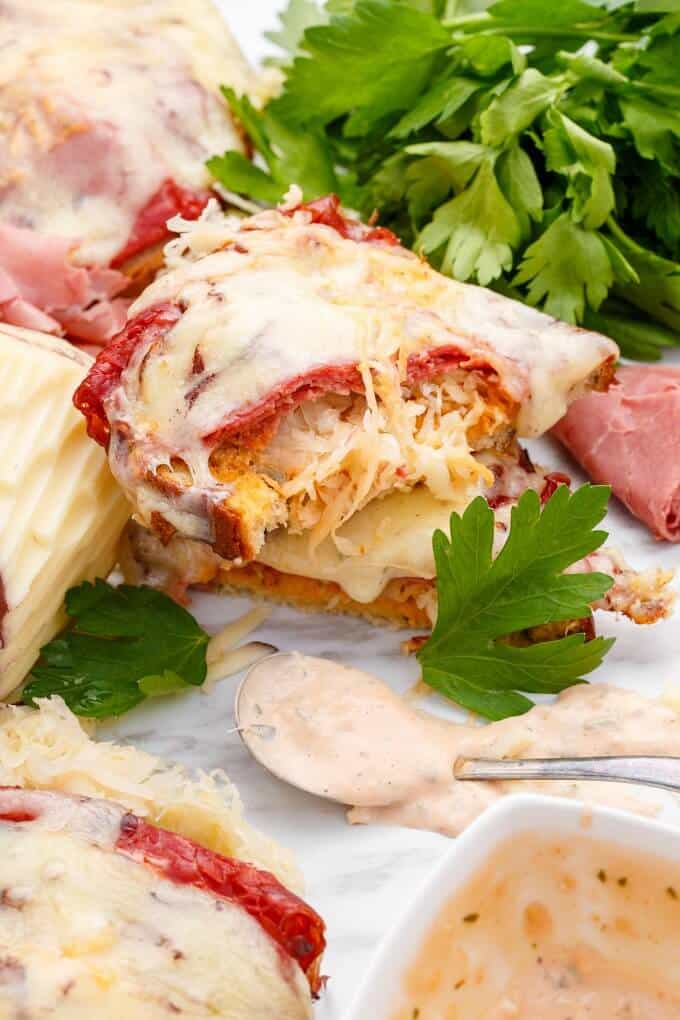 Open-Faced Reuben Sandwiches
Reuben sandwiches are generally served with Russian Dressing. You can always use Thousand Island dressing in place if Russian dressing is not common at your store.
Ingredients
3 slices rye bread
4 oz grated Gunn's Hill Tipsy Cheese (more if you like!)
½ lb thinly sliced corned beef (got mine at the deli counter)
4 oz sauerkraut, drained and squeezed of moisture
Butter for bread
Russian Dressing or use store-bought (Thousand Island works!)
½ cup mayonnaise
¼ cup ketchup or chili sauce (found near the ketchup)
1-2 oz minced baby dill pickles (about 2 pickles)
½ oz minced onion (about 1 tbsp.)
1 tsp. freshly squeezed lemon juice
2 tsp. horseradish (I used a jar of extra hot!)
1 tsp. Worcestershire sauce OR soy sauce (great for a vegetarian sandwich!)
1 tbsp. freshly minced parsley
Salt and pepper
Instructions
To make the dressing, combine all the ingredients in a mixing bowl. Mix until well blended, adding more acidity (lemon) or spicy (dash of hot sauce) if desired. Chill.
Preheat oven to 400F. Place bread slices into a shallow baking dish. Grease one side of each slice with butter and place butter-side down.
Top with 1-2 tbsp. Russian dressing, sauerkraut, corned beef, more dressing if desired, and lastly, Tipsy cheese!
Place into oven and bake for 10 minutes, or until cheese is bubbly and melted!
Remove and serve immediately with extra dressing if desired!
Notes
Use deli-style corned beef for a quick and easy sandwich! Don't worry about measuring out all the toppings: add as much or as little as you like!
Nutrition Information:
Yield:

3
Serving Size:

1
Amount Per Serving:
Calories:

785
Total Fat:

63g
Saturated Fat:

21g
Trans Fat:

1g
Unsaturated Fat:

37g
Cholesterol:

146mg
Sodium:

2519mg
Carbohydrates:

27g
Fiber:

3g
Sugar:

8g
Protein:

29g
Gunn's Hill is currently working on an "order and ship program" that can be processed online. However, until then you are free to contact them directly for inquires on ordering or finding out which local retailers carry their cheeses 🙂
This is a sponsored post. I was fortunate enough to receive products and/or monetary compensation from Dairy Farmers of Canada. Though products were received, all opinions are my own and I would not recommend a product that I did not enjoy!
Love these open-faced Reuben sandwiches?! Try some of these recipes: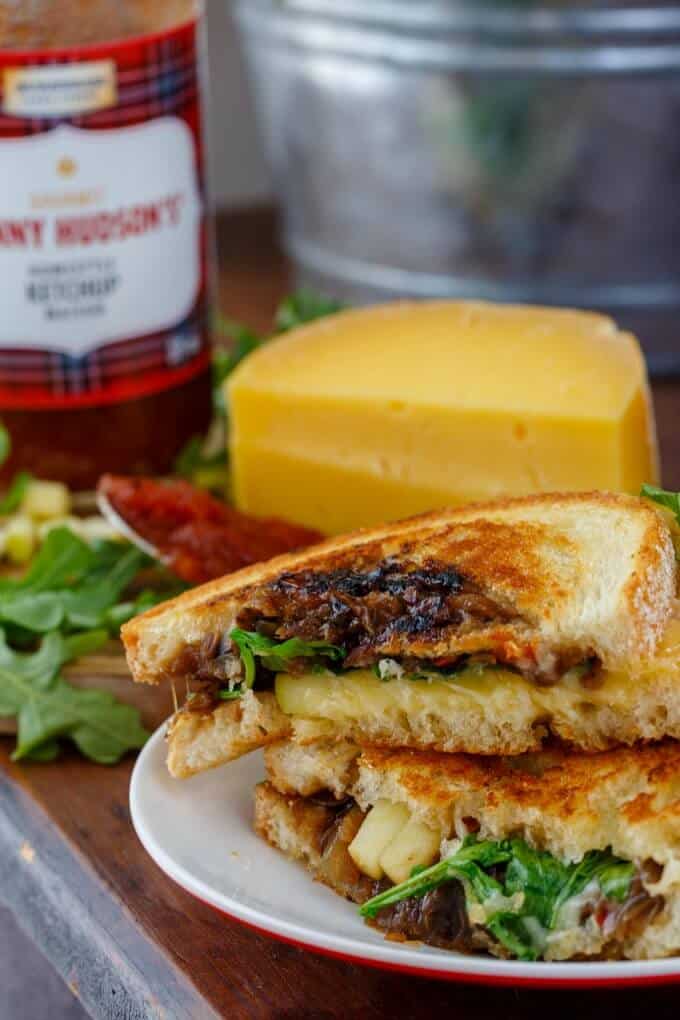 Caramelized Onion-Mushroom Grilled Cheese Sandwich with Apple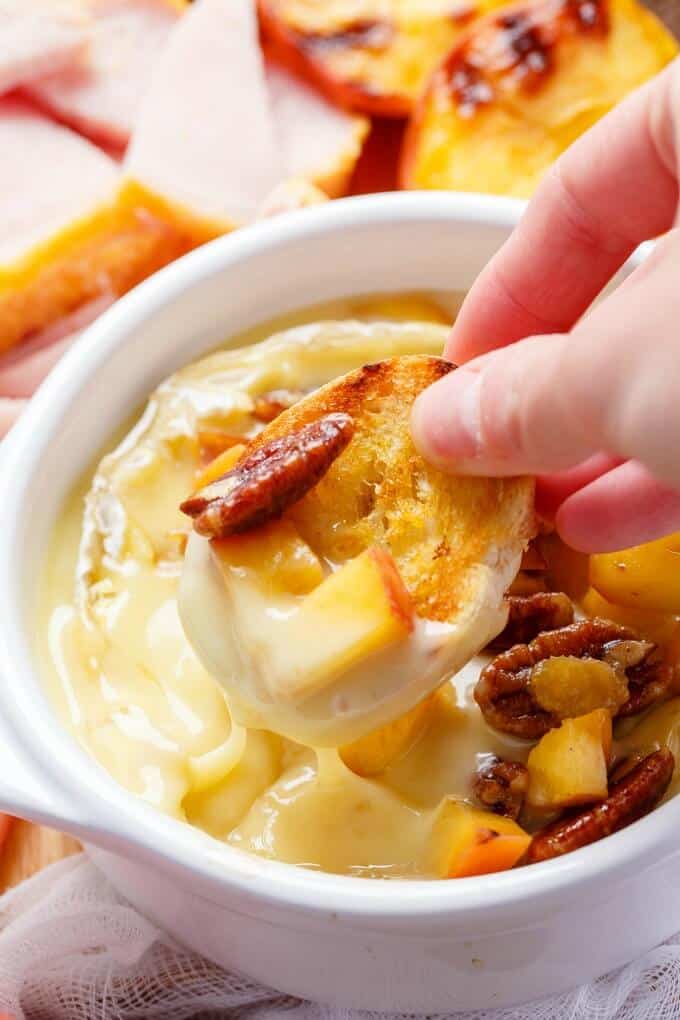 Grilled Maple-Butter Peach Camembert with Maple Pecans & Peameal Bacon