Not only is it delicious, but this apple butter in the slow cooker makes your house smell wonderful! Perfect recipe for autumn!
A little late in the year, but nonetheless, you can always save this for next year.
I had an abundance of apples given to me by my neighbors. I did not want to see them go bad, but I didn't want to make copious amounts of applesauce either! I browsed online and came across apple butter.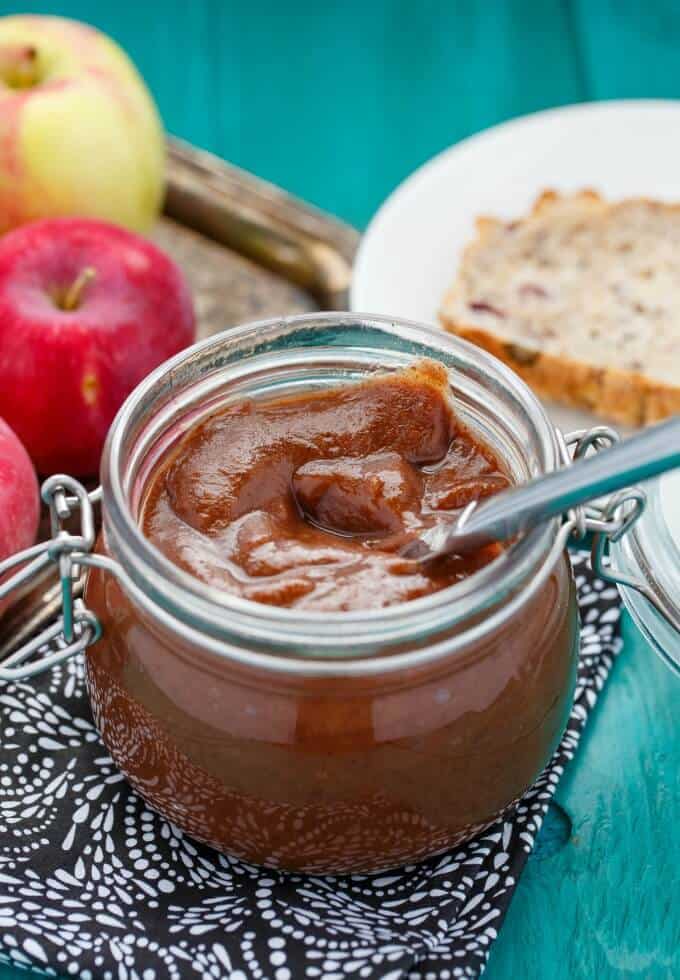 I was not familiar with apple butter. Even though I have posted about homemade pumpkin butter in the slow cooker, this apple butter in the slow cooker recipe was actually made way before the former. I wanted to test the recipe again and see how it stood with apples at a different time of the year. It worked perfectly! I cut down on the sugar in the original recipe, and honestly, the sugar quantity is all up to you. It is based on whether your apples are sweet or tart, or whether you are a sweet tooth to begin with! I used a blend of cortland, gala, and empire, I believe. I like the blend of apples because you are sure to get original flavor in your recipe, but one type of apple will work just fine!
UPDATE: It was time again to revisit this recipe and what a success! I decided to make a tutorial video to show how easy it is!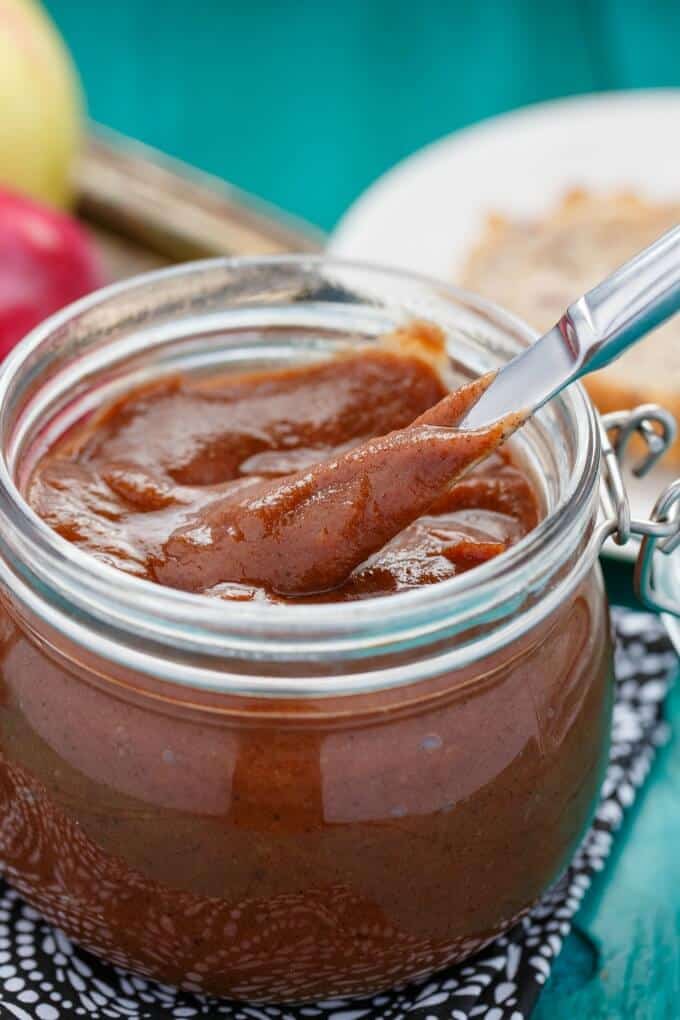 Just a heads up. The cooking time is all based on the size of your apples. So if you cut your apples pretty small, you may want to check on your apples sooner. We absolutely loved this recipe and I had to try it in a homemade apple butter pancakes recipe (which will be posted in the coming weeks!) Sooooo good! Sugary, but good.
📖 Recipe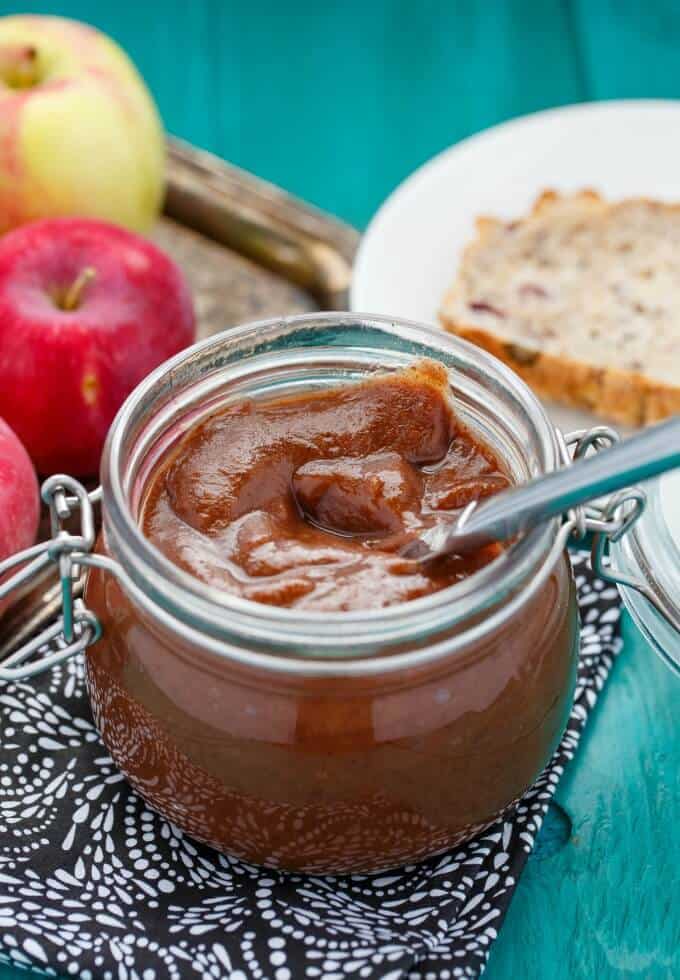 Apple Butter
Total Time:
10 hours
20 minutes
Your house will smell delicious while this apple butter is cooking!
Ingredients
3 lbs apples of your choosing, peeled, cored and chopped small
Instructions
Combine all the ingredients into your slow cooker. Place on low heat and cook for 2 hours. Give a quick stir and continue cooking until soft and broken down, about 8-12 hours. If more time is needed, keep cooking until your mixture resembles a thick mass (almost butter-like.) You can also cook on high for 6-8 hours!
Spoon into a couple of jars and place into the refrigerator!
Notes
If you want an even smoother texture, you can always blend the mixture (I did in this case.)
Nutrition Information:
Yield:

10
Serving Size:

1
Amount Per Serving:
Calories:

71
Total Fat:

0g
Saturated Fat:

0g
Trans Fat:

0g
Unsaturated Fat:

0g
Cholesterol:

0mg
Sodium:

1mg
Carbohydrates:

19g
Fiber:

3g
Sugar:

14g
Protein:

0g
Now that I have tried apple butter in the slow cooker, along with
pumpkin butter
, I cannot wait to experiment with more fruit. Pears, peaches, you name it!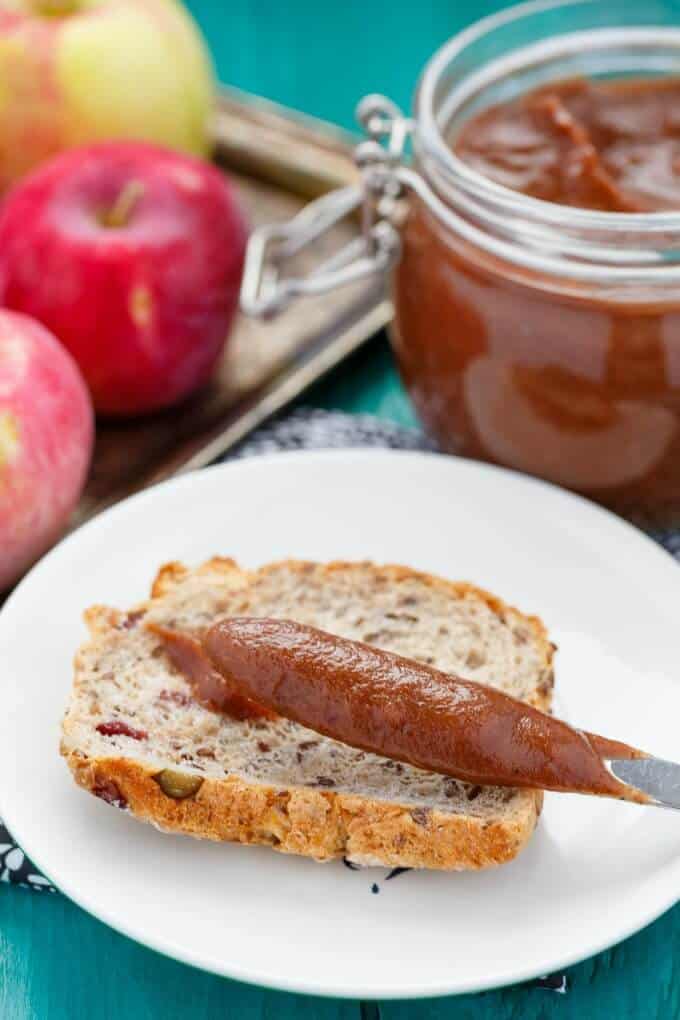 You can also cook the apples on high if you do not feel like waiting. Just remember to adjust the cooking time. I like this recipe because it can sit while you are out of the house all day, and welcoming you with the beautiful aroma of apples and spices. UPDATE: When I made this video, I actually cooked the apple butter on high and found it went great! Took a bit longer than I expected even at high heat, but worth it!
Love this apple butter in the slow cooker?! Try some of these recipes:
Homemade Pumpkin Butter in the Slow Cooker