No need to whip up an entire pie now because these apple pie cupcakes with a crispy topping fulfill all those apple pie cravings!
The photos and recipe for these apple pie cupcakes with a crispy topping have been updated as of May 14th, 2016!
I absolutely love food blogging and sharing my recipes with everyone, but sometimes I wonder how other food bloggers do it. I only have one child and yet it seems like my hours are limited. We spend the day outside, we cook together, we clean up, and yet my house is still a write-off at the end of the day and I am left with little to no time to even consider writing up a post. How do you women manage with more than one child AND go about your day while writing a blog?! Ahhhh!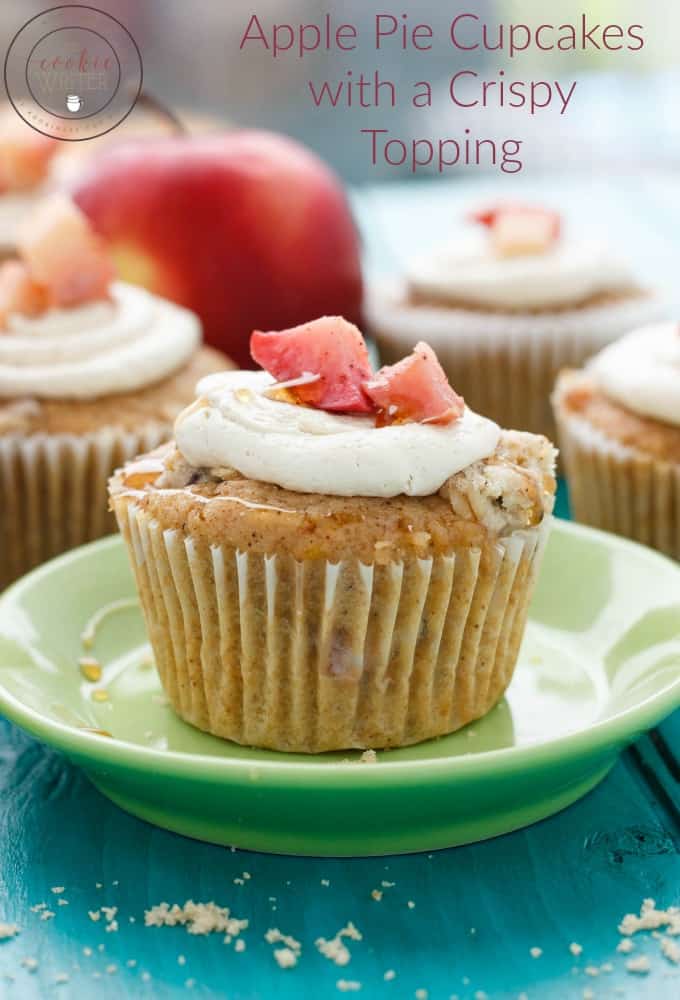 Then again, the only "bad" part at the end of the day is that I have a ton of recipes that need to be shared but nothing prepared on the blog. This means I have recipes I created months ago but have not had the time to share them. Like today's recipe. These apple pie cupcakes were created exactly one month ago today. I am that behind. Heck, I even made a spinach cake for my best friend's birthday and I have not even shared that! The spinach cake recipe is now up! Dan's coworkers think when he brings in my baked goods that I will be posting the recipe the following day on the blog, but as these apple pie cupcakes show, that is not the case. Then I start looking at the photos and judging myself, and before you know it I am throwing away the photos and reminding myself to recreate the dish for a better shot. Sigh, the life of a food blogger!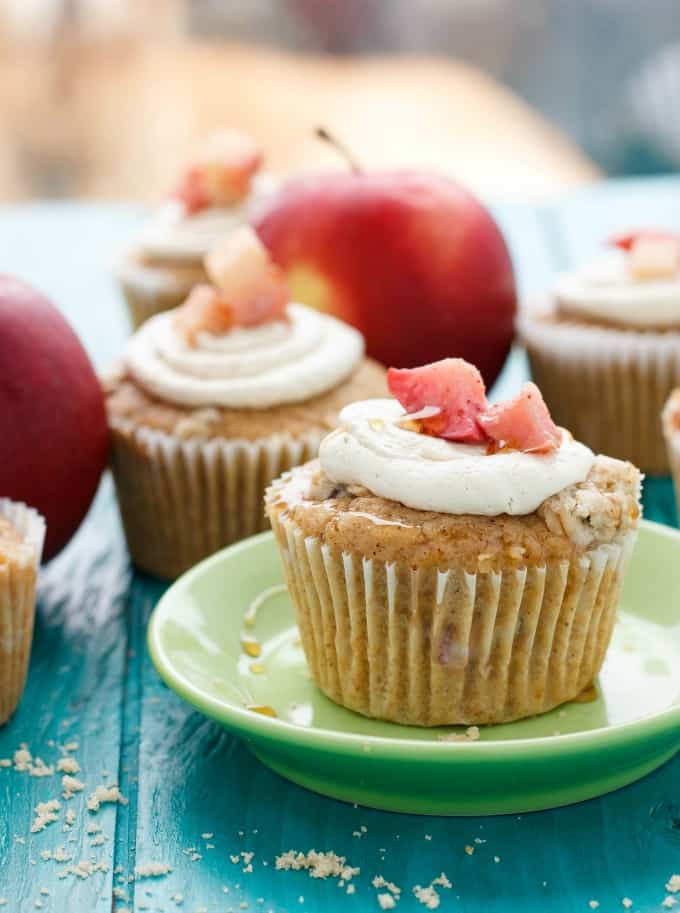 Whining aside, I really enjoy the work I do. And I know my family is not complaining with all the meals and baked goods. My daughter actually turns down dessert at times because I make cupcakes and cakes so often! However, like her mother, chocolate is always good in her books! With these apple pie cupcakes, I was looking to do something traditional and nontraditional. Apple pie is a classic, but I was in no mood to make a crust. The idea hit me to make apple pie cupcakes when I said to my daughter "we make too many chocolate and vanilla cakes." It is hard to break away from the basics, but generally chocolate and vanilla pleases 90% of the crowd. So push those reservations aside and give these apple pie cupcakes a try! I personally thought they were fantastic without the buttercream, but they looked so lonely without anything on top, haha.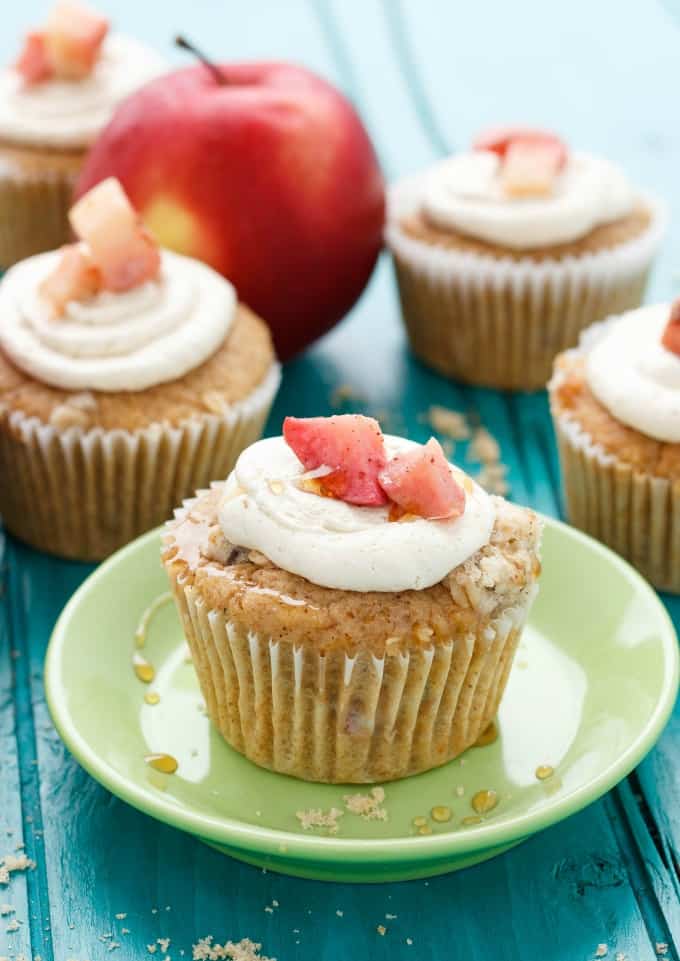 Apple Pie Cupcakes with a Crispy Topping
---
Kacey
Yields 24
The topping can be as sweet as you desire by adding more sugar. The cupcakes can also be made with or without buttercream.
20 minPrep Time
25 minCook Time
45 minTotal Time
Ingredients
1 1/2 cups cake flour
1 cup whole wheat flour
3 tsp. baking powder
1/4 tsp. salt
1 cup butter, room temperature
1 1/2 cups brown sugar
3 eggs, room temperature
1/2 cup buttermilk, room temperature
1 1/2 cups apple sauce
1 tsp. vanilla
1 1/2 tsp. cinnamon
1/2 tsp. ground ginger
1/2 tsp. nutmeg

Filling

2 large apples, cored and cubed
1 tbsp. brown sugar
1 tbsp. butter
Pinch of salt
1/4 tsp. cinnamon
1 tsp. all-purpose flour

Topping

1/2 cup butter, room temperature
1/2 cup old-fashioned oats
1/4 cup all-purpose flour
1 tbsp. brown sugar
1/2 tsp. cinnamon
1/4 cup raisins
1/4 cup sunflower seeds
1 batch of brown sugar Swiss meringue buttercream (optional)
Instructions
Filling

Heat butter in a small saute pan over medium heat. Once melted, stir in sugar, salt, cinnamon, and apples. Stir constantly until apples are tender, about 4 minutes. Mix in flour and cook for another minute or two. Remove from heat and cool.

Topping

Combine all the topping ingredients into a bowl and mix until well combined.

Batter

In the bowl of a stand mixer, add the butter and sugar. Beat until light and fluffy, about 5 min. Beat in the eggs one at a time, making sure to combine well before adding the next. Add vanilla and applesauce: mix well.
Sift together the flours, baking powder, cinnamon, ginger, nutmeg, and salt.
With the mixer on low, add in the flour mixture and buttermilk alternatively, always starting and ending with the dry ingredients. Mix until just combined.
Preheat the oven to 350F. Line a cupcake tray with cupcake liners. Add a bit of batter to the bottom of each liner, maybe 1/3 of the way. Evenly place the filling into each liner. Top with remaining batter. This should make about 24 cupcakes. Spread out the topping onto each cupcake.
Place tray into the oven and bake for 20-25 minutes, or until toothpick comes out clean. Allow to cool slightly in tray and then move cupcakes to wire rack to finish cooling.
Decorate with buttercream if desired and top with additional sauteed apples!
7.8.1.2
290
https://thecookiewriter.com/apple-pie-cupcakes-with-a-crispy-topping/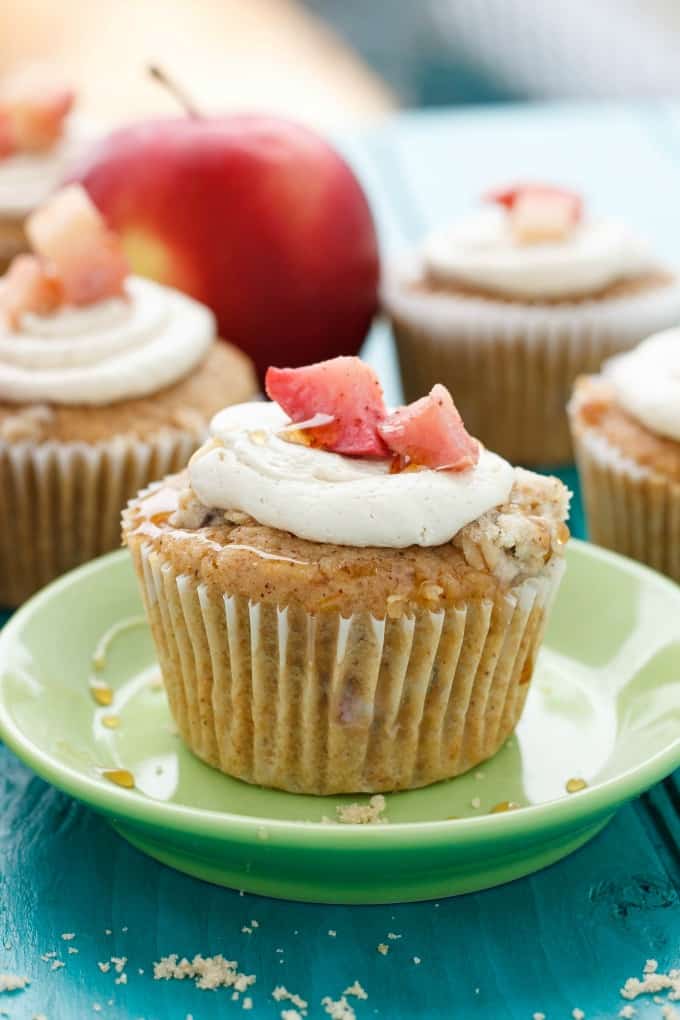 For those of you who make your own pie filling to can, this recipe would be perfect for you as your already have the filling made. And if you omit the buttercream, these apple pie cupcakes are fast and easy! I personally love taking the time to decorate and manipulate cupcakes and cakes, but I know others do not. I am trying so hard to post easy recipes, but I am that person who will literally spend all day in her kitchen. Maybe that is why I have no time at the end of the day…
Love these apple pie cupcakes with a crispy topping?! Try some of these recipes: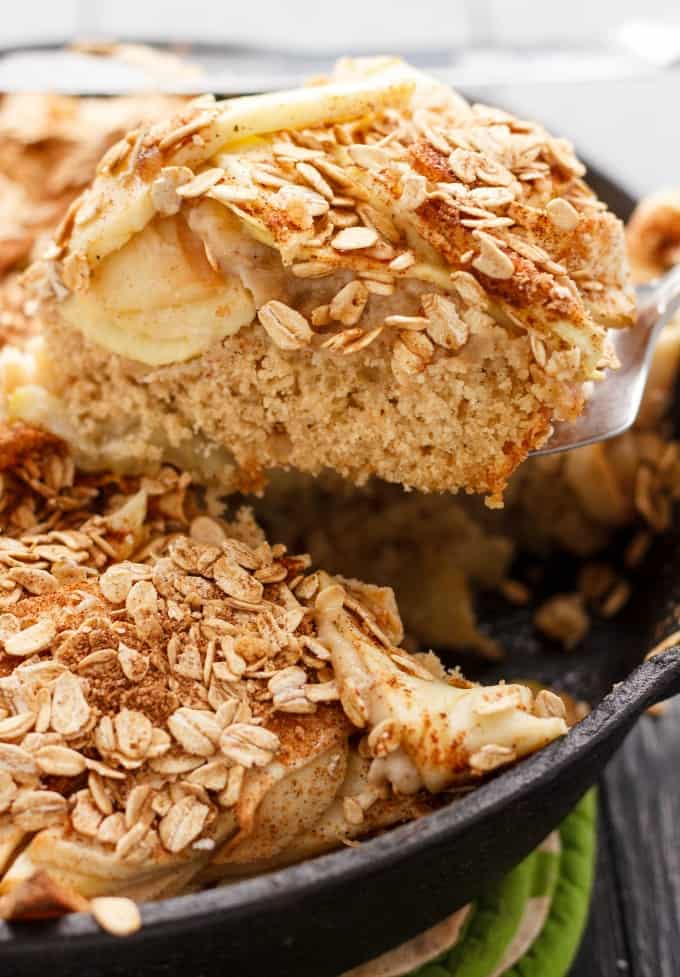 Skillet Apple Cake with Cinnamon Oat Topping