I love hearty and flavorful salads, but sometimes they are just not filling.
My friend, Steph, took me to a wonderful vegan/vegetarian restaurant in Toronto many months ago and introduced me to the wonderful world of bowl meals. She figured it was the perfect place to eat with my vegetarian diet, plus we are both easy going when it comes to food. I have to say, eating at Fresh was one of the best experiences ever! It was small and packed, but the food was soooo good! For the first time, I was sad that I do not live in Toronto.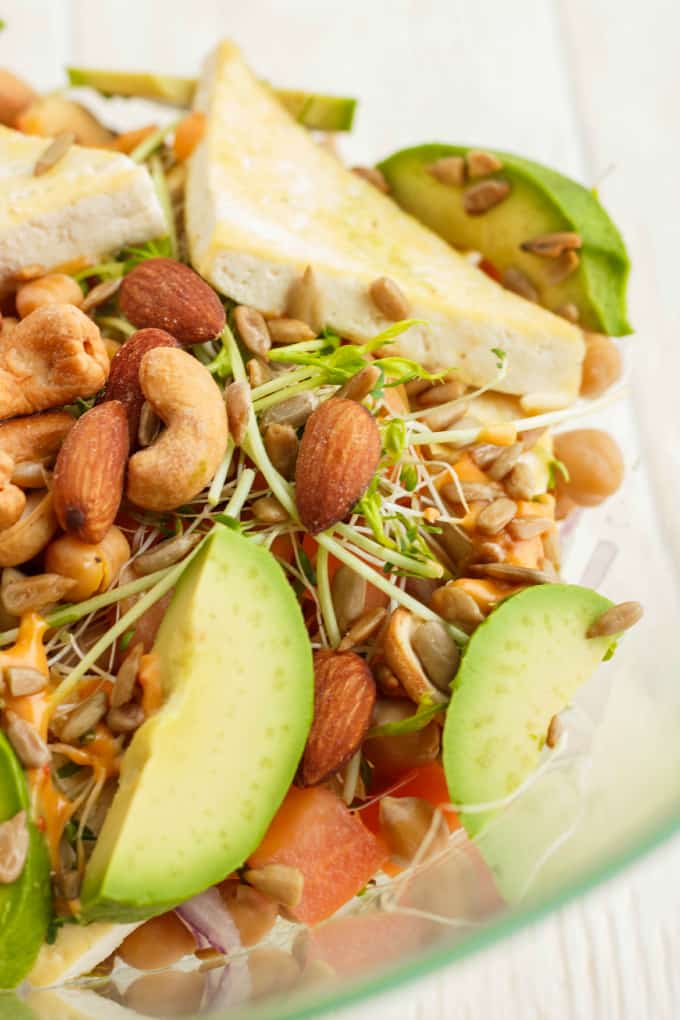 Of course, over the course of weeks, all I could think about was the Fresh Powerhouse Bowl meal I had. I wanted it everyday but there was no way I was going into Toronto just for that recipe (though it was tempting!) The Fresh Powerhouse Bowl was so delicious and tasty, without being overly complicated. I knew I could probably recreate the recipe at home. And I did just that!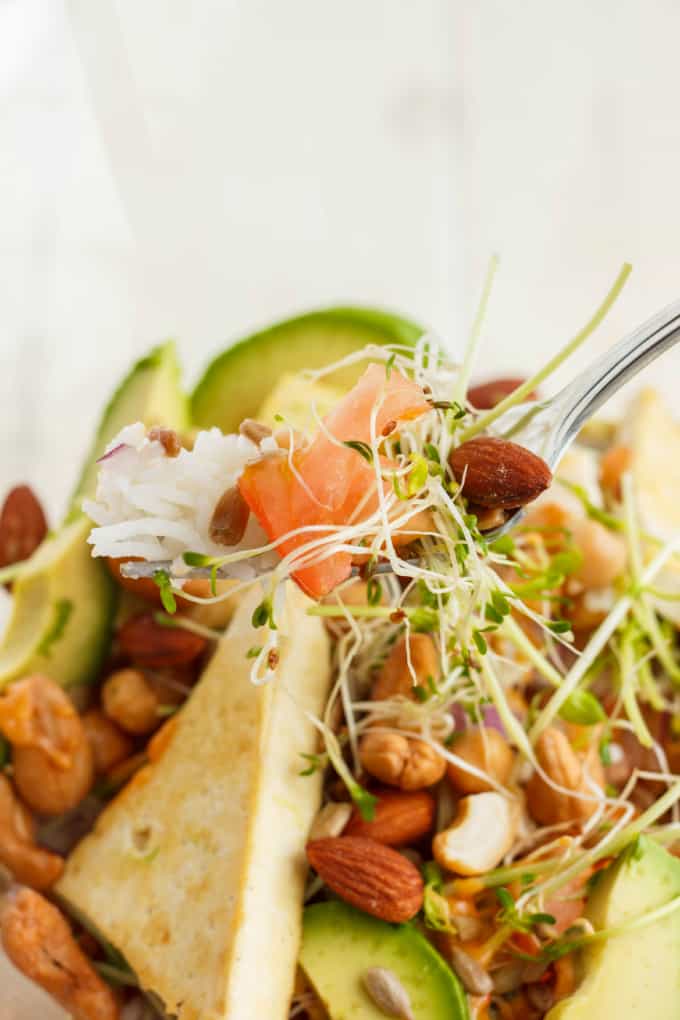 Tofu steaks, pea shoots, sunflower seeds: I know it sounds difficult, but I assure you it is not! My local grocery store carried all the ingredients I needed. I even added additional ingredients not originally in the salad for extra nutrition. This Fresh Powerhouse Bowl is super easy to make, and makes A LOT! I was so happy I ordered the small portion at the restaurant, because there is no way I would have finished a large (and I was seeing Book of Mormon after dinner, so I did not want to take home leftovers.) At home, I can eat it over the course of a couple of days. My non-salad loving husband really enjoyed this meal (probably because it is not technically a salad!)
Packed full of nutrition and delicious flavors, you are sure to be satisfied with this recipe!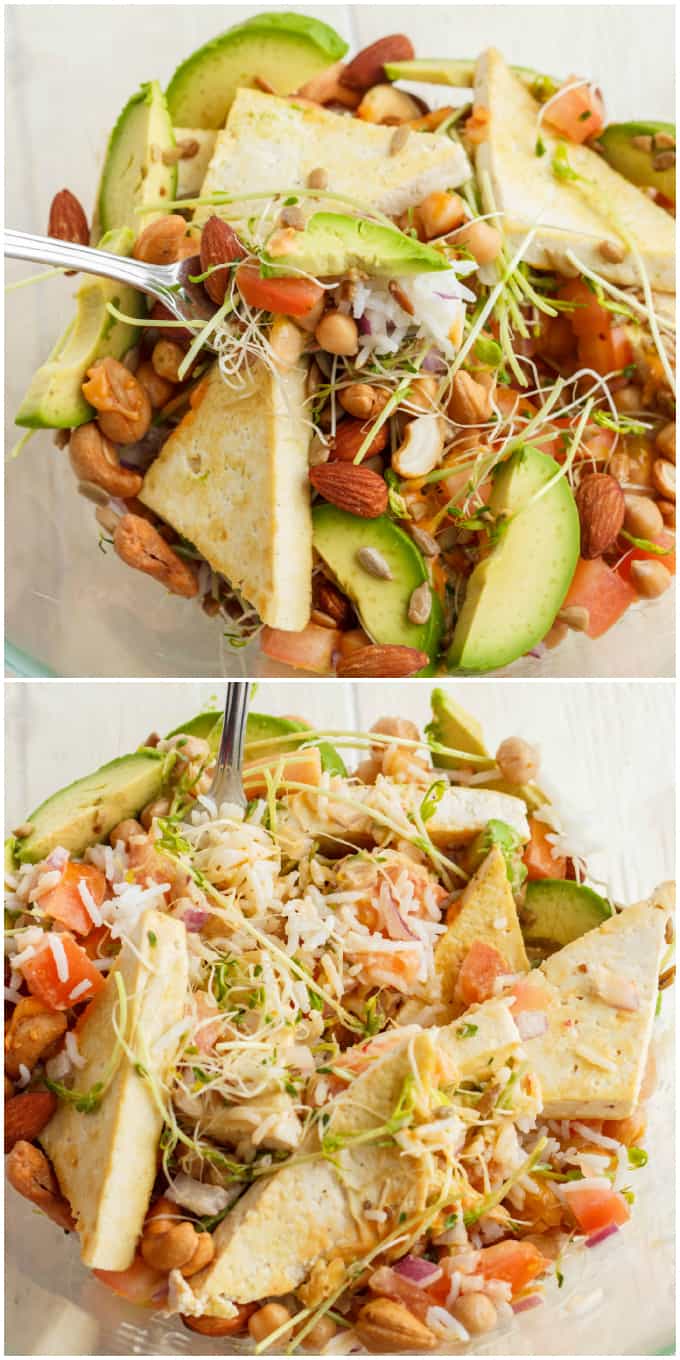 📖 Recipe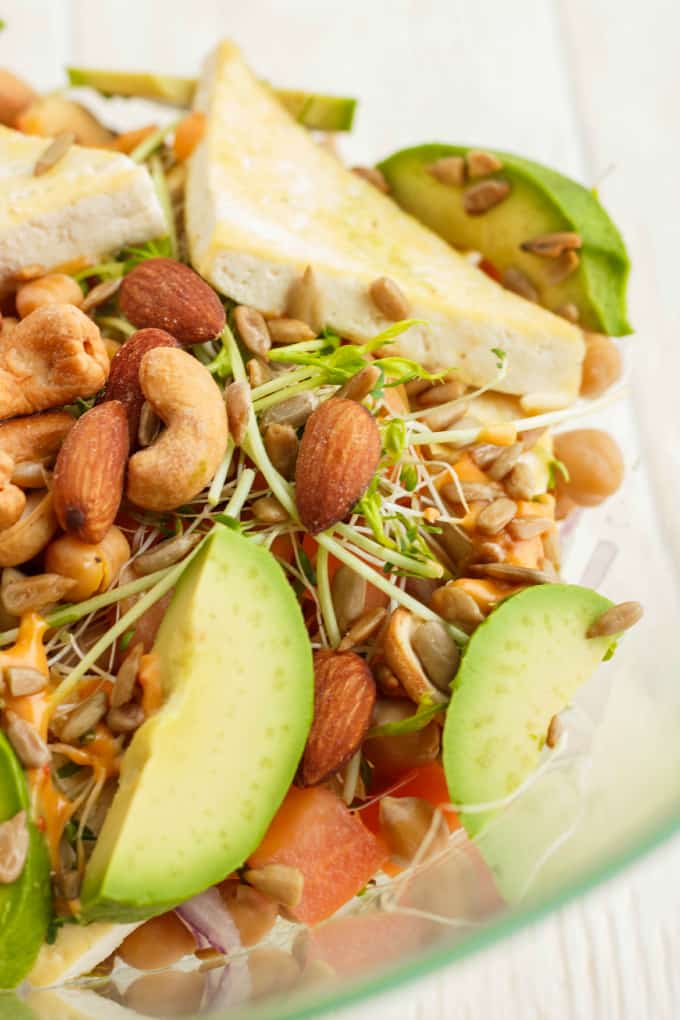 Fresh Powerhouse Bowl
A blend of healthy ingredients make this Fresh Powerhouse Bowl more than just a salad! Easily gluten-free, vegan, and dairy-free!
Ingredients
1 avocado, sliced
1 cup chickpeas
½ lb extra firm tofu, sliced into triangles
Sunflower sprouts
Pea shoots
2 tbsp. sunflower seeds
¼ cup toasted, assorted nuts
1 tomato, diced
1 small red onion, diced
¼ cup cooked basmati rice
Spicy Tahini Sauce:
⅛ cup tahini paste
1 tsp. chili garlic sauce (or more to taste.)
Squeeze of lemon juice (to taste, but I think I added 1 tbsp.)
Water (based on consistency, start with 1 tbsp.)
Instructions
To make the spicy tahini sauce, mix together the tahini paste, garlic sauce, and lemon juice. Add in enough water until you reach your desired consistency (I like a chunkier sauce, but add more water for a thinner sauce.) If needed, add a pinch of salt!
Place a large frying pan over medium or medium-high heat. Add the tofu triangles to the dry pan and allow to cook until golden brown on both sides. I seasoned the tofu with some salt, pepper, and a squeeze of lime juice, but you can dress it however you see fit!
Layer the salad in a large bowl. Start with the rice, but after that you can layer it however you see fit. I sprinkled the sunflower sprouts and pea shoots on top and made sure to coat the cooked tofu with the sauce. Serve chilled or room temperature.
Nutrition Information:
Yield:

2
Serving Size:

1
Amount Per Serving:
Calories:

788
Total Fat:

48g
Saturated Fat:

7g
Trans Fat:

0g
Unsaturated Fat:

38g
Cholesterol:

0mg
Sodium:

611mg
Carbohydrates:

66g
Fiber:

23g
Sugar:

14g
Protein:

36g
(If you are looking for more healthy vegan/vegetarian/gluten-free meals, check out
Fresh's Menu
: I have no affiliation with them, but really enjoyed my experience there.)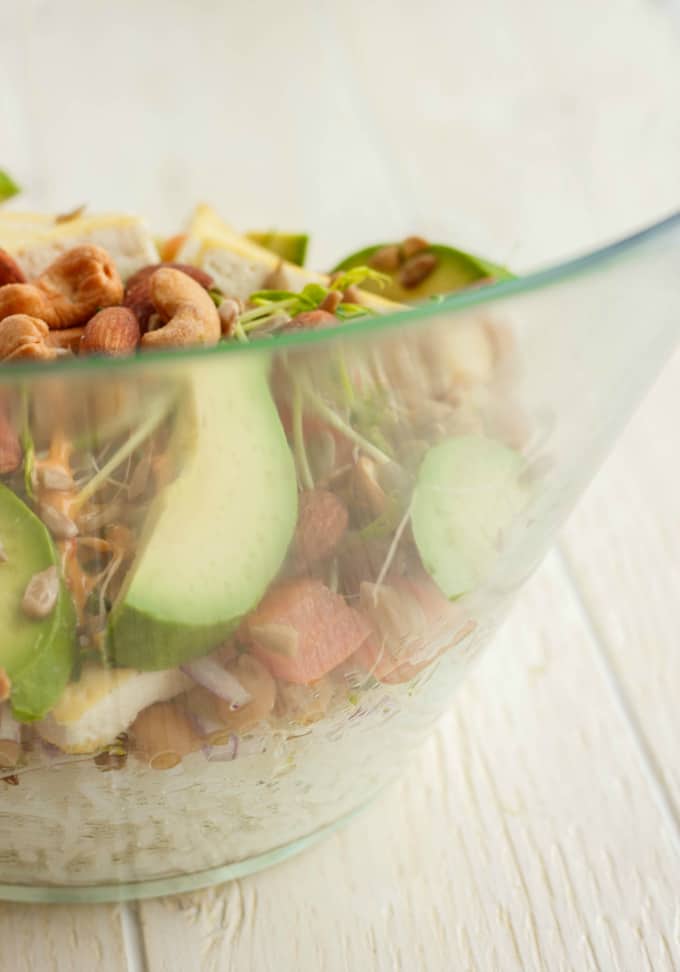 Soooo, funny story. I did not realize it, but Fresh actually sells their recipes in a cookbook. I recreated this recipe my own way, but I am going to order their cookbook so I can have all the wonderful meals on hand. Seriously, I had such a hard time choosing just one meal off their menu. And how cool is it that they provide all the recipes for you?!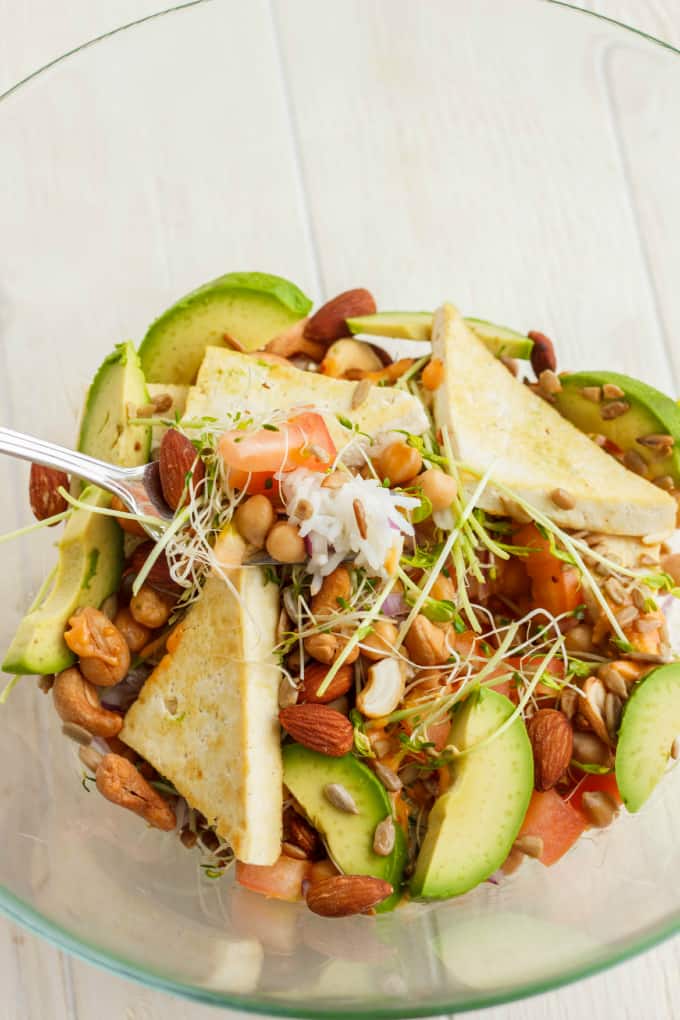 Once again, this Fresh Powerhouse Bowl can easily be customized and ingredients can be left out (but who would want to do that?!) You can serve the salad warm or chilled, and the tofu steaks can be made ahead of time.