Cupcakes are just so much easier than cakes! So you should have no excuse not to make these carrot cake cupcakes with brown sugar swiss meringue buttercream!
Easter is within reach and I have realized I have not been very festive in my recipes when it comes to this holiday.
Our schedule has been super busy, leaving me with no time to come up with some neat Easter ideas. It is kind of sad because I really liked my royal icing Easter cookies from last year and wanted to try my hand at reinventing them this year. No time for that! All I am hoping for is my eye surgery to go well this Friday so I can get right back in the kitchen!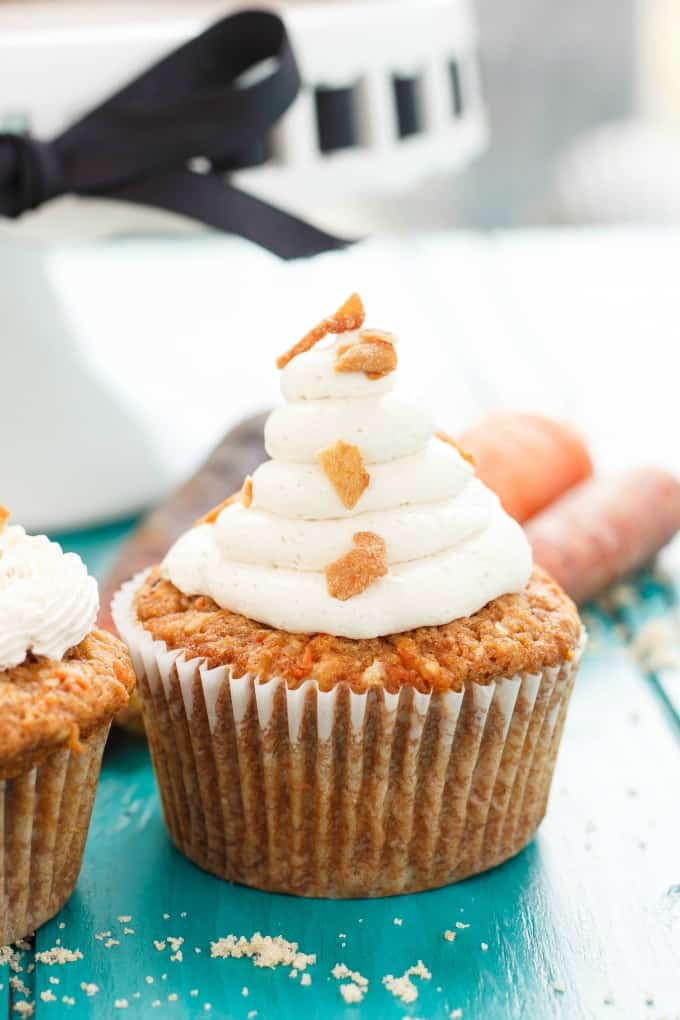 That being said, I wanted to keep things nice and simple. I made a carrot cake with brown butter and brown sugar buttercream and really loved how it turned out. I had some hiccups along the way, but flavor wise it was perfect. I knew I wanted to revisit this recipe, and soon. Well, that brings us to carrot cake cupcakes with brown sugar Swiss meringue buttercream!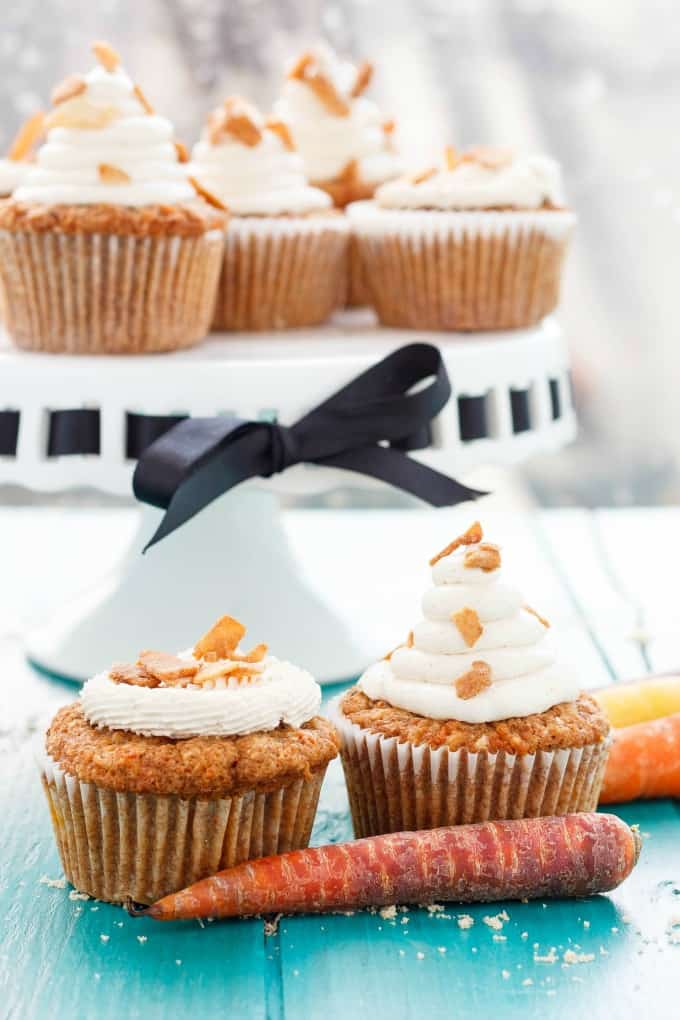 Let me start off by saying that Swiss meringue buttercream is probably my favorite buttercream. So silky and smooth, and more buttery than sugary. When I was thinking of topping these carrot cake cupcakes, I knew I wanted to revisit the brown sugar aspect. Now, for those of you who do not know, Swiss meringue buttercream is usually made by combining egg whites and granulated sugar, cooking it to 160F, whipping it until room temperature, and whipping in butter. I personally love making it, but I know some others struggle. I wanted to put my own twist on it, so I decided to use brown sugar instead of granulated sugar. It worked out perfectly!! I thought I was being original, but turns out using brown sugar is not uncommon. However, I will say, I wish I used dark brown sugar as opposed to golden brown sugar. It would have brought out a stronger flavor. No worries, I added vanilla to help bring more flavor, but just think about using dark brown sugar for this recipe.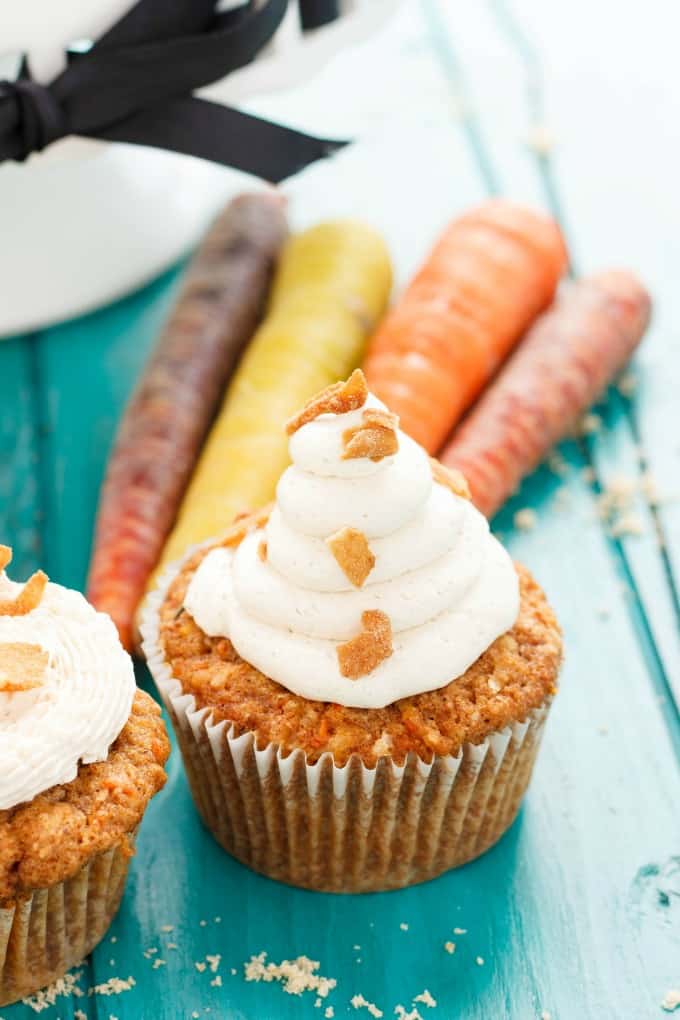 📖 Recipe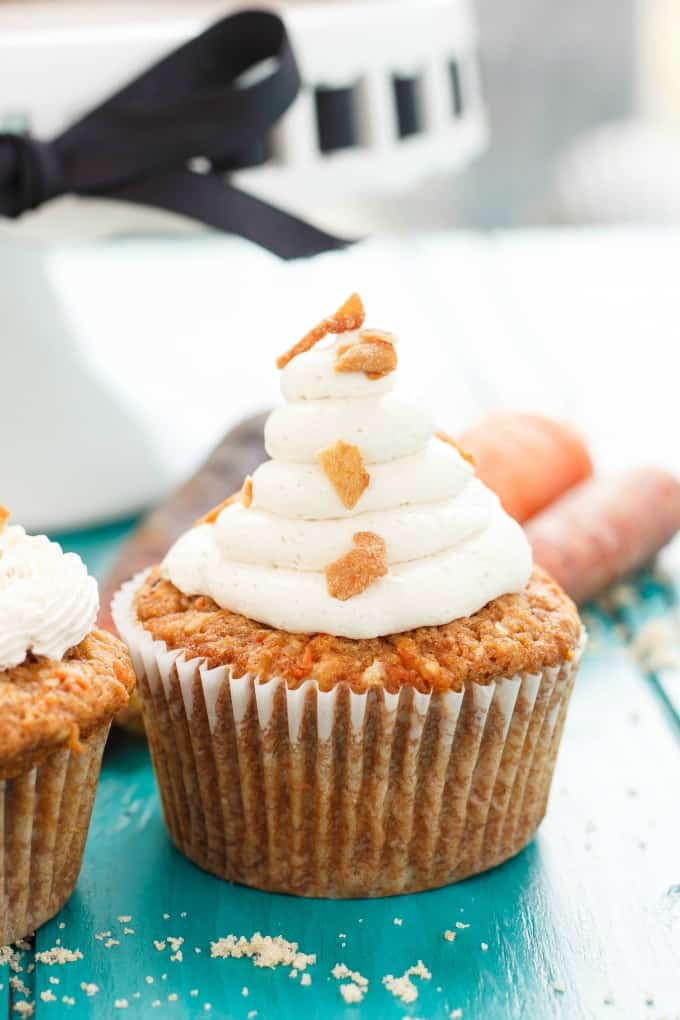 Carrot Cake Cupcakes with Brown Sugar Swiss Meringue Buttercream
Decadent and moist, these carrot cake cupcakes are perfect for spring! A cream cheese frosting would work perfectly here, too!
Ingredients
1 lb carrots (approximately 3 large.), grated
3 eggs, room temperature
1 cup brown sugar
1 cup granulated sugar
1 cup melted coconut oil
½ cup buttermilk, room temperature
2 tsp. vanilla
2 ½ cups whole wheat flour
½ cup cake and pastry flour
1 ½ tsp. baking soda
2 tsp. baking powder
½ tsp. salt
2 tsp. ground cinnamon
½ tsp. ground ginger
½ tsp. nutmeg
1 cup unsweetened, toasted coconut
1 small apple, peeled, grated
Buttercream
5 egg whites, room temperature
1 ¼ cups dark brown sugar
1 ½ cups butter, room temperature
½ tbsp. vanilla extract
Instructions
Preheat oven to 350F. Line muffin tin with liners. Set aside.
In the bowl of your stand mixer, combine the sugars and coconut oil. Cream together for 5 minutes. Add one egg at a time, stirring well between each. Stir in vanilla.
Sift together the flours, baking soda, baking powder, salt, cinnamon, ginger, and nutmeg. Alternatively add the dry ingredients and buttermilk to the wet ingredients (starting and ending with dry.) Stir in carrots, apples, and coconut.
Separate the batter evenly between the muffin cups (almost filled to the top.) The cake does not rise too much, so do not be concerned if there appears to be a lot of batter. Place into the oven and bake for 20-23 minutes, or until centre comes out clean when you insert a toothpick. Allow cupcakes to finish cooling on wire racks.
Buttercream
Pour about an inch of water into a small saucepan. Place over low heat and pick a bowl that will fit snugly on top of the opening. You don't want the bowl touching the water at all: you are creating a double boiler. In this case, I used my kitchen aid bowl.
When the water has reached a simmer (never let it form into a rolling boil!) place the egg whites and sugar into your bowl. Attach a candy thermometer to the side of the bowl, and whisk the mixture constantly until it reaches 160F.
Move your bowl to the stand mixer. Using the whisk attachment, whisk your mixture on high until stiff peaks form. It should take 10 minutes or more, and you want your bowl to be relatively cool before you add the butter. If the mixture is too warm, your butter will melt.
Cut your butter into bite-size pieces, about 1 tablespoon each. With your mixer on medium, add one piece of butter at a time, counting for about 10 seconds before you put the next piece of butter in. Pay attention and make sure the butter is combined before you add the next piece. Patience is key! Keep mixing until all the butter is combined in and you are left with a smooth buttercream. Add in the the vanilla and mix until well combined.
Pipe the buttercream onto the cooled cupcakes and sprinkle with coconut chips or toasted coconut.
b]NOTE: A [cream cheese frosting would work great here, too![/b]
Nutrition Information:
Yield:

24
Serving Size:

1
Amount Per Serving:
Calories:

416
Total Fat:

24g
Saturated Fat:

17g
Trans Fat:

0g
Unsaturated Fat:

6g
Cholesterol:

59mg
Sodium:

340mg
Carbohydrates:

47g
Fiber:

3g
Sugar:

31g
Protein:

5g
Soft and moist, these carrot cake cupcakes with brown sugar Swiss meringue buttercream are sure to be a crowd pleaser! I left out the toasted nuts this time around (because I did not have any on hand.) If you do not like coconut, leave it out as well! Honestly though, you cannot taste it in this recipe. Same with the apples. I find I add a lot of these ingredients to keep moisture in this recipe.
As for the toasted coconut chips: my mother-in-law found them at Costco. What I like about them is their yummy, sweet, toasted flavor, without necessarily being horrible for you. The coconut is sweetened with coconut sugar, not granulated sugar so we have that going for us. I guess we can pretend these cupcakes are healthy?!
Love these carrot cake cupcakes with brown sugar swiss meringue buttercream?! Try some of these recipes:
Carrot Cake with a Brown Butter and Brown Sugar Buttercream