It seems to be a love/hate relationship when it comes to red velvet, but I love it and these red velvet cupcakes with cream cheese frosting are one of my favorites!
I have to say, this was the first time ever making red velvet cupcakes and I was floored with the results!!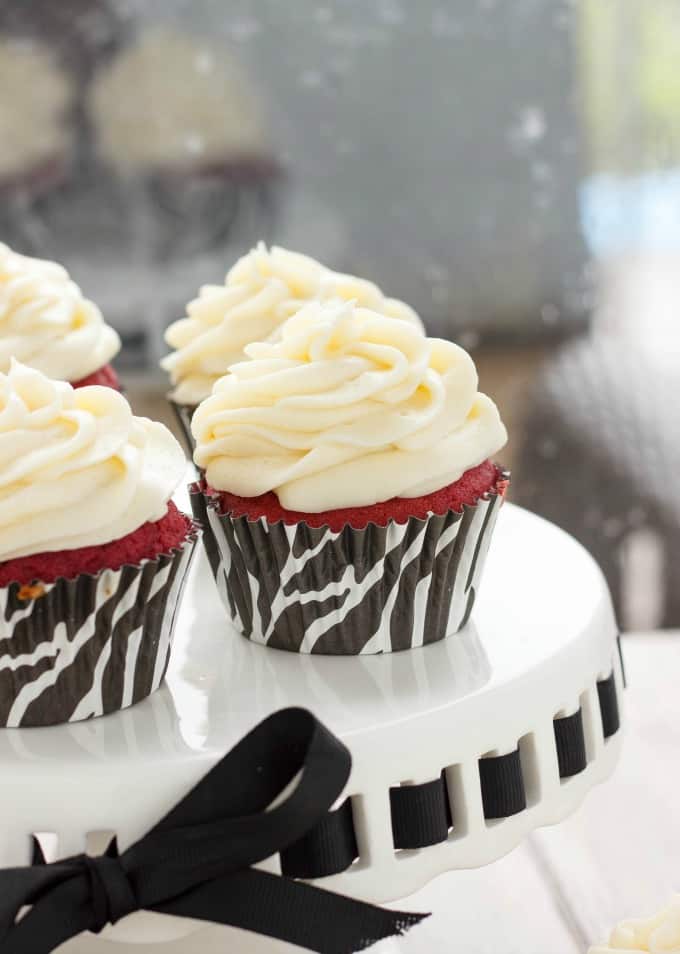 They were so soft and moist, and had the perfect taste (I always thought red velvet cupcakes were just vanilla cupcakes with some red food coloring!) I loved the color more than anything, but that makes sense since red is my favorite color. I already want to make these cupcakes again but I must resist because we already have way too many leftovers in this house.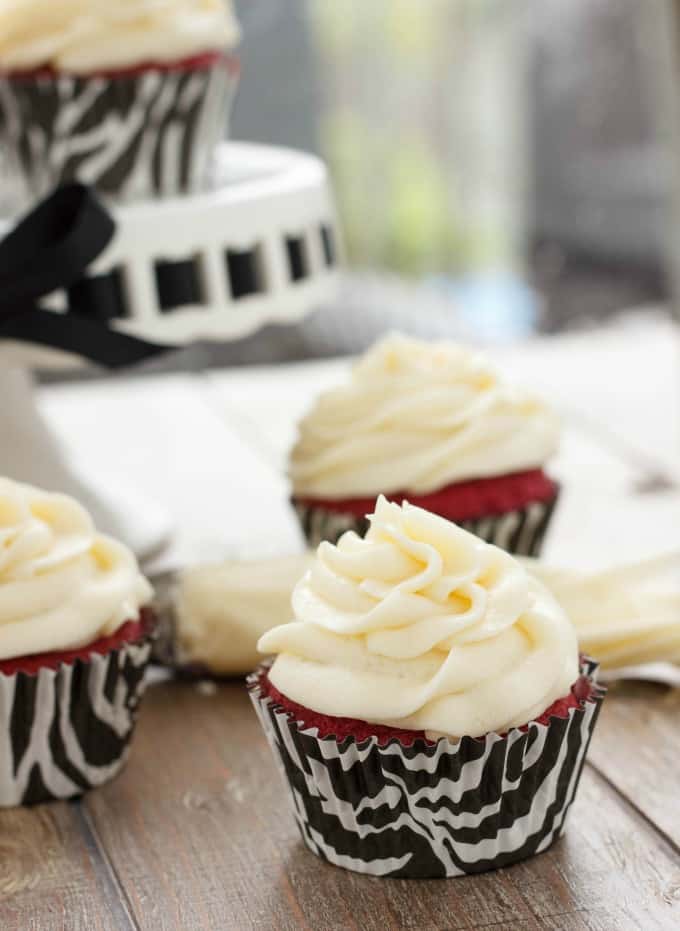 I made the red velvet cupcakes for a purpose. You will see that purpose tomorrow, but for now I thought I would share how I made these wonderful treats. I should let it be known that you will need a good amount of red food coloring. Add more coloring depending on how deep of a red shade you want. I added in a couple of blue food coloring drops to deepen the red, but don't add too much or you might turn the cupcakes purple.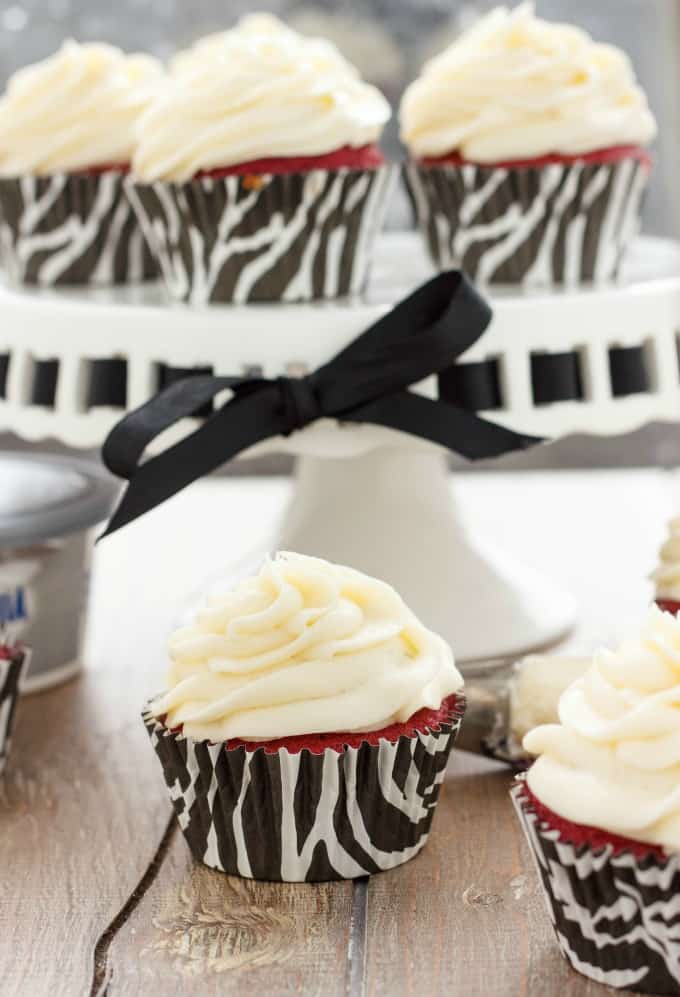 📖 Recipe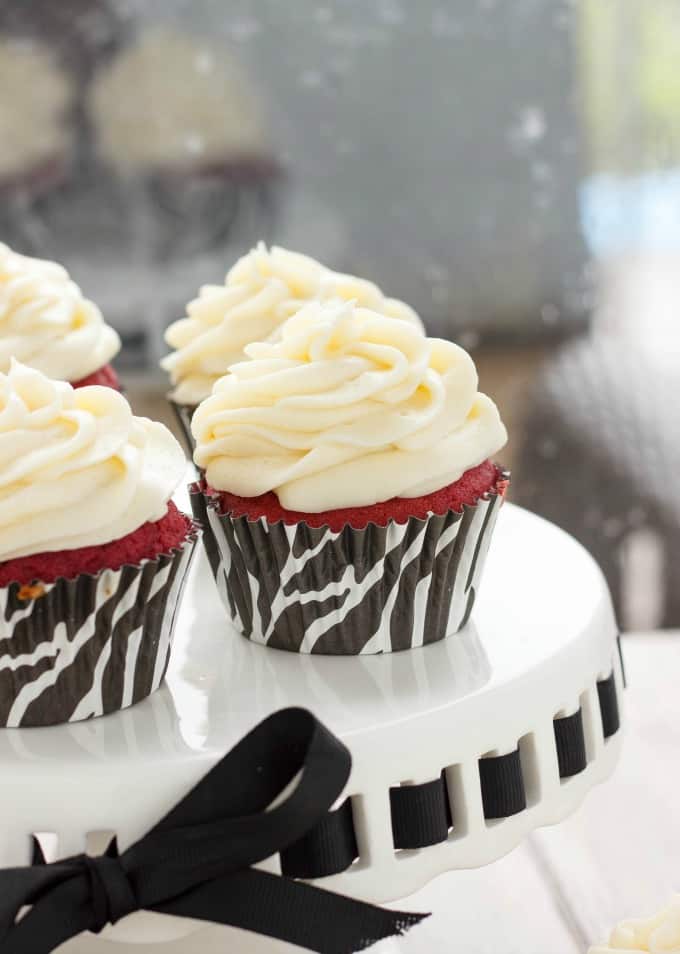 Red Velvet Cupcakes with Cream Cheese Frosting
So soft and moist, these cupcakes hold up quite well the following day!
Ingredients
2 cups all-purpose flour
½ cup cake and pastry flour
1 ¼ cups granulated sugar
1 tsp. baking soda
½ tsp. salt
1 tbsp. cocoa powder
1 cup melted coconut oil
1 ¼ cups buttermilk, room temperature
2 eggs, room temperature
2 tbsp. red food coloring
1 tsp. apple cider vinegar
1 tsp. vanilla
Cream Cheese Frosting
½ cup butter, room temperature
1 cup cream cheese (one brick), room temperature
4 ½ cups confectioners' sugar
1 tsp. vanilla
Instructions
Preheat oven to 350F. Line cupcake pan with liners.
In the bowl of a stand mixer, add the oil, buttermilk, eggs, food coloring, vinegar, and vanilla. Mix until well combined.
While that is mixing, sift together the flours, sugar, baking soda, salt, and cocoa powder into a large mixing bowl. Stir to combine. With the mixer on low, slowly add the flour mixture to the wet ingredients. Mix until just combined.
Place the mixture into each cup, measuring about ⅔ full. Place into oven and bake for 17-20 minutes, or until toothpick comes out clean. Allow cupcakes to cool for about 5 minutes in pan before transferring to cooling rack.
Frosting
In the bowl of a stand mixer, add the cream cheese and butter. Beat until light and fluffy, a good 5 minutes. Add in the vanilla and mix until combined. Add in the confectioners' sugar, stopping at 4 cups to see how your consistency is. If you want a stiffer consistency, add more sugar until you reach your desired texture. Pipe onto cooled cupcakes (they have to be cool!!)
Nutrition Information:
Yield:

24
Serving Size:

1
Amount Per Serving:
Calories:

370
Total Fat:

18g
Saturated Fat:

13g
Trans Fat:

0g
Unsaturated Fat:

4g
Cholesterol:

41mg
Sodium:

217mg
Carbohydrates:

48g
Fiber:

1g
Sugar:

34g
Protein:

4g
As for the icing, I feel red velvet needs to pair with cream cheese frosting! This recipe turned out beautifully. Many thanks to Girls in Aprons for sharing her wonderful recipe. I ended up adding more confectioners' sugar (almost 5 cups) so that my consistency would hold its shape. Cream cheese frosting is famous for not staying up, but since the weather is cold here, I wasn't too concerned about the icing slipping. Though Mr. TCW was taking these into work for his coworkers so I was afraid the heat in the truck would cause the icing to melt. I think it worked out great!
My little taste-tester insisted on me taking a picture of her trying the cupcakes. I couldn't refuse. She loved the cupcake so much she insisted on daddy sharing his cupcake with her (he only ponied up one bite!)
Now, there is a surprise. I made these red velvet cupcakes for a reason, and you will see why tomorrow! I have made this cupcake with my neighbor in the past, but decided to try a new recipe. While I hit some bumps here and there, I like how the creation turned out. In a way, the design is unique, all the while being inspired from a popular post. So close to Halloween, and so little time to share some spooky creations!
The Spooky surprise is up now! Check it out here.