Homemade chocolate chip pumpkin cookies are a fantastic way to use up leftover pumpkin puree! Whether using homemade or store-bought pumpkin puree, these cookies will be the hit of fall!
We are getting close to the end of The Cookie Writer's pumpkin theme week!
Day One: Homemade Pumpkin Puree
Day Two: Pumpkin Butter
Day Three: Two-Ingredient Pumpkin Cookies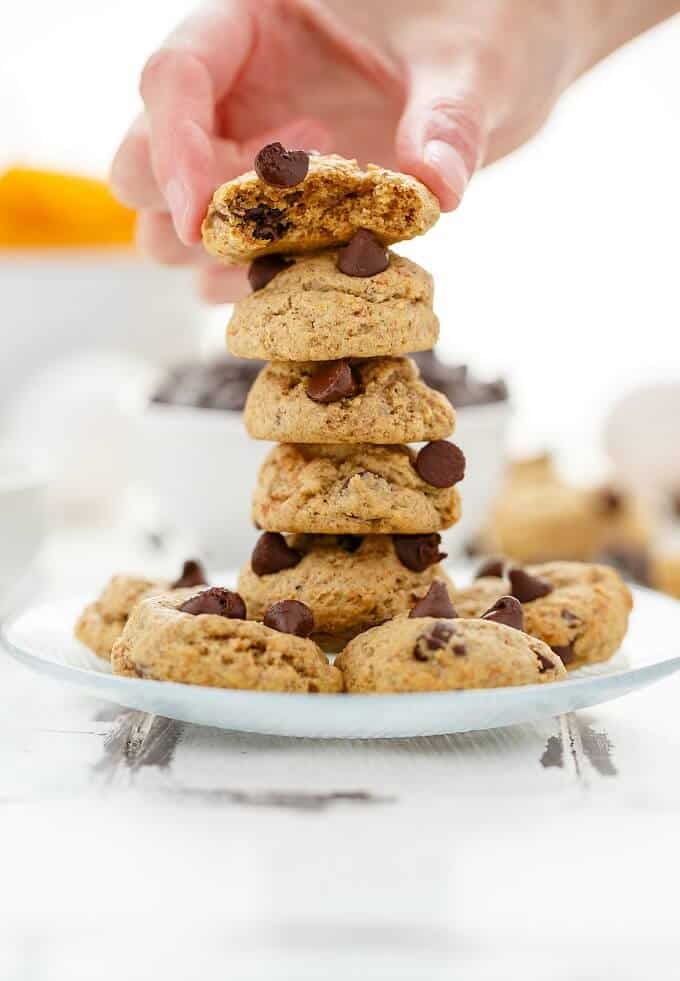 Welcome to day four! We have a twist on a classic recipe!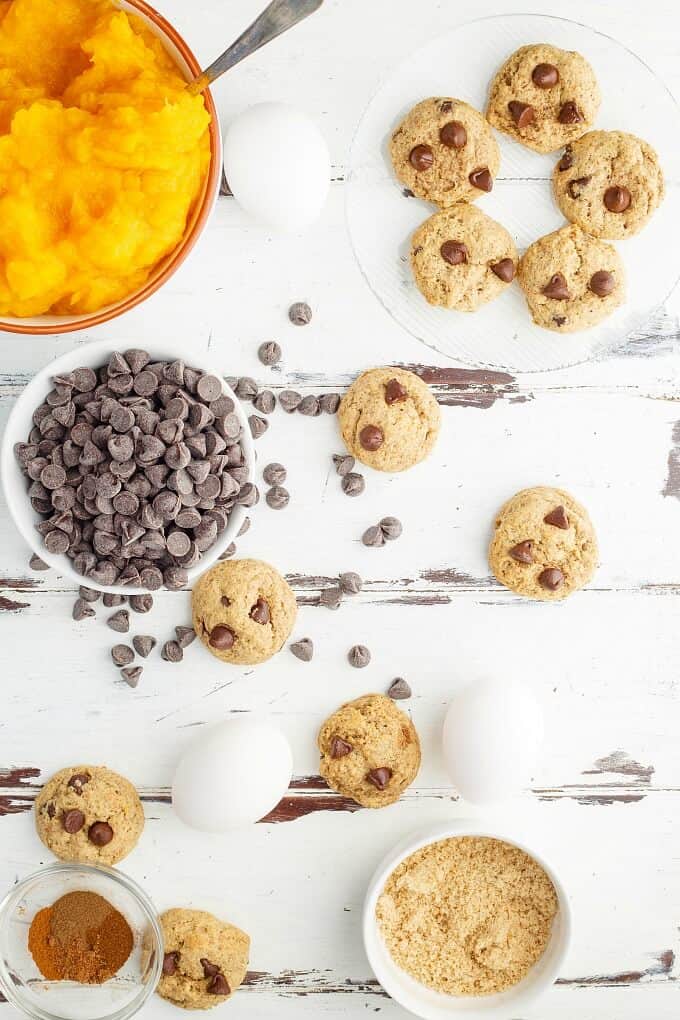 These chocolate chip pumpkin cookies are outstanding! There are three non-pumpkin lovers in this household and every one of us enjoyed them thoroughly. I gave the rest to a friend who is an extreme pumpkin lover (he was a bit sad that the pumpkin spiced latte was no longer in season.) Plus, with all the recipes I have been baking and cooking for the past few weeks, food is starting to add up. We have a TON of leftovers! I love living far from city-life, but sometimes it would be nice to live closer to friends who enjoy my cooking. It would keep us from eating all these treats!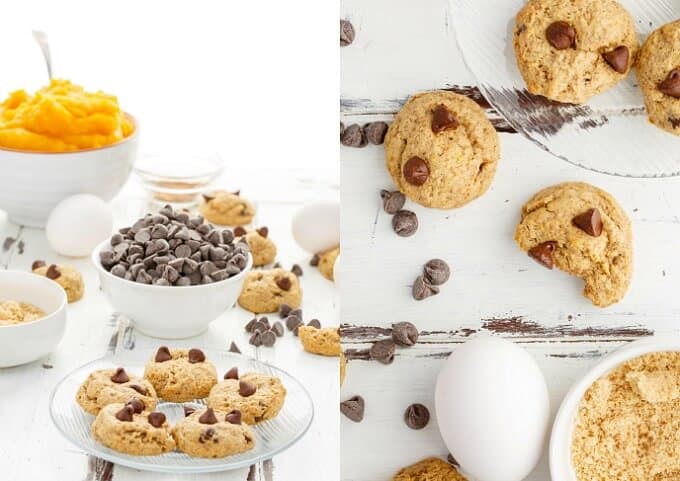 Nonetheless, I have high hopes that my daughter will love to cook. She already shows interest, and what child wouldn't want some delicious chocolate chip pumpkin cookies?! If you are concerned about the chocolate aspect, I can see raisins working perfectly here. I do not care for raisins, but my daughter loves them! Nothing better than having a child who eats just about anything (she is the best little taste-tester a mom can have!)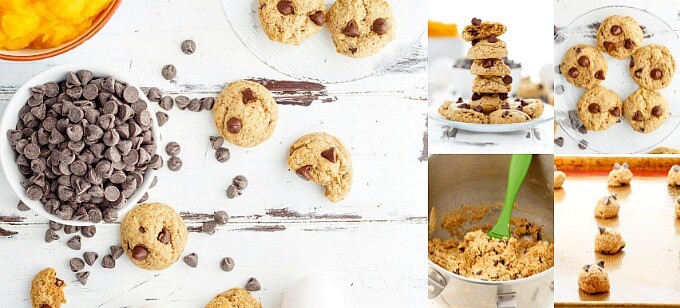 So, whether chocolate or raisins, or maybe even some pecans, these pumpkin cookies will surely be a hit. Not overly sweet, and no knock-you-out pumpkin flavor (you could sub in some pumpkin spice for more pumpkin flavor if you like.) I will admit, the pumpkin cookies were soft and moist, almost cake-like in texture, but not too dense. Give them a try, you will not be disappointed!
📖 Recipe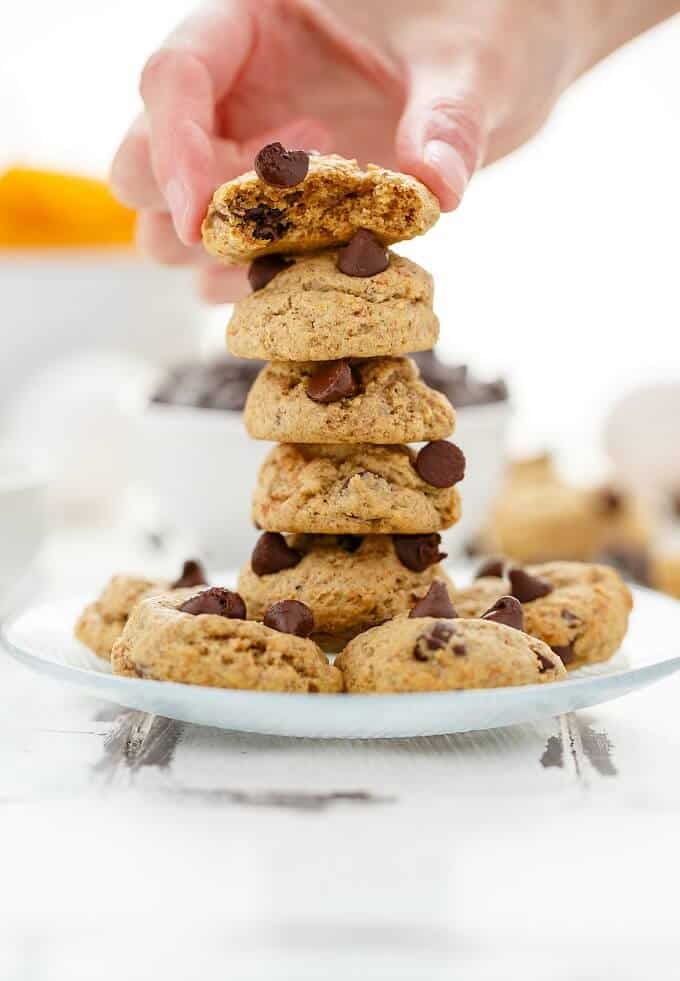 Chocolate Chip Pumpkin Cookies
Whether you use freshly made pumpkin puree, or the store-bought version, you can bet these cookies will be a hit!
Ingredients
½ cup butter, room temperature
½ cup granulated sugar
½ cup brown sugar
1 large egg, room temperature
½ tsp. vanilla
½ cup pumpkin puree
2 cups whole wheat flour
1 tsp. baking soda
⅛ tsp. ground cloves
⅛ tsp. ground allspice
1 tsp. ground cinnamon
½ tsp. ground nutmeg
⅛ tsp. ground ginger
Pinch of salt
¾ cup chocolate chips
Instructions
Preheat oven to 350F. Line a baking sheet with parchment paper or silicone liner.
Add butter and sugars to the bowl of your stand mixer. Beat until light and fluffy, about 5 minutes. Add vanilla, egg, and mix until well combined (scraping down the sides if necessary.) Add the pumpkin puree and mix until just combined.
Sift together flour, baking soda, cloves, allspice, cinnamon, nutmeg, ginger, and salt. With the mixer on low, slowly add the flour mixture and mix until just combined. Stir in the chocolate chips.
Measure out one tablespoon-sized portions and roll into balls. The dough may seem a bit sticky, but it will be fine. Bake for 8-10 minutes, or until golden brown. Allow to cool for 5 minutes on the sheet before moving to wire rack.
Notes
I find homemade pumpkin puree on the thinner side, so my cookies were not really "sticky" this time around. Canned pumpkin should give you no issue!
Nutrition Information:
Yield:

36
Serving Size:

1
Amount Per Serving:
Calories:

88
Total Fat:

4g
Saturated Fat:

2g
Trans Fat:

0g
Unsaturated Fat:

1g
Cholesterol:

12mg
Sodium:

63mg
Carbohydrates:

13g
Fiber:

1g
Sugar:

7g
Protein:

1g
The use of whole wheat flour in this recipe was decided upon because I tend to always cook with all-purpose flour and I have found my bag of whole wheat flour has been sitting around for some time (don't worry, it is still good!)
You could easily sub in all-purpose flour here. I found the pumpkin cookies with whole wheat flour had a nice combination of flavors. It reminded me of pie, in cookie form! Plus, they are a bit healthier! I didn't say healthy, a said a "bit" healthier 😉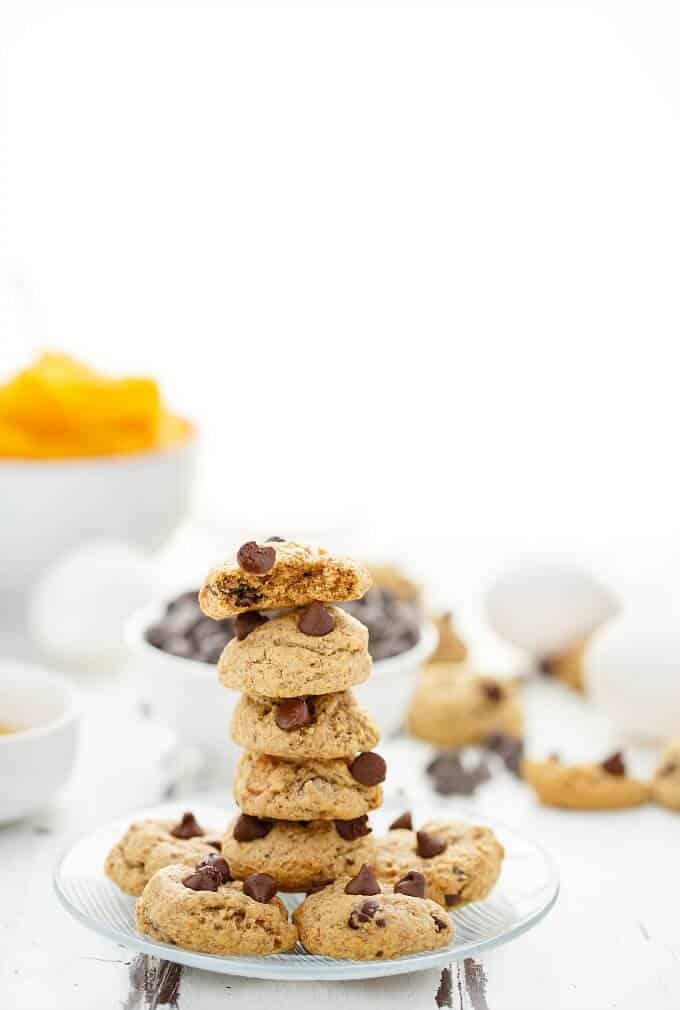 Love these chocolate chip pumpkin cookies?! Try some of these recipes: