I have never been a huge fan of carrot cake, but my sister raves about it and many others swear by it. I finally got around to making one and was so impressed with the outcome (even with the little mishaps along the way) that I ate two pieces! My high school friend's, Steph and Jess, popped out for a visit and each had two slices. I figured I must have done something right to warrant those second helpings.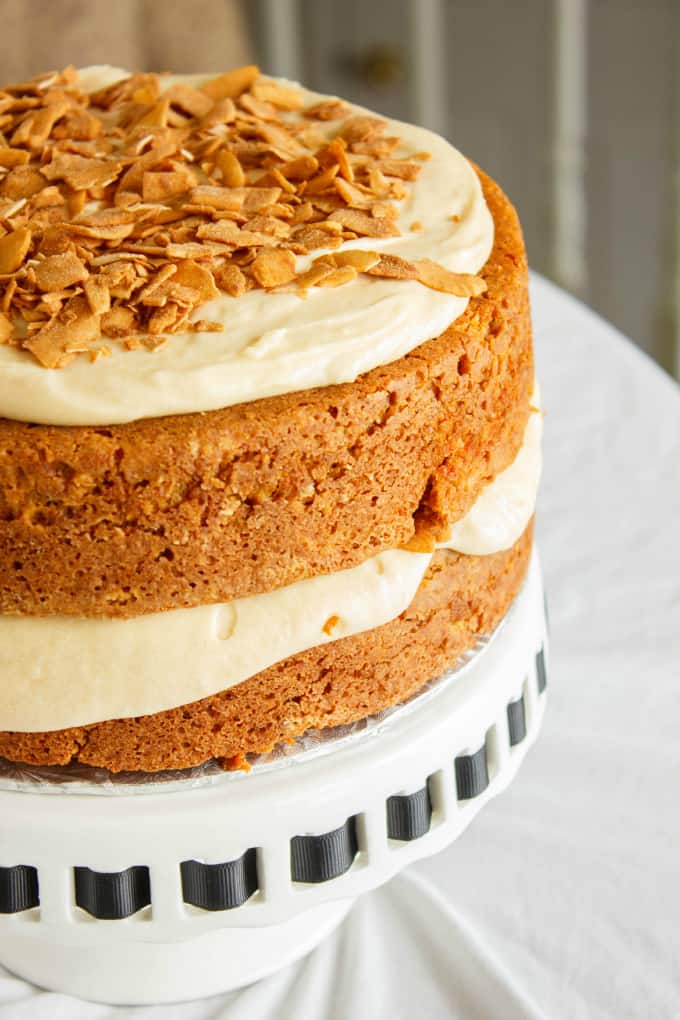 The carrot cake itself was super easy to make. I only had the minor problem of under-baking them originally. I would suggest beginning to check on the cakes around the 40 minute mark and work from there. For some reason my very centres of the cake did not want to harden fully. I was so concerned with over-baking them but turned out I could not cook them enough! I may invest in one of those tools that you insert into the middle of your cake to help distribute heat evenly. My second idea is to make this again in 3, 6-inch cake pans. Maybe the smaller pan will help. If you do not have round cake pans, a large rectangular one should work, you will just have to adjust the cooking time.
I also was a bit thrown off during the buttercream production. I thought I had more cream cheese on hand, but turns out I slacked during my grocery trip. No worries, I kind of halved the recipe and yet added brown sugar to help give it a more potent flavour. It all worked out in the end and the batch of buttercream was just enough for a naked cake (my favourite method at the moment.) It was sooooo good! The browned butter added a nice saltiness (not sure if my butter was salted or not, I got it fresh from the farm thanks to a good friend,) and did not mask the cream cheese flavour. I added brown sugar because I thought it would pair nicely with the carrot cake, and I was also concerned about the stability of my cream cheese frosting. Remember cream cheese frosting is on the looser side, so it is not recommended at all for decorating with (ex. buttercream roses, ribbons, etc.) This version is almost glaze-like and I wanted to lick the bowl clean, but I left that to Jess and my daughter.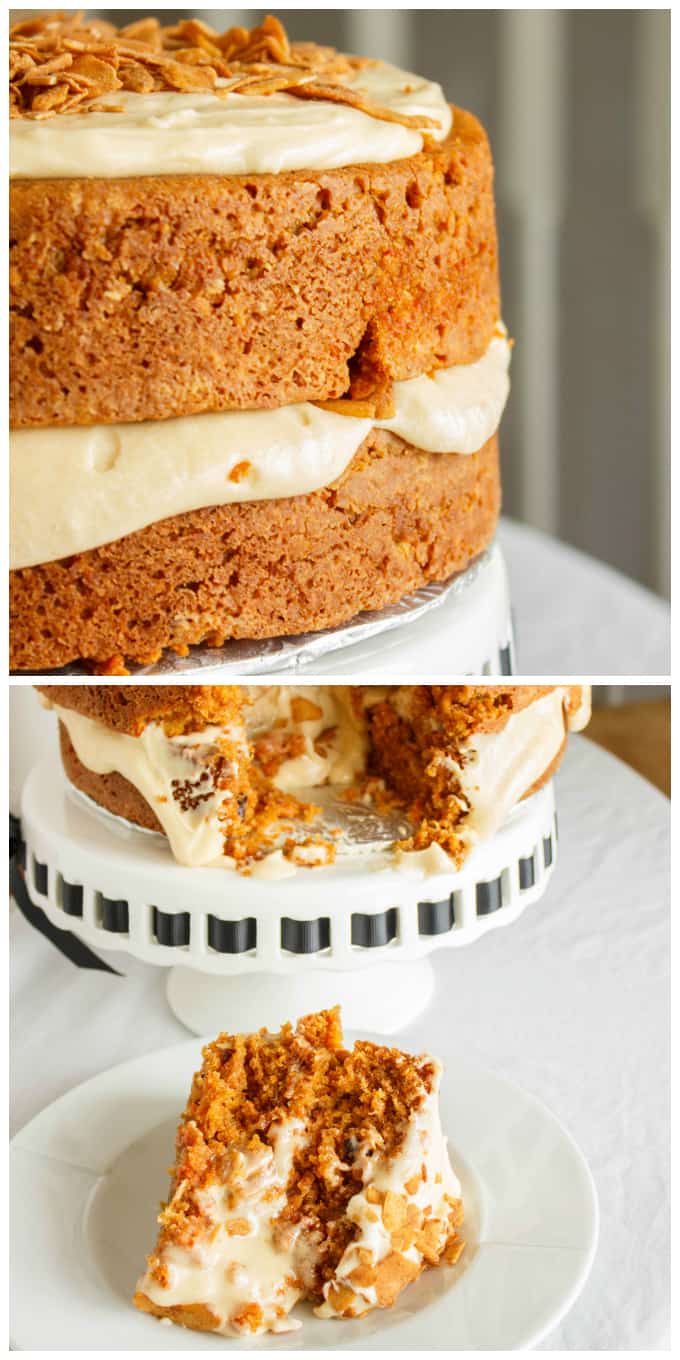 Now onto the funny part. I made this cake while making us lunch, all the while trying to entertain my guests and not leaving them alone too long with my daughter (because we all know how a 3.5 year old can be.) Assembly of the cake was kind of rough and I feel self conscious having people watch me take photos so I was kind of panicking. Nonetheless, the carrot cake turned out quite rustic and I loved how all the colours worked in this naked cake. We all had a slice and decided to go back for seconds. Steph and I were chatting while Jess grabbed another piece. Well, we look back and low and behold, Jess has somehow dropped the cake on the counter, completely off the cake stand…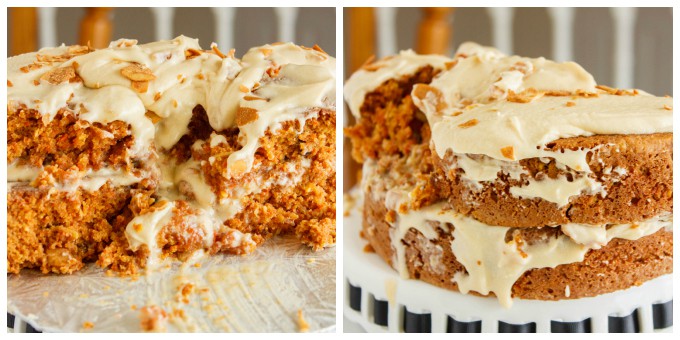 We all laughed and asked how she managed that! I scooped the cake up the best I could and salvaged what I could (which was surprisingly most of it!) My husband's coworkers are going to wonder what the heck happened when they see this cake today! At least I got pictures beforehand to prove it looked half descent before the accident!
Carrot Cake with a Brown Butter and Brown Sugar Buttercream
---
Kacey
Yields 9-
35 minPrep Time
1 hr, 15 Cook Time
1 hr, 50 Total Time
Ingredients
1 lb carrots (approximately 3 large.), grated
3 eggs, room temperature
1 cup brown sugar
1 cup granulated sugar
1 1/2 cups melted coconut oil
1/2 cup buttermilk, room temperature
2 tsp. vanilla
2 1/2 cups all-purpose flour
1/2 cup cake and pastry flour
1 1/2 tsp. baking soda
1 tsp. baking powder
1/2 tsp. salt
2 tsp. ground cinnamon
1/2 tsp. ground ginger
1/4 tsp. nutmeg
1 cup unsweetened, toasted coconut
1 small apple, peeled, grated
1/2 cups toasted pecans, coarsely chopped
1/2-1 cup toasted coconut chips (or toasted coconut.)
Buttercream:
1/2 cup butter
8 oz (one package) cream cheese, room temperature
1 tsp. vanilla
3- 3 1/2 cups confectioners' sugar
1/4 cup brown sugar
Pinch of salt
Instructions
Preheat oven to 350F. Grease two 9-inch pans with shortening and coat with flour. Set aside.
In a large bowl, mix together the carrots, apple, eggs, sugars, buttermilk, vanilla, coconut, coconut oil, and pecans. In another bowl, sift together the flours, baking soda, baking powder, salt, cinnamon, ginger, and nutmeg. Pour the dry mixture into the wet mixture and mix until just combined.
Separate the batter evenly between the two pans. The cake does not rise too much, so do not be concerned if there appears to be a lot of batter. Place into the oven and bake for 40-50 minutes, or until centre comes out clean when you insert a toothpick inside. Set on cooling racks for 10-15 minutes, or until you can handle the pans without burning yourself. Flip cakes out and allow to finish cooling.
Buttercream:
Melt the butter in a large saucepan over medium heat. Cook until the butter is browned, stirring often, about 5-6 minutes. Remove from heat and pour in the bowl of your stand mixer. Refrigerate until solid (or just about,) around 30 minutes.
Add the cream cheese and whip until light and fluffy, about 5 minutes. Add in the butter and confectioners sugar, whipping again to combine (add more confectioners' sugar for a stabler buttercream, but you risk the chance of masking the cream cheese.) Add in the brown sugar and mix again until well combined. Sprinkle with salt if desired.
Assembly:
Level cake tops if necessary. Place one half onto cake tray and spread half the buttercream onto the layer. Sprinkle with coconut chips. Add the next layer and pour the rest of the buttercream on top. Garnish with more coconut chips.
Store in refrigerator and remove 15 minutes or so before serving.
7.8.1.2
269
https://thecookiewriter.com/carrot-cake-with-a-brown-butter-and-brown-sugar-buttercream/
(Adapted from
The Fauxmartha
)
And remember how I said I was not a fan of carrot cake? I am now! This cake completely transformed me! I always dreaded canned pineapple in carrot cake, and I knew it would not be in mine. The coconut and pecans are optional, but in all honesty, you cannot really taste the coconut. It is there mainly for texture. Those coconut chips though…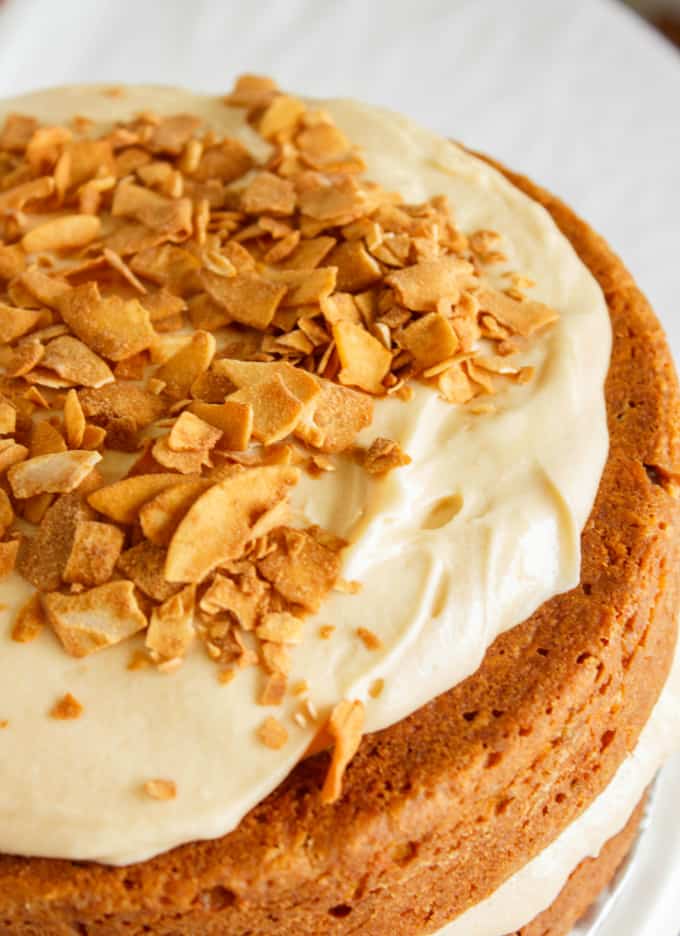 My mother-in-law grabbed them for me. They are little shreds of coconut, cooked with coconut sugar and salt. It is like eating candy. I could not stop taking handfuls as I cooked! I thought it added a really nice element to this cake, but if you cannot find them at your local grocery store, you can always top the cake layers with more toasted coconut (maybe using sweetened coconut for extra oomph!)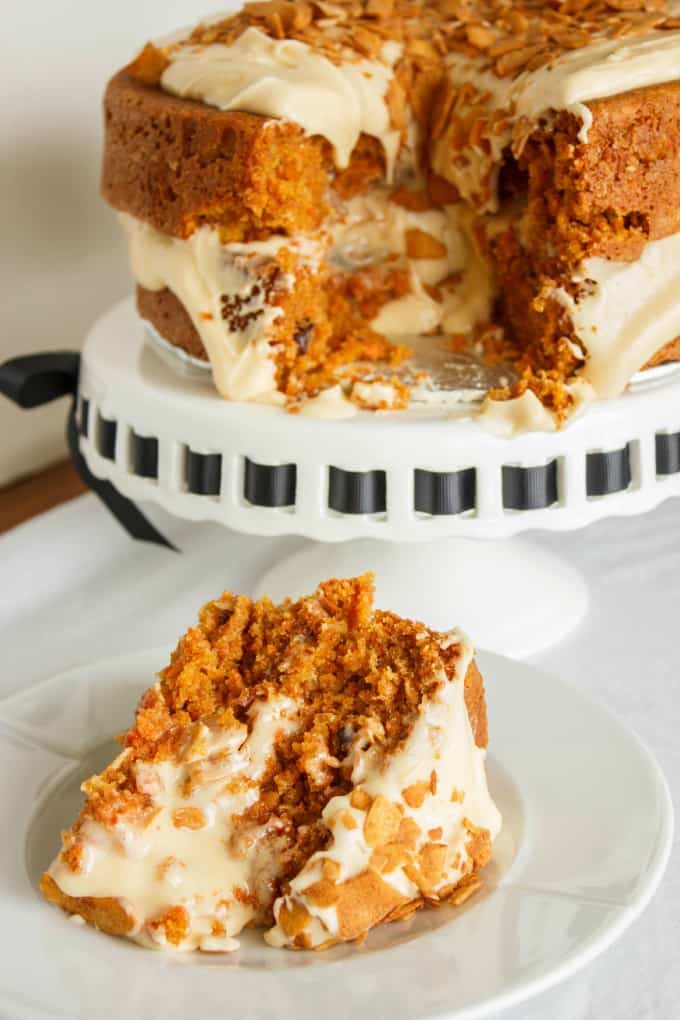 This being said, I am not a BIG fan of naked cakes. The colour of the carrot cake was not hidden behind layers of buttercream, and there was that perfect balance of sweetness here. Sometimes I find icing can be too much on a cake. Cream cheese icing is so delicate too, I did not want to risk have a puddle around my cake. So give this cake a try for Easter and marvel at how great it is! Just keep an eye on that cook time, it gave me a bit of trouble. Now that I think of it, I accidentally used 3 EXTRA large eggs instead of large eggs… Costco tricked me with their packaging!