Looking for a bright and flavorful soup that can be eaten all year round?! Try this Roasted Vegetable Massaman Curry Soup (Coconut-Free) courtesy of my workmanship with Thai Kitchen!
Spring is finally here and the temperatures are starting to look promising. I am hoping it is not Mother Nature teasing us like she did a couple of weeks ago where we had warmer temperatures and then entered freezing temperatures again! I had basically put away my winter gear but had to pull out some items to battle the frigidness. Such a long, long winter.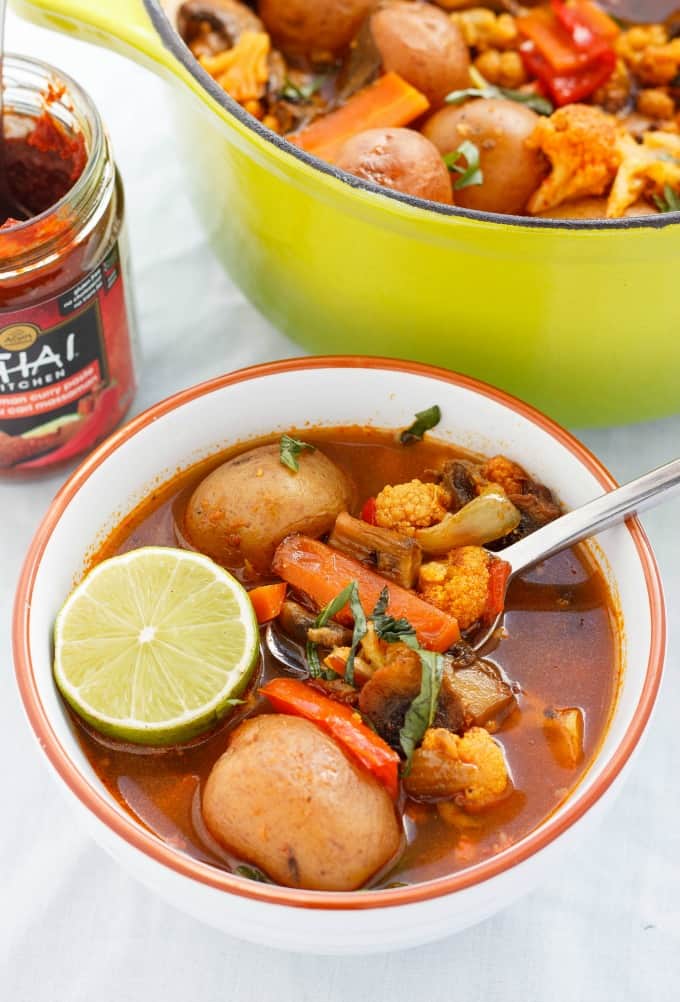 That being said, it was not unusual for us to indulge in various soup recipes over the winter season. We indulged in many rich meals, as well as light varietals, but nothing as comforting, and yet delicate, as this roasted vegetable Massaman curry soup. I was floored with the results, and that says a lot because I have a secret... I have never been a fan of curry. Okay, I said it! I mean, my husband and brother LOVE it. They make chicken curry whenever possible, but as a vegetarian I do not see the appeal. Even past vegetarian curry recipes have just been "alright" for me. But this Massaman curry paste? It is unlike anything I have had before when it comes to curry, and I mean this in the most positive way! I couldn't get enough of this Massaman curry soup, and while I wanted to have a third bowl, I resisted the urge and allowed my husband to steal the rest for dinner (and lunch the following day) because he kept telling me how much he loved it! As a curry lover, I knew I had created something amazing!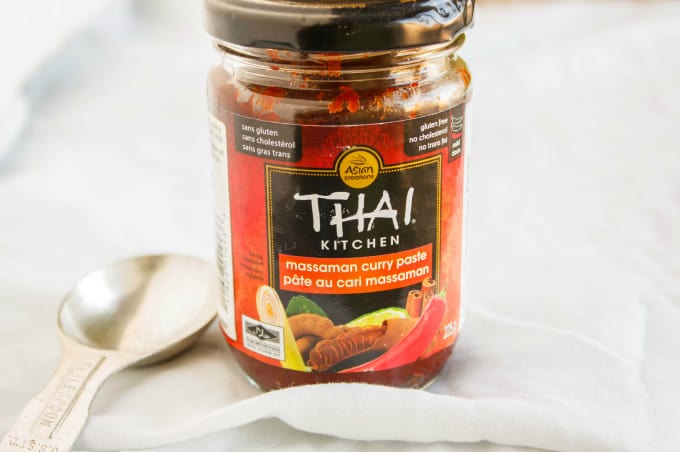 So, what is Massaman curry? Thai Kitchen's Massaman Curry Paste is a gluten-free product that contains the flavorings of tamarind, lemongrass, and a blend of spices. When I began to work with it, I knew I wanted to elevate that lime flavor (as minor as the ingredient was,) but all the while not overwhelming the natural flavors. Since CNN remarked that Massaman curry was one of the most delicious foods, I was super intrigued and excited to work with this product. Turns out, as I mentioned above, it was unlike any curry I had tried before. We were concerned since the curry was listed as "mild" and we prefer spicier dishes, however, paired with the right seasonings, you can bring a bit of heat to the recipe. Honestly, I did not miss the heat because the Massaman curry paste made up for it in its flavor (not sweet, but almost rich and comforting, though remaining light.)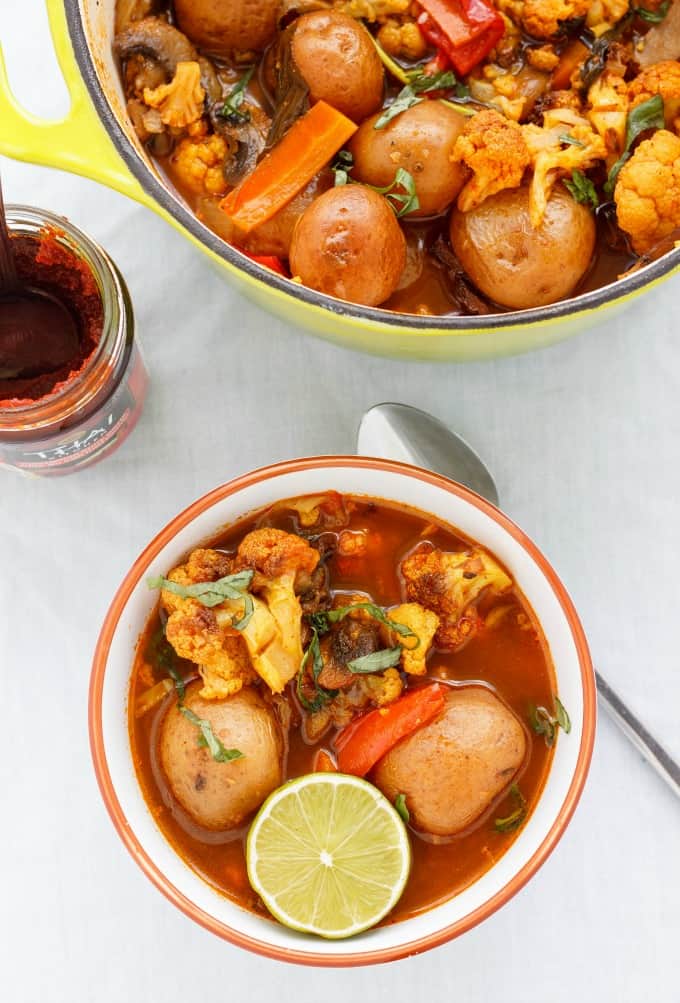 Now, not only is this roasted vegetable Massaman curry soup super delicious, it is quick, easy, vegan, and gluten-free! I wanted a soup recipe that appealed to everyone, and I know many turn to coconut curry soup when they have the chance. But as much as I love coconut in any form, I know people, like my sister, who do not. Creating this soup with no coconut milk was intentional and my plan from the beginning. You could easily add in coconut milk if you like, but I thought the soup was perfect as is! My husband wished there had been more broth because that was his favorite part so the only thing I would change next time is doubling the broth content (8 cups broth, 4 tbsp. Massaman curry paste, 3 tsp. freshly grated ginger, 1 lime, and maybe double up the cumin and turmeric.) He even mentioned how the broth alone would be nice on a chilly winter's day when one is battling a cold. I personally think this soup would be great during any season, and I will say, the cauliflower soaked in the broth was my favorite part!
You can easily make this soup with any veggies you have on hand. I think bok choy would work nicely here, and even shrimp would add a nice touch for non-vegans/vegetarians. Basically, this Massaman curry soup is super easy to make and a great way to clear out the veggies in your refrigerator! Find the Thai Kitchen Massaman Curry Paste at your local Metro here in Ontario, Canada.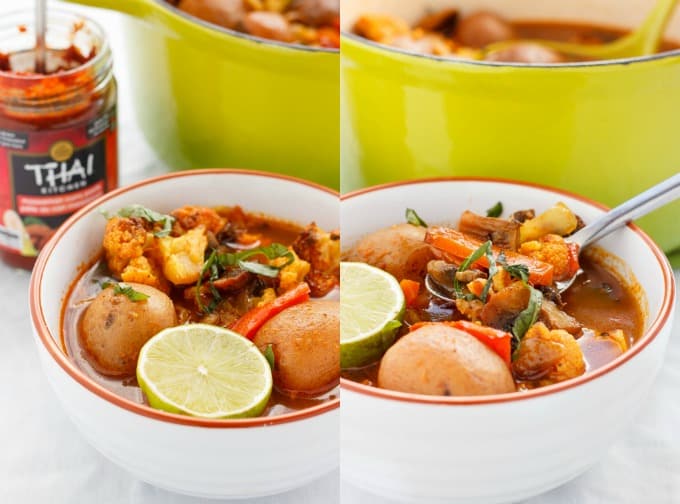 📖 Recipe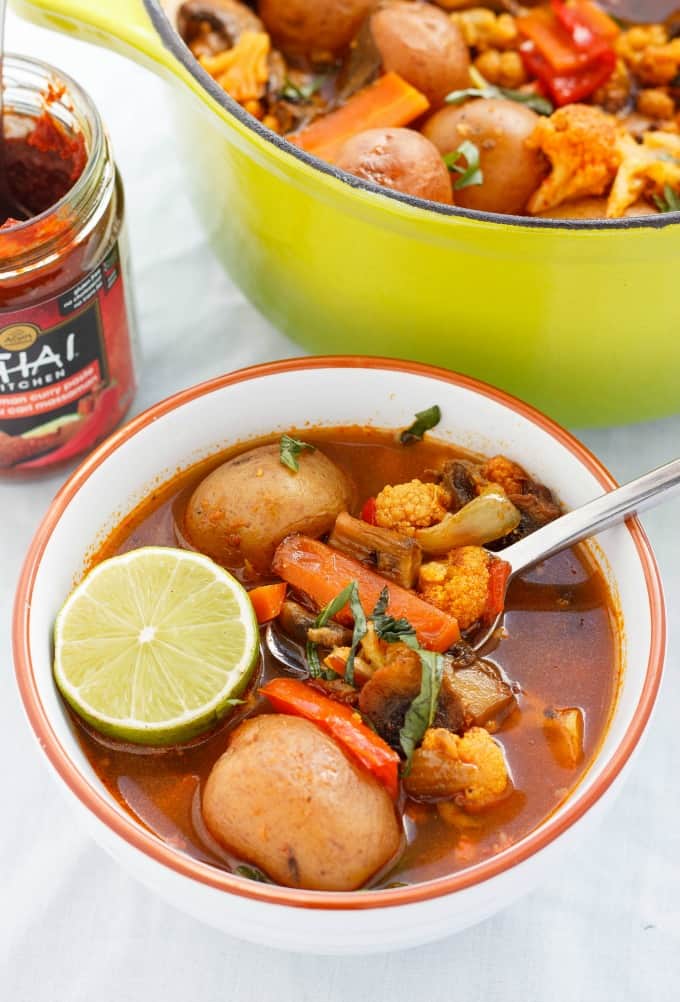 Roasted Vegetable Massaman Curry Soup (Coconut-Free)
This soup is completely vegan and the additional of coconut milk would only enhance the flavors!
Ingredients
2 tbsp. Thai Kitchen Massaman Curry Paste
5 cups vegetable or chicken broth (I kept this recipe vegan.)
1 large carrot, sliced into matchsticks
1 large onion, roughly chopped
3 garlic cloves, peeled but left whole
1 ½ tsp. fresh ginger, grated finely
1 head of cauliflower, cut into florets
1 red pepper, chopped
8 oz button mushrooms, sliced
1 pounds (about 14 baby or Creamer potatoes) cut in half
¼ tsp. cumin
½ tsp. ground turmeric
1 bunch fresh basil leaves, whole and divided
Salt and pepper
½ lime, juiced
¼ cup + 1 tsp. olive oil
Rice noodles (optional)
Instructions
Preheat oven to 425F. Line a baking sheet with parchment paper or a silicone mat.
In a large bowl, add the cauliflower, carrots, onion, garlic, red pepper, and mushrooms. Pour in enough olive oil to lightly cover your vegetable. Season with salt, pepper, cumin and turmeric and toss. Pour onto baking sheet and spread into an even layer. Bake for 15 minutes and then toss veggies, cooking for another 10-15 minutes, or until veggies are tender-crisp.
In a dutch oven (or large soup pot,) heat 1 tsp. of olive oil over medium. Add in fresh ginger and cook for 1 minutes, or until aromatic. Add Thai Kitchen Massaman Curry Paste and stir continuously for about 3 minutes, allowing the paste to cook. Pour in the vegetable broth and fresh lime juice. Throw in the whole bunch of basil, leaving a couple of leaves behind as garnish. No need to remove leaves from stem because we will be removing them. Raise heat, stir until paste breaks up and mixture reaches a boil. Add potatoes and simmer for 5 minutes. Add in the roasted vegetables and simmer, partially-covered, for about 15-20 minutes, or until potatoes are soft.
Remove basil leaves. Serve as is or over rice noodles! Garnish with basil if desired.
Nutrition Information:
Yield:

4
Serving Size:

1
Amount Per Serving:
Calories:

302
Total Fat:

3g
Saturated Fat:

1g
Trans Fat:

0g
Unsaturated Fat:

2g
Cholesterol:

4mg
Sodium:

456mg
Carbohydrates:

58g
Fiber:

17g
Sugar:

15g
Protein:

14g
Spring, summer, fall, winter: This soup works any time! I know many people look for lighter recipes during the warmer weather, though soup isn't their first thought. Honestly though, I didn't even mind eating this Massaman curry soup cold (I am weird like that though, my husband would never dare eat anything cold!) I wanted to make another batch of this soup asap, but was completely out of cauliflower. Don't worry, this soup will be made again, and soon! For now, checkout this Shrimp Curry courtesy of Thai Kitchen! I have already made a french onion soup recipe using this paste!
Love this roasted vegetable massaman curry soup?! Try some of these recipes: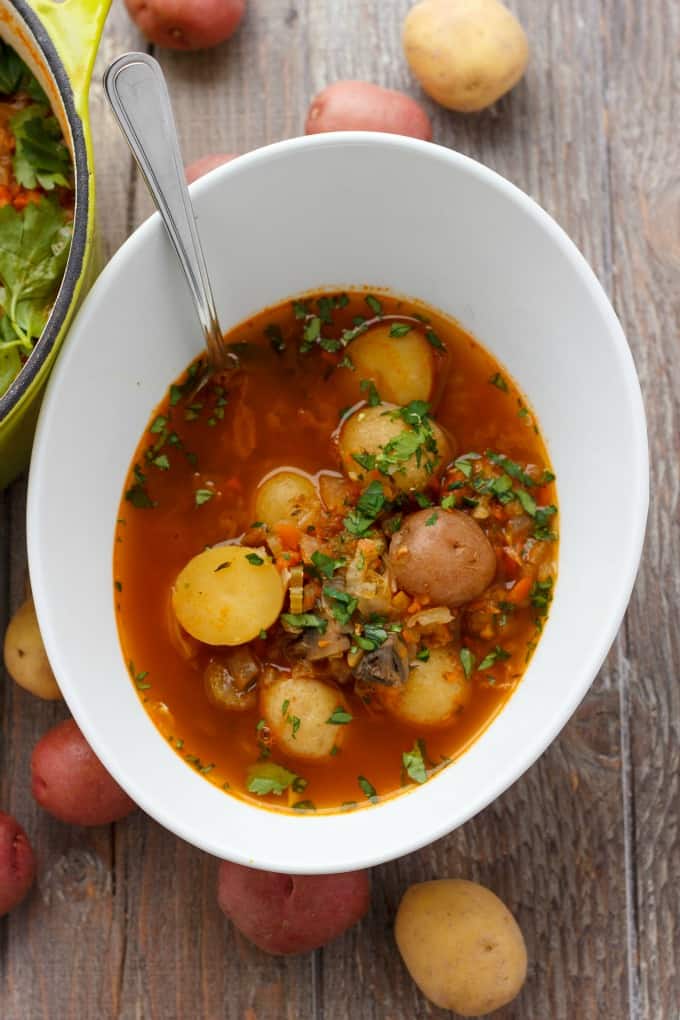 Simple Vegetable Soup with Creamer Potatoes
This is a sponsored post. I was fortunate enough to receive products from Thai Kitchen. Though products were received, all opinions are my own and I would not recommend a product that I did not enjoy.