Sweet and savoury come together with these spicy glazed pecans! Perfect as a snack on their own, or in salads (the perfect textural element!)
The photos for these spicy glazed pecans have been updated as of November 27th, 2016!
Being a food blogger, I obviously love making food. But like many, I do love eating out, especially at fancy restaurants. I try to order something I cannot make at home, or takes some effort, but sometimes I am drawn to certain recipes. Especially salads. The problem with salads at restaurants is the price. I always find them so expensive. I know the mix-ins can add up, but still…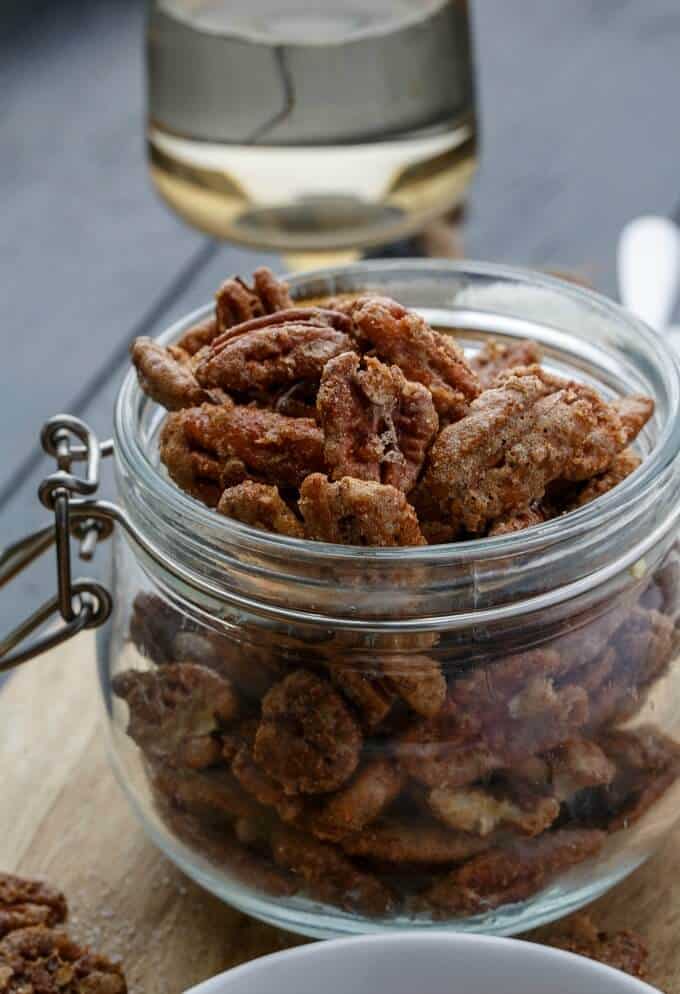 When I tried Milestone's California spring salad, I fell in love! I knew I wanted to make it at home, but the one thing besides the dressing that was throwing me off was the spicy glazed pecans. Pecans are pretty pricey on their own, but buying them pre-glazed at the store is asking for more cost. I went through a ton of recipes, and finally found one that really stood out to me. I know they are called spicy glazed pecans, but they are not overly hot at all. If my sister can eat them, anyone can. And she can really eat them. You may remember me posting a larger version of this recipe and how I made her an entire bag for her birthday. Pretty sure she ate the bag within two days… This time around she actually bought a bag of pecans herself and wants to bring them over so I can cook up the bag for her. Good thing I am number one sister!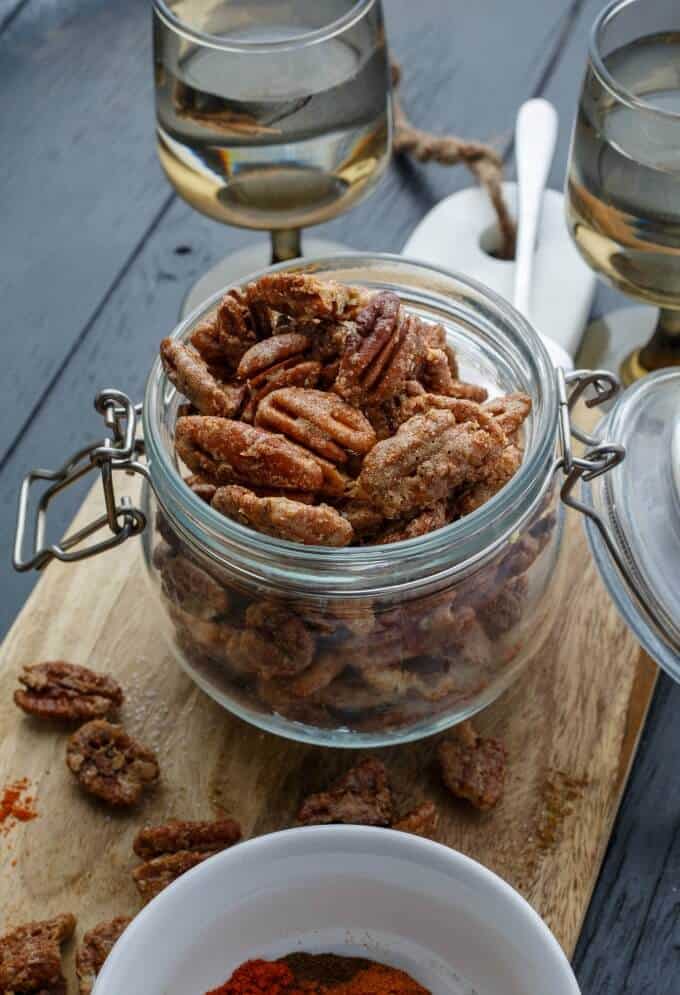 I will be posting the salad this week, but for now, don't think of these spicy glazed pecans just for salad. My husband and daughter munch on them as a snack, but I see them working really well in pasta, too. This recipe makes 4 cups of pecans which is more than enough for a salad, however, they last forever stored in a tight container. My previous recipe was double that because I would cook up the entire bag of pecans. Let's be honest, this recipe takes little effort, but I don't want to be making a small batch each time I want a salad!

Spicy Glazed Pecans
---
Kacey
Yields 4
Perfect as a snack or on top of salads!
10 minPrep Time
30 minCook Time
40 minTotal Time
Ingredients
4 cups pecans halves
3/8 cup granulated sugar
1/2 tsp. salt
1/2 tsp. chili powder
1/2 tsp. cumin
1/2 tsp. allspice
1/2 tsp. cayenne powder
1/4 tsp. ground nutmeg
1 egg white
Instructions
Preheat oven to 300F.
Mix all the spices together with sugar.
In a large bowl, whisk the egg white until it is foamy and no liquid remains (a hand mixer works great here!) Add spice mixture to egg and mix. Pour in pecans and toss until well combined. Spread onto a baking sheet in an even layer. Bake for 15 minutes. Toss pecans, lower temperature to 250F and cook for another 15 minutes.
Allow to cool on baking sheet (I give them a toss every so often.) Store in an airtight container.
7.8.1.2
248
https://thecookiewriter.com/spicy-glazed-pecans-recipe/
(Adapted from Group Recipes)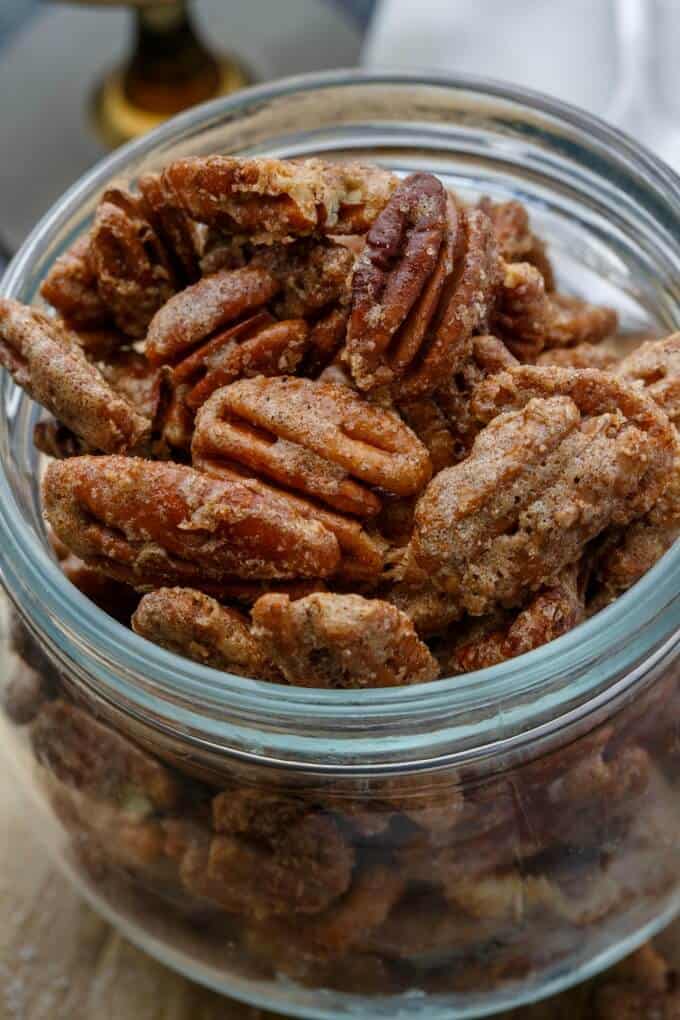 As these spicy glazed pecans are cooling, we are all picking at them on the baking sheet. I am really surprised we have any left in the end…
Dan gets these spicy jalapeno peanuts from a coworker of his who buys them at a store located near him. Dan actually puts in an order with him because we have no location near us to buy them. They are so good and not too expensive, but still more than plain peanuts. I want to try making a batch of spicy peanuts and see if I can beat their flavour (they are really spicy, making me think I am wrong about jalapeno here.) We love them but we run out of them so quick!
Love these spicy glazed pecans?! Try some of these recipes: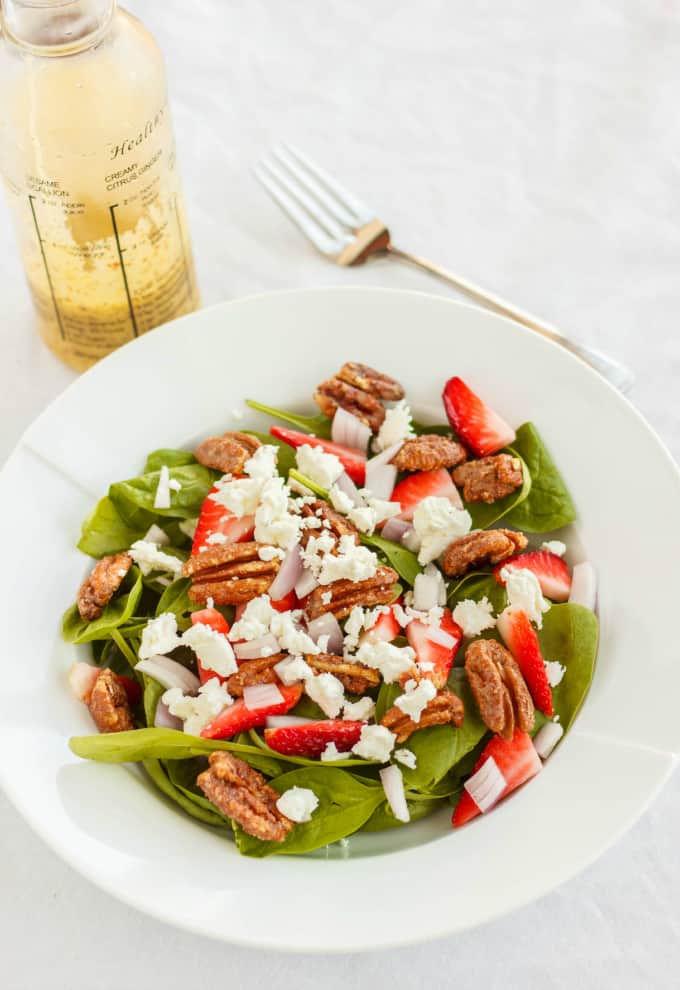 Milestones' California Spring Salad