While we eat spicy glazed pecans all year round, I thought it would be fun to change things up for the holiday season and create these bacon jalapeno pecans! Perfect to hand out as a gift, or just keep them for yourself because they will be hard to share!
It is that time of year to begin thinking not only about delicious foods to serve during the holidays, but also creative gift ideas that everyone will enjoy. Today's bacon jalapeno pecans would work for either!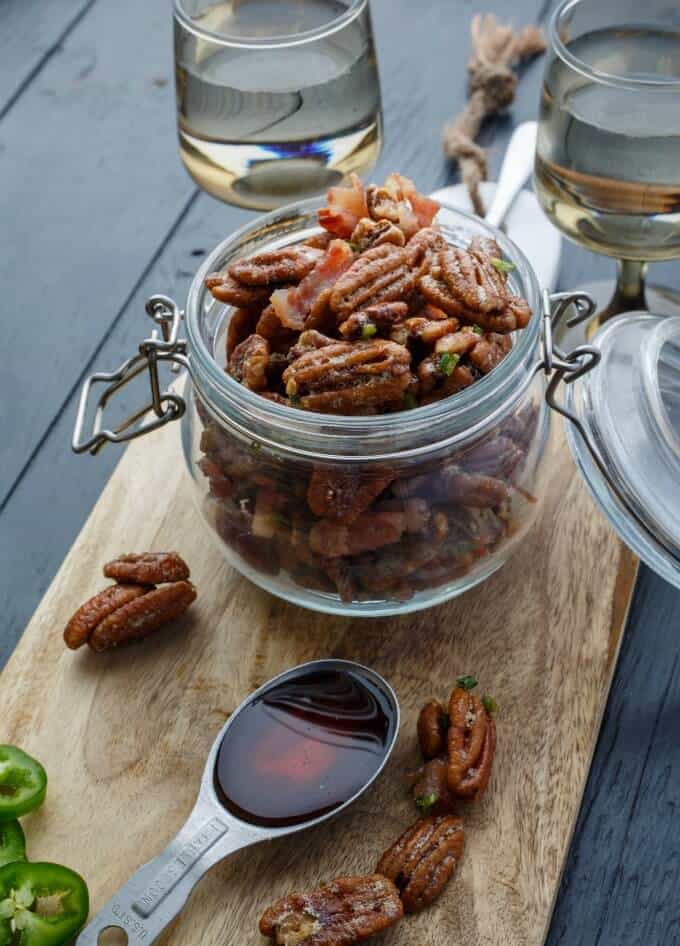 Usually I make spicy glazed pecans and NO ONE turns them down. I use them for my salads, but I have caught everyone from my husband, to my sister, to my own child sneaking into the container. I have also given my sister bags of these made for her birthday, and now she requests me to make them for her all year round.
That being said, her boyfriend loves them just as much as when he was preparing to go away for the weekend, he asked my sister to make a couple of different varieties. Of course she just pawned them off on me, but hey, I was more than happy to experiment.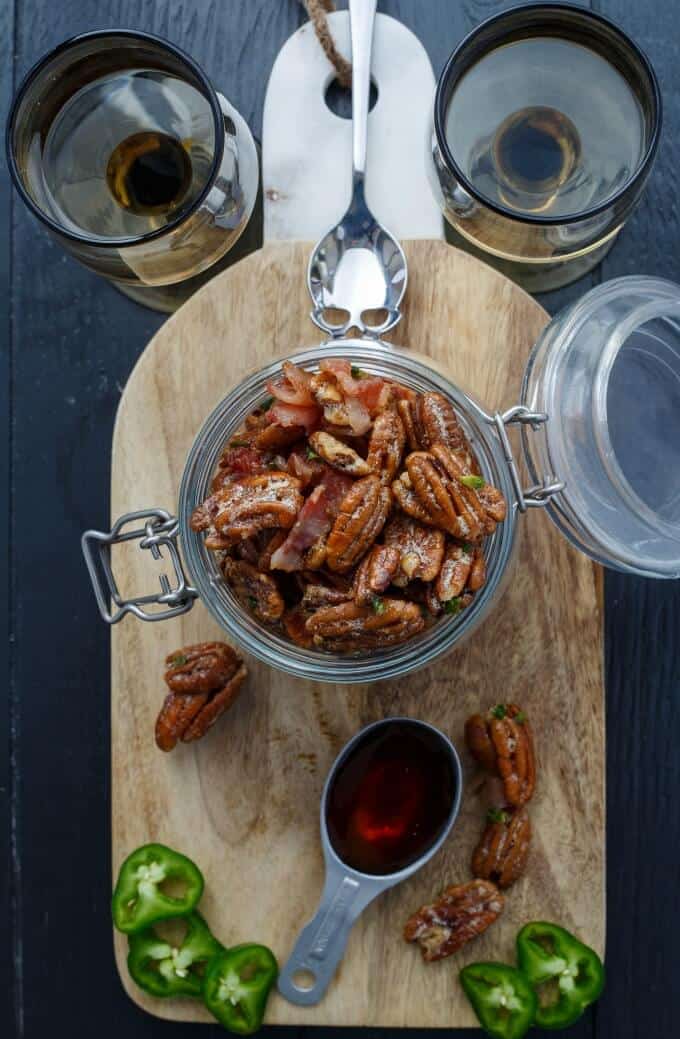 His one request was adding some maple to them. So these bacon jalapeno pecans do have some sweetness to them, but they still pack a bite. My only complaint about these bacon jalapeno pecans compared to the spicy glazed pecans would be that since there is bacon in them, you probably want to store them in the fridge before serving so there are no issues with bacteria and such. I mean, bacon is really salty and stands up to a lot, but I don't want to make anyone sick.
📖 Recipe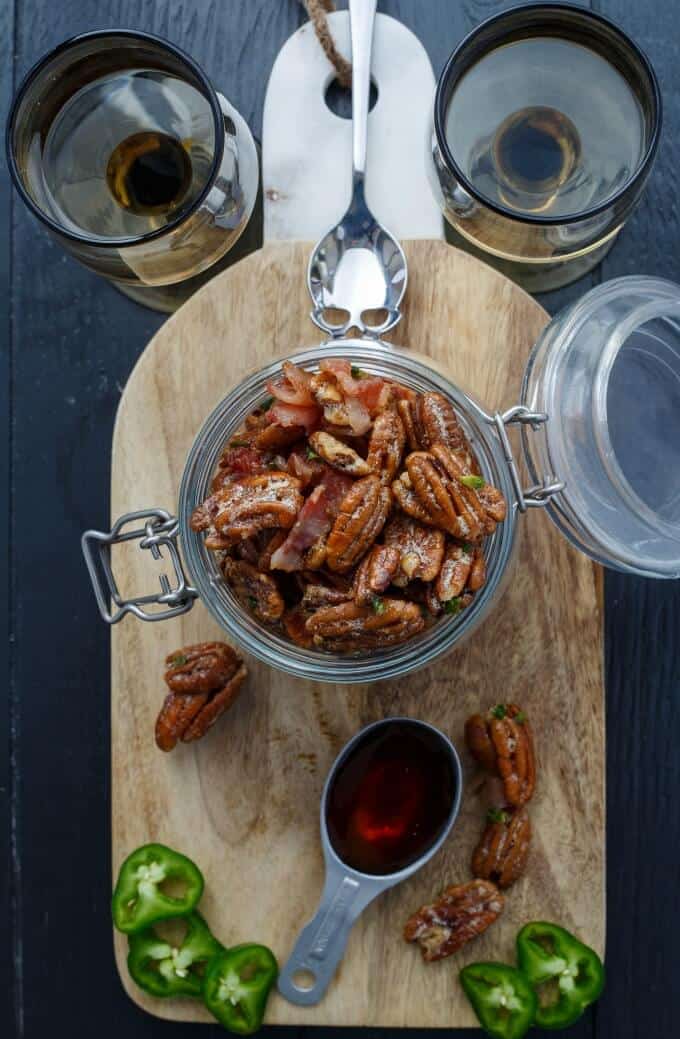 Bacon Jalapeno Pecans
Whether for an appetizer, or a topping on a salad, these bacon jalapeno pecans are the perfect snack this holiday season!
Ingredients
4 cups pecans halves
⅛ cup granulated sugar
6 slices bacon, sliced
1 jalapeno, halved, seeded, and diced
2 tbsp. maple syrup
¼ tsp. nutmeg
1 egg white
Instructions
Preheat oven to 300F.
Line a baking sheet with parchment paper or silicone liner. Add bacon and cook for 10 minutes.
While bacon is cooking, whisk the egg white in a large mixing bowl until it is foamy and no liquid remains. Add sugar, nutmeg, jalapenos, and maple syrup. Mix. Pour in pecans and toss until well combined. Toss with bacon on sheet and bake for 15 minutes. Toss pecans, lower temperature to 250F and cook for another 15-25 minutes.
Allow to cool on baking sheet (I give them a toss every so often.) Store in an airtight container.
Notes
You want to cook the bacon a bit on its own first so it gets some crispiness by the end of the cook cycle.
Nutrition Information:
Yield:

4
Serving Size:

1
Amount Per Serving:
Calories:

855
Total Fat:

81g
Saturated Fat:

9g
Trans Fat:

0g
Unsaturated Fat:

69g
Cholesterol:

17mg
Sodium:

306mg
Carbohydrates:

28g
Fiber:

10g
Sugar:

16g
Protein:

16g
Not only are these bacon jalapeno pecans great as a snack and/or a gift, but they are great on top of salads! Then again, my husband and sister would rather just eat them all as is. I think they would be fun on a cheese ball, too!
Love these bacon jalapeno pecans?! Try some of these recipes: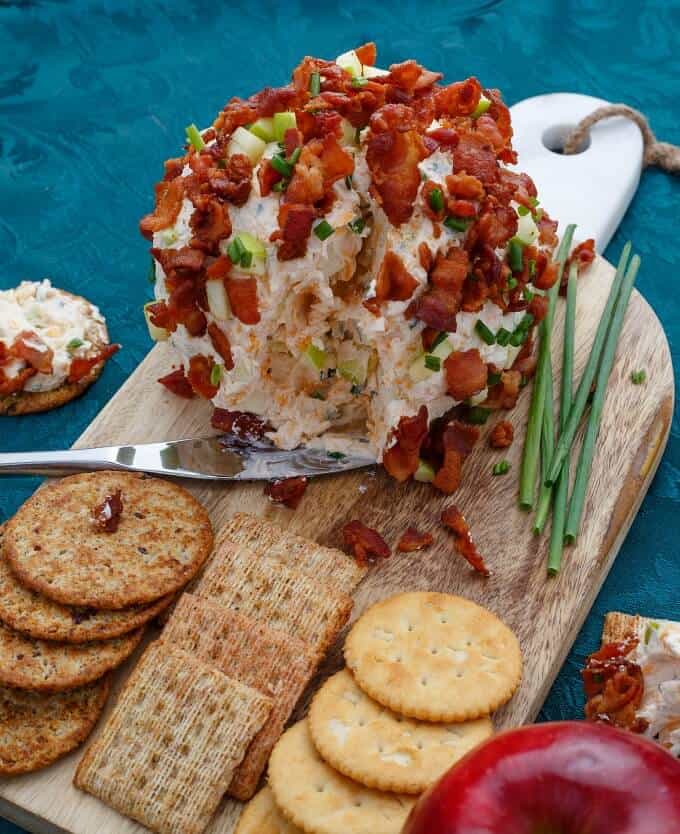 Bacon Apple Cheese Ball