Christmas season is drawing near, and what better way to celebrate than with this cranberry lentil bread! I #LoveLentils and I'm so happy to be working with Canadian Lentils this holiday season (because everyone needs lentils in their lives!)
This is a sponsored post. I was fortunate enough to receive products and monetary compensation from Canadian Lentils. Though products were received, all opinions are my own and I would not recommend a product that I did not enjoy.
Hey everyone!
December is sneaking up, and the Christmas rush begins!
I stress big time during the holiday season, so I have made myself some guidelines each year to follow to help ease me through everything. And it has helped greatly! My Christmas shopping is basically complete, so now I can focus on the next most important thing: food!
Today I am working with Canadian Lentils and bringing you this cranberry lentil bread.
Lentils in bread?! Yes! Lentils are actually a type of pulse (think beans, chickpeas, etc.) and the term pulse is used to describe the edible seeds of legumes (source.)
Working with lentils is nothing new to me. You have probably seen many lentil-inspired recipes on my blog, so having the opportunity to come up with something new for Canadian Lentils was a super exciting opportunity for me! I have made beer and Parmesan bread made with lentil flour, but when I think of the holidays, I lean more towards cranberry and easier/more familiar baking techniques.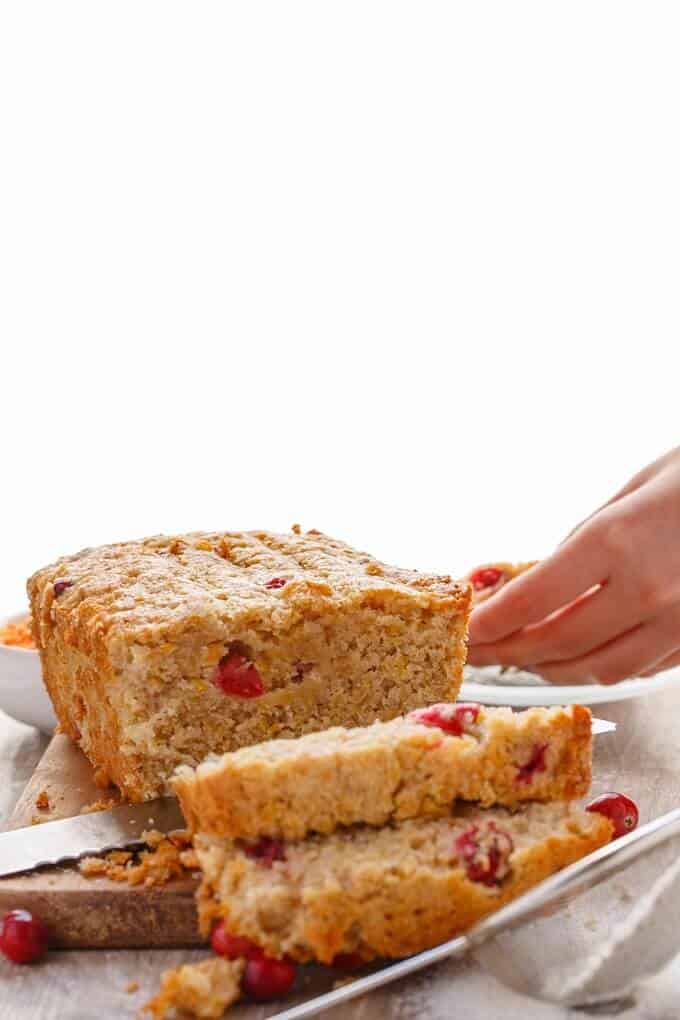 There are so many great things I can say about lentils, and thankfully I have one more holiday post to get all my information into 🙂 Today I will try and keep it simple.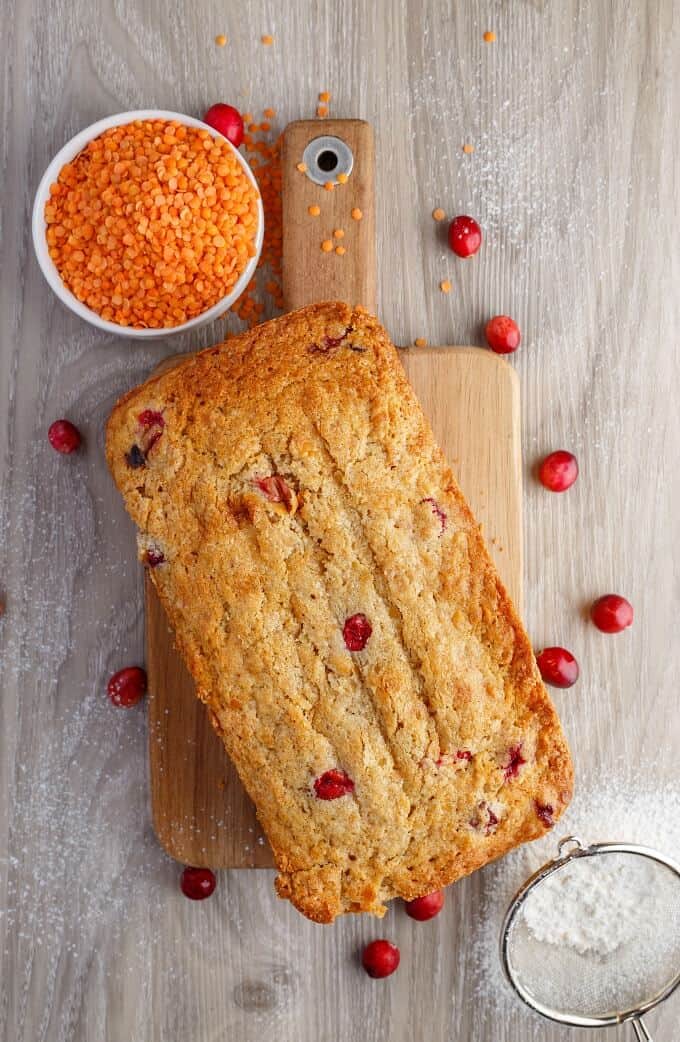 Simple like lentils! That's right, lentils are super easy to work with. No soaking is required, which is a bit uncommon for pulses (like beans and chickpeas because they often need to be soaked overnight before you can cook them.) Similar to rice, lentils just need to be rinsed and simmered. But often times they are completed faster than rice, especially split red lentils (more info on that to come.)
Lentils are great for you! As a vegetarian I live off pulses, but big meat-eaters can enjoy them, too, just ask my husband! High in protein (which is defintiely needed in my diet,) and low in fat, they make great use in healthy recipes (but trust me, I can make some very unhealthy lentil recipes ;).) Which brings us to my last point: lentils are SUPER versatile!
How versatile? Well, let's just say there are more to lentils than just curries and soups! I have made everything from vegetarian meat loaf, to lentil tacos, and even cookies made out of lentil flour that was made from scratch (crazy, eh?!)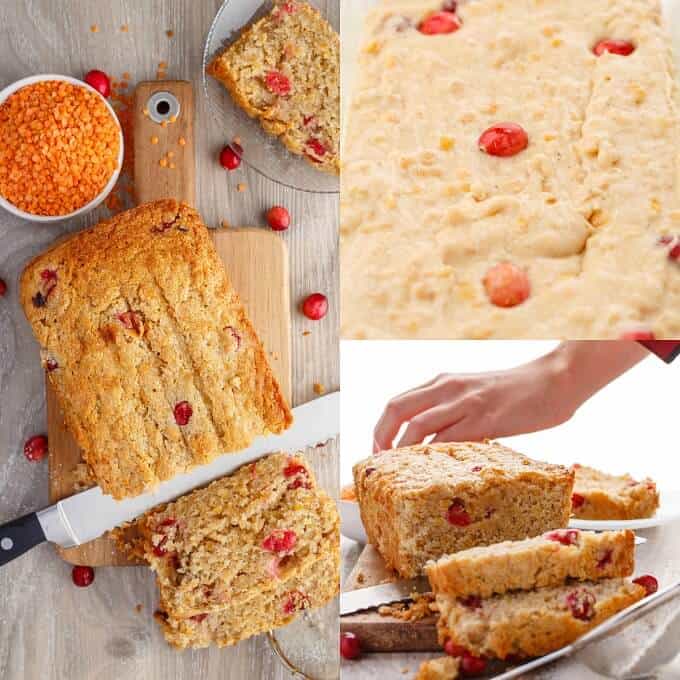 What I am trying to get across with today's cranberry lentil bread is how easy, versatile, and delicious lentils are for the holiday season (and all year round!) We are so consumed with holiday prep and shopping that sometimes we forget about how easy good food is to make with limited time on our hands. And if you thnk this cranberry lentil bread is easy, wait until you see the appetizer recipe I am sharing next month (hint: it involves cheese and lentils!)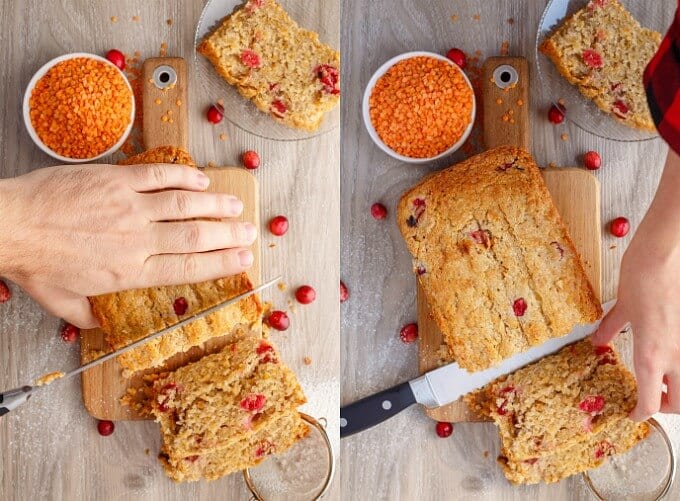 📖 Recipe
Cranberry Lentil Bread
Cook Time:
1 hour
10 minutes
Total Time:
1 hour
25 minutes
Festive and flavorful, your family will never know there are lentils in this recipe 🙂
Ingredients
¼ or ½ cup split red lentils, rinsed (I have made the recipe with both quantities and find both are amazing!)
½ cup brown sugar
½ cup granulated sugar
½ cup coconut oil, room temperature
2 eggs, room temperature
½ tsp. almond extract
½ cup milk (or buttermilk)
1 tbsp. freshly squeezed orange juice (omit if using buttermilk.)
¼ tsp. ground nutmeg
¼ tsp. salt
½ tsp. ground cinnamon
1 ½ cups all-purpose flour
1 ½ tsp. baking powder
¾ cup fresh raw cranberries
Instructions
Add orange juice to a measuring cup and fill with milk until it equals out to ½ cup. If using buttermilk, omit this step.
Lentils
Add lentils to a small saucepan with 1 cup water (1 ½ cups water if using ½ cup lentils.) Bring to a boil (do not add salt!) Reduce heat, cover, and simmer about 5-7 minutes, or until softened. Drain and set aside.
Bread
Preheat oven to 350F. Grease 9x5 inch loaf pan.
Add oil and sugars to bowl of your stand mixer. Beat until well combined, about 5 minutes. Add eggs one at a time, mixing until well combined before adding the next. Mix in almond extract.
Sift together flour, baking powder, salt, cinnamon, and nutmeg. Add alternatively to stand mixer with the milk mixture, beginning and ending with dry ingredients. Stir in lentils with spatula. Stir in cranberries.
Pour into prepared pan, level the best you can, and bake for 1 hour, or until toothpick comes out clean.
Cool on rack. Flip out bread and slice!
Notes
You can use buttermilk from the store, but I make my own by combining orange juice in a measuring cup and filling it to ½ cup with milk. I have made the bread with both ¼ cup and ½ cup dry lentils and both turn out great! I do think the ¼ cup lends a softer texture.
Nutrition Information:
Yield:

8
Serving Size:

1
Amount Per Serving:
Calories:

335
Total Fat:

15g
Saturated Fat:

12g
Trans Fat:

0g
Unsaturated Fat:

2g
Cholesterol:

48mg
Sodium:

200mg
Carbohydrates:

45g
Fiber:

1g
Sugar:

25g
Protein:

5g
You will notice in the recipe that I did not puree the split red lentils. I find they cook super fast and are generally really soft in the end, making them perfect for a recipe like this! Just another step saved 🙂 I do, however, prefer my lentils with a bit of bite, so green is usually my first choice (which we will see next month!)
Sweet or savory, lentils just work! My daughter absolutely loved this recipe and probably ate three quarters of it. She was initially hesitant when I mentioned lentils in the recipe, but I totally got the thumbs up 🙂 That being said, this is a sneaky holiday recipe where you can hide the lentils in it and no one will ever know. Next time I make this (and it will be soon, maybe with a video this time!) I am going to up the dry lentils to ⅓ cup and see if they become more pronounced in the recipe 🙂 UPDATE: I upped the dry lentils to ½ cup and it was still great! ¼ cup creates a softer texture, but we are happy either way 🙂
This is a sponsored post. I was fortunate enough to receive products and monetary compensation from Canadian Lentils. Though products were received, all opinions are my own and I would not recommend a product that I did not enjoy.
Love this cranberry lentil bread?! Try some of these recipes: